Few weeks ago I met a Greek couple living in Warsaw. Dimitris asked me to show him how to cook Bigos. When we talked about Polish cuisine, Anja said that soups are something special for Poland. And this is a fact: in Poland soups are a staple in Polish homes for dinner. You can get it also in any restaurant, served as an appetizer. Check my review of 10 Traditional Polish Soups, soups I like the most and which are the most specific to Polish cuisine.
Which one have you tried and which are your favorite?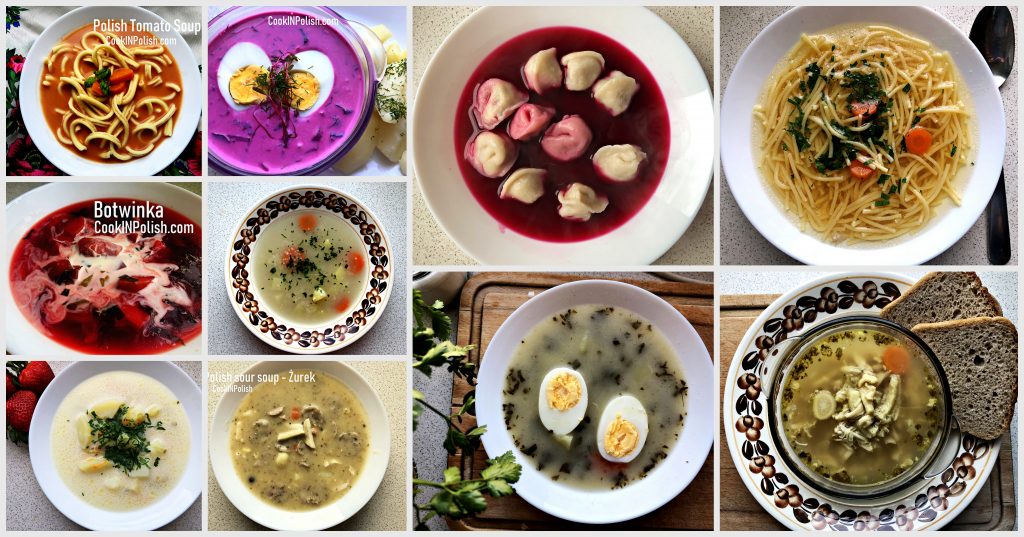 Rosół is Polish chicken noodle soup. Actually not only chicken is used – you can cook it with turkey, beef, veal, pork, the more kinds of meat in it – the better. Poles eat Rosół on a family Sunday dinner, just before serving another staple: Polish schnitzel – Kotlet schabowy🙂
Rosół is often called a Polish penicillin, traditionally it is served when someone gets sick.
Check my recipe: Rosół.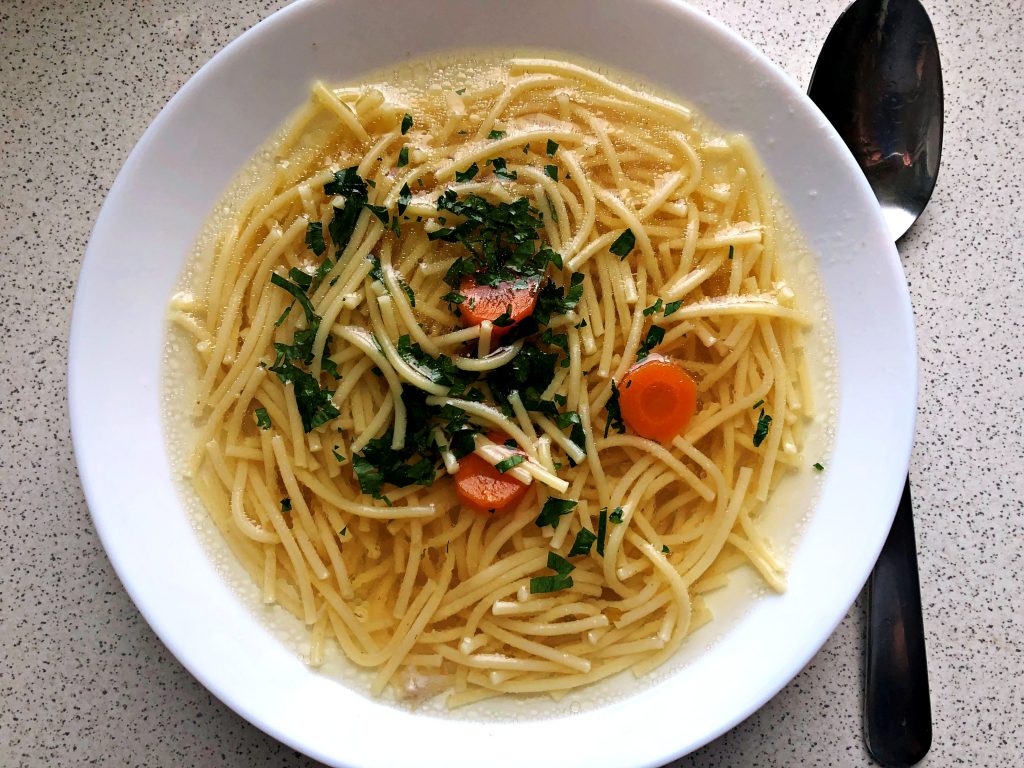 Polish Sour Rye Soup Żurek is traditionally prepared for Easter. It is a creamy and thick soup thanks to fermented rye flour used (zakwas). It's hearty and filling, often served with Polish sausage and hard boiled eggs.
For this great comforting soup recipe check: Żurek.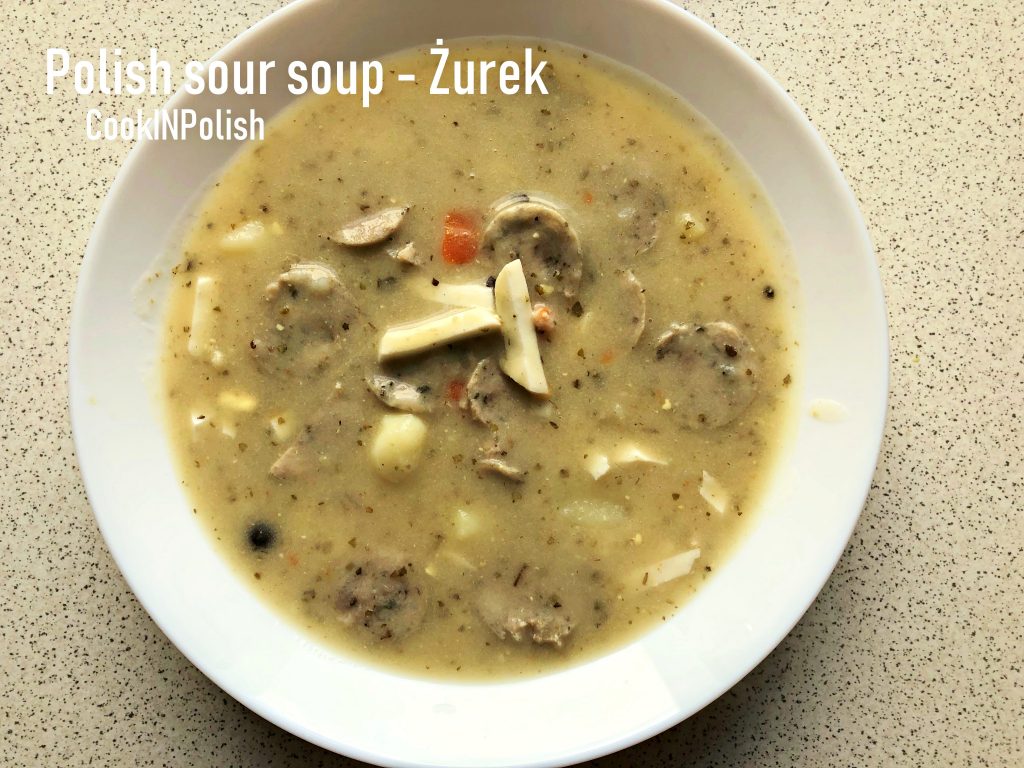 This clear vegetable soup is traditionally served for Chistmas Eve. Wigilia dinner in Poland is usually meatless. Celebration starts when the first star is found in the sky by children. Poles eat Beets Borscht with Uszka – small ring size dumplings with mushrooms and sauerkraut filling.
Check my recipe for your next Wigilia: Beets Borscht with Uszka.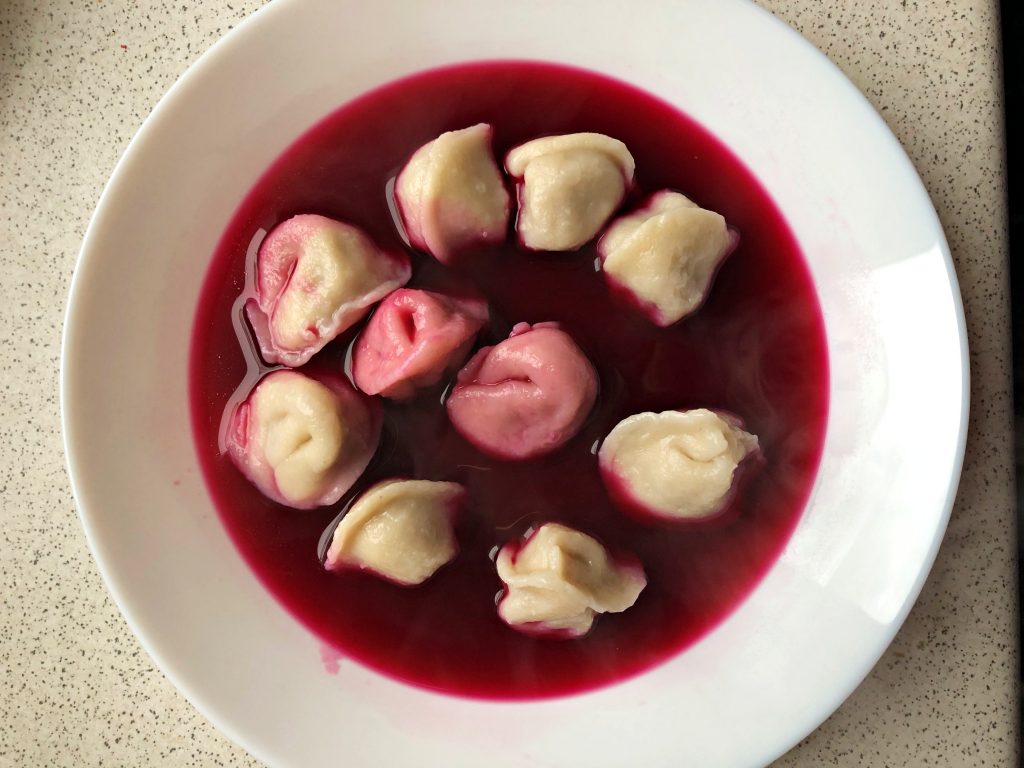 Krupnik is a Polish chicken soup with vegetables and barley. There are carrots, potatoes, barley and meat in it. We also often add parsley for serving, I think this is a favorite Polish green sprinkle for soups:).
For this nutritious and healthy soup recipe check: Krupnik.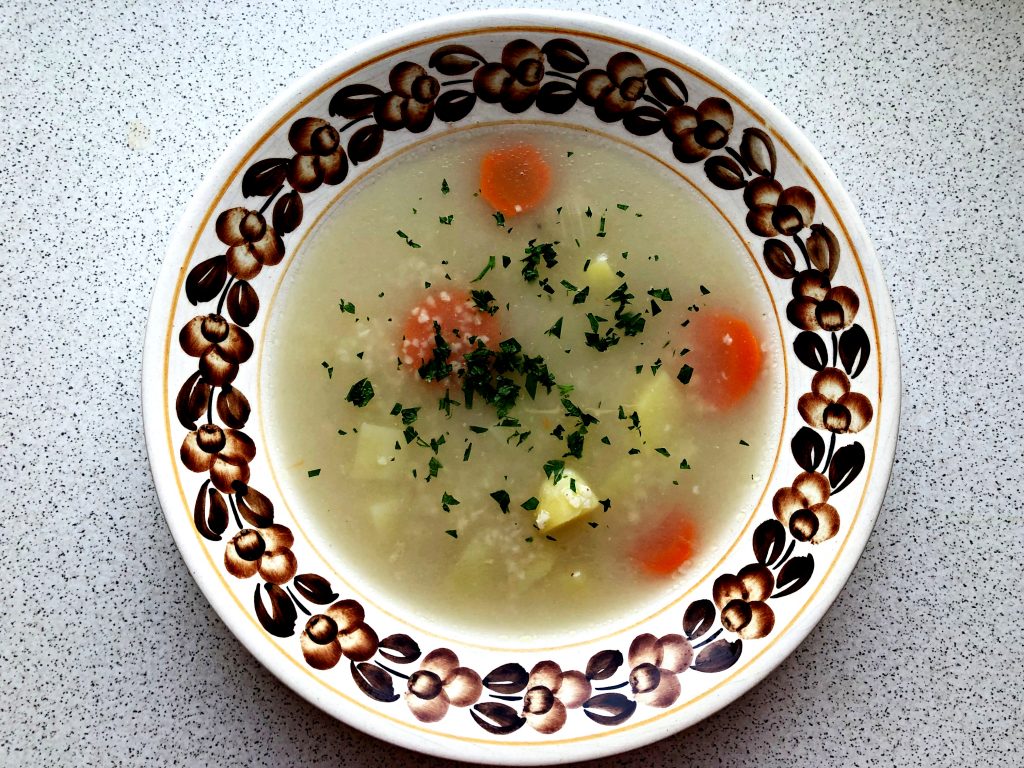 I don't know if sorrel is used in other countries, in Poland this is an ingredient of very popular homemade soup. As a child I loved it and I still do:) Sour and sweet, made of sorrel collected in the summer and preserved in the jar for the rest of the season. Yum!
For Szczawiowa recipe check: Sorrel Soup.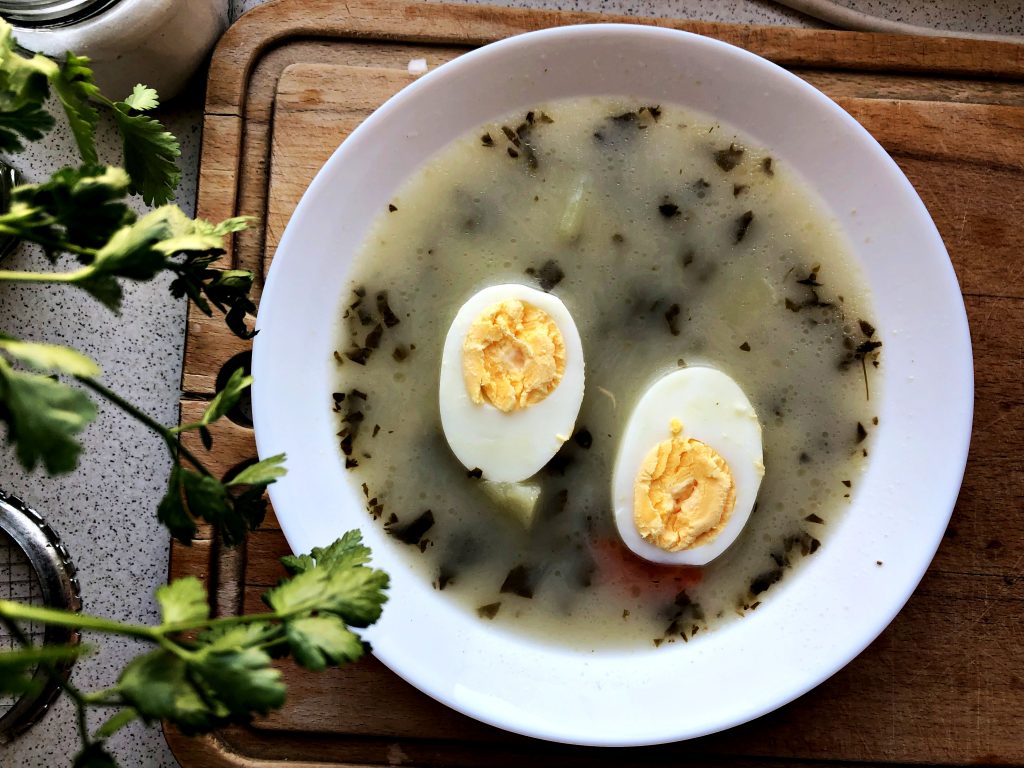 Polish tripe soup have been often served as a wedding appetizer, it is also a staple on other occasions such as First Communion and Christianity. Either you love it or hate it, but as I observe most of the Poles like flaki:) It is originated in zero waste PRL cuisine.
Decide if you love or hate Flaki, check recipe: Flaki.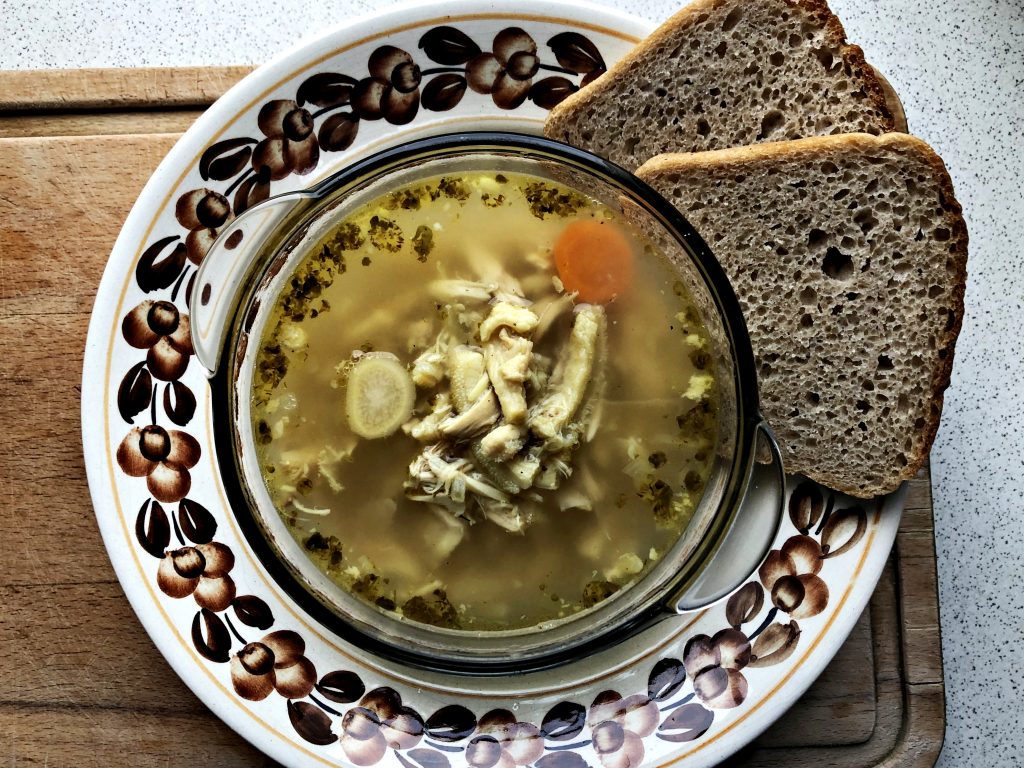 Pickle soup is made of brine fermented cucumbers. Something really Polish. If you want to amaze non Polish friends, cook them Ogórkowa:) It is also considered as a great remedy for hangover:)
Check if this is true, follow my recipe: Pickle Soup.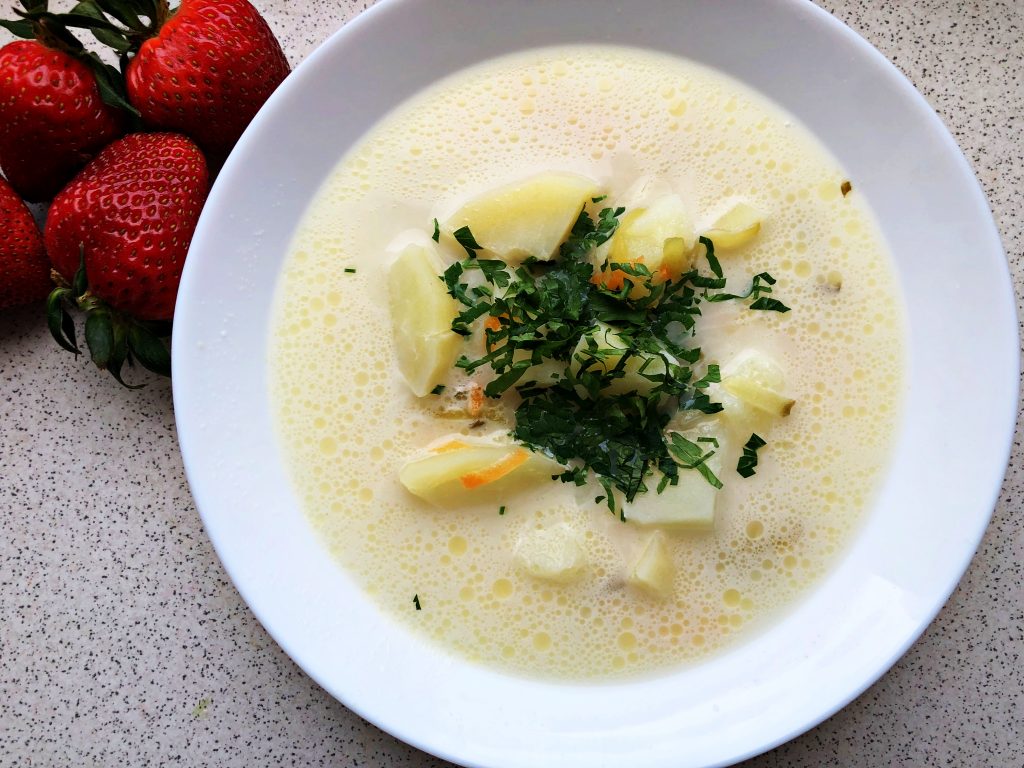 Lithuanian Cold Borscht is a very popular soup in Summer. It is made of fermented milk drinks, cooked beets and lots of fresh rare vegetables: spring onions, cucumbers, horseradish, parsley. Chłodnik is thick and refreshing, perfect for Summer.
To check my recipe follow the link: Lithuanian Cold Borscht.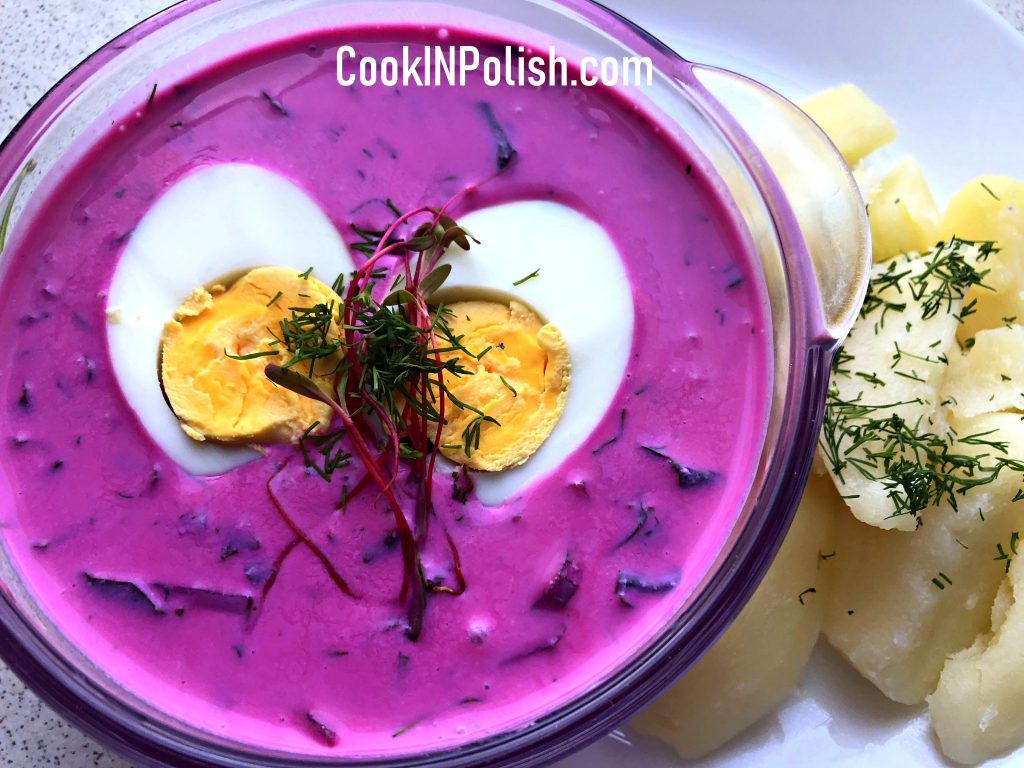 Botwinka is Spring soup made of fresh and young vegetables. Main ingredients are small beets and beets' leaves. So delicious with a splash of sweet cream.
Try if you like Botwinka, my recipe: Botwinka.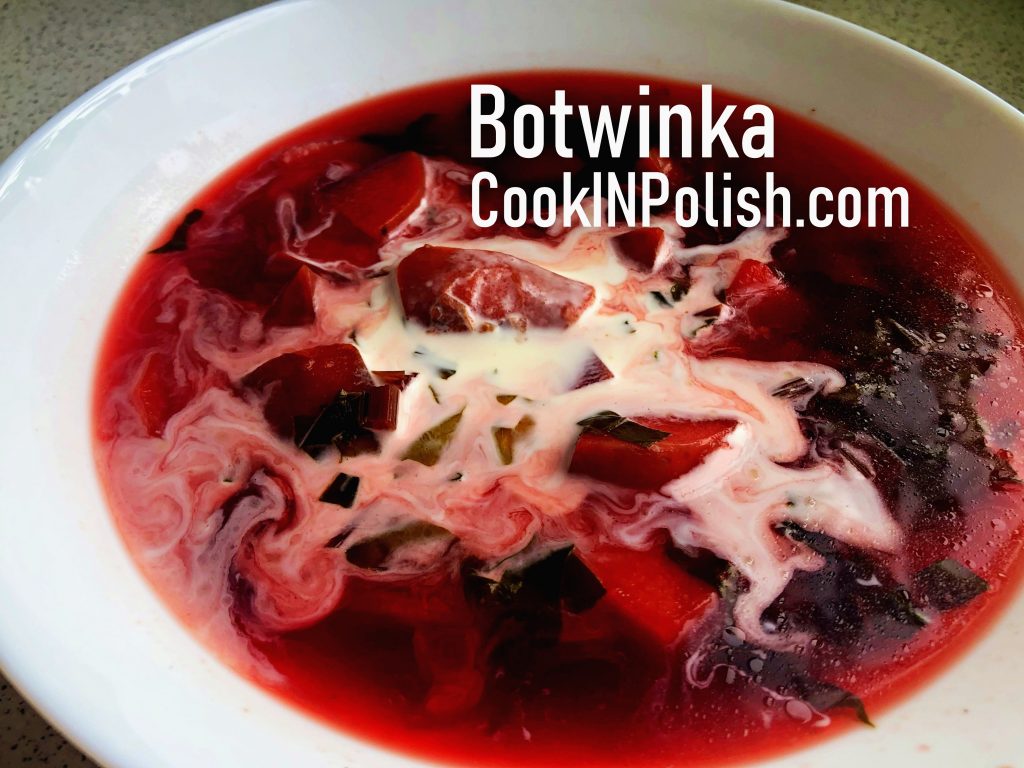 Perfect comforting soup for Autumn. If you happen to get fresh forest mushrooms you need to try it. The add of barley makes the soup filing and comforting in chilling weather. Healthy and delicious.
Try my recipe: Mushroom Barley Soup.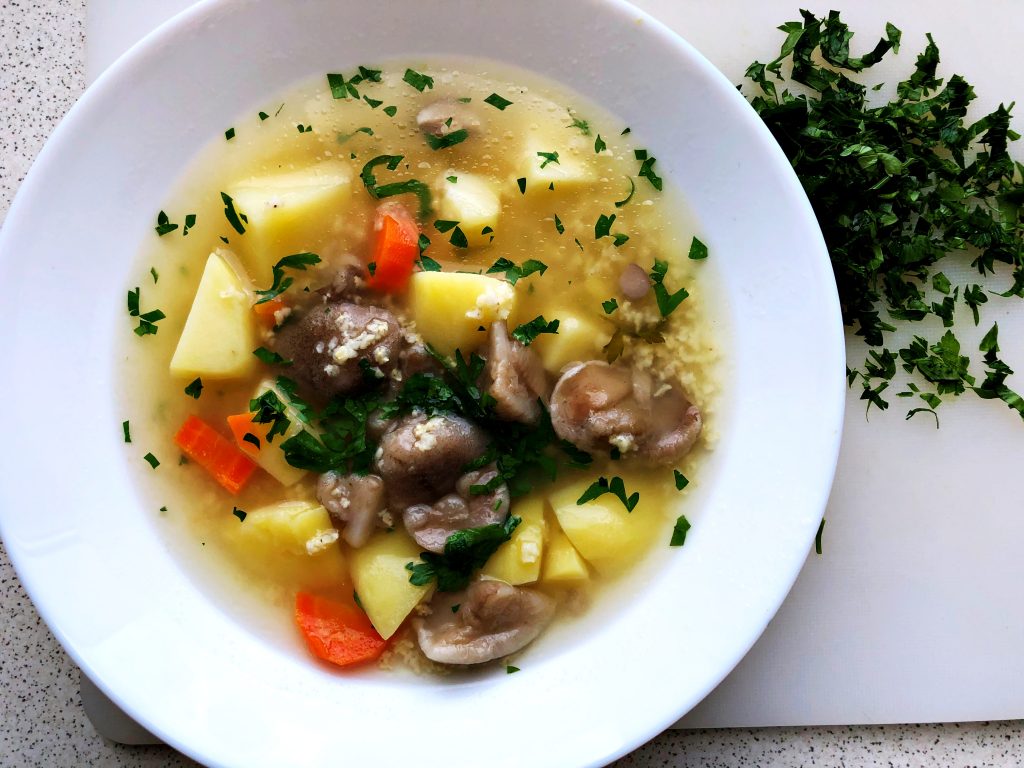 Try all 10 Traditional Polish Soups and decide which one you like the most.
If you liked my posts and tried my recipes, you can consider buying me a coffee. Or rather I should say: you can buy me a flour for Pierogi, cabbage for Gołąbki and beets for Barszcz:) This would help me to cook more and publish more delicious recipes for You. www.buymeacoffee.com/cookinpolish.
Comment on the post if you have questions, other ideas on the recipe or just enjoyed reading. I would be happy to see your thoughts on my posts!
Thanks for liking and sharing my recipes to your friends – it helps to develop my blog!