Polish Żurek is a soup traditionally prepared for Easter. In some Polish families White Borsch is cooked instead of Żurek, the difference is Kvas/ sourdough that is used. For Żurek- rye sourdough, for Borsch – wheat sour starter.
If you plan to cook traditional Polish Sour Soup Żurek, you need a rye sourdough. You can buy one in Polish store or – I encourage you to- make one at home. It takes few days for the fermentation to make it job, so few days before making Żurek, follow these instructions: http://cookinpolish.com/sourdough-for-sour-soup-zakwas-na-zurek/.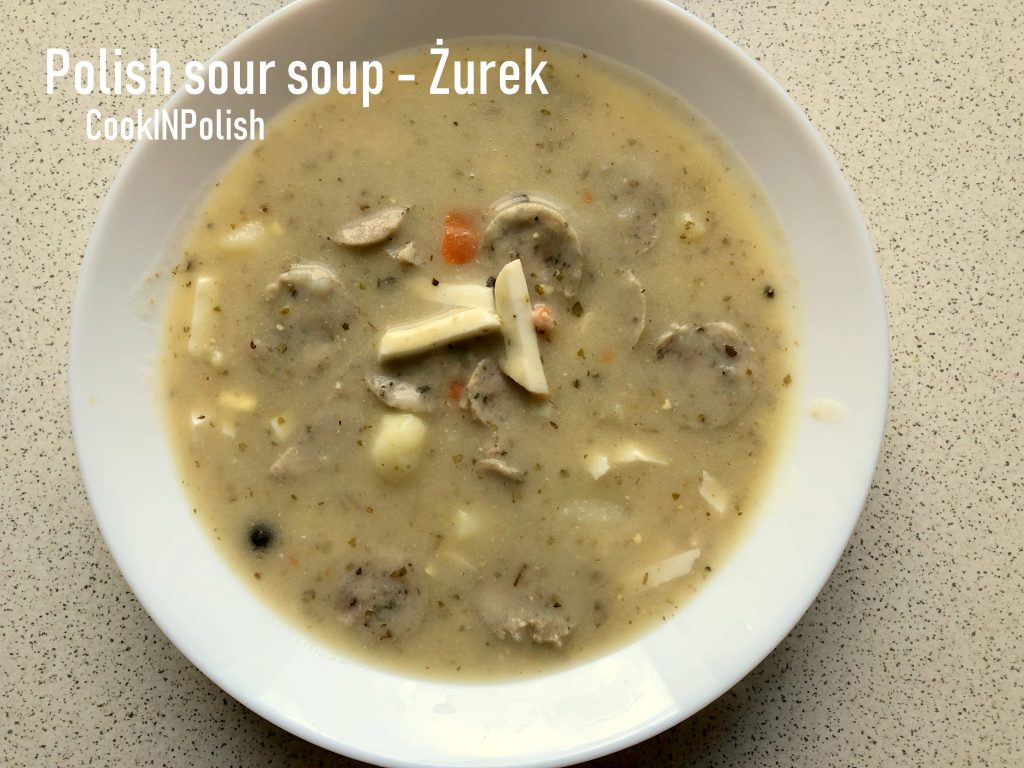 The whole process of preparing sour soup will take about 1,5 hour.
Ingredients
1 carrot – diced,
1 medium parsley
onion burned over the fire
piece of forest dried mushroom
5-6 potatoes – diced
0,7 kg/ 1,5 lb raw white sausages
1 l/2 pints of sourdough
2 ts grated horseradish
0,5 cup sweet cream
salt, pepper
4 balls allspice
4 bay leaves
1 tbs marjoram
3 liters/6 pints water
Prepare vegetables stock: boil vegetables (except of potatoes) and mushroom in a big pot.
After 30 minutes add sausages and potatoes.
After another 30 minutes pour stirred sourdough. Let the flavor mix for 15 minutes.
Add horseradish and cream, first stir them with a cup of soup, then pour it to the pot.
Add salt and pepper and marjoram.
Take sausages out, diced them and put them back to the soup.
Serve with boiled eggs- I cut it in strings, traditionally you can add an egg cut in halves.
Polish Sour Soup Żurek is spicy, sour, full of flavors and definitely worth spending time on. Enjoy! Smacznego!
Comment on the post if you have questions, other ideas on the recipe or just enjoyed reading. I would be happy to see your thoughts on my posts!
Thanks for liking and sharing my recipes to your friends – it helps to develop my blog!