Rosół drobiowy
What about a rich broth made of poultry for Sunday dinner? Polish Broth – Rosół drobiowy is the most popular choice in Polish families:)
Rosół is one of the most iconic of Polish comfort foods and Polish foods at all. Check my recipe to get clear, full of flavor and aromatic Rosół, just as your Polish Babcia made in your childhood<3
Name of the soup- Rosół comes from a verb 'rozsolić' meaning to dissolve salt. In the past salting (and drying) was the most common way to preserve meat. In order to eat it, one had to get rid of salt. Meat was soaked in water to dissolve salt. These are the origins of Rosół soup.
There are many kinds of Rosół- it can be made of poultry, beef, even fish meat. It's common to use few different kinds of meats to cook Rosół. People say – put 3 kinds of meat in your Rosół pot. Poultry Rosół is delicate and flavorful, it's a great dish for the whole family.
We buy poultry parts and vegetables on the local market. My husband is a Rosół specialist, my children say he cooks the best broth ever:)
As a kid I hated Rosół, probably because my Grandma cooking was loving, so she was making it too greasy and was pouring all the best, as she believed, into my plate. Now when I cook Rosół, I choose meat carefully, not to be too greasy:) I use high quality ingredients, from a trusted sellers.
For more Polish soups, check: http://cookinpolish.com/category/recipes/soups/.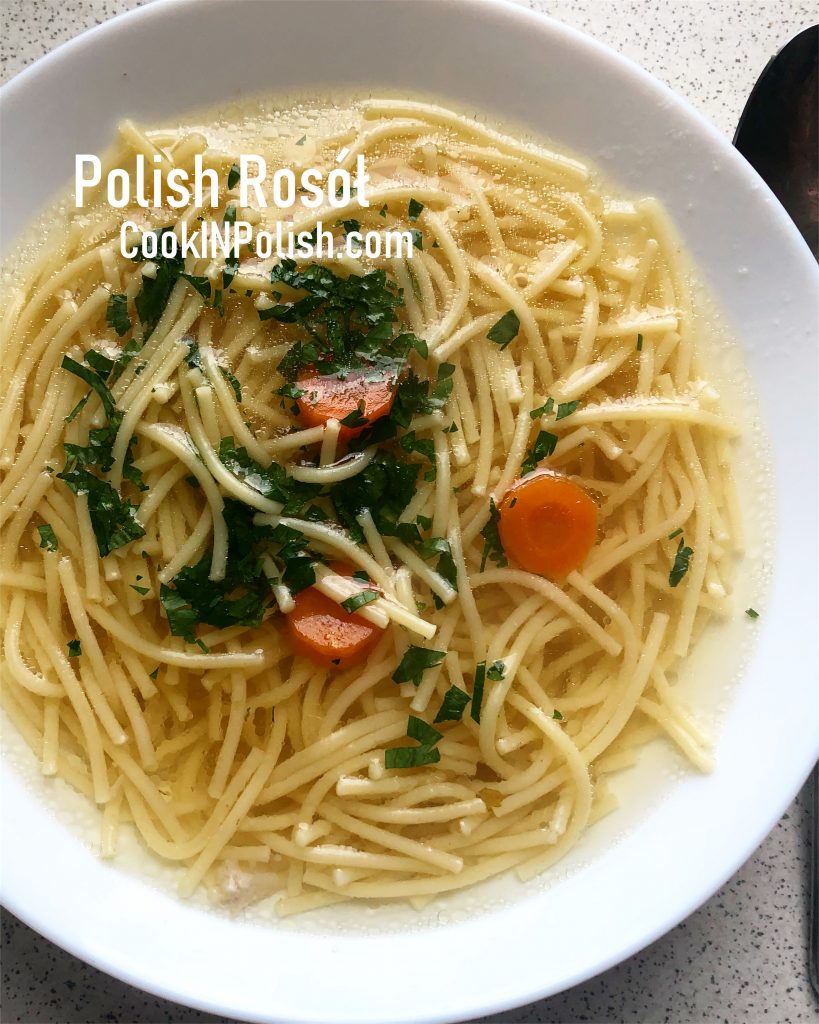 Ingredients:
5-6 chicken wings or thighs
3 duck thighs or wings
turkey neck
2-3 chicken or turkey stomachs (optional)
3 medium carrots
1 medium parsley
small celeriac
2 onions
1 clove garlic (optional)
half leek- a green side, leave the white side for a salad:)
bunch of lovage (lubczyk)
4 balls allspice
2-3 bay leaves
a piece of dried forest mushrooms
salt, pepper
parsley for serving
Peel vegetables, cut carrots and parsley root into slices.
Toast the onion over the fire. I've got electric cooker, so I use a one of the burners to do it. I can be also done on the hot dry pan.
Wash and clean poultry parts.
All vegetables, mushroom and poultry place in the pot, fill with cold water and put on the fire.
Heat the soup slowly. During the initial stages of cooking, skim off any foam or impurities that rise to the surface. This will help ensure a clear and clean broth. Bring Rosół to boil and let it simmer for 2-3 hours without cover- then it will be transparent.
Serve your Polish Broth – Rosół with noodles and dill or parsley. Smacznego!
If you liked my posts and tried my recipes, you can consider buying me a coffee. Or rather I should say: you can buy me a flour for Pierogi, cabbage for Gołąbki and beets for Barszcz:) This would help me to cook more and publish more delicious recipes for You. www.buymeacoffee.com/cookinpolish.
So to sum up: how to make the best homemade Rosół, clear, aromatic and full of flavor?
Use high quality ingredients
Toast the onion
Slowly simmer the soup
Skim the foam from the soup surface
Add aromatic herbs and seasonings
Serve with favorite noodles
If I had to choose one ingredient of Rosół, that makes the difference, it would be lubczyk- lovage, for me it make the best Rosół ever! 🙂
I can't get my Polish Broth – Rosół to come out clear. What am I doing wrong?
Rosół does not like rush. Cook Rosół slowly (2-3 hours) on the low fire, not allowing soup to boil. In Polish we say, that Rosół is supposed to 'pyrkać';) It means that it should be kind of bubbling from time to time, but not be boiling:)
What you can do if nonetheless your Polish Broth – Rosół gets cloudy?
Great news! There is one way to save your soup when it gets cloudy:) First: take all the meat and veggies out of the pot. Then whip 2 egg whites in a bowl, mix it well with a cooled rosół and bring it almost to boil. Once egg whites set, they should gather all of the impurities. Last stage is to strain broth through the cloth.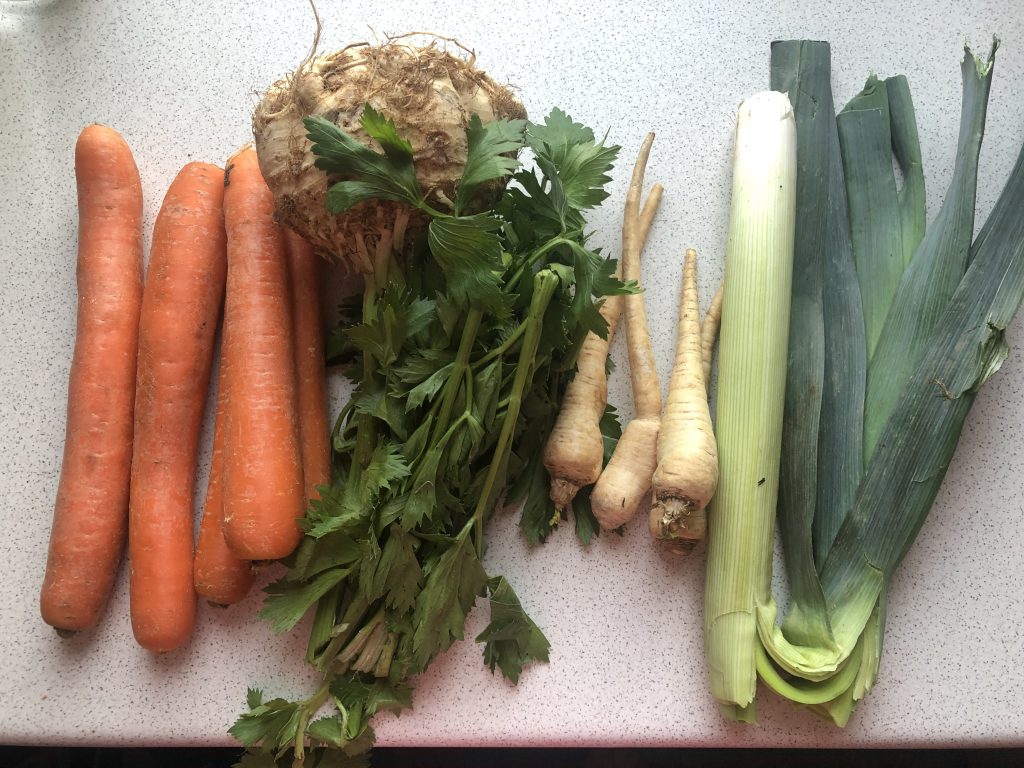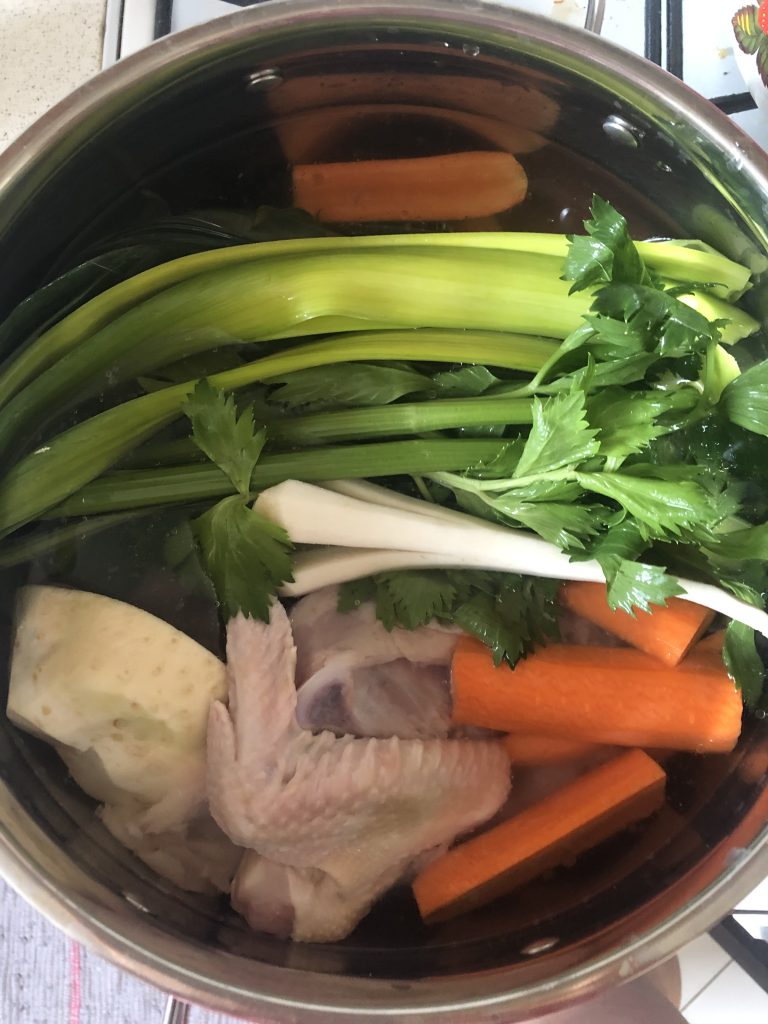 Enjoy! Smacznego:)
Comment on the post if you have questions, other ideas on the recipe or just enjoyed reading. I would be happy to see your thoughts on my posts! Have you tried Polish Broth – Rosół before? Do you have any memories about your Babcia making Polish Broth – Rosół?
Thanks for liking and sharing my recipes to your friends – it helps to develop my blog!