Are you ready for something special for Sunday dinner? Try this easy recipe for Roast Duck and Apples. Roasting the meat with apples gives a duck moisture and fresh flavor. Rub the meat with marjoram and rosemary and grease with butter to get the perfect Polish dinner for special occasions. Roast Duck and Apples is often served on First Communion and Christening celebrations in Poland. It will be great for Easter dinner as well.
Roast Duck and Apples is a dish known in Poland from centuries. In old Poland the duck served in palaces and manors was rather wild, hunted by Polish nobility on popular those days hunts.
I don't agree with hunts nowadays, there is a lot of farms that breed animal and there is a lot of meat in stores. Wild animal have less and less forest to live in and the number of wild animals is getting smaller. Let's admire them free in their environment and not on our tables. Not only humans are inhabitants of the Earth.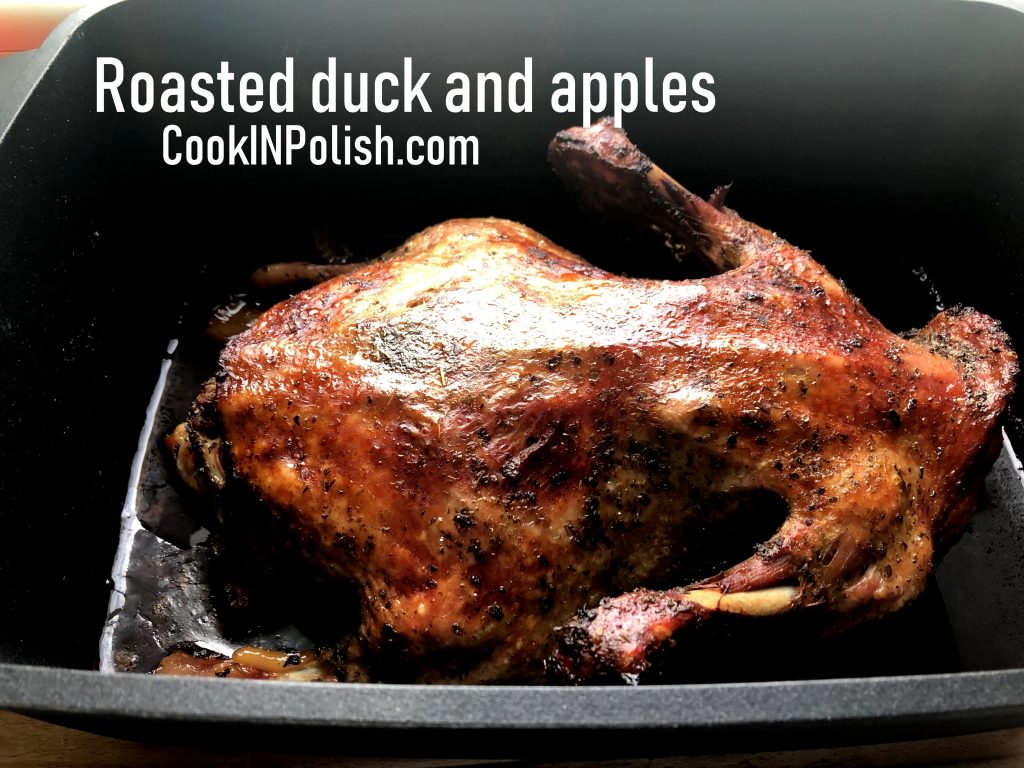 Ingredients
duck about 2 kg/ 4-5 lb
4 apples
1 onion
juice from halve of orange
2 tbs marjoram
1 tbs rosemary
2 tbs salt
pepper
2 tbs butter
Core the apples and cut into wedges. Peel an onion and cut into quarters. Place both in a bowl, add 1 table spoon of marjoram and 1 tea spoon of rosemary. Sprinkle with salt. Add juice from orange halve. Set aside.
Rinse the duck, check the skin to make sure there is no feathers parts left in it.
Rub well each side of the duck with salt (leave 1 tea spoon of salt to use from inside), marjoram and rosemary.
Rub the duck inside with butter, sprinkle with salt. Place as much apples in it as you can. You may close the cavity with toothpicks if necessary, not to let the apples fall out.
Place the duck in a roasting mold. Place rest of the stuffing also in the mold, it will make a sauce. You can place the duck in the oven right away or set aside and let the duck marinated, so that the flavors go through it. You can even prepare the duck a day before and let it stay overnight before roasting. It may help you to organize your work, before special dinner for many people.
Roasting
Preheat the oven to 200 C/ 390 F. Roast the duck for 30 minutes at 200 C/ 390 F without cover, then reduce to 170 C / 340 F and cover the baking dish. Continue roasting for 1,5 hour.
After an hour of roasting turn the duck to the other side. While doing it – spoon the meat with rendered juices.
15 minutes before the end of roasting take the cover out, spoon with the juices again and increase the temperature back to 200 C/ 390 F. The skin will get crispy and brown.
Take the duck out of the oven and let it rest for 10 minutes, then serve. I would recommend to serve the duck with Kluski Śląskie (special potato dumplings- round, with hollow in the middle, they are regional dish in Silesia, Poland) and braised red cabbage (also Silesian side dish: Modra Kapusta) or with Mizeria – Polish favorite surówka, cucumber salad.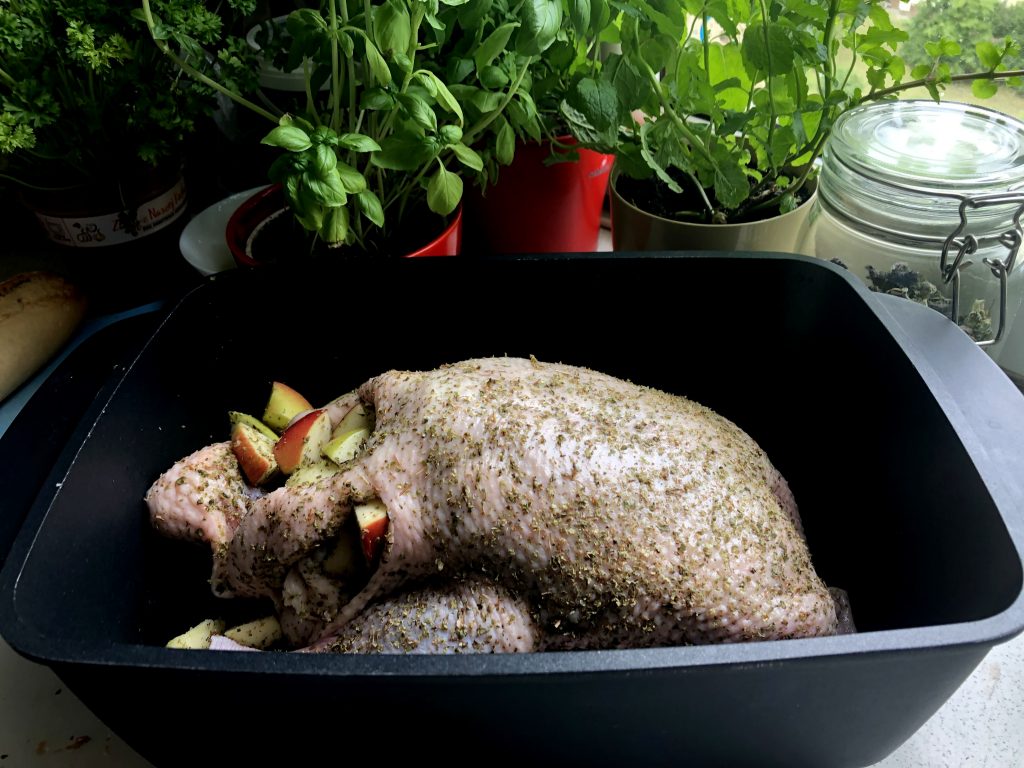 Comment on the post if you have questions, other ideas on the recipe or just enjoyed reading. I would be happy to see your thoughts on my posts!
Thanks for liking and sharing my recipes to your friends – it helps to develop my blog!