I have lately discovered Fuczki – Sauerkraut Pancakes. I was surprised when I was frying Fuczki – their flavor reminded me of Sauerkraut Croquettes, which I love, but which are quite time consuming at the same time. It is so much easier and quicker to make Fuczki – sauerkraut pancakes!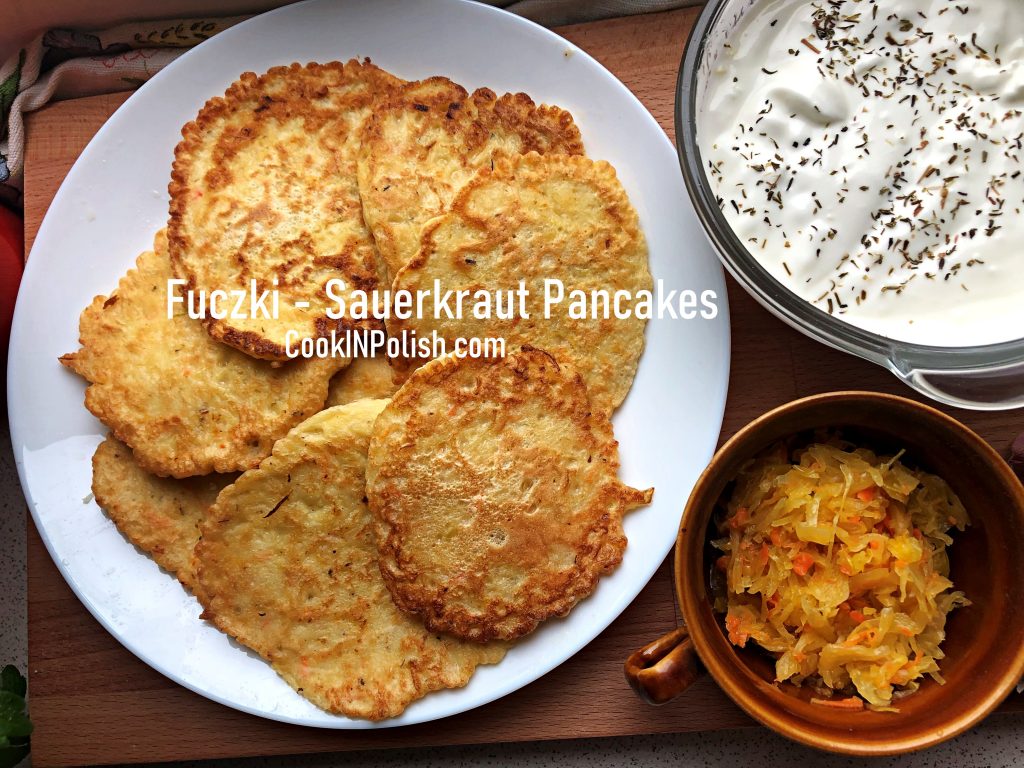 This is a regional cuisine from Bieszczady Mountains, it is said to be Lemko dish. Lemkos is an Eastern Slavic ethnic group living in Polish mountains. According to wikipedia in 2011 there were more than 10 thousands people in Poland who declared themselves as Lemko. Polish people have been historically moving all over the world and there is a lot of Poles living in so many countries. This is a part of our history, we were and we are immigrants, so we should know that living as a national minority is not always easy. Hopefully we can all live together in peace and with respect to each other, regardless nationality, religion, skin color or sexual orientation. Let's share our culture and point on the things that are connecting us. Let's make peace and share good flavors!
Ingredients:
1 cup all purpose flour
1 cup milk
2 eggs
salt and pepper
herbs and seasonings: ground caraway, marjoram
2 cups drained sauerkraut
Combine flour, milk and eggs in a bowl. Whisk until you got a smooth batter.
Drain sauerkraut and chop it finely. Add to the batter, combine.
Sprinkle with salt and pepper, add herbs. Don't use too much caraway, as it has quite strong flavor. For the first time I would limit herbs I use, just to keep the flavor natural and adjust it to taste. Actually you can sprinkle single pancake on the frying pan with different amounts of herbs and make few versions of Fuczki – then you can test flavor and decide which one you like the most.
Fry on the pan, place a portion of batter on a hot oil, fry for 2 minutes on one side, flip and fry for another minute. It should be golden and crispy.
Serve straight away, or your sauerkraut pancakes would loose their crispiness and would not be as good as at the beginning.
I love eating Fuczki – sauerkraut pancakes with garlic sauce. To prepare it you just need to chop garlic and add it to unsweetened yogurt (I use greek style yogurt), sprinkle with some salt. You can also add your favorite herbs, but even basic version of garlic sauce is so good.
Smacznego! Enjoy!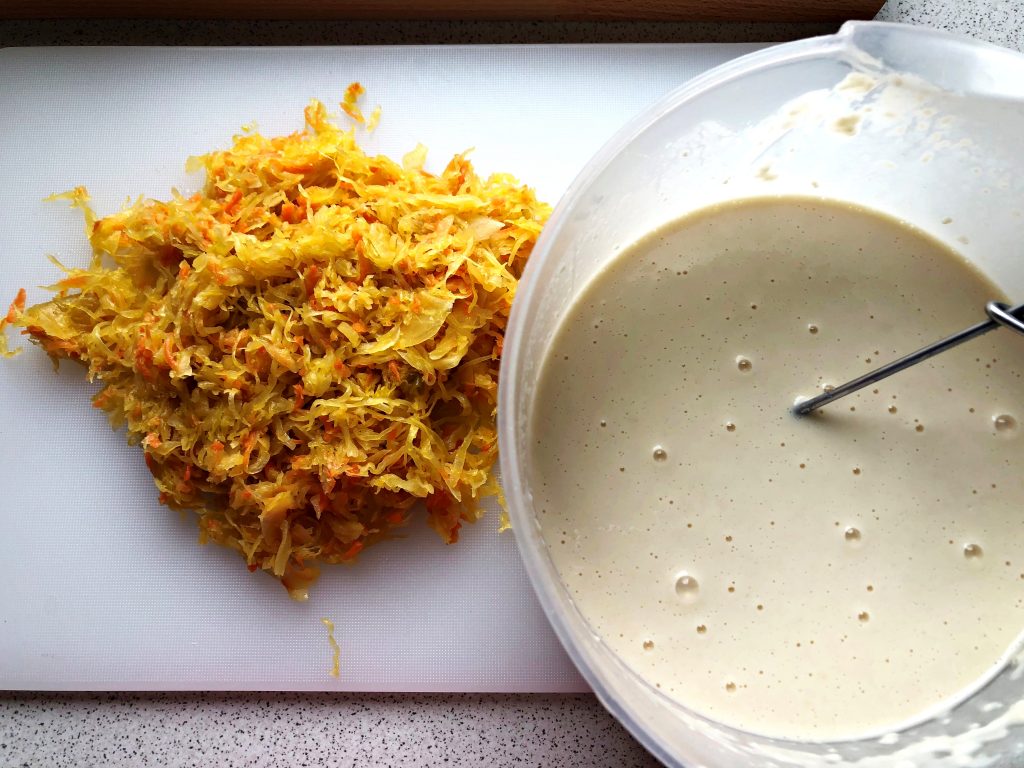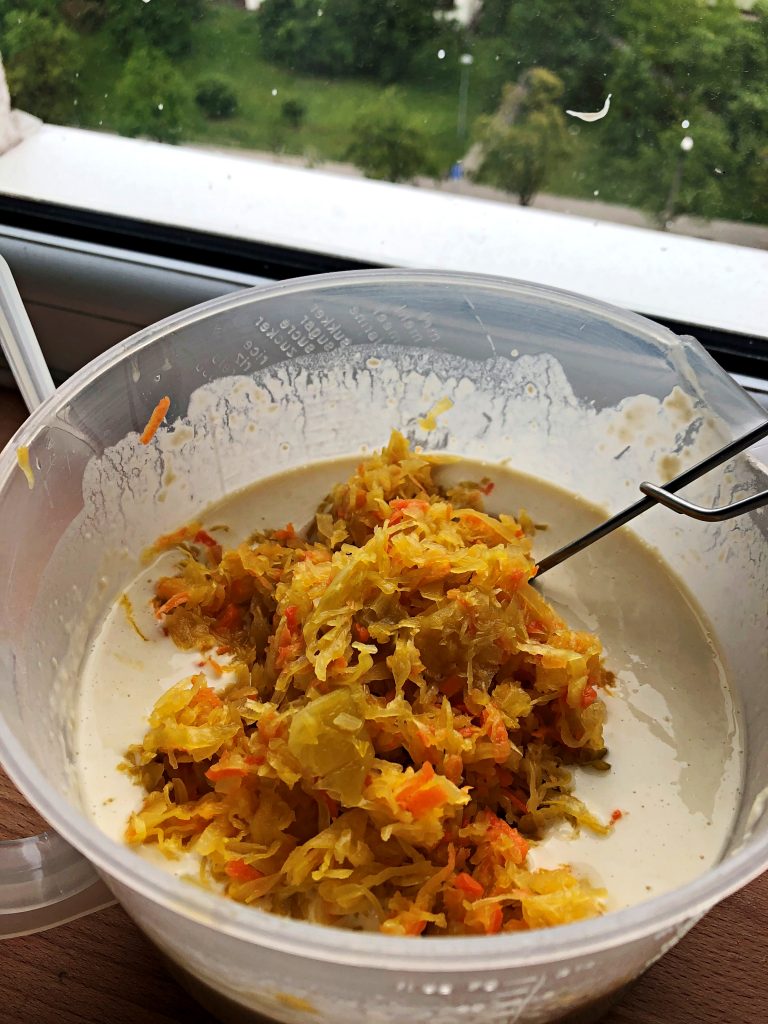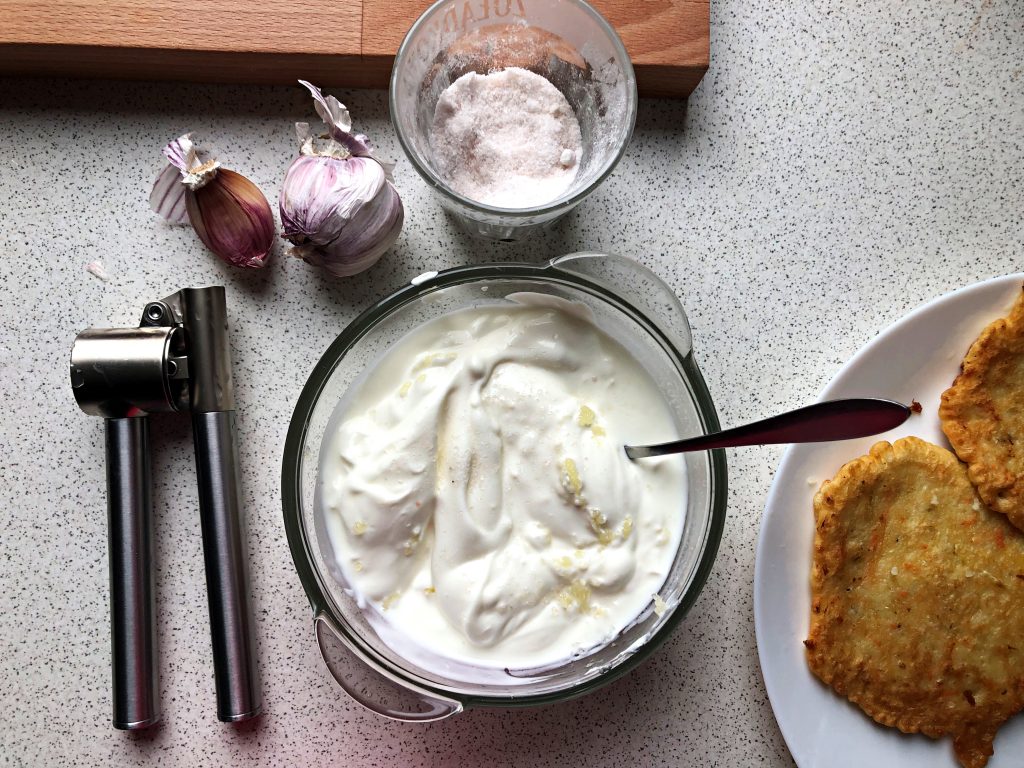 Comment on the post if you have questions, other ideas on the recipe or just enjoyed reading. I would be happy to see your thoughts on my posts!
Thanks for liking and sharing my recipes to your friends – it helps to develop my blog!