Surówka – Polish slaw is always on Polish table for dinner: you have meat, you eat potatoes and there must be also Surówka as a side dish. Polish slaws are usually made of raw vegetables, but there are also very yummy slaws made of cooked vegetables (more popular in winter) or with addition of fruits. Most of them are really easy to prepare, they are healthy and dietetic. It's important to use good oils – preferably raw unrefined, as they are the healthiest. You eat surówka without thermal preparation, so all the best of oils will remain inside of the dish. Another important thing is to choose high quality vegetables, I go to local market where farmers are selling their produce. I buy from my favorite trusted sellers.
When you go to the restaurant or a dine at the canteen in Poland, don't be surprised when you'd be offered 'bukiet surówek' -'a slaw bouquet', which is a set of 3 or 4 seasonal slaws, fresh and seasonal. You need to try that!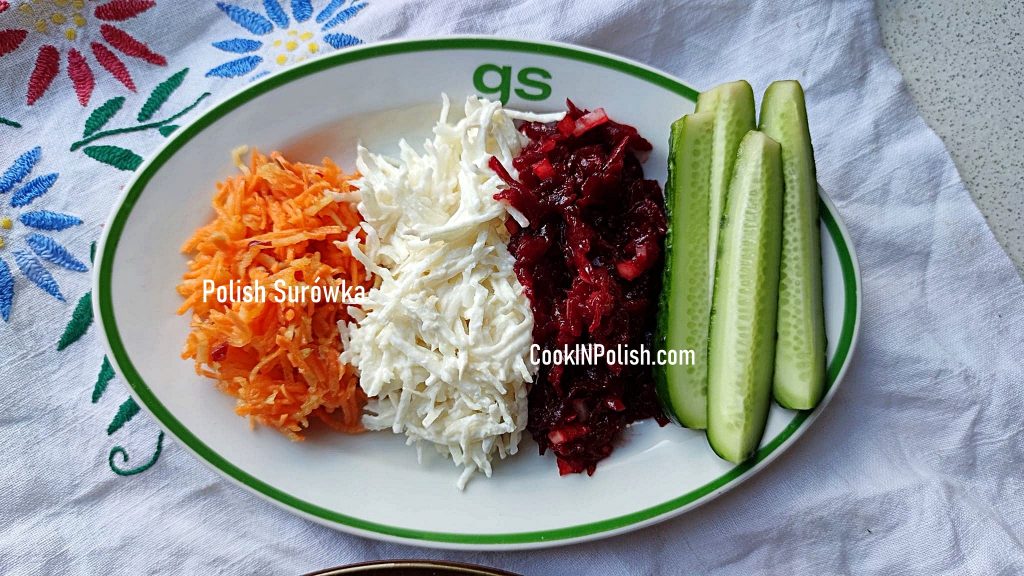 Below let me present 8 most popular Polish slaws, you can check the instructions and a link to detailed recipes with step by step pictures.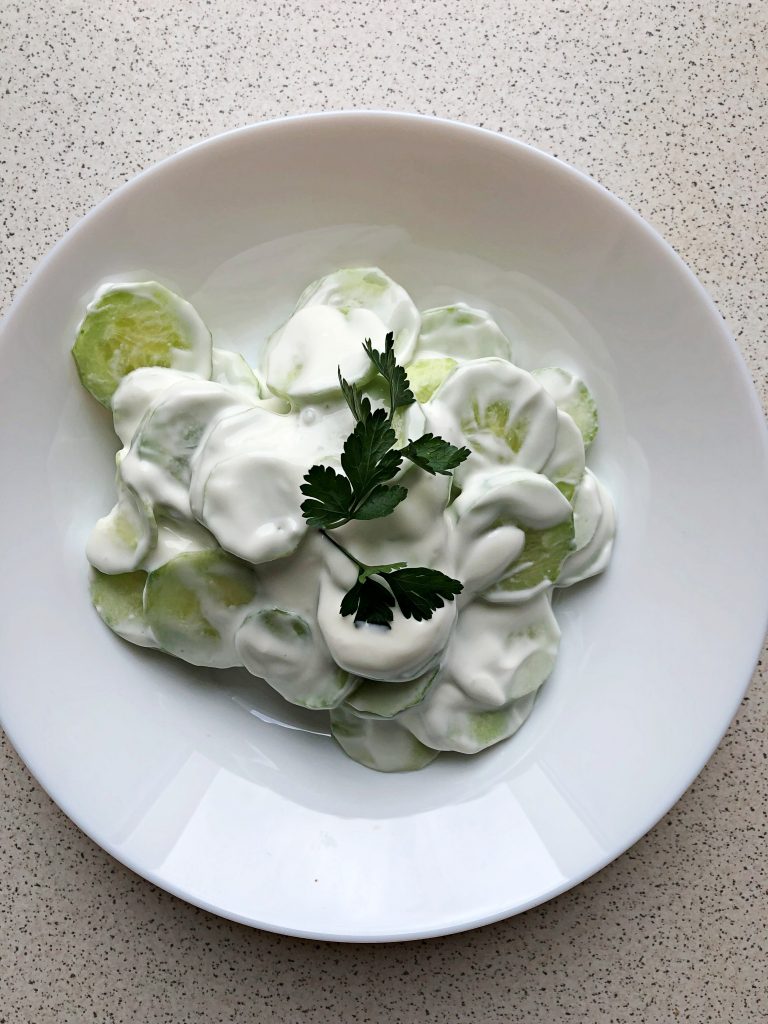 All you need to do is to peel and cucumber, add sour cream or thick neutral yogurt, salt and a splash of vinegar. Some people add lemon juice instead of vinegar. I prefer vinegar – we always had it this way in my family house.
Some people add sugar, some add an onion. It's always good to add some fresh dill.
Recipe: Mizeria.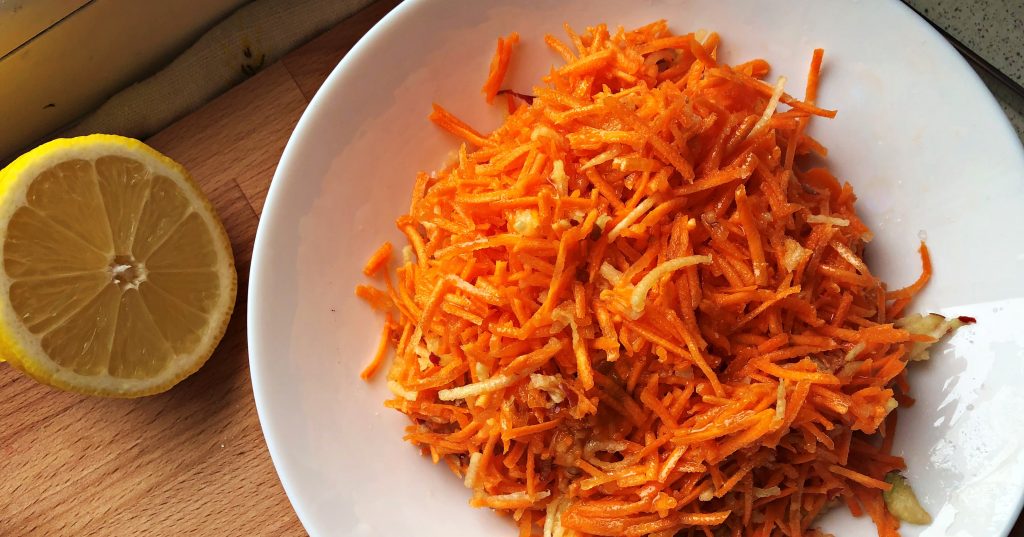 This easy side is quick to make and so delicious. Both: carrots and apples are really easy available all over the year in Poland, so they are quite cheap! This make Apple and Carrot Salad very popular in school and office's canteens:)
When you use baby carrots and fresh apples in Summer (which haven't been stored from autumn), you can be sure you will get yummy, juicy, delicious salad. And so healthy!
Recipe: Apple and Carrot Salad.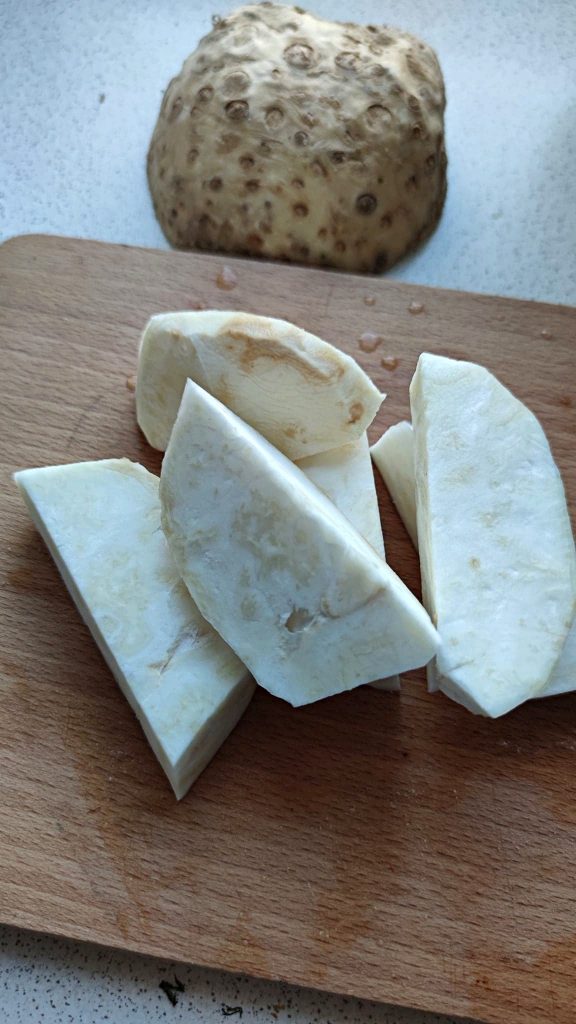 Celeriac is a popular vegetable in Poland. In comparison to celery known in US, which is a a green stick, Polish celeriac is a round root and it may be really big. They both are all the same family of vegetables, but stick celery become popular in Poland relatively not long ago, while celeriac is used commonly in Polish households. Check celeriac slaw, it cannot be compared to any other vegetable, it's really worth trying.
Recipe: Celeriac Slaw
4. Tomato Cream Salad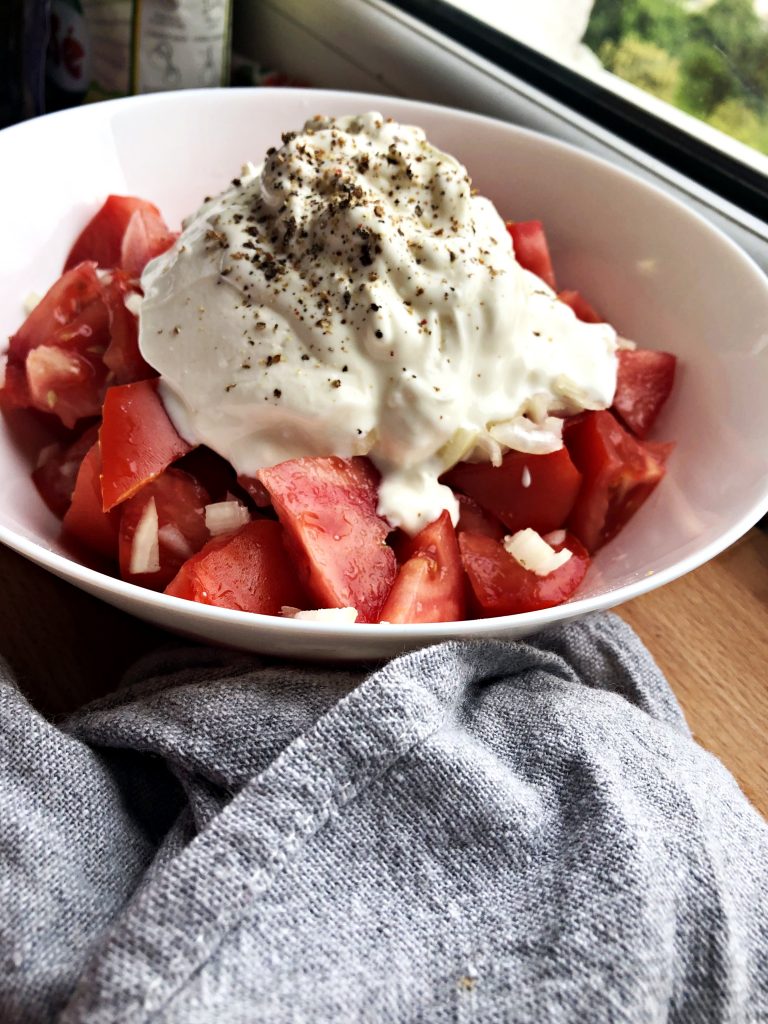 Tomato salad is an easy and healthy seasonal Polish side to dinner. Dice tomato carelessly in bite pieces you like. Chop small onion. Combine. Add salt, pepper, sour cream or Greek yogurt. Combine delicately. Enjoy! Smacznego!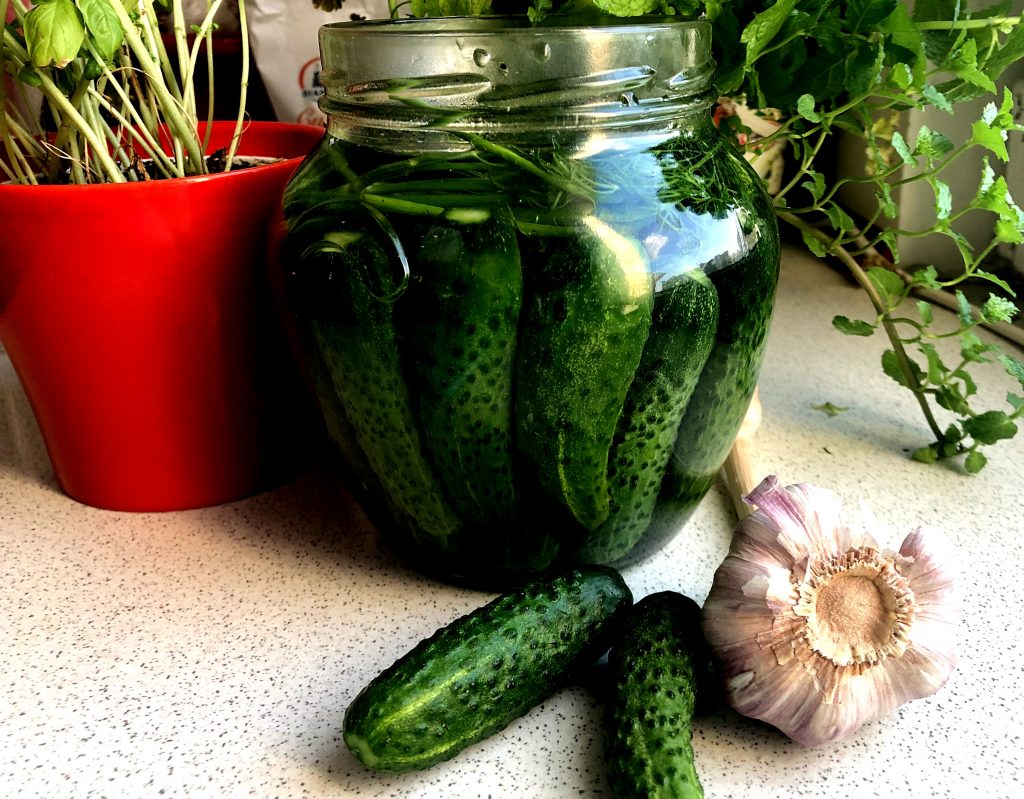 This is a classic of Polish seasonal cuisine:) Fresh and healthy Polish half sour fermented cucumbers are easy to prepare and delicious. If you are organizing grill – make Małosolne – your guests would love them! They go very well with meats and with vodka too 😀
You need to make them at least one day before you want to eat them.
Recipe: Half Sour Cucumbers.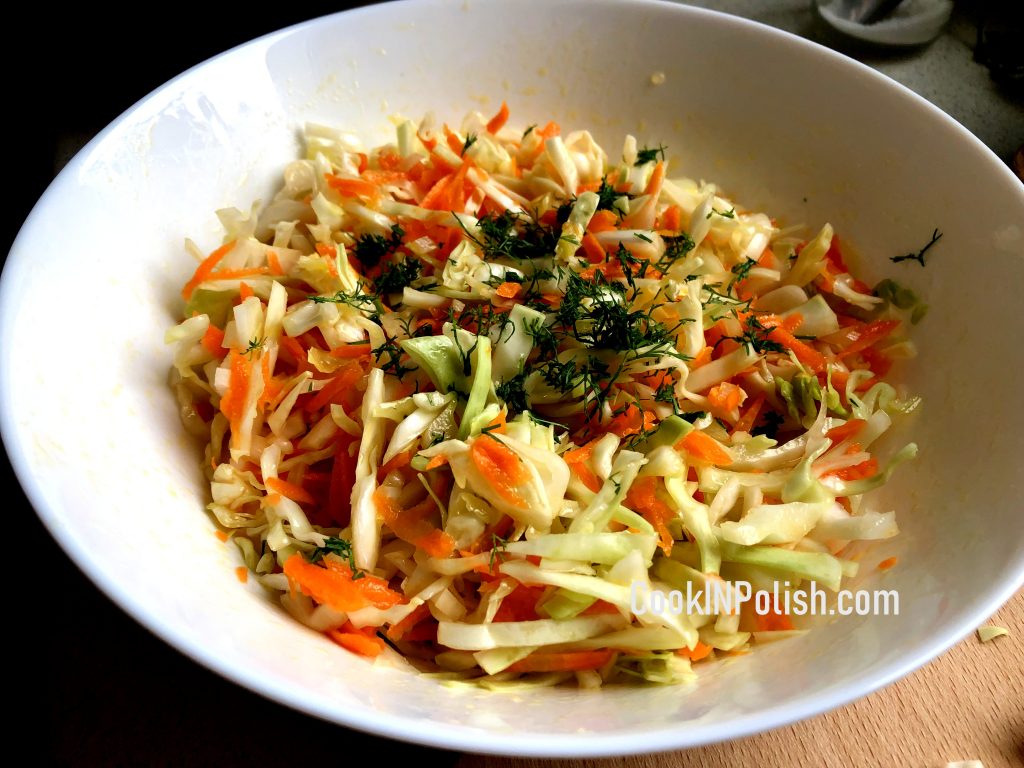 The taste and texture of this salad is delicate and sweet, exceptional:) You need to get a cabbage while it is still in season, while it is still young and fresh, straight from the farms, not from the vegetables storage.
Add carrots, onion and you will get this delicious side.
Recipe: Young Cabbage Salad.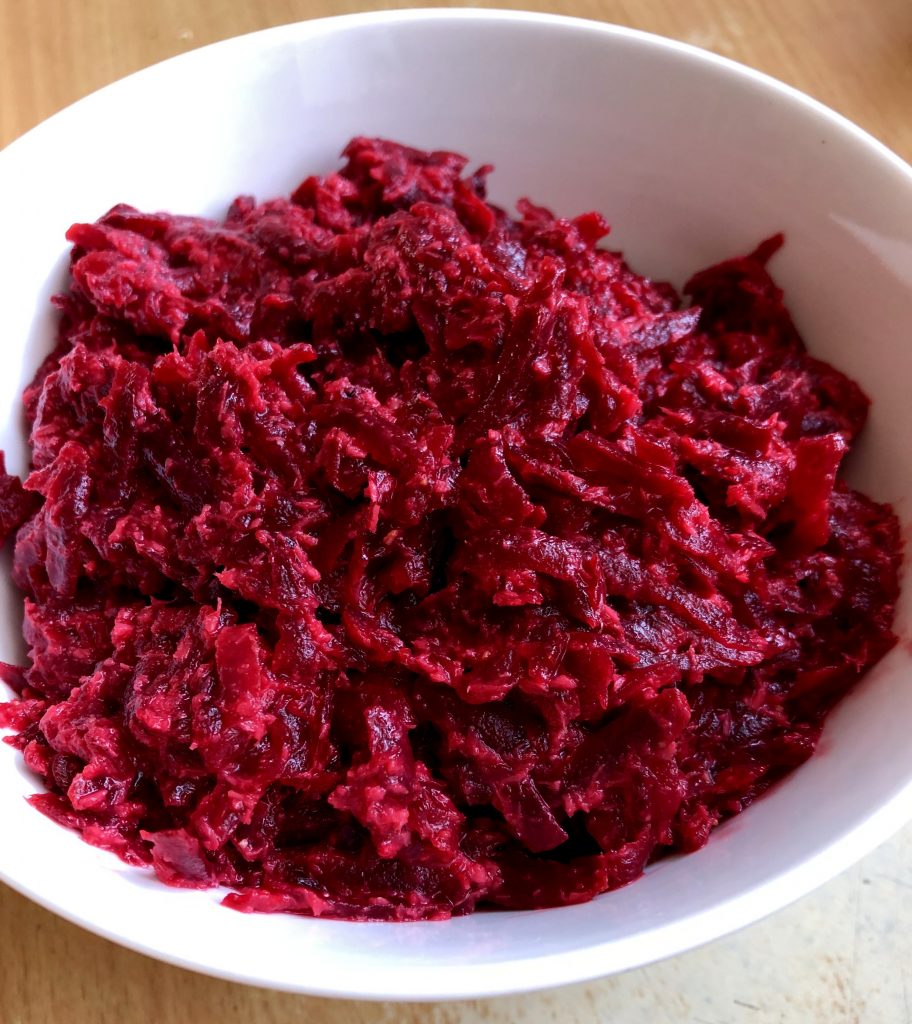 Ćwikła is more popular in Winter, as beets can be easily preserved and used through the whole year. It is very popular during celebrations – Christmas and Easter, but why not make it in summer, using fresh beets and fresh horseradish.
Recipe: Ćwikła.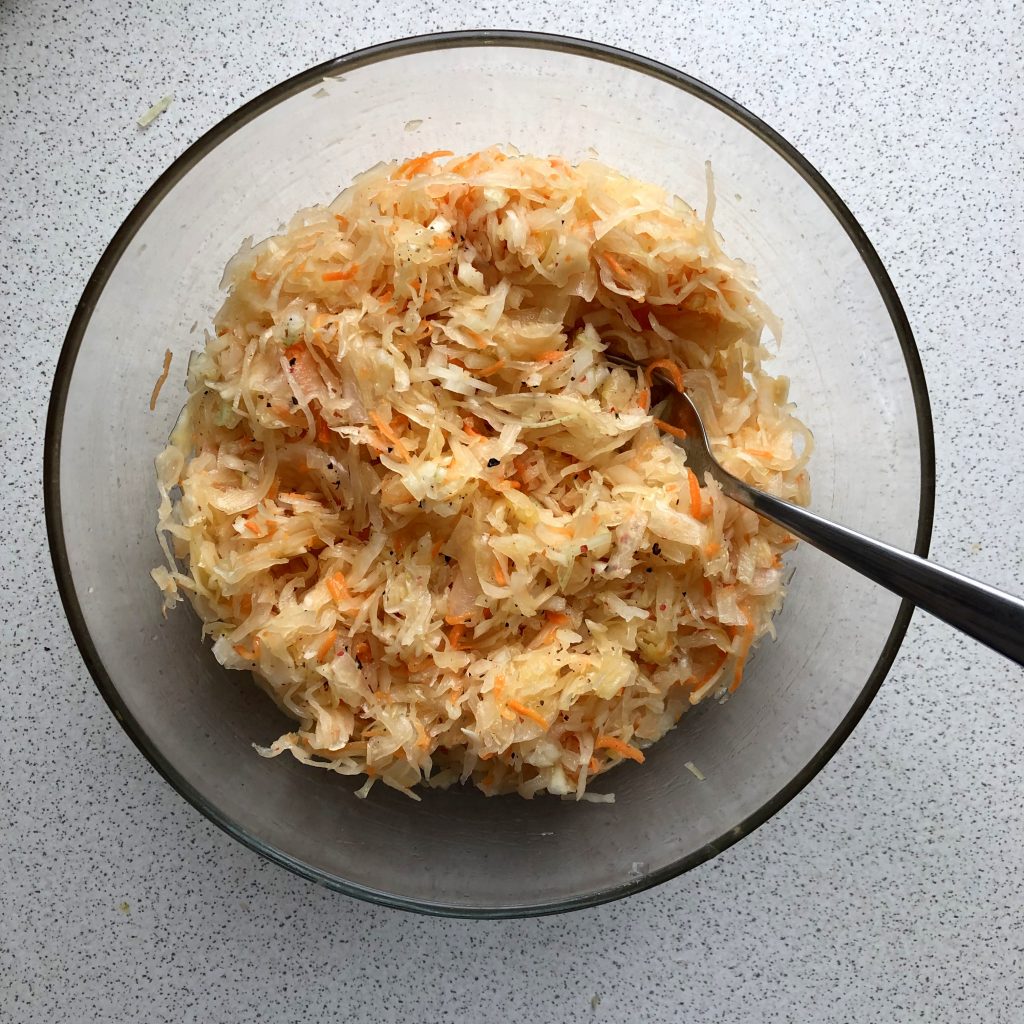 So yummy and full of probiotics. Kapusta kiszona is healthy, makes your intestines work good:) Cheap and very popular in Poland. Although it can be cheated – some producers add vinegar instead of longer process of fermentation, we need to check carefully on the label.
Recipe: Sauerkraut Salad – Kapusta Kiszona.
Surówka – Polish slaw is a healthy addition to any dinner, remember about that bouquet of health on your plate:)
If you liked my posts and tried my recipes, you can consider buying me a coffee. Or rather I should say: you can buy me a flour for Pierogi, cabbage for Gołąbki and beets for Barszcz:) This would help me to cook more and public more delicious recipes for You. www.buymeacoffee.com/cookinpolish.
Comment on the post if you have questions, other ideas on the recipe or just enjoyed reading. I would be happy to see your thoughts on my posts!
Thanks for liking and sharing my recipes to your friends – it helps to develop my blog!