In my family house beets and horseradish – Ćwikła is served during Easter and Christmas, it usually goes with home made cold meats and vegetable salad.
Check more beets' Polish recipes on: http://cookinpolish.com/tag/beets/.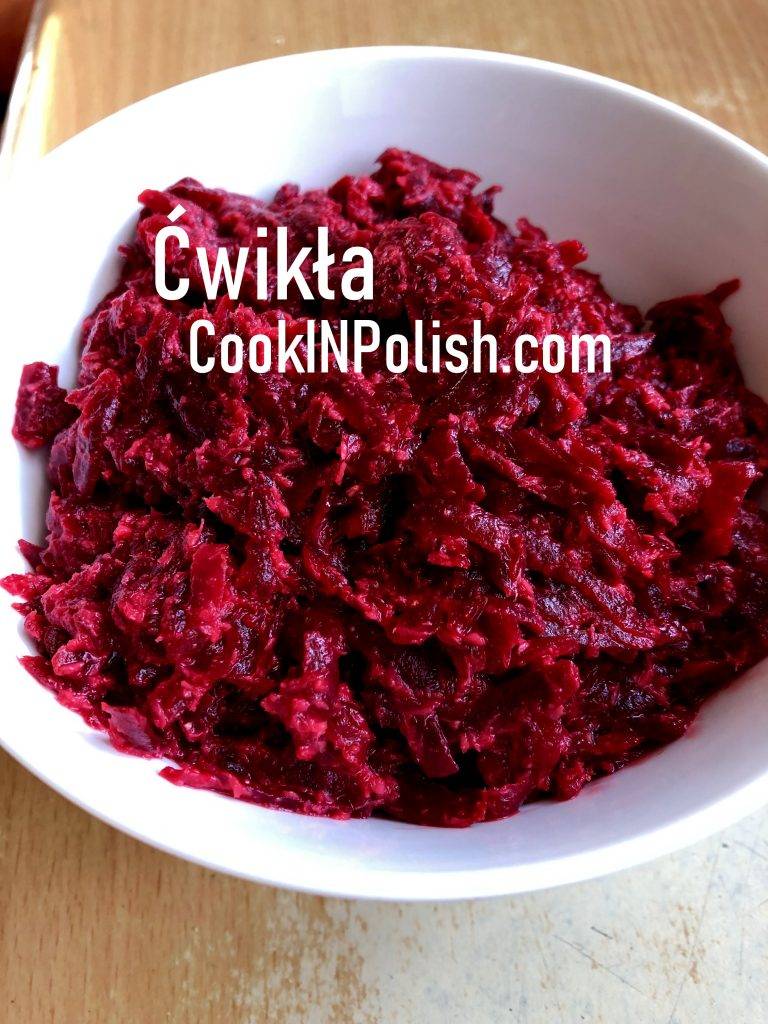 Ingredients
5 beets
1/2 cup horseradish
salt
3 tbs lemon juice
Bake or cook beets.
If you prefer to cook: Place clean whole beets without peeling in a pot, cover with small amount of water, bring to boil and cook on small fire – depending on the beets size – for about an hour.
If you choose to bake, like I usually do: Clean beets, cover each with aluminum foil. Bake in 180 C/ 360 F for about an hour.
Once they're cool, peel them and grate them on a medium sized grater. Actually in Poland a medium sized whole grater is usually called: beets' grater:)
Season with salt. Add lemon juice or white vinegar or… my magic ingredient – balsamic vinegar:) I know, it's not Polish, but if you can accept that fact;), go for it – it makes a difference!
Add grated horseradish. You can add less and check the taste, so that it wasn't too hot. Keep it in a jar to keep all the flavors inside mixed together.
Each horseradish can have a different level of sharpness – is it a good word to use here? so you can adjust it to your taste. Remember that after a night, beets and horseradish would become less sharp than at the beginning. Flavor would mix and calm. I usually make ćwikła a night before Christmas and keep it closed in a jar. I make few jars for a whole Christmas time. In Poland we have 2 days off for Christmas, so we really need to prepare:)
Serve beets and horseradish – ćwikła to cold cuts. It's going to stay good for a week. Keep it in a cold.
Preparing to Christmas
You can make few jars of baked beets in advance, to have it in your pantry and have it for quick use just the moment you feel like having ćwikła. You just take one jar, add horseradish and it's ready! Perfect tip for Christmas, make few jars at the beginning of December and you would have more time for Christmas.
Once you have beets baked and grated, add salt, balsamic vinegar. My mum adds a pinch of sugar too. Pack the jars with beets. There should be some juice inside. If there isn't, I add 2-3 tablespoons of water. Close the jar and pasteurize it with a method you prefer. I place jars in a oven and keep it for half an hour in 130 C.
Enjoy! Smacznego! 🙂
If you liked my posts and tried my recipes, you can consider buying me a coffee. Or rather I should say: you can buy me a flour for Pierogi, cabbage for Gołąbki and beets for Barszcz:) This would help me to cook more and publish more delicious recipes for You. www.buymeacoffee.com/cookinpolish.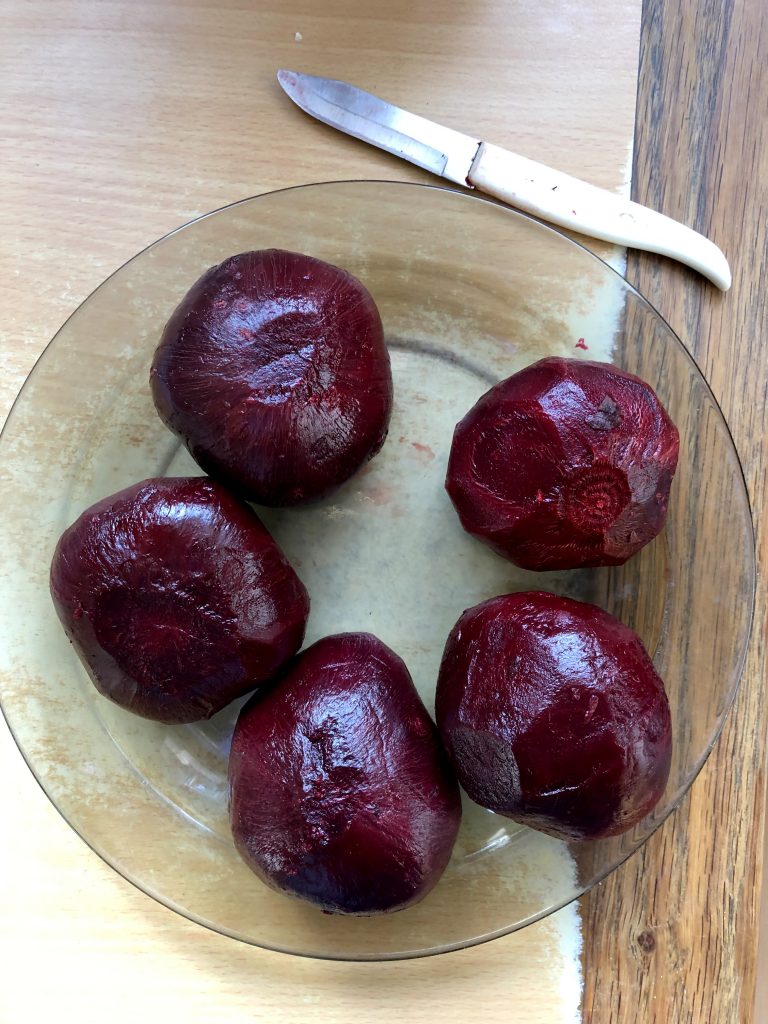 Comment on the post if you have questions, other ideas on the recipe or just enjoyed reading. I would be happy to see your thoughts on my posts!
Thanks for liking and sharing my recipes to your friends – it helps to develop my blog!