Polish Bigos (Hunter's Stew) is one of the most known Polish dishes. It's pronounced: [ˈbʲiɡɔs]. Each family has it's own recipe for bigos and each bigos is different, but the core is sauerkraut or/and fresh shredded cabbage and various kinds of chopped meats. You can use meats you like or which have left in the fridge. Yes, this is a great way to get rid of leftovers:) The more kinds of meats you use, the richer the taste, just follow your likes.
You need to stew all the ingredients for couple of hours. Some cooks are making bigos for 3 days, each day stewing again and cooling, so that bigos' flavors combine and give the best taste:) People in Poland say that the more times you warm up bigos, the better it tastes.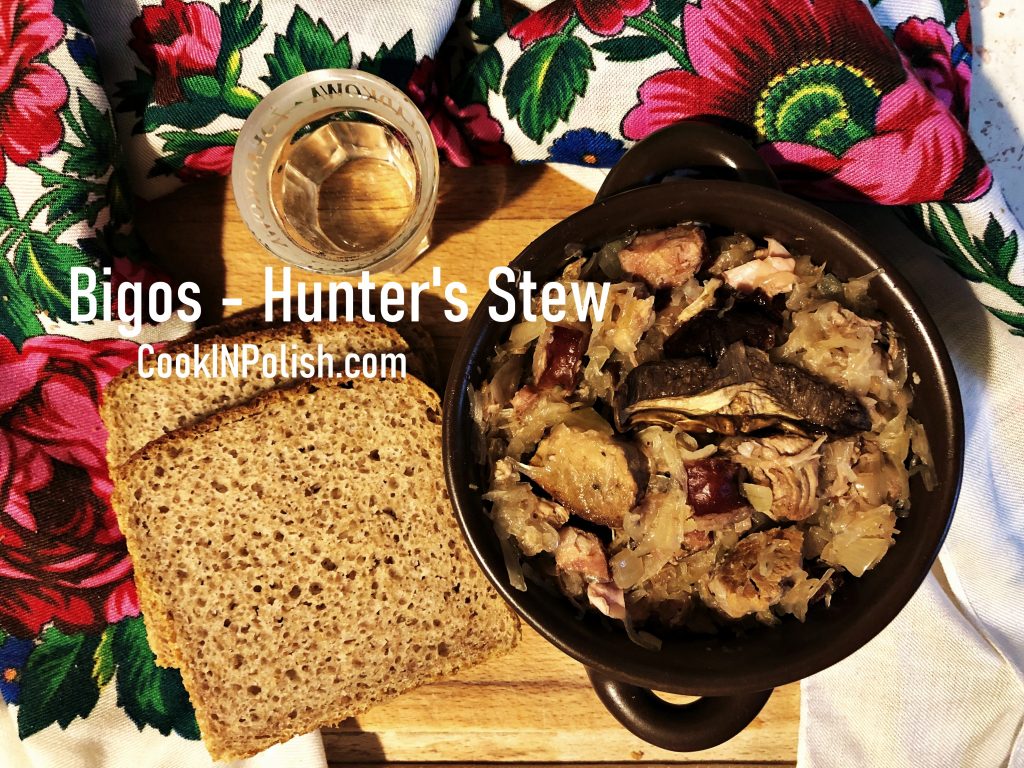 You can roast or fry your meats before combining with sauerkraut. Below you will find my recipe for bigos, I like lean meats which I roast, but I add sausage which is rather fat, to add flavor. This time I use only sauerkraut.
Ingredients:
2 kg/ 4,5 lb sauerkraut
1 kg/ 2 lb pork shoulder
600 g/ 1,5 lb Polish smoked sausage (I used 2 kinds of kiełbasa)
2 thick slices smoked ham
few dried forest mushrooms
handful dried plums
2 medium onions
1 cup red dry wine
0,5 ts caraway
1 ts marjoram
4 seeds allspice
4 bay leaves
salt & pepper
Place dried wild mushrooms in a bowl, cover with hot water and leave for rehydration for half an hour, then cut mushrooms into strings. Save the water for later.
Sauerkraut
Check your sauerkraut, if it's very sour, rinse it roughly. (I never rinse mine, as I like bigos to be really sour, but you may like to balance the taste, specially if you cook it for the first time.) Chop it and place sauerkraut in the big pot, add allspice and bay leaves. Add cut mushrooms, add water from mushrooms' rehydration and 2 more cups of water, bring to boil and simmer. Stir every several minutes. Check if there is enough liquid inside, so that it did not get burned. Add more water if necessary.
Meats
In the meantime chop pork shoulder into bite sized chunks, roughly fry them on the skillet to close the flavor inside. Then place them the oven and roast for about 50 minutes in 170 C/ 340 F.
Dice Polish sausage and fry on the skillet, add to the sauerkraut.
Chop onions, fry on the pan and add to the pot.
Dice smoked ham and add to the pot. You can use smoked bacon instead, to add smoky flavor to your bigos . I used freshly homemade smoked ham, which I had left from Christmas.
Cut dried plums into strings, add to the pot.
After an hour you should have all the meats and other stuff inside. Season with pepper, add caraway and marjoram. Add salt if needed (sausage and sauerkraut are salty, so check the taste first). Simmer for another 40 minutes, stir from time to time. Liquid should evaporate. Add a cup of red dry wine, which you like. Simmer for another 15 minutes. Let it cool slowly.
You can serve Polish Bigos – Hunter's Stew right away or keep it in the fridge and warm up on the next day. Best served with rye bread and some may say- with Polish vodka;)
For more Polish comfort food check: http://cookinpolish.com/tag/comfort-food/.
If you liked my posts and tried my recipes, you can consider buying me a coffee. Or rather I should say: you can buy me a flour for Pierogi, cabbage for Gołąbki and beets for Barszcz:) This would help me to cook more and publish more delicious recipes for You. www.buymeacoffee.com/cookinpolish.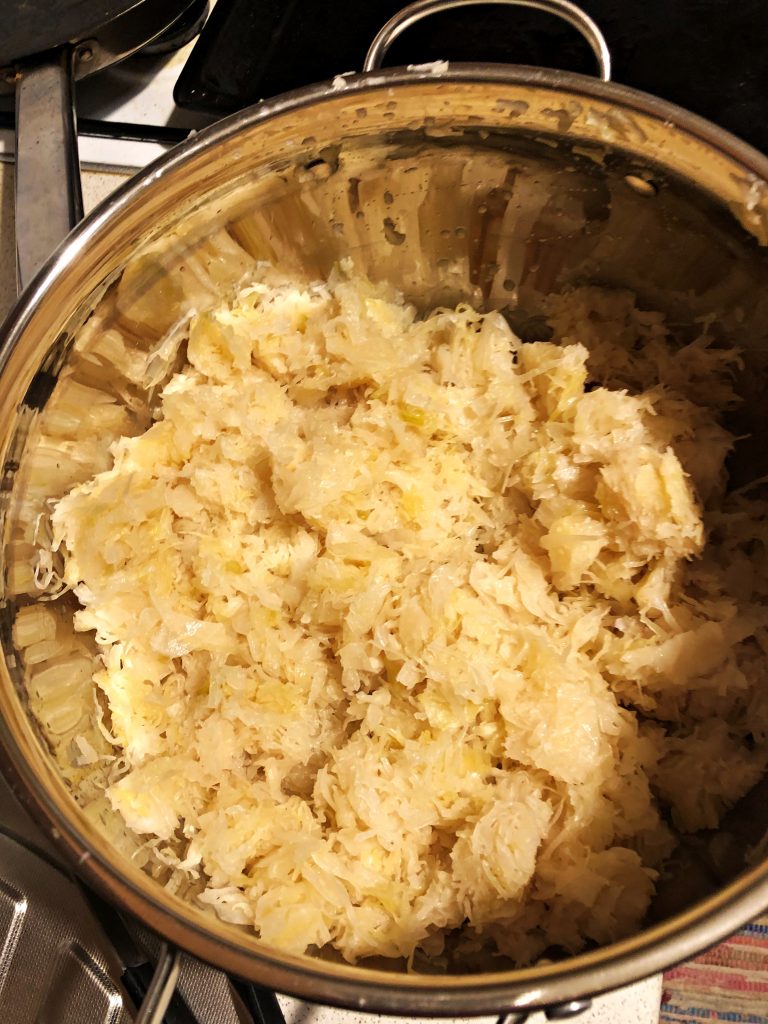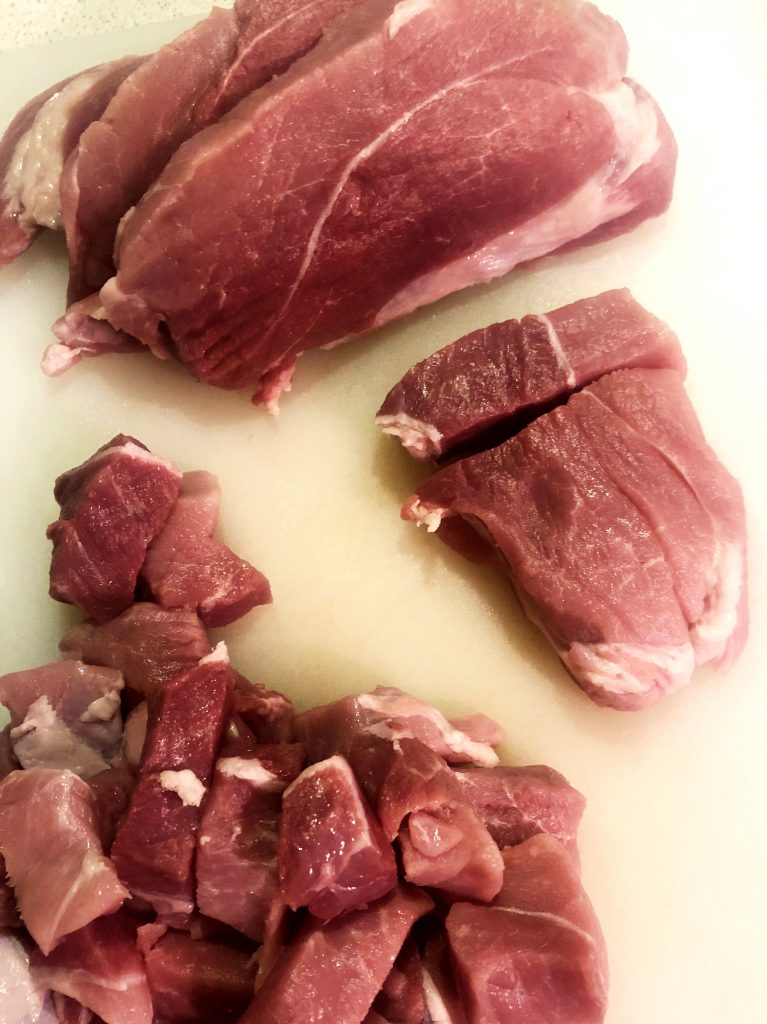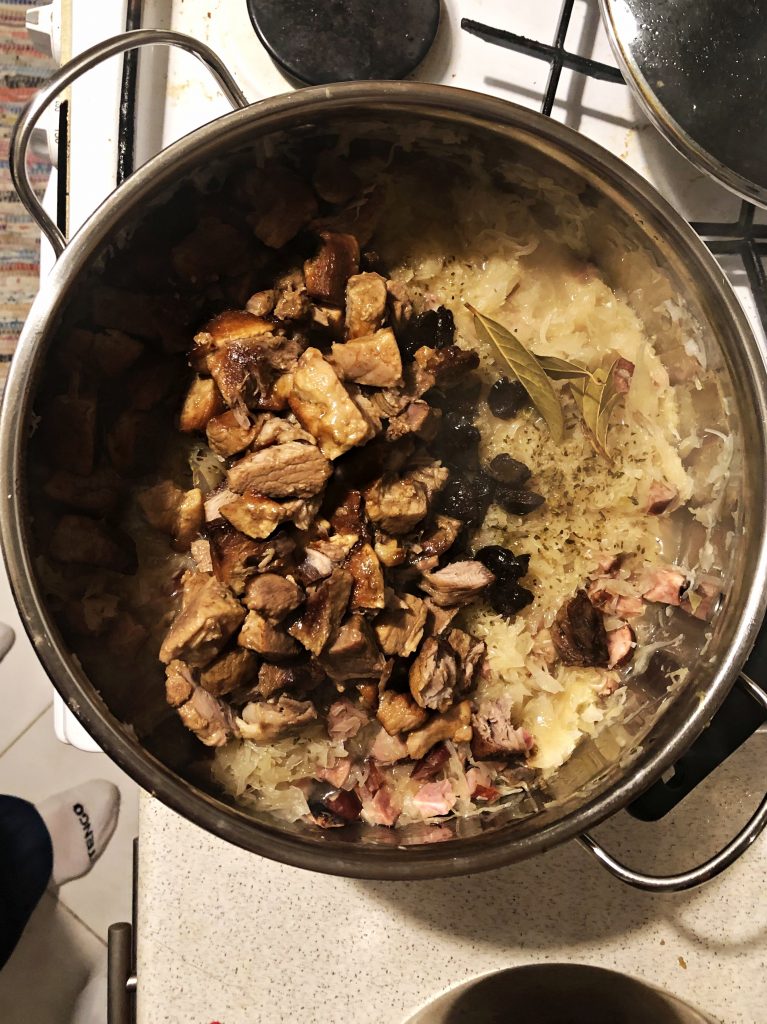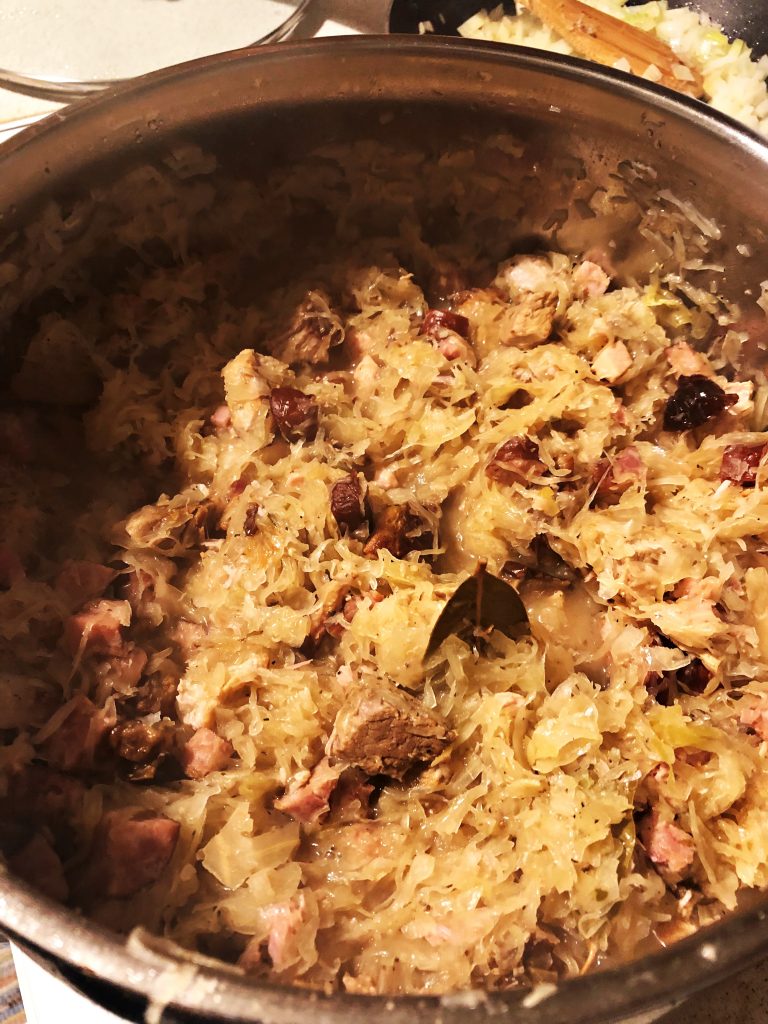 Comment on the post if you have questions, other ideas on the recipe or just enjoyed reading. I would be happy to see your thoughts on my posts!
Thanks for liking and sharing my recipes to your friends – it helps to develop my blog!