Fasolka po Bretońsku
The recipe for Polish Beans with Kiełbasa is very easy, there is a lot of freedom involved, you can add more beans or more kiełbasa or seasoning according to your taste. Once you make it, you won't need a recipe any more. Making is quite intuitive, try and let me know in comments how you liked it.
Let's be honest, this is not a dietetic food;) Beans and sausage? But once in a while – why not? It will bring you back to your childhood and mom's and grandma's cooking. At least I have this feeling. I remember that my mom in Fasolka po bretońsku used all the meat leftovers, which I hated, because she had tended to use too much fat. Those days it was quite hard to feed a multi-generational family of 7-8 people, so all the food was used, no throwing away a thing.
For more Polish comfort food, check the link: Comfort Food.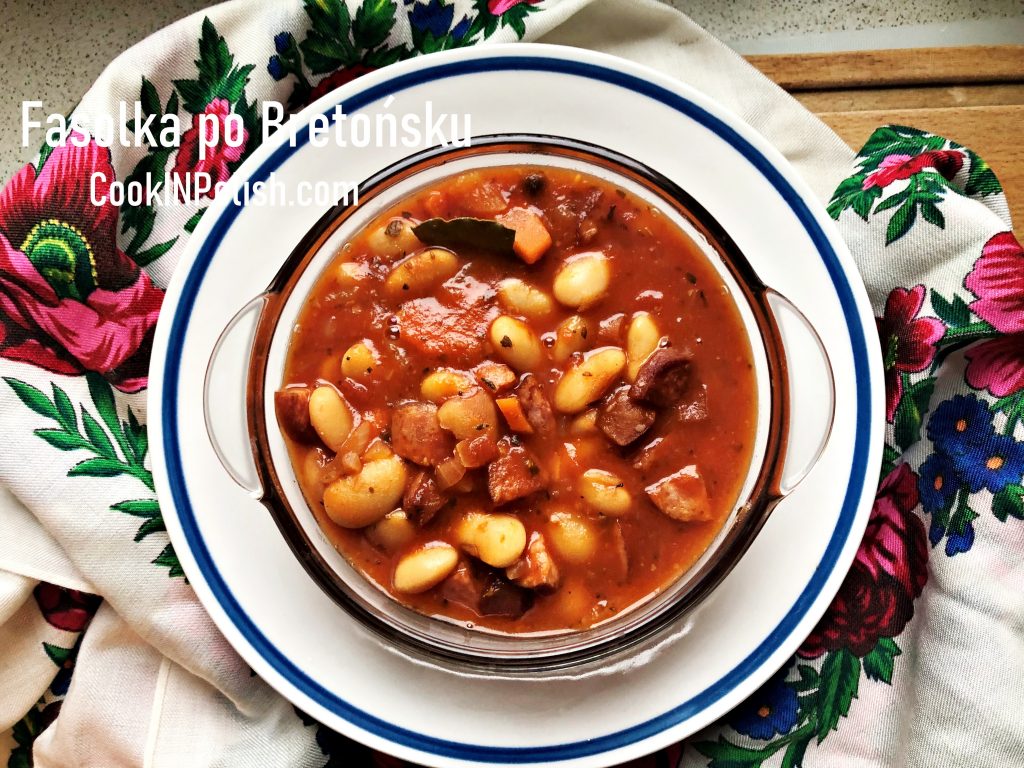 Ingredients:
(for 8 servings)
500 g/ 1,1 lb dried beans
400 g/ 1 lb smoked sausage
1 onion
3 cups tomato paste (passata)
2 medium carrots
2 tbs marjoram
1 ts sweet red pepper powder
3 bay leaves
4 berries allspice
salt & pepper to taste
The day before cooking place dried beans in a bowl and cover generously with water. Leave it overnight for soaking.
The next day strain the beans, place them a pot, add about 5 cups of water. Add allspice, bay leaves and half of tee spoon of salt and cook it for 1,5 hour.
After one hour of cooking time add thinly sliced carrots.
Once baked beans are cooked, keep it on a low fire.
Dice kiełbasa into medium cubes, or large once – if you prefer so:) Fry sausage in the pan and add to the pot. Leave an excess fat on the pan. Now you can saute diced onion in it. Add onions to the pot. Season generously with marjoram, add red sweet peppers powder and freshly grounded pepper.
Pour tomato paste into the pot (I prefer tomato passata, which is thick and a high quality product). Simmer for another 15 minutes. Check the taste and add more seasonings to your taste if needed.
Polish Beans with Kiełbasa is best, when served with good rye bread. Smacznego! Enjoy!
Notes:
You can use a pressure cooker, which will cut the time of beans cooking by about a half.
You need about 4 cups of tomato sauce, depending on the availability you can use:
tomato paste (passata), which I like the most, but also:
2 cans of tomato and 1 table spoon of tomato concentrate dissolved in a cup of water or:
600 g/ 1,5 lb fresh ripe tomatoes (diced and sauteed without skin) and 2 table spoons of tomato concentrate dissolved in a cup of water.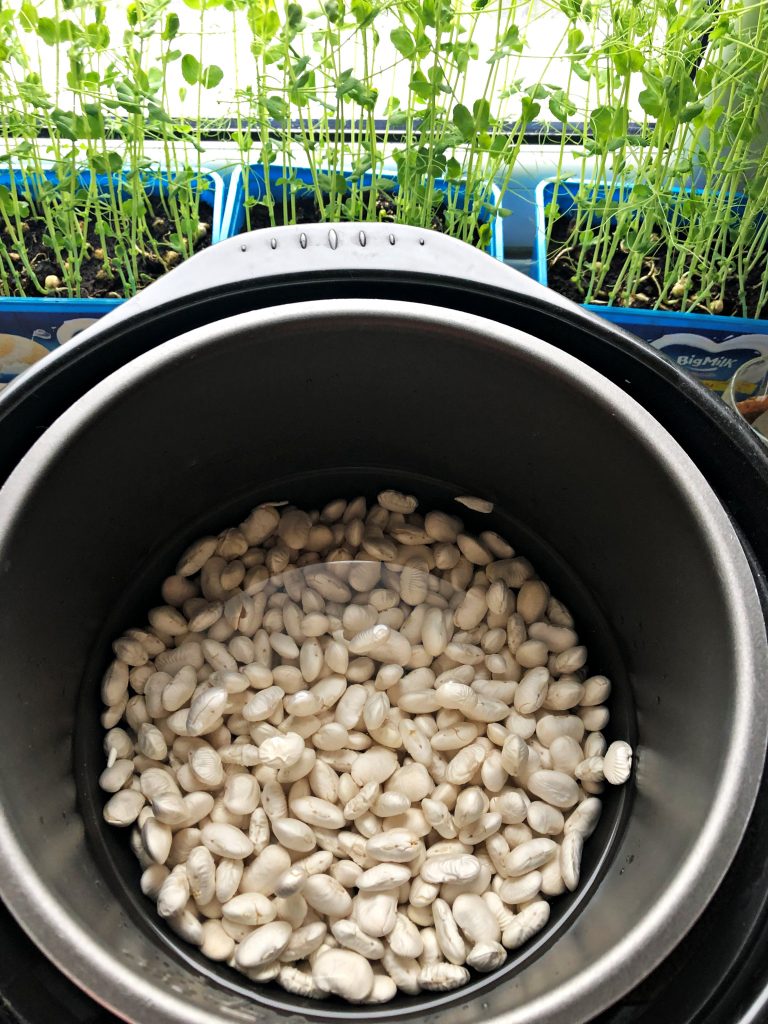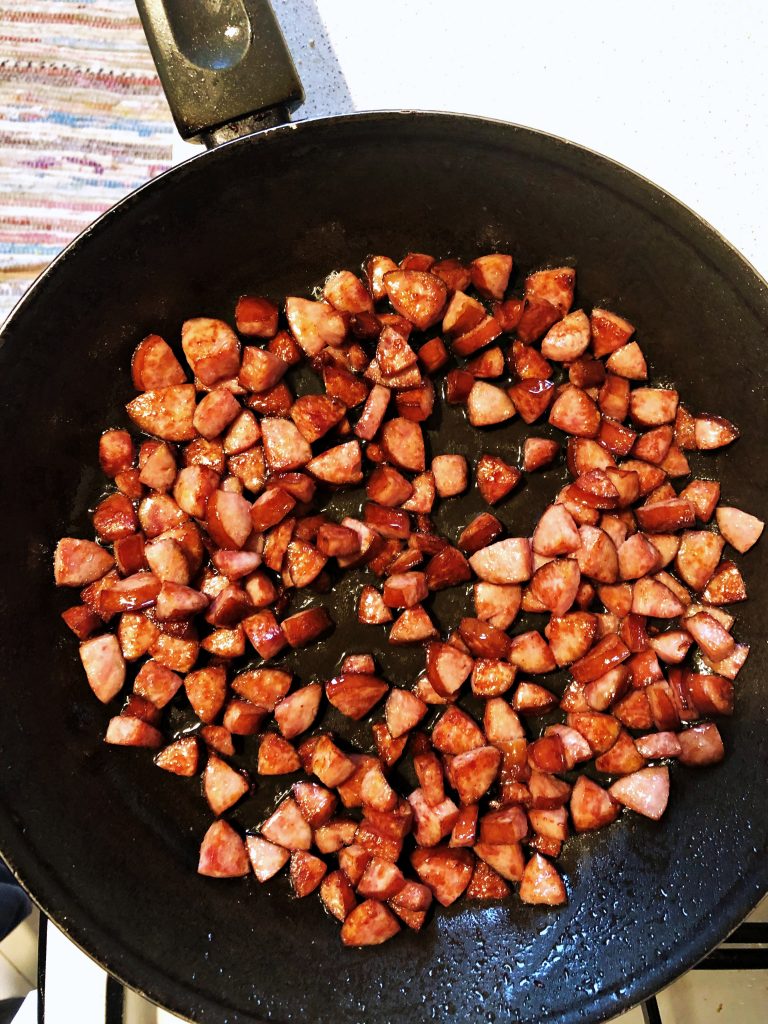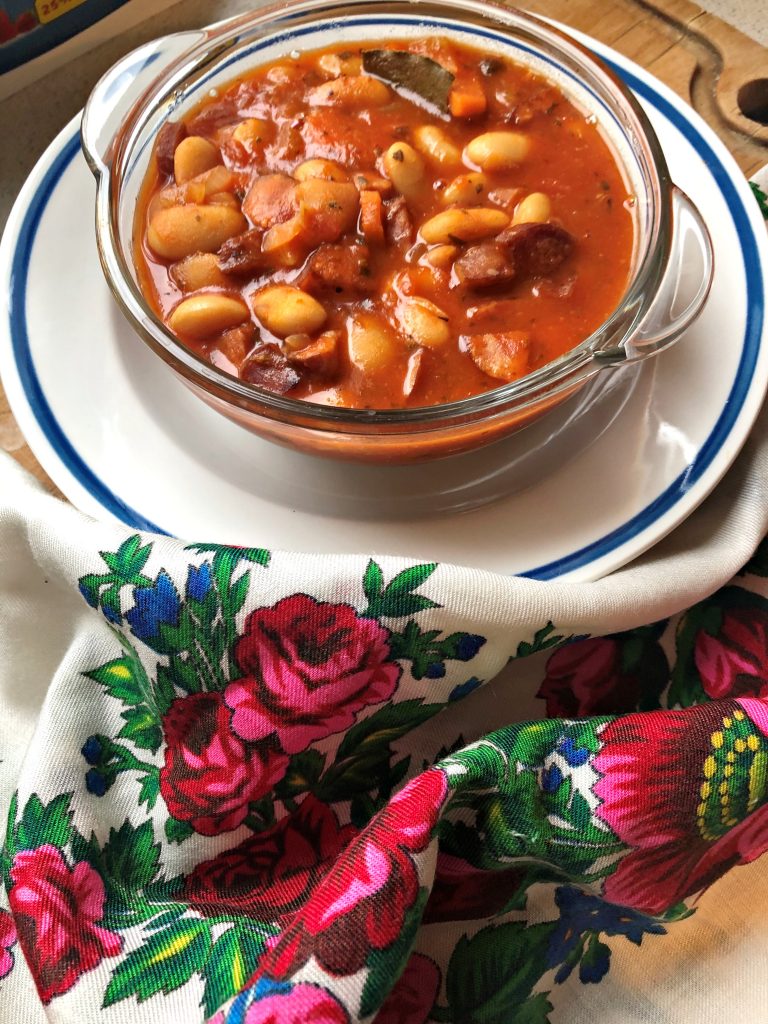 Comment on the post if you have questions, other ideas on the recipe or just enjoyed reading. I would be happy to see your thoughts on my posts!
Thanks for liking and sharing my recipes to your friends – it helps to develop my blog!