Hut of Baba Yaga cake is a dessert that my Mom made in my childhood. Now it's not so popular, there is many modern cakes and desserts that are made by Polish housewives. Hut of Baba Yaga for many sounds like a dessert from communistic Poland. I made it lately for my birthday, we always take a cake to work to celebrate birthday with colleagues. I was looking for a no bake cake, because last week my oven broke :/ It was nice to get back to old times. Hut of Baba Yaga Cake was creamy, not so sweet, with perfect chocolate topping and strawberries in a the middle- this was my invention, usually there is a chocolate layer in the middle of the cake.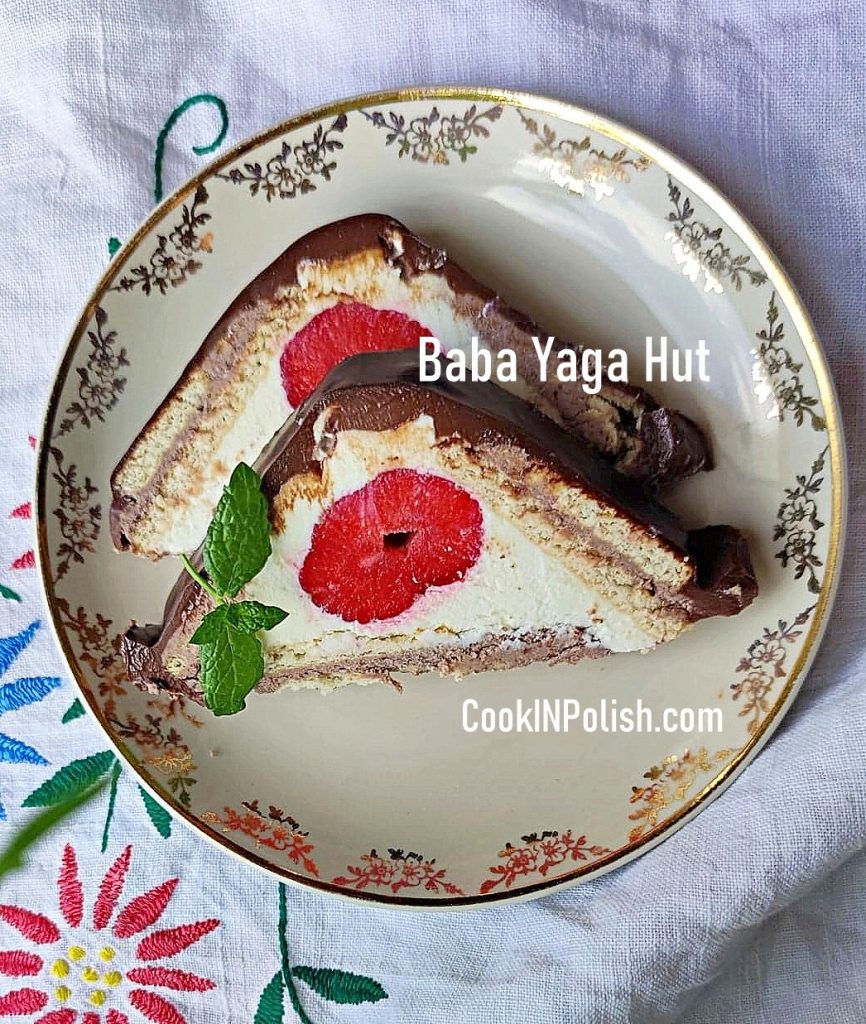 Ingredients
600 g/ 1 and half lb twaróg (farmer's cheese)
200 g/ 7 oz butter
6 full tablespoons powder sugar
1 full tablespoon cocoa
few drops of vanilla extract
36 biscuits
7 – 10 strawberries
Chocolate Glaze
100 g dark chocolate (one bar)
half bar milk chocolate
half cup whipping cream
Twaróg and butter need to be taken out of the fridge few hours before Hut of Baba Yaga cake, so that they get a room temperature. Wash strawberries and dry them with a paper towel.
Place butter in a food processor bowl. Mix with sugar for 2 minutes, till it gets lighter and smooth. Add farmer cheese spoon by spoon, mixing all the time. At the end add vanilla extract. Mix all few minutes more, till you get really smooth dough.
Divide the dough into 3 parts, 2 parts place in one bowl, 1 part in the other. Add one tablespoon of cocoa to the bowl with smaller amount of the dough. Combine thoroughly. Now it's time for assembling:)
Cover large kitchen board with aluminum foil. Spread out the biscuits in 3 rows, 6 biscuits each, like in the picture below: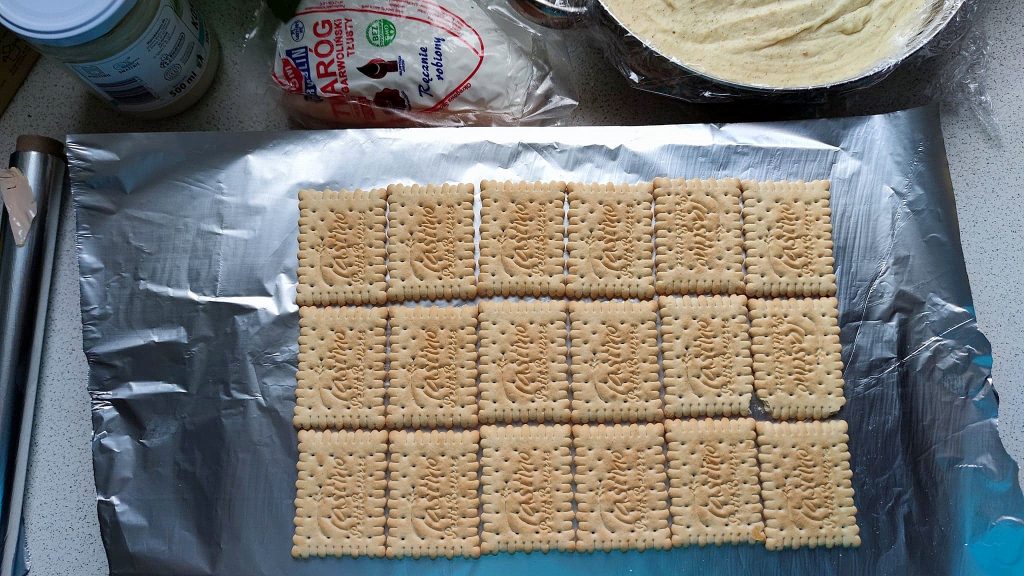 Cover biscuits with a cocoa layer evenly. It would be quite difficult at the beginning, but it's doable:) Place another layer of biscuits (exactly the same way as the first one) and spread white part of the dough over it. Assemble strawberries long wise in the middle of the cake.
Now fold the outer long rows of the cake to form a triangle. Aluminum foil would be a help. Cover the cake with aluminum foil, so that it keep shape of it and place in the fridge for 2-3 hours.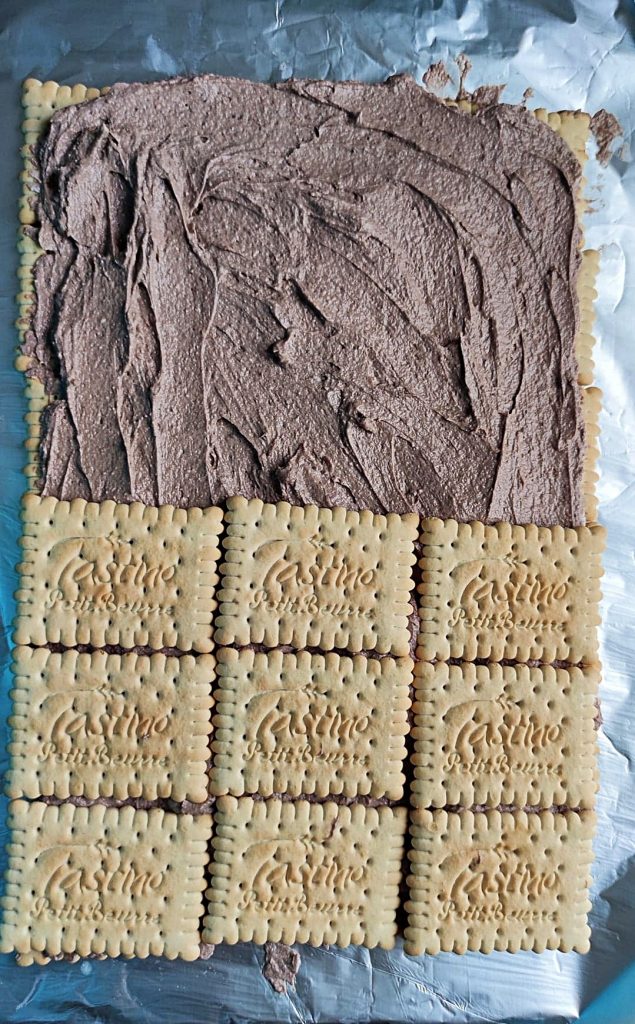 After that time prepare the glaze: place whipping cream in a saucepan and heat it up. Add crushed milk and dark chocolate. Heat it up till you get a smooth topping. Cool for 10 minutes and spread it over the cake. Once the glaze on the dough sets, place the cake back to the fridge. Hut of Baba Yaga cake is best once biscuits soften and go through with the dough flavors.
Smacznego! Enjoy!
For more Polish favorites desserts check this link: Polish Desserts.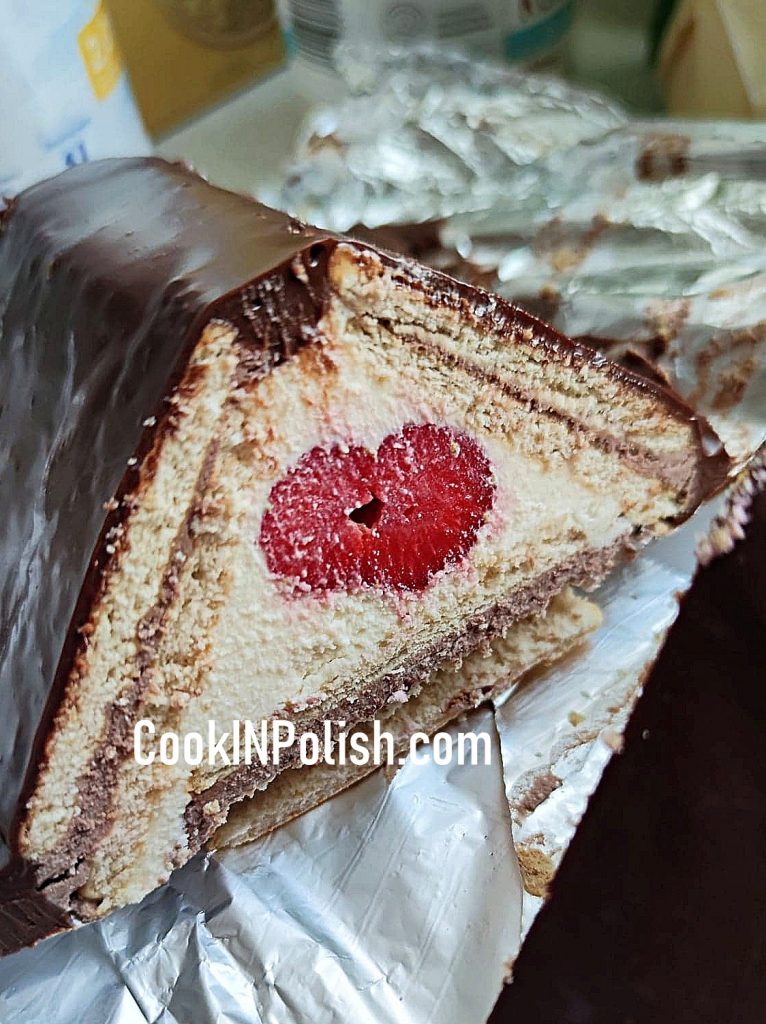 Comment on the post if you have questions, other ideas on the recipe or just enjoyed reading. I would be happy to see your thoughts on my posts!
Thanks for liking and sharing my recipes to your friends – it helps to develop my blog!