Barszcz Ukraiński
This is my mom's version of Barszcz Ukraiński. Polish Ukrainian Barszcz is probably more Polish than Ukrainian, this is just a soup that we call Barszcz Ukraiński. Compared to typical Polish barszcz there is more vegetables and for me, the main difference is that we add white beans and cabbage to Polish Ukrainian Barszcz.
Try this hearty soup, it's healthy and nutritious. It can be a complete meal itself, it's fulling and comforting.
For other Polish soups try this link: Polish Soups.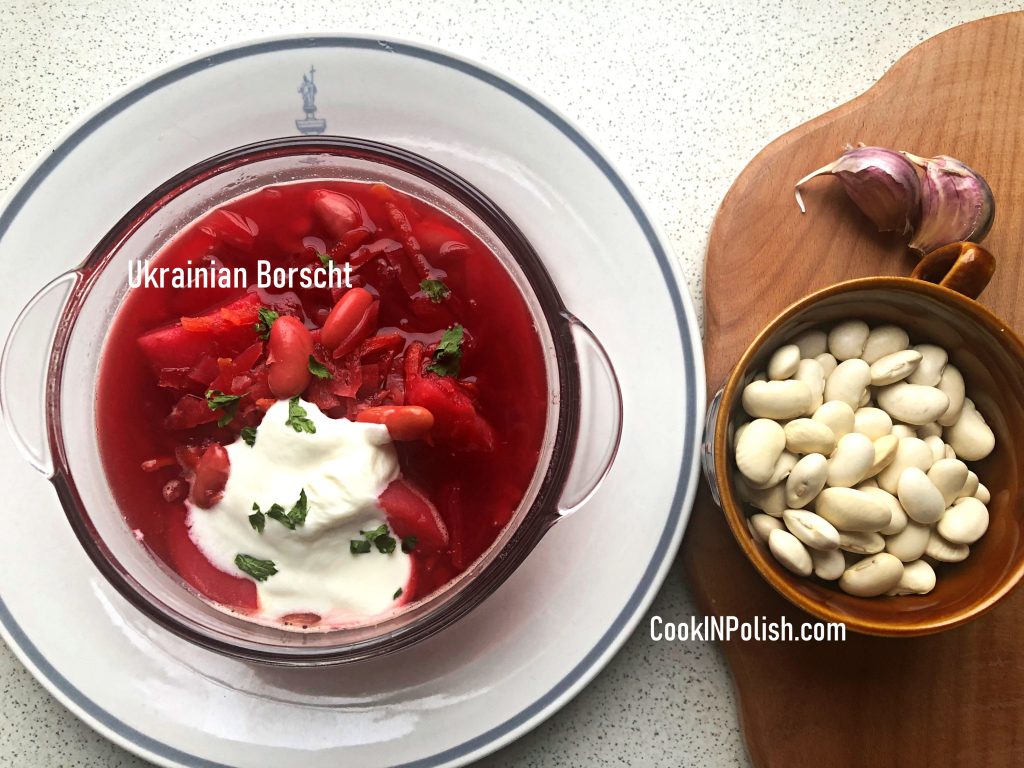 Ingredients
3 beets
2 medium carrots
1 small parsley root (or parsnip)
2 cups shredded cabbage
1 cup cooked beans
4 big potatoes
400 g / 1 lb chicken parts
3 tablespoons butter
2 tablespoons chopped parsley (for serving)
1 cup sour cream (for serving)
3 bay leaves
4 seeds allspice
2 tablespoons vinegar or lemon juice.
salt and pepper
Note: If you will use dried beans, you need to to put the into the bowl with water a day ago, so that it soak the water and become softer. The next morning cook beans in a fresh water with salt. It would take about an hour for it to be ready. You can use canned beans too, it's already cooked, so it's ready to use at any time.
Wash chicken and place in about 4 liters' cooking pot. Start heating. Add bay leaves and allspice. Let it cook for 50 minutes or until chicken is cooked.
In a meantime peel beets, carrots and a parsley root. Grate them on the medium hole grater (as shown on the picture). Fry them in butter in a saucepan for 7 minutes. Set aside.
Shred cabbage.
Peel potatoes and cut them into smaller pieces.
Once chicken is cooked, take them out of the pot. Transfer vegetables to the pot, first cabbage, then sauteed beets, carrots and parsley root. After 10 minutes add potatoes and cooked beans. Once potatoes are cooked, Polish Ukrainian Barszcz is almost ready. Remove the pot from the gas stove, add vinegar (or lemon juice or ideally: beats leaven), season with salt, sprinkle with pepper.
Serve with a dollop of sour cream and chopped parsley.
Enjoy! Smacznego!
If you liked my posts and tried my recipes, you can consider buying me a coffee. Or rather I should say: you can buy me a flour for Pierogi, cabbage for Gołąbki and beets for Barszcz:) This would help me to cook more and publish more delicious recipes for You. www.buymeacoffee.com/cookinpolish.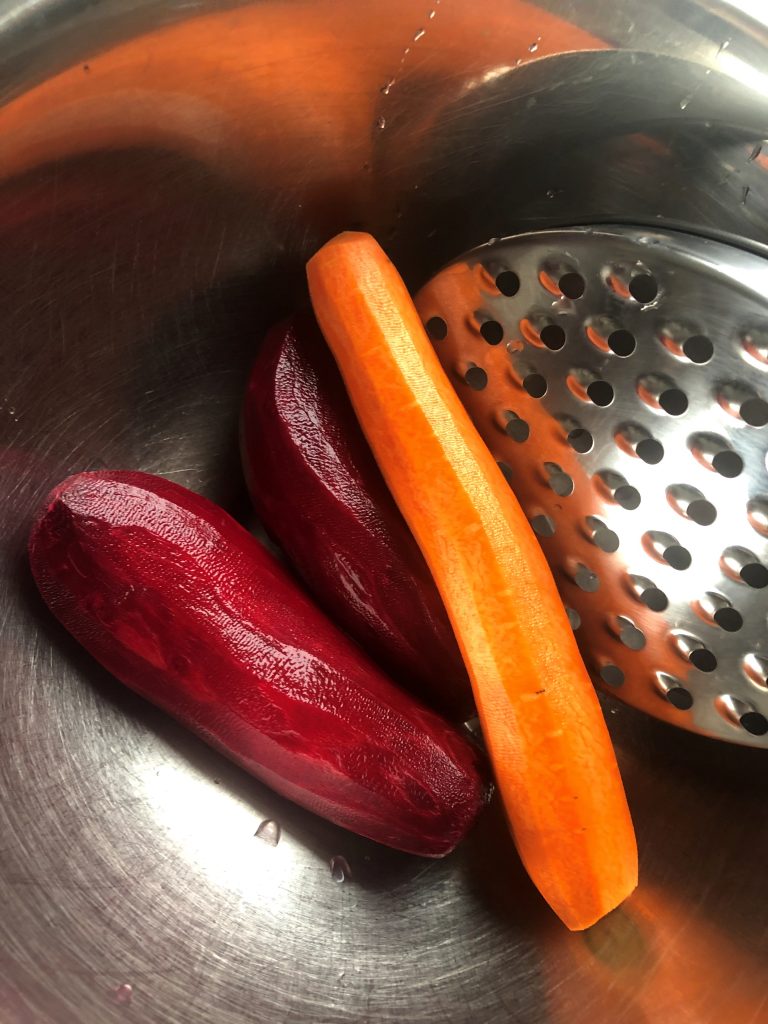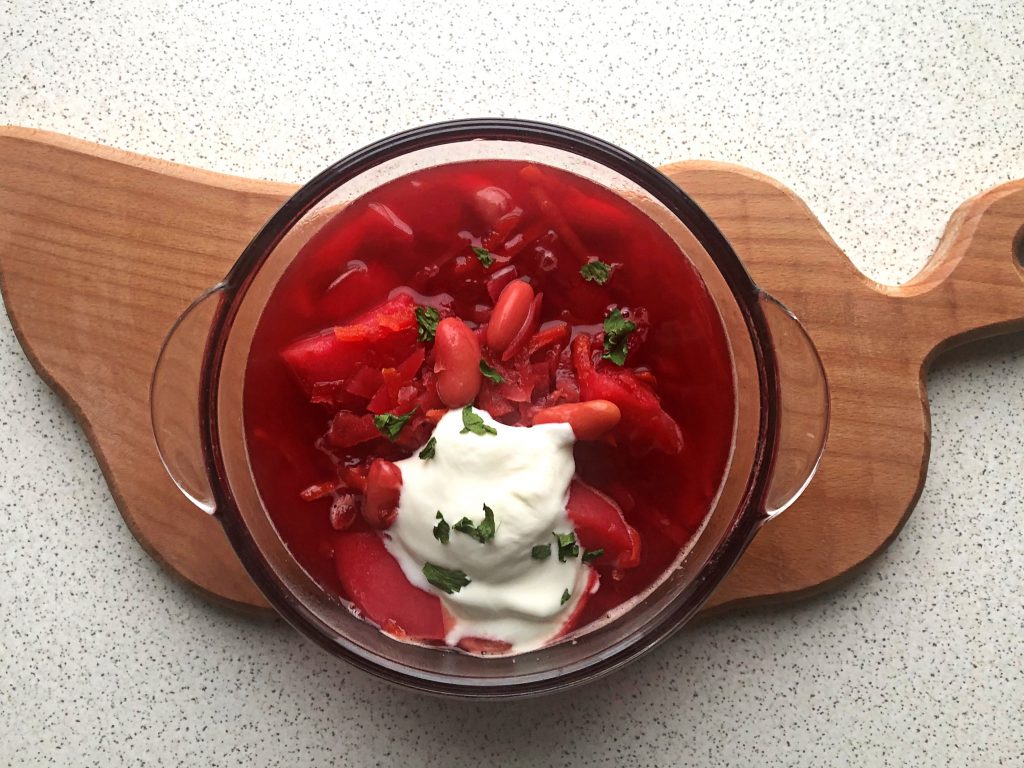 Comment on the post if you have questions, other ideas on the recipe or just enjoyed reading. I would be happy to see your thoughts on my posts!
Thanks for liking and sharing my recipes to your friends – it helps to develop my blog!