Naleśniki z Serem
Polish Crepes with Farmer's Cheese are one of the favorites sweet suppers in Poland. These thin pancakes served with Polish white cheese, heavy cream and almond flakes are the best!
Maybe you would like to check Polish Pancakes with Apples? Apple racuchy are really delicious!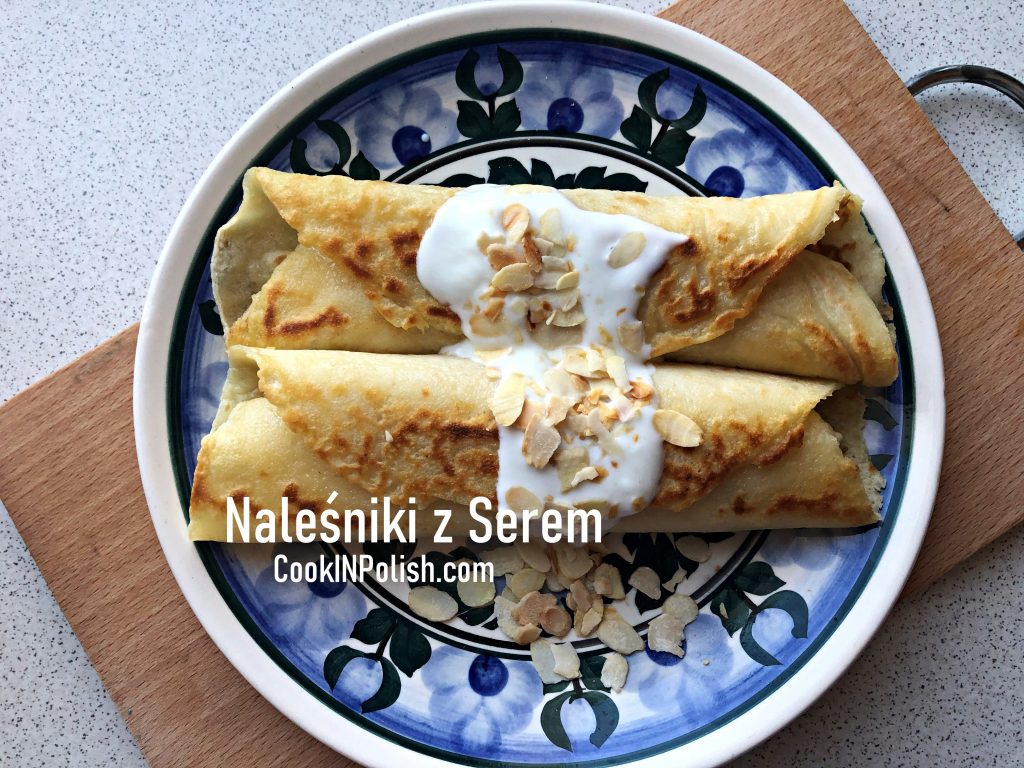 Ingredients
4 cups flour
2 eggs
2 cups milk
water
clarified butter for frying
Filling:
1 lb/ 400 g farmer's cheese – twaróg
1 egg yolk
half cup powder sugar
few drops of vanilla extract
Combine flour with egg and milk in a hand mixer or manually. Add water to get heavy cream consistency.
Leave the dough on the side and prepare crepes' filling. In this time gluten will start to work and the dough with become smooth and creamy. Fry on each side for about a minute.
For filling: combine farmer's cheese with an egg yolk, add vanilla extract and powder sugar. Mix well. The consistency of the filling should be rather dry, so that the filling did not flow out the pancake while frying.
Assembling: Place 2 tablespoons of the filling on each crepe, spread it all over and fold. I like it rolled as on the picture, but you can can fold it twice in halves into triangles.
Fry till golden on each side. Start with the side where you folded the pancake, so that it stick together well. Use clarified butter for extra buttery flavor:)
Polish Crepes with Farmer's Cheese are best served with double cream, sugar, berries or almond flakes. Enjoy! Smacznego!
Notes: you can substitute farmer's cheese with fine curd cheese or ricotta. What can you do, if you don't have twaróg, you can still enjoy naleśniki z serem🙂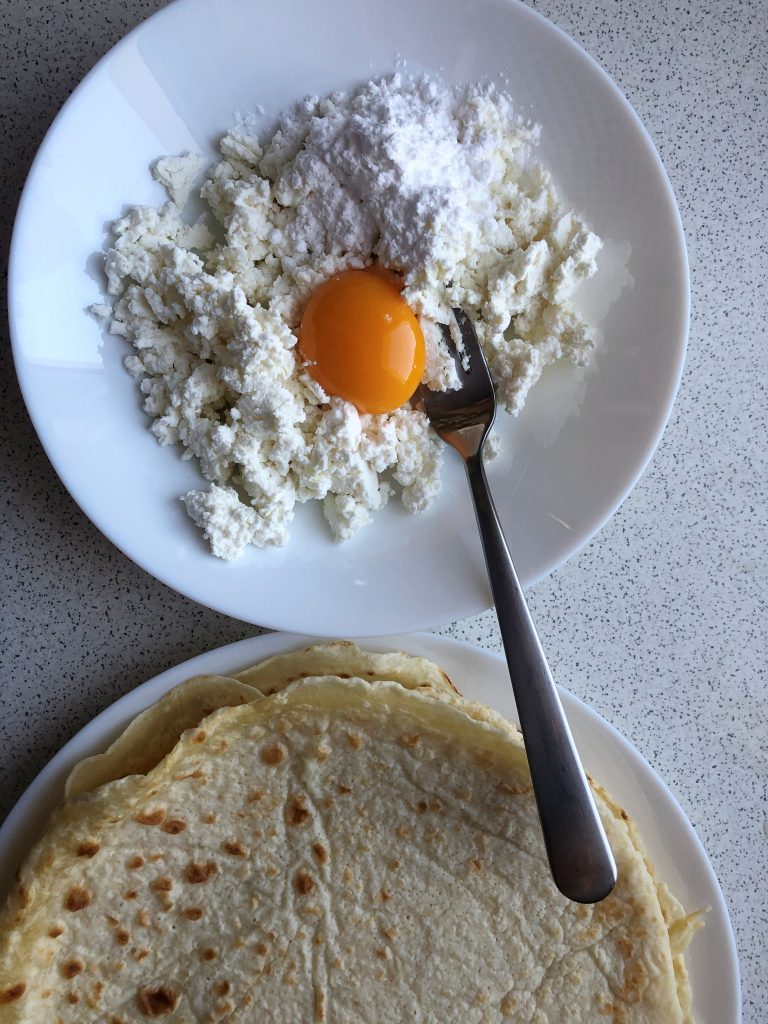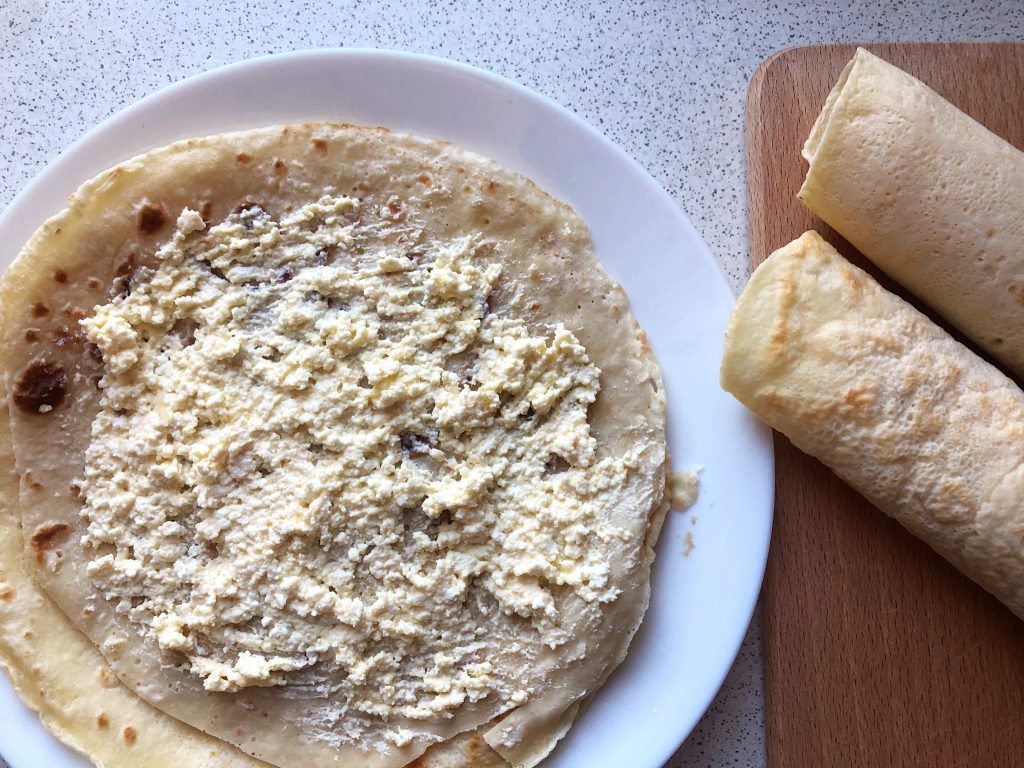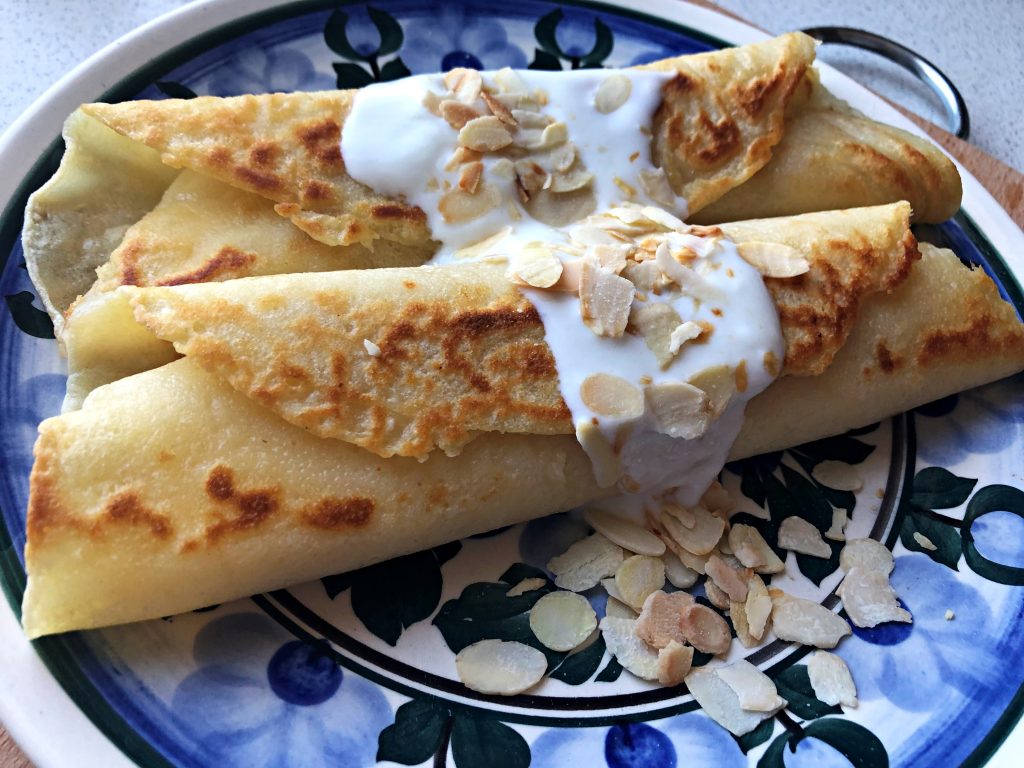 Comment on the post if you have questions, other ideas on the recipe or just enjoyed reading. I would be happy to see your thoughts on my posts!
Thanks for liking and sharing my recipes to your friends – it helps to develop my blog!