Buraczki na zimę
Canned Pickled Beets are my mom's specialty. I used to call her and ask how she made them, but it was always – add sugar, salt and vinegar to taste, no specific recipe, which made me crazy:) Last time I was visiting my parents I decided I needed to make Canned Pickled beets with my mom:) I bought a 10 kg bag of beets and here are the results. Now you can have beets for Winter too, as I wrote everything down, all you need to do is just follow my recipe:)
Are Canned Pickled Beets good for you?
Beets have a number of health benefits, including improved digestion, physical performance, blood sugar levels, and heart health. Beets are high in fiber and promote the growth of good bacteria in your gut. Beets are rich in iron, which helps to transport oxygen throughout the body and boosts immune. No wonder beets are getting more and more popular. They are cheap and beneficial to your body. Delicious too!
How do I use Canned Pickled Beets in Winter time?
There is a multiple dishes to make using canned beets. These are my favorite:
I add a jar to make a delicious Beet Soup
I make a Beet Salad
I make Sauteed Beets, which is a great side dish to Mielone patties
I just open the jar and add some to my dinner.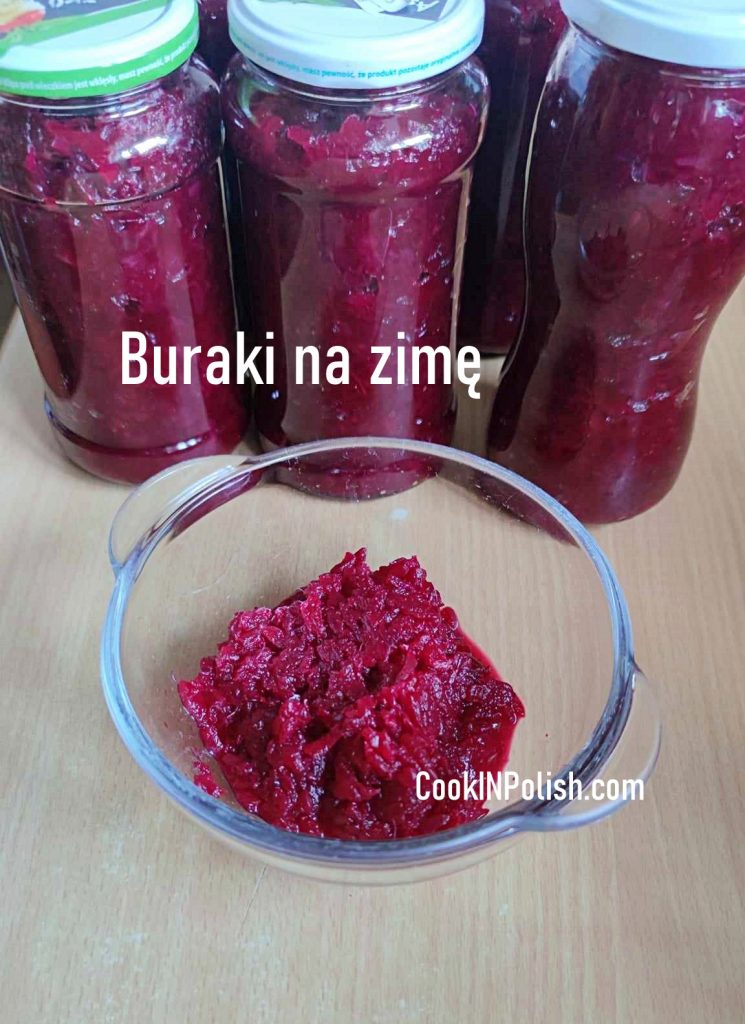 Ingredients: For each kilogram of beets (which is a little more than 2 lb) you need:
1 tablespoon sugar
1 teaspoon salt
2 tablespoon white vinegar
Wash beets thoroughly. Place them in a large pot, cover with water and cook about an hour, or a bit more, depending on the size of beets.
Once beets are cooked drain them, let them cool and skin them. Trim the edges. Grate beets on a medium whole grater. In Poland we call this grater a beet grater:) Fortunately my mom has a special kitchen appliance for grating and it takes only 5 minutes:)
Add sugar, salt and vinegar and mix all well.
Sorry to say, but tasting is still essential! 🙂 Adjust amounts of the ingredients after you tasted the mixture. It's because of the fact, that beets can be more or less sweet, depending on the kind and place of planting. You can also adjust it to your taste, you may like to make them a bit more sour or less salty.
Once you got it as you like, you can start packing up the jars. Dry the edges, close them with a lid and pasteurize Canned Pickled Beets with your favorite method.
Smacznego! Enjoy! If you like canning for Winter you may also like to try Pickled Forest Mushrooms.
If you liked my posts and tried my recipes, you can consider buying me a coffee. Or rather I should say: you can buy me a flour for Pierogi, cabbage for Gołąbki and beets for Barszcz:) This would help me to cook more and publish more delicious recipes for You. www.buymeacoffee.com/cookinpolish.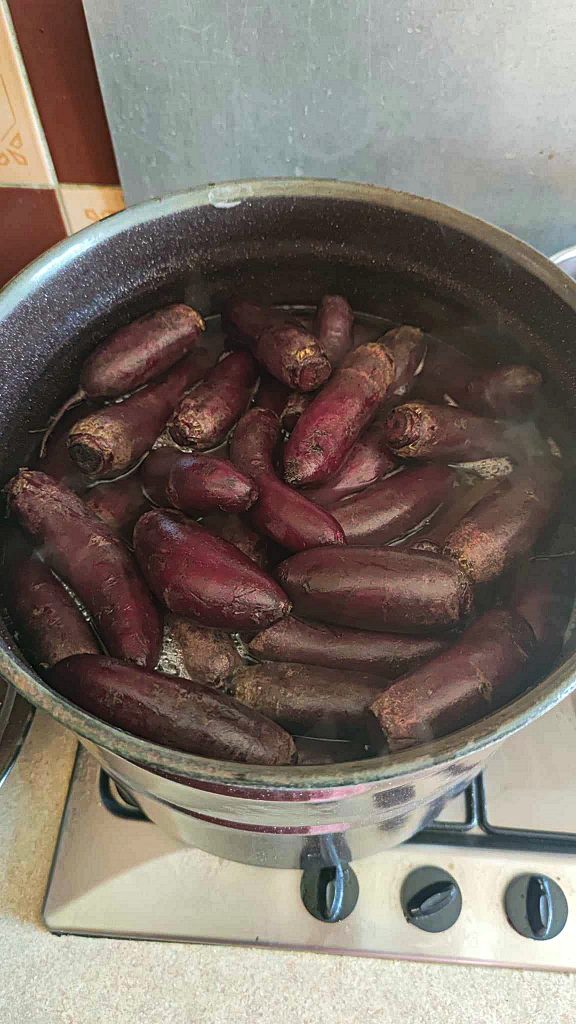 Comment on the post if you have questions, other ideas on the recipe or just enjoyed reading. Share your pictures from cooking! I would be happy to see your thoughts on my posts!