Zupa grzybowa
Late Summer and Autumn is the time of mushrooms picking and Poles are actually obsessed with it:) On weekends you can find dozens of cars in forest parking lots, making it difficult to find a parking space. Forget about finding a place, if you are too late, which is about 7-8 a.m:) When you are lucky and you can finally start wandering around the forest in search of mushrooms, you will hear people calling each other not to get lost in the forest:) It's actually a great experience, and I, as a Pole, so much love picking mushroom:) Cleaning mushrooms at home is no longer fun;) but afterwords you can dry mushrooms, make sauces or this gorgeous Fresh Forest Mushrooms Soup.
Which mushrooms do we pick in Poland?
Chanterelle – kurka
Slippery Jack – maślak
Porcini -borowik (boletus)
Saffron milk cap– rydz mleczaj
Oyster mushroom – boczniak
Honey fungus– opieńka
Parasol mushroom – kania czubajka
The other mushroom dish I love are Vinegar Pickled Mushrooms, recipe is easy, but the outcome is extraordinary. It's a beautiful appetizer on Christmas and Easter tables:)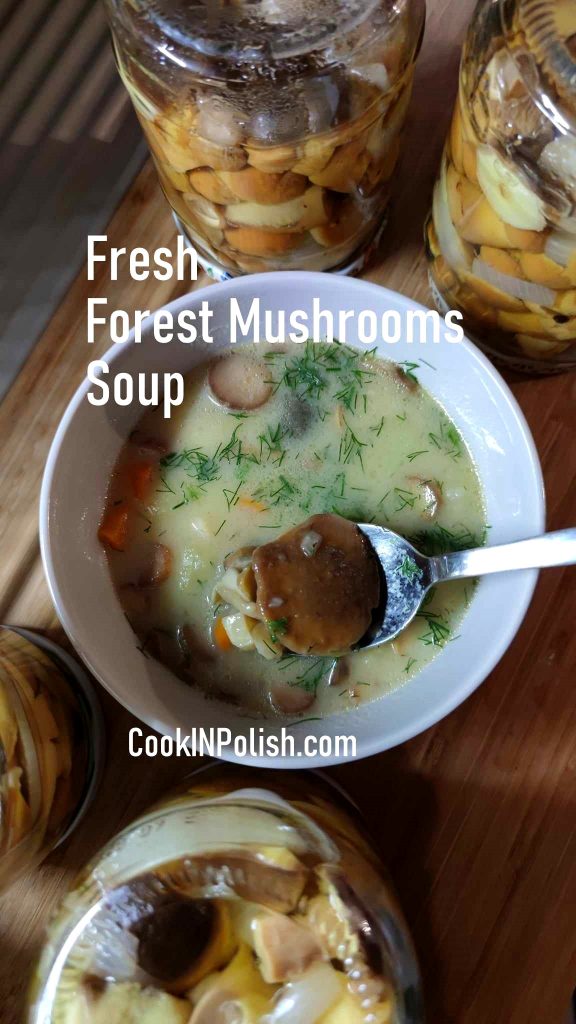 Ingredients
1 lb (half kilogram) fresh forest mushrooms
1 stick butter (about 100 g)
1 onion
1 parsley root
2 carrots
1 small leak
half of celeriac
5 medium potatoes
3 bay leaves
4 allspice seeds
1 tablespoon salt
pepper
bunch of dill
cup of cream 30%
1 tablespoon flour
Clean and peel vegetables, dice carrots, parsley and celeriac. Cut leak into thin slices. Transfer all these veggies to the 3 liter pot filled with water. Add bay leaves and allspice seeds. Place soup pot on the stove top and cook on medium.
Dice potatoes and transfer them to a separate bowl, set aside.
Chop the onion.
Clean mushrooms. Slice stems, leave caps as they are, only big mushrooms needs to be cut in half (or in four).
Heat the butter in a pan. Add onions, fry them for 2 minutes and then add mushrooms, season with salt and pepper. Fry for 7-10 minutes, in order to add mushrooms a buttery flavor. This would be a basis of soup flavor, so don't cut on butter.
Once mushrooms are ready, transfer them to the soup pot, add potatoes too. Let all cook on medium heat for 15-20 minutes, till potatoes are done.
Mix well 1 tablespoon of flour in a cup of cream. Add half ladle of soup to the cream, so that the cream does not curdle, and pour all to the soup. Let the soup boil and cook it for 2 more minutes. Add chopped dill, saving some for serving.
This Fresh Forest Mushrooms Soup was one of the best mushrooms soup I had. Try! You won't be disappointed:)
If you liked my posts and tried my recipes, you can consider buying me a coffee. Or rather I should say: you can buy me a flour for Pierogi, cabbage for Gołąbki and beets for Barszcz:) This would help me to cook more and publish more delicious recipes for You. www.buymeacoffee.com/cookinpolish.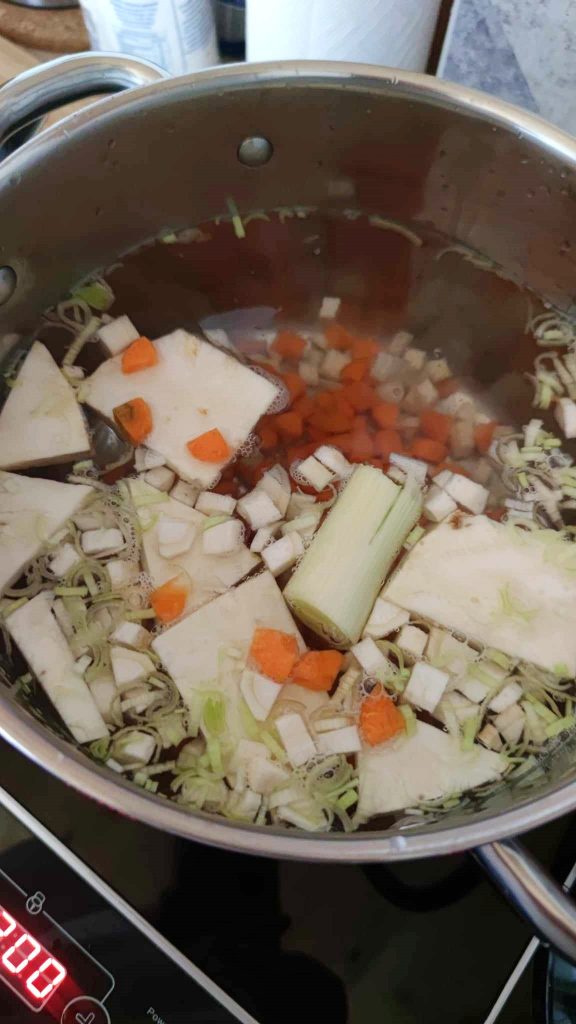 Comment on the post if you have questions, other ideas on the recipe or just enjoyed reading. I would be happy to see your thoughts on my posts!
Have you tried Fresh Forest Mushrooms Soup before?