Polish Beef Chopped Cutlet
Bryzol is a cutlet made of chopped or roughly ground meat, popular in socialistic Poland. It was on the menu of milk bars and canteens. Mostly it was made of beef, as beef was the cheapest meat available. Now beef is one of the most expensive meats, so Bryzol is sometimes made of pork too. The best of Bryzol is that it is to be served with fried onions and mushrooms- Champignons, in Polish: pieczarki, I suppose many of you may just call them: white mushrooms.
Milk Bars are still open in many places in Poland. They are traditional Polish eateries known for serving affordable, home-style meals. Milk bars, or "bar mleczny" in Polish, originated in the early 20th century as government-subsidized canteens that provided nutritious and inexpensive food to the public.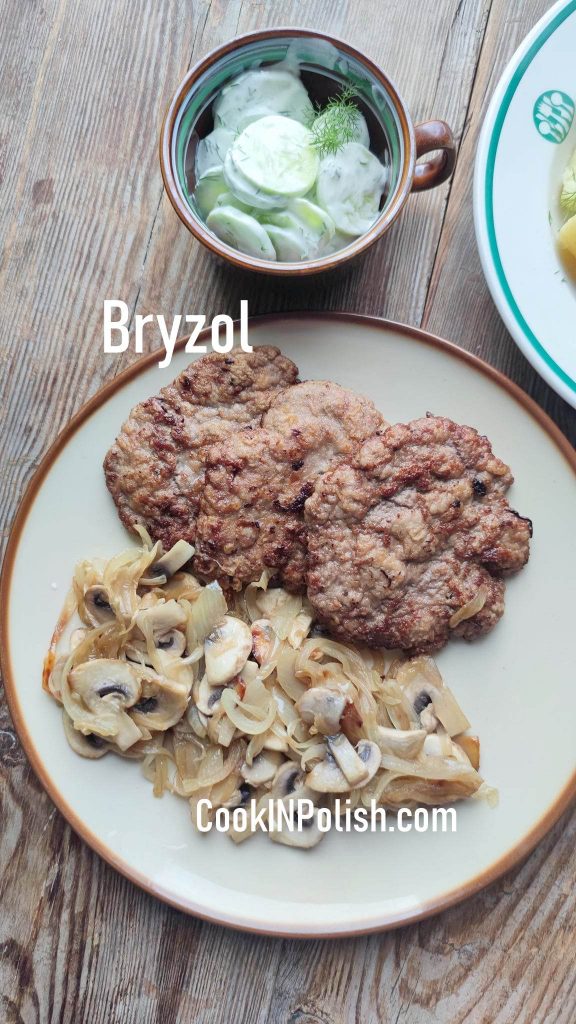 Ingredients
700 g (1 and half lb) beef
1 large egg (or 2 small)
flat teaspoon salt
half teaspoon pepper
flour for coating
2 onions
400 g (1 lb) white mushrooms – champignons
oil for frying
Peel onions and slice them. I tried to use term: cut onions in feathers – this is how we call it in Poland:) But many people asked, so here is how to cut cebulę w piórka: cut onion in half horizontally, then cut each half horizontally- really thinly. Please check picture below if it's not really clear 🙂
Clean and dice mushrooms.
Onions and mushrooms are ready, so let's take care of meet.
Grind beef on large mesh or: chop it with a knife. As the second method is quite time consuming and demands a lot of effort I sometimes dice meet, transfer to food processor and blend it – but really quickly, on a pulsed mode and checking all the time, so that it didn't get totally mashed.
Transfer meet to the bowl, add eggs, salt and pepper, mix all well, so that everything is combined.
Place parchment paper on a table, sprinkle generously with flour. Portion meet into medium balls, place them on a paper keeping the distance among them. Sprinkle flour again and flat them with your hand. Bryzole need to be really flat and as big as you can make:) Heat the oil in a frying pan. Take one Bryzol at a time and place it on pan. Parchment paper helps to better manipulate and not to make holes in cutlets.
Fry Bryzole in a hot oil for 1 minute on each side.
In a meantime on the other pan saute onions. Add salt and pepper. Add mushrooms and saute all for about 10 minutes, until it gets golden brown and smell delicious.
Serve Bryzol with sauteed onions and mushrooms, I like it with cooked young potatoes with dill and Mizeria🙂
Smacznego!
If you liked my posts and tried my recipes, you can consider buying me a coffee. Or rather I should say: you can buy me a flour for Pierogi, cabbage for Gołąbki and beets for Barszcz:) This would help me to cook more and publish more delicious recipes for You. www.buymeacoffee.com/cookinpolish.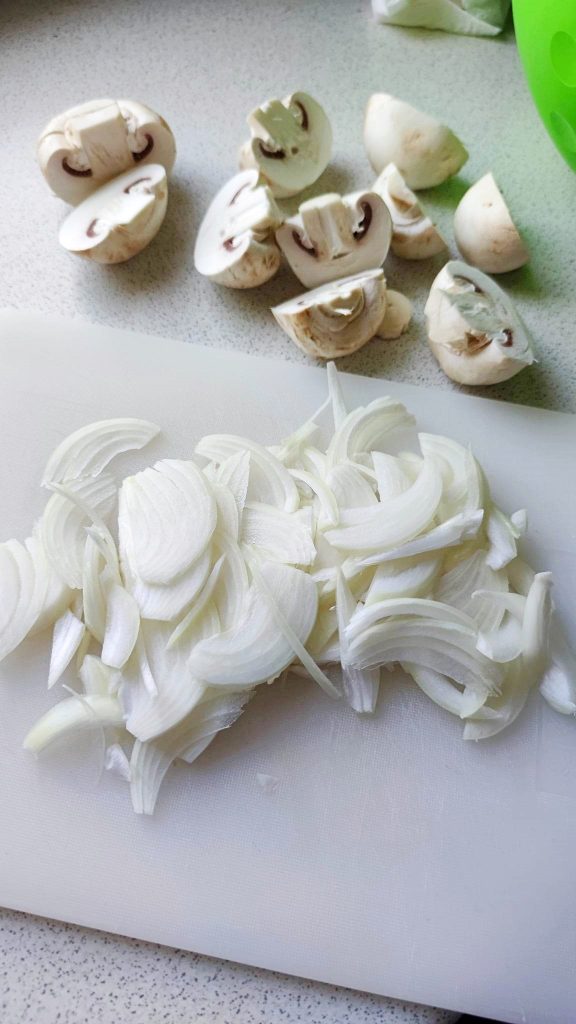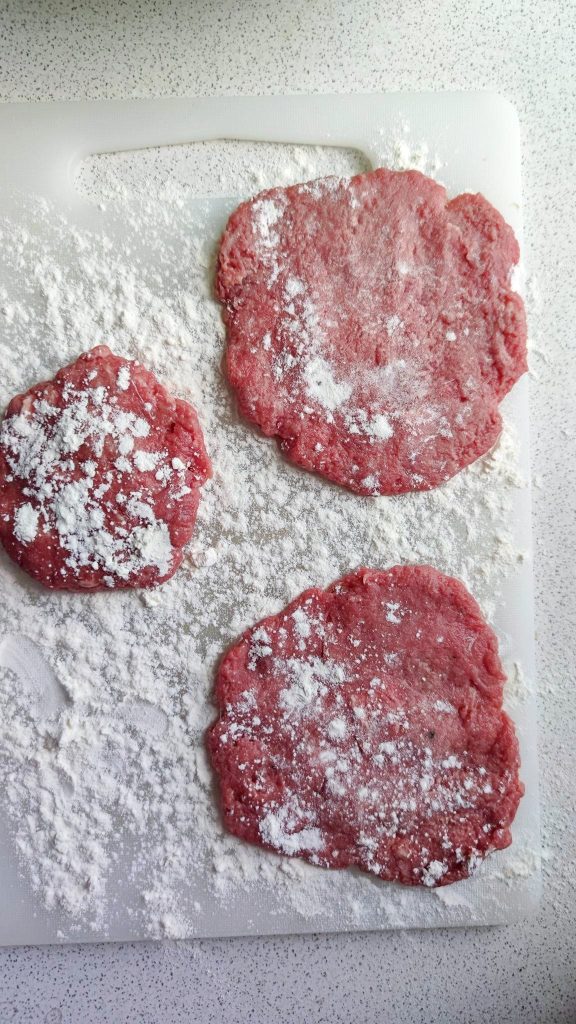 Thanks for reading!
Comment on the post if you have questions, other ideas on the recipe or just enjoyed reading. I would be happy to see your thoughts on my posts!
Thanks for liking and sharing my recipes to your friends – it helps to develop my blog!