Grzybki w occie
This year there were plenty of mushrooms at the Polish seaside, where we had spent holidays. The weather was not so great, so each day we woke up early and went mushroom picking. I so enjoy foraging for mushrooms in the forest during the summer and autumn seasons! We dried a lot of them, the most beautiful young mushrooms we pickled in vinegar. Try my recipe for Pickled Forest Mushrooms – Grzybki w occie 🙂
You can see in the pictures a mushroom that came to Poland from America: Aureoboletus projectellus, beautiful mushroom, very nice to forage, as their caps are brownish and orange and their stems are thick and tall, so you can notice them from the distance:). You can use other mushrooms too, great choice would be porcini (prawdziwki, borowiki), slippery jacks (maślaki) and bay boletes (podgrzybki). Actually bay boletes – podgrzybki, are one of the most harvested mushrooms in Polish forests.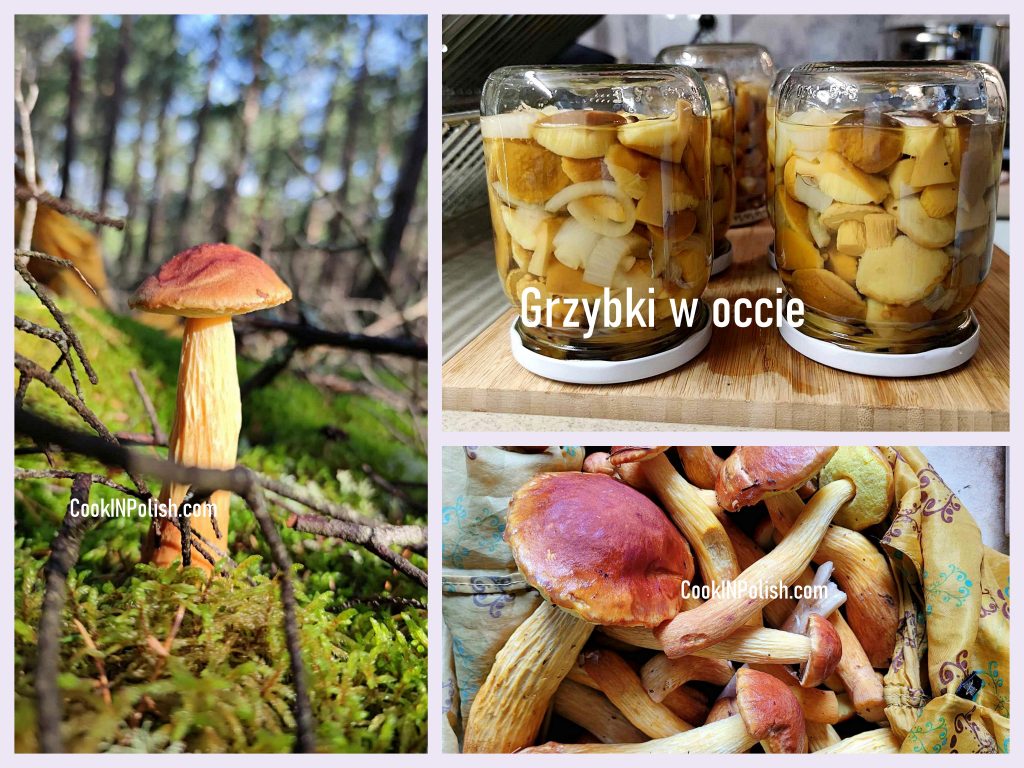 For 4 jars 500 ml each (2 cups each)
Ingredients
2 kg (4 and half lb) forest mushrooms
1 cup white vinegar 10% ( if you have available other acidity vinegar you need to adjust the amount, for 5% vinegar- add 2 cups)
4 cups water
1 large or 2 medium onions
2 tablespoons sugar
2 teaspoons salt
1 tablespoon mustard seeds
1 tablespoon all spice seeds
2 teaspoons black pepper seeds
10 bay leaves
Prepare 4 jars. They need to be clean and dry.
Clean mushrooms – brush mushrooms or clean them with a knife. Cut the bigger mushrooms into smaller pieces, then wash gently in a bowl of water, changing water two times.
Boil a pot with water, transfer mushrooms to the pot once it boils. Add diced onion. Let them boil on low for 5-6 minutes and drain them on the sieve.
In the meantime prepare vinegar solution: transfer all the remaining ingredients to the pot (water, vinegar, bay leaves, all spice seeds, mustard seeds, salt, sugar, black pepper seeds). Bring to boil.
Arrange mushrooms and onions in jars. Pour hot vinegar solution to cover mushrooms. Add all the seasonings in equal parts to the jars. Close jars tightly with a lid. Make sure that both: the lid and jar from the outside are dry.
I put jars upside down, cover with a cloth to assure slow cool down and don't pasteurize them. Once they cool down, the lid should be concave, as a sign of proper jar closing.
You can use your favorite way of pasteurization for extra safety.
Smacznego! Enjoy! You may also like to try Pickled Bell Peppers.
If you liked my posts and tried my recipes, you can consider buying me a coffee. Or rather I should say: you can buy me a flour for Pierogi, cabbage for Gołąbki and beets for Barszcz:) This would help me to cook more and publish more delicious recipes for You. www.buymeacoffee.com/cookinpolish.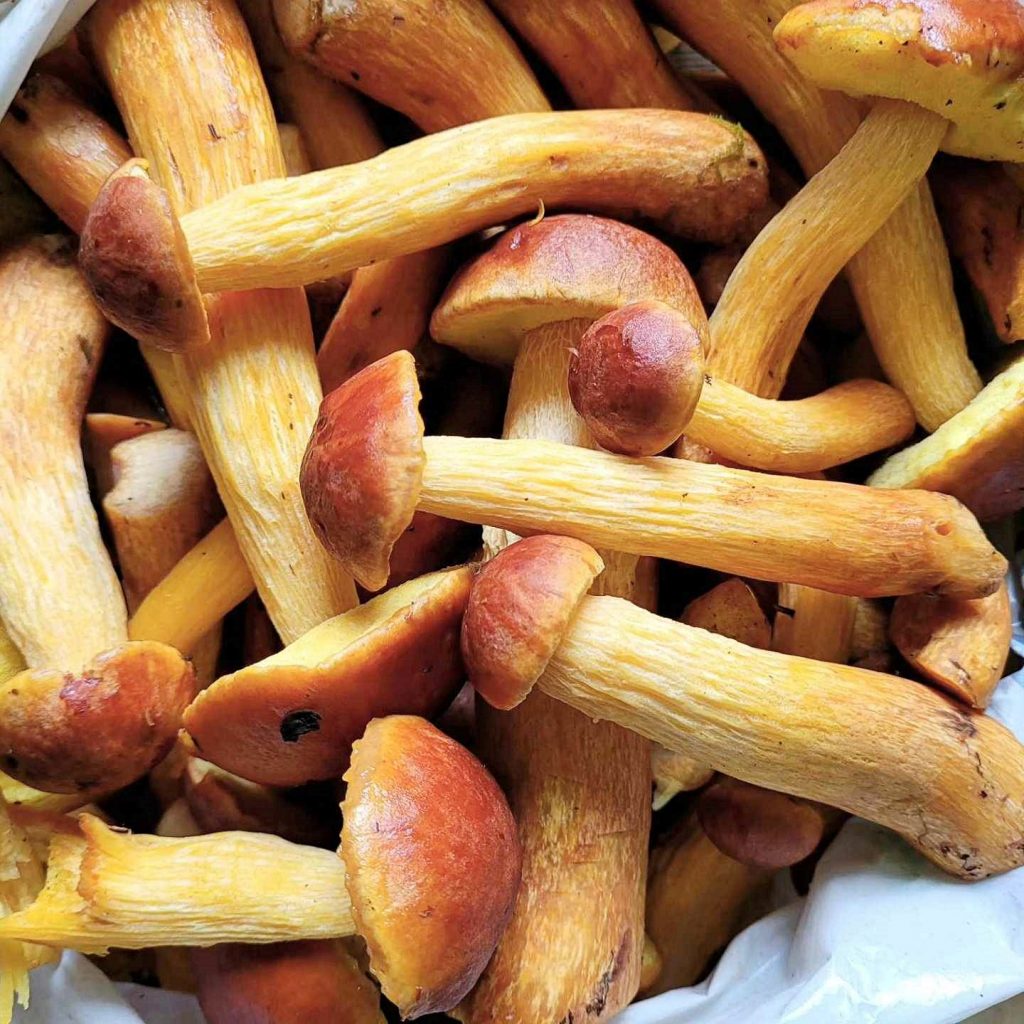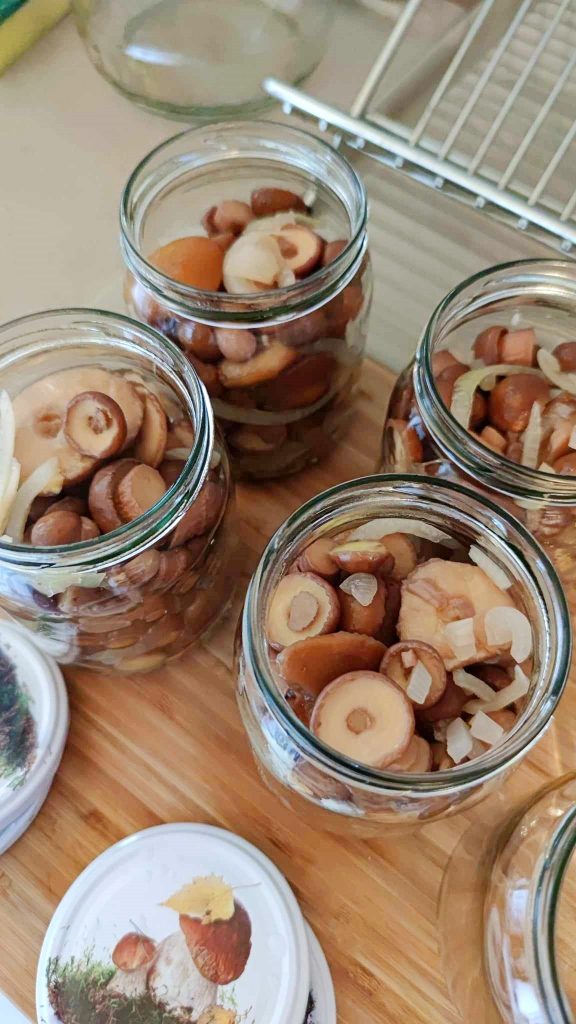 Comment on the post if you have questions, other ideas on the recipe or just enjoyed reading. Share your pictures from mushroom picking! I would be happy to see your thoughts on my posts!