Zupa Jarzynowa babci Emilki
I don't actually know if Polish vegetable Soup is popular all over Poland, all I know is that Zupa Jarzynowa has been the most common soup in my family house. It was cooked by my babcia Emilka at least once a week. We had a big family living together, each day babcia used to cook a big pot of soup, Jarzynowa, Sorrel, Kapuśniak, Byczki, Beet Soup, these were the staples. And Rosół on Sunday of course:) Polish Vegetable Soup is super easy, all you need is a bunch of the most popular Polish veggies. It tastes like my childhood. Some may say it is watery- maybe a bit, but in my family house here was always 2 course dinner, first we had soup, then potatoes with some kind of meat or fish. Soup did not have to be filling, there was a second dish coming up to get full:)
My Grandma used the basic veggies, but if you have some more, you can use them. This is kind of 'clean up the fridge' soup, zero waste and ingredients depended on the season. In winter Zupa Jarzynowa was only: carrots- parsley – cabbage soup, as these veggies could be easily stored during the cold season.
You can add more quantities of veggies that there are in a recipe, to make the soup more thick and more filling.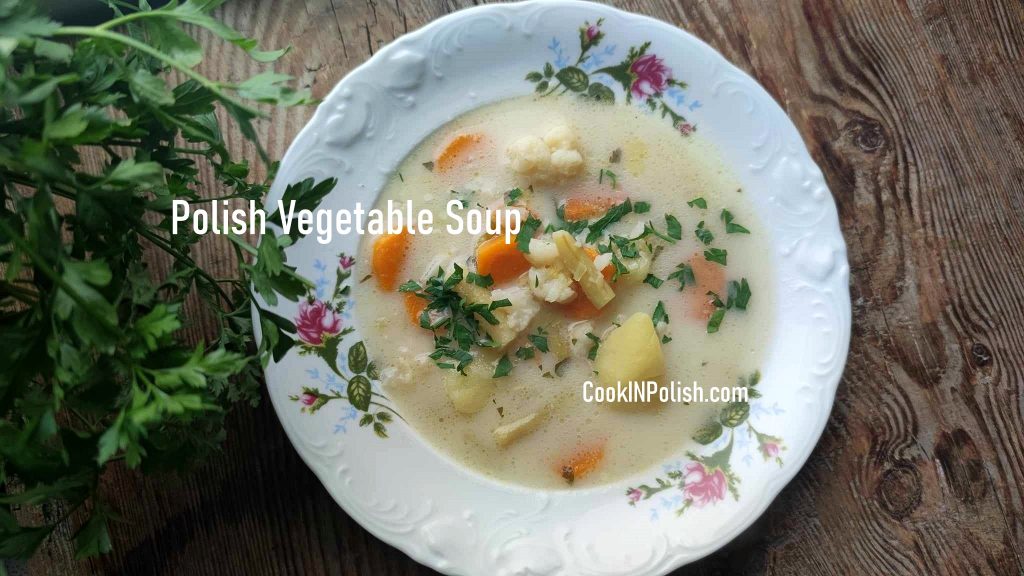 Ingredients
2 lb (800 g) pork bones
3 carrots
1 onion
2 parsley root or parsnip
1 lb (400g) cabbage
few cauliflower florets
2 handfuls of green beans
4 medium potatoes
3 bay leaves
5 allspice seeds
salt and pepper
1 cup cream (sour cream or whipping cream)
3 tablespoons chopped parsley
Place pork bones, allspice seeds, bay leaves in a pot, fill with water (til 3/4 of the pot). Cook for 45 -60 minutes. Take the foam off if needed.
Roast onion as a whole over the gas flame (or on the dry pan) and add to the pot. Add diced carrots and parsley root (or parsnip).
Peel potatoes and cut them into smaller pieces, add them to the soup.
Chop roughly cabbage and add to the soup. Add cauliflower florets cut into smaller pieces and cut string beans. After 25 minutes season the soup with salt and pepper and add cream. If you use sour cream you need to mix sour cream with a bowl of soup first, so that it doesn't curdle.
Sprinkle with chopped parsley for serving.
Enjoy! Smacznego!
If you liked my posts and tried my recipes, you can consider buying me a coffee. Or rather I should say: you can buy me a flour for Pierogi, cabbage for Gołąbki and beets for Barszcz:) This would help me to cook more and publish more delicious recipes for You. www.buymeacoffee.com/cookinpolish.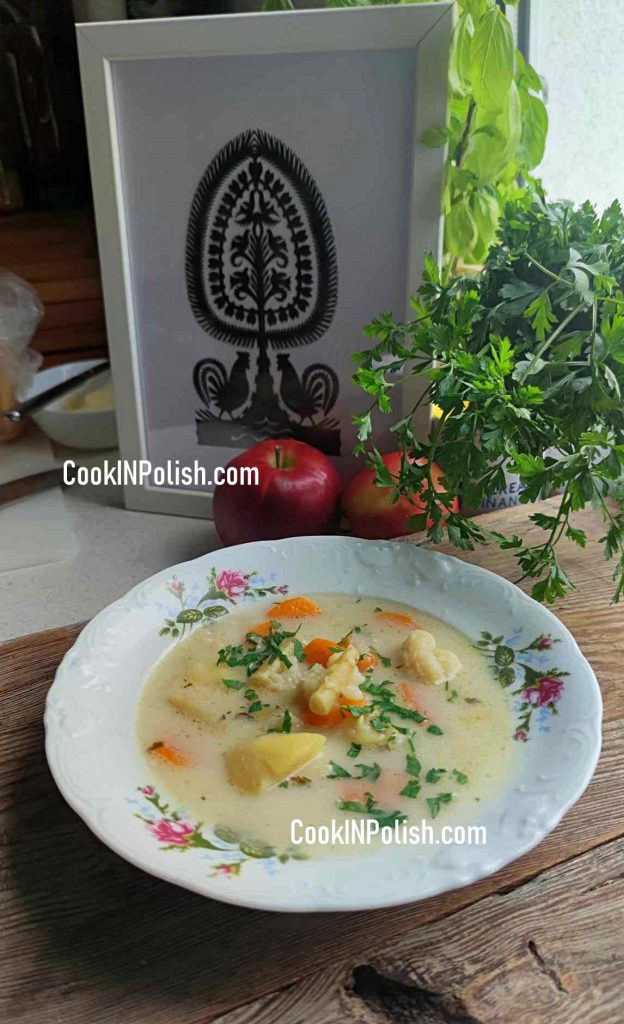 Comment on the post if you have questions, other ideas on the recipe or just enjoyed reading. Have you tried Polish Vegetable Soup before? I would be happy to see your thoughts on my posts!
Thanks for liking and sharing my recipes to your friends – it helps to develop my blog!