Polish smoked sausage is always good, but if you need a quick and easy dinner, buy few pieces and serve it boiled. For boiled Polish smoked kiełbasa choose good kind of sausage. In Poland there is a lot of them, but you need to be careful and check the ingredients, as producers are often trying to save and put many strange and unwanted food enhancers in it.
Boiled Polish Smoked Kiełbasa tastes best with horseradish and mustard. Choose the level of intensity of both to your taste. I like strong horseradish sauce and a mustard with character. In Poland I buy a mustard called Russian, for it being really strong.
You may also like to check Bigos recipe: Polish Hunter's Stew.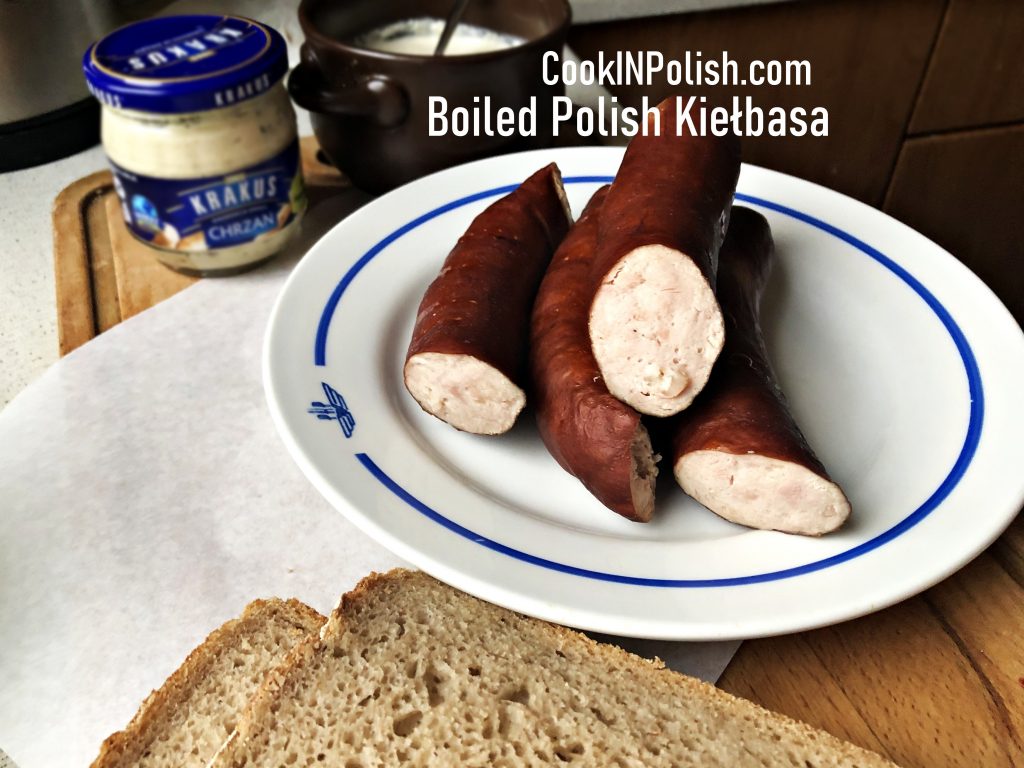 Recipe is very easy: Place sausages in a pot and cover with water. Heat sausages for 7-10 minutes. Kiełbasa bought in store is already smoked ( unless otherwise stated on the cover), so all you need to do is to reheat it, there is no necessity to cook it longer.
Horseradish Sauce
For horseradish sauce I use high quality grated horseradish bought in store and combine it with plain yogurt (I use Greek style one, as it has the best consistency for me). You can also add a table spoon of mayonnaise (this is optional). For me best ratio is: 2 portions of horseradish +2 portions of Greek yogurt+ 1 portion of mayonnaise. Adjust the amounts to your liking. When I checked horseradish which are available to buy in Poland I found one with 30% of horseradish in it and the other with 60%. Better choice is the second one of course, as the rest of the ingredients on the label should be thoroughly checked. The bigger ratio of horseradish, the better.
In Poland we have very nice site that helps in everyday buying choices: https://czytamyetykiety.pl/chrzan-chrzanowi-nierowny/. There is a comparison of labels of products that can be bought in Poland. Ingredients considered harmful are marked in red.
Boiled Polish Smoked Kiełbasa is a quick to make dish, easy and simple. Enjoy! Smacznego! 🙂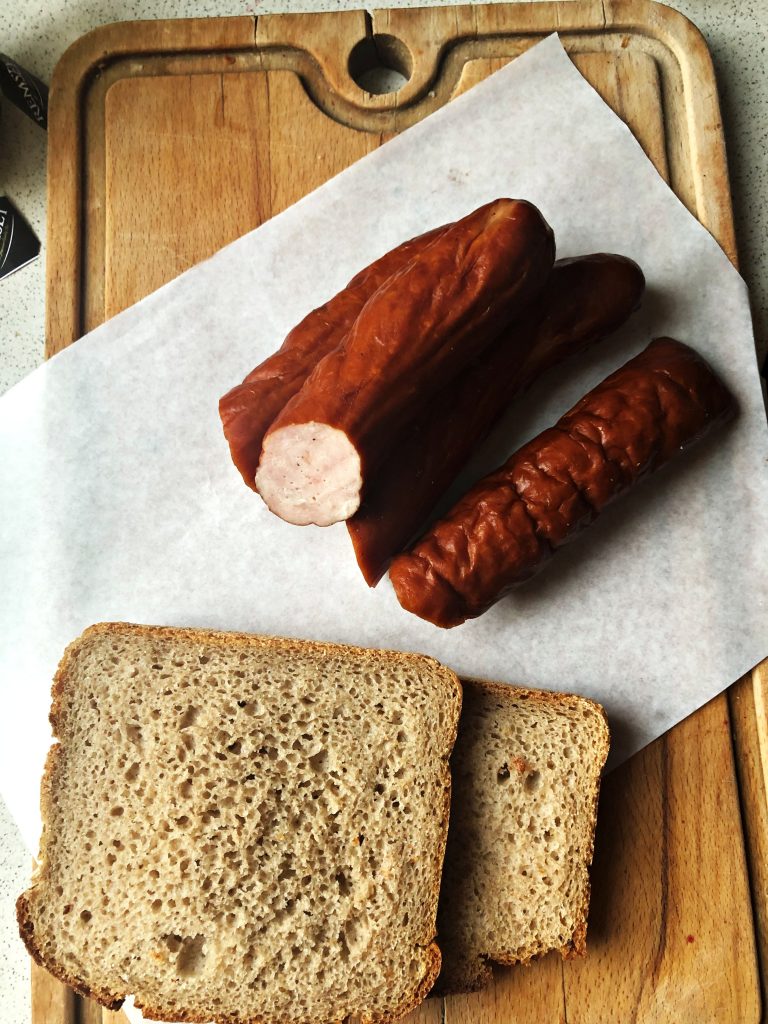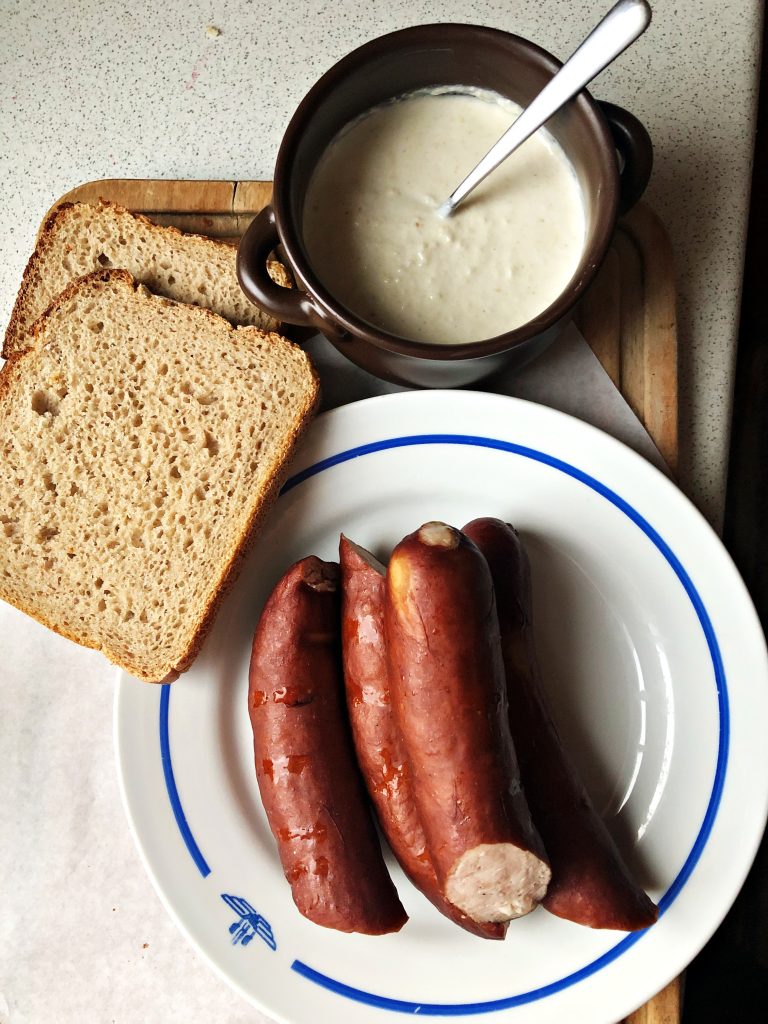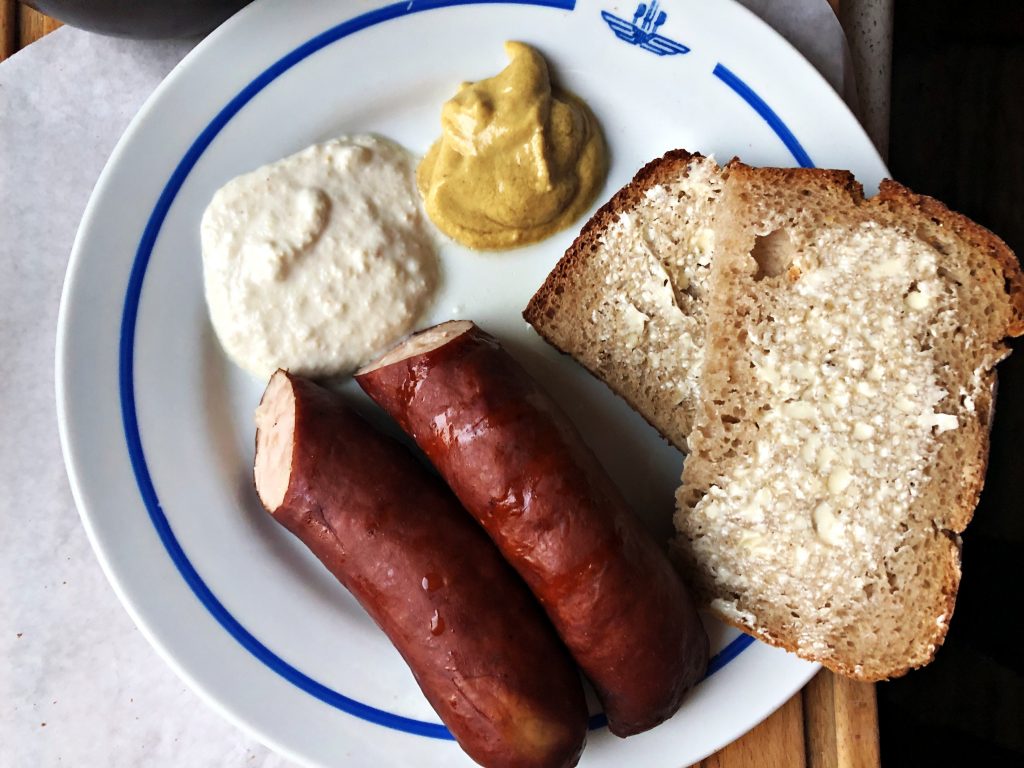 Comment on the post if you have questions, other ideas on the recipe or just enjoyed reading. I would be happy to see your thoughts on my posts!
Thanks for liking and sharing my recipes to your friends – it helps to develop my blog!