I am lucky to have birthday in June! I love this month, as strawberries are in full and best season, the cheapest and the most sweet. Polish Cheesecake with Strawberries is a must for me to take to the office for my colleagues:)
This time I prepared baked cheesecake, very easy to make, delicate and not very sweet. It take some time to finish it, as the jelly needs to settle, but this is a case of work organization. Make cheesecake one day before serving, it needs a night in a fridge to get the best of it.
I like to have lot of jelly on my cheesecake, I use double package of it and together with strawberries I add some blueberries, this is the best mix I know:)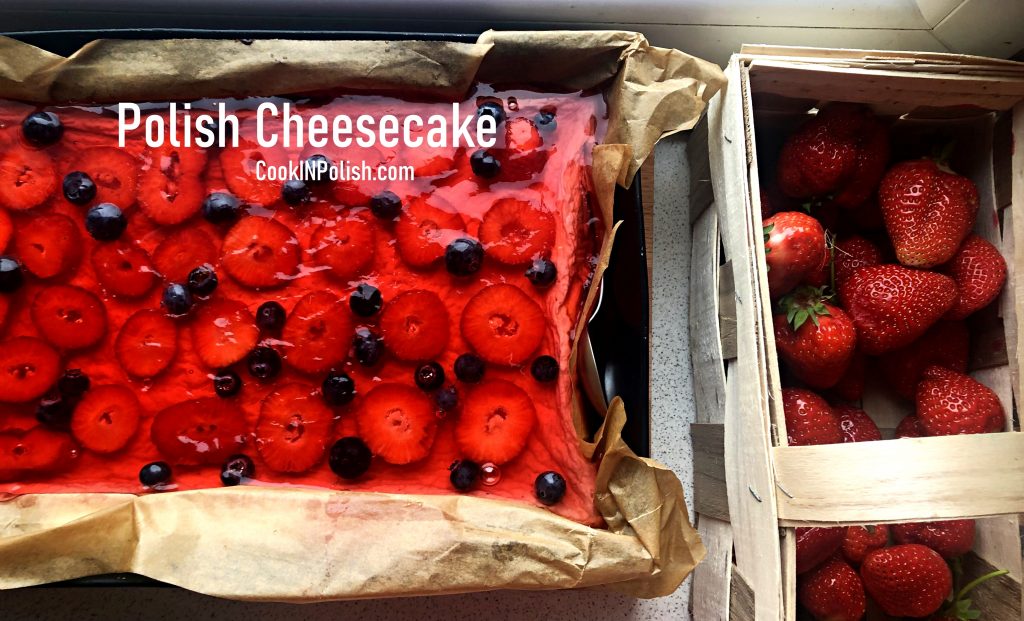 Ingredients
Dough:
200 g/ 0.4 lb flour
100 g/ 0.2 lb butter
2 tbs powder sugar
2 egg yolks
Cheese Batter:
1 kg/ 2.5 lb white cheese/ twaróg/ cream cheese
3 tbs powder sugar
1 cup sour cream/ Greek yogurt
2 tbs flour
3 tbs vanilla sugar or few drops of vanilla extract
4 eggs
Additional:
0.5 kg / 1 lb strawberries
1 liter red jelly
Prepare the bottom of the cake: combine all the dough ingredients in a bowl with a hand mixer.
Take a baking pan size 20 cm x 30 cm, fill it with baking paper. Assemble thinly a dough on the bottom of it. Fork the surface so that it didn't rise and bake for 15 minutes in 200 C/ 390 F.
In the mean time prepare a cheese batter: Combine white cheese/ cream cheese with sugar, vanilla sugar, sour cream and flour. Mix shortly and add eggs one by one, mixing shortly at high speed. Batter is ready.
After 15 of baking, take the baking dish out and pour cheese batter over it.
Minimize temperature to 160 C/ 320 F and bake for 65 minutes. Cool cheesecake slowly in a open door oven.
Once its cooled place whole or cut strawberries over it, just like your imaginations says to you:) and pour dissolved red jelly. Let it settle.
Cool in the fridge over night before serving.
Enjoy your Polish Cheesecake with Strawberries with friends and family:)
Check also another seasonal Polish dessert: Rhubarb cake.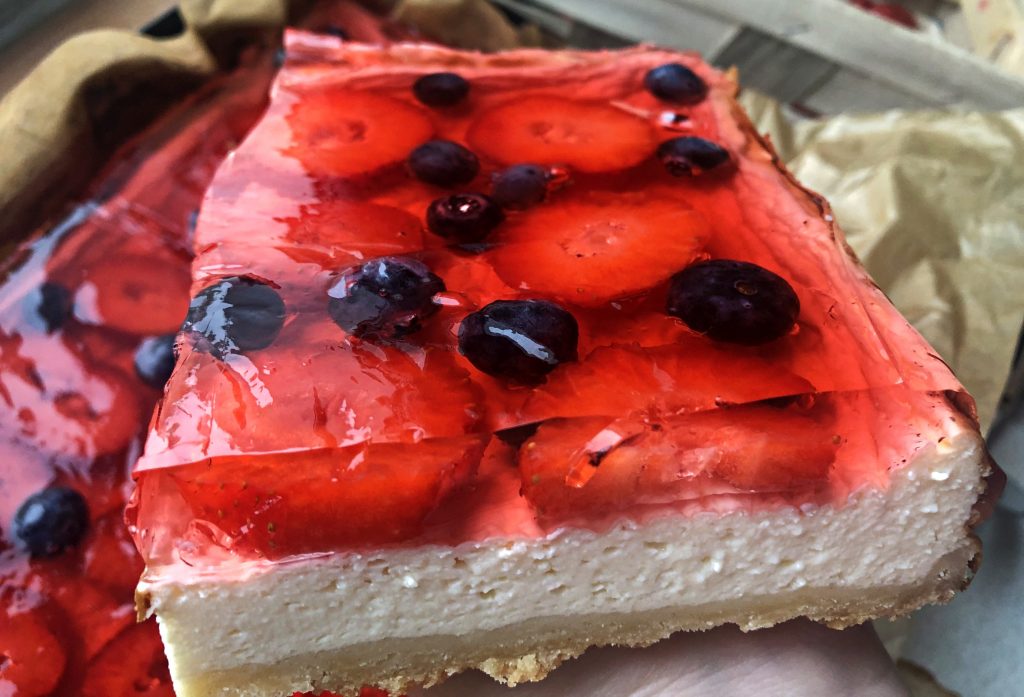 Comment on the post if you have questions, other ideas on the recipe or just enjoyed reading. I would be happy to see your thoughts on my posts!
Thanks for liking and sharing my recipes to your friends – it helps to develop my blog!