Strawberry Cloud Cake is a popular cake in today's Poland, you can find recipe on each and every cooking blog. Actually originally this is 'raspberry cloud' cake, but I made my cake with strawberry. You can also make blueberry version or cherry one, this is up to your likes and what you have in your freezer. Yes, you can use frozen fruits or seasonal fruits- of course that's better option.
Strawberry cloud is a delicious cake- buttery shortcrust is covered with strawberry jello with strawberries in it. On top goes vanilla cream and mascarpone finished with crispy meringue. Quite of lot of preparation, but with proper organization you'd be fine. Strawberry cloud cake need refrigerating, you need to make a day before and chill in the fridge overnight. Check my step by step recipe and enjoy this delicious cake.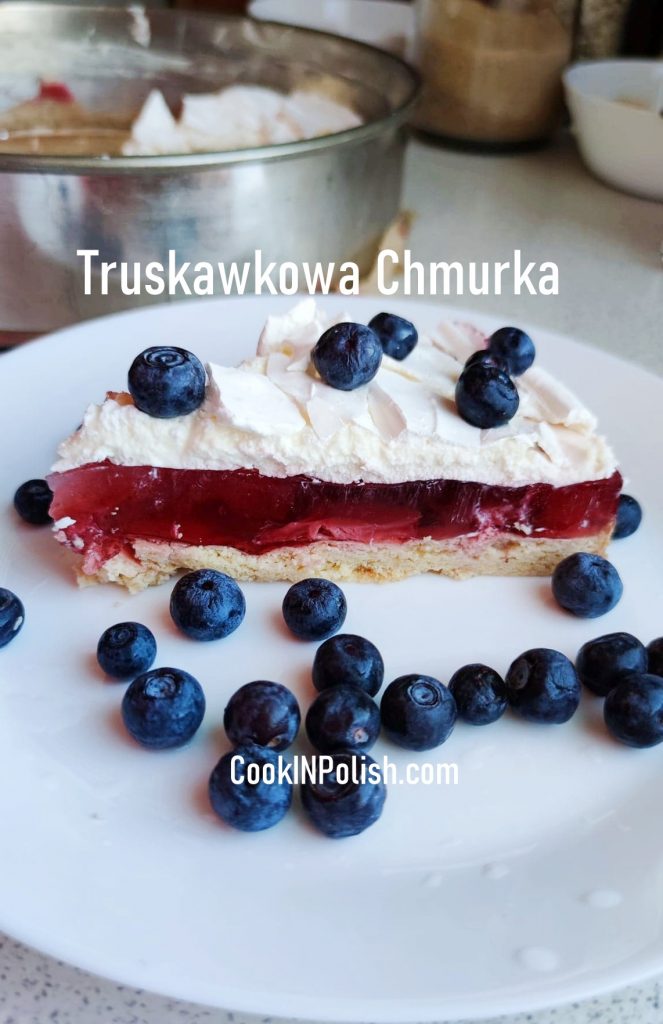 Ingredients
Crumble:
cup wheat flour
2 heaping tablespoons powder sugar
110 g / 1 stick (US) butter
3 egg yolks
few drops vanilla extract
1 teaspoon baking powder
Jello with strawberries:
3 packets of strawberry jello powder(or equivalent, you need a portion for 1.5 liter of water (6 cups))
1 liter hot water (4 cups)
600 g / 1 and half lb strawberries (don't thaw frozen berries)
Vanilla cream:
500 ml / 2 cups cold cream 30 or 36% fat
250 g mascarpone cheese (chilled)
3 tablespoons powder sugar
1 teaspoon vanilla extract
Meringue:
3 egg whites
half cup powder sugar
1 tablespoon potato flour
Crumble base: Combine all ingredients for crumble base and knead well till smooth. You can use food processor. Form flat ball, wrap it in cling foil and put to fridge for half an hour.
Jello: Dissolve jellos in 1 liter of hot water. Set aside to cool.
Cover baking dish (I use round baking dish about 22 cm / 9 in diameter) with baking paper.
After half an hour, roll out crumble dough and fill in the baking dish. Cover also 1 cm of baking dish edge, forming kind of bowl for jello. Bake for 18 minutes in temperature 180 C / 356 F. Take out and set aside to cool.
Prepare meringue: Place egg whites into a bowl, sprinkle with a dash of salt. Beat egg whites. Once they're stiff, add gradually sugar. Mix till sugar dissolves, add 1 tablespoon of potato flour and mix another minute. On a baking paper draw a circle of the size of the baking dish. Lay out meringue in the circle, leaving a bit space to the edges. Smooth a bit, but not perfectly;) it needs to form a cloud:) Bake for an hour and 15 minutes in temperature 130 C / 260 F. Take out of the oven and cool.
Once crumble is cool, assemble diced strawberries on it. When jello is semi- settled transfer it to baking dish. Place in a fridge to set completely.
Prepare vanilla cream. Place cold cream in a bowl, add sugar and whip it till stiff. Add vanilla extract. All the time mixing, gradually add mascarpone cheese. Transfer vanilla cream into the baking dish and smooth the surface. Place in a fridge. That would be it for the day.
The next day assemble meringue on top.
Strawberry cloud cake is ready to be served. Enjoy! Smacznego!
Try also Szarlotka, delicious crumble with apples.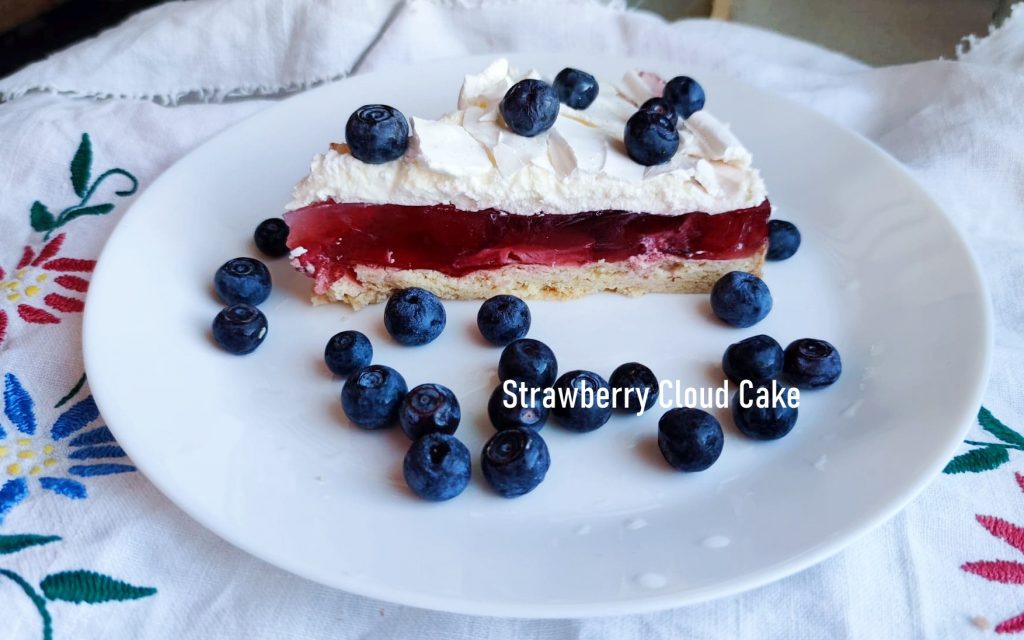 Comment on the post if you have questions, other ideas on the recipe or just enjoyed reading. I would be happy to see your thoughts on my posts!
Thanks for liking and sharing my recipes to your friends – it helps to develop my blog!