In my neighborhood there is a place with best cream horns in Warsaw. It's called Rurki z Wiatraka, they were established in 1958. It's family own small business, once pandemic started and we all got locked down, they came to the edge of the bankruptcy. They ask for support via Facebook and soon there was 2 hours' queue of people wanting to try their delicious horns. Fortunately I was not forced to wait, I could make Homemade Cream Horns by myself, thanks to my neighbor Ewelina, who borrowed me her Grandma's horns molds:)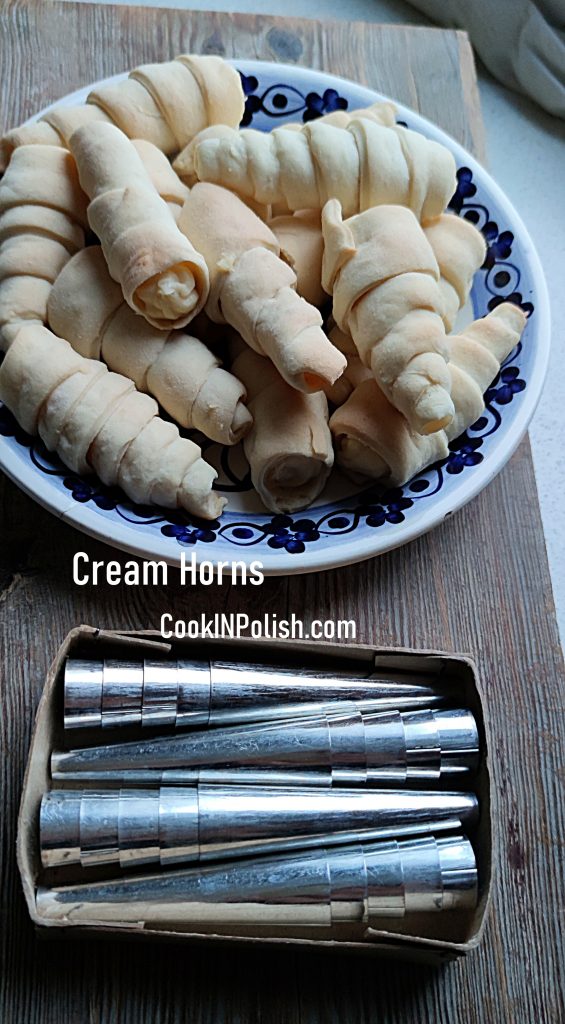 Ingredients
Horns dough:
1.1 lb / 500 g flour
0.55 lb / 250 g butter
250 ml sour cream
pinch of salt
Cream:
900 ml milk
3 tablespoons butter
few drops vanilla extract
4 eggs
2 egg yolks
80 g/ 6 spoons flour
80 g/ 6 spoons potato starch (or corn starch)
200 g / 0.5 lb powder sugar
Dough preparation
Place all the dough ingredients in the mixer bowl. Mix until you get homogeneous dough. Form a ball, cover with cling foil and cool for an hour in a fridge.
After an hour knead a dough for several seconds and roll it out on a pastry board. Cut it along into 1,5 cm wide stripes. Wrap the mold with a strip of dough as presented in the picture. Start with a narrow end and at the wide end stick the dough together. Place them on the baking dish covered with baking paper. Bake for 10 – 15 minutes till golden in temperature 200 C / 390 F. Carefully remove horns from the molds. Let cool before filling with cream.
Cream preparation
Place milk in a sauce pan, add vanilla extract and butter, bring to boil whisking from time to time.
Place eggs and egg yolks in an electric mixer bowl, add sugar and mix few minutes until fluffy. Add flour and starch and mix 2 minutes more.
Slowly pour hot milk into the egg and flour' mixture, whisking all the time. Transfer to the sauce pan and slowly bring to boil. You will get thick smooth cream. Let it cool.
Once cream is cool transfer it to the pastry bag and stuff horns with it.
Homemade cream horns are the best within 2-3 days.
Check other Polish desserts here: https://cookinpolish.com/category/recipes/desserts/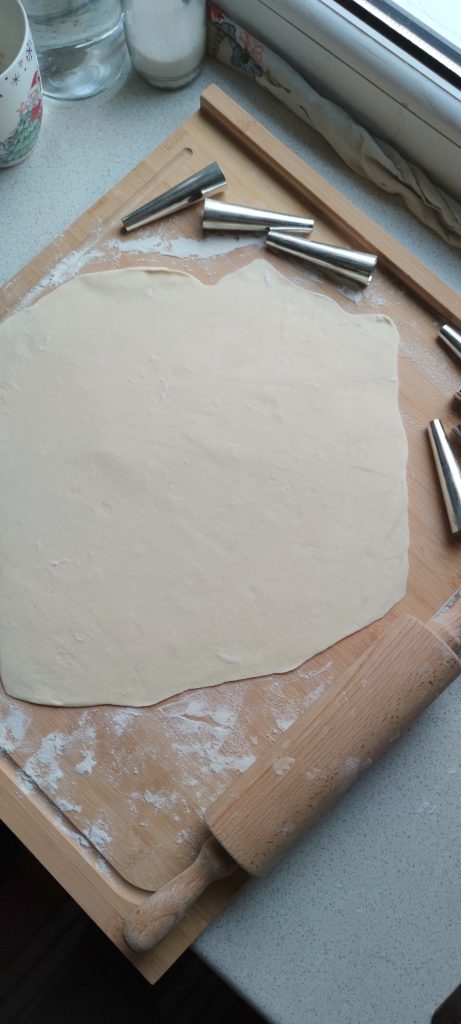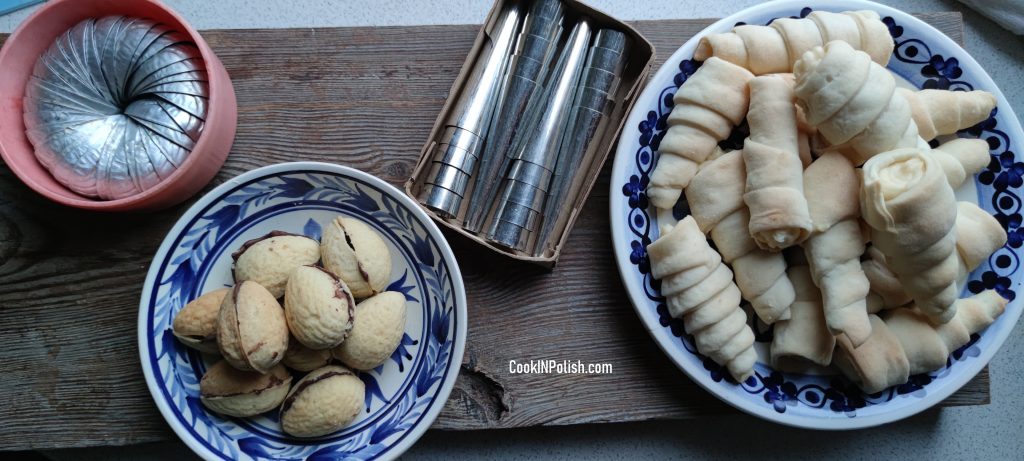 Comment on the post if you have questions, other ideas on the recipe or just enjoyed reading. I would be happy to see your thoughts on my posts!
Thanks for liking and sharing my recipes to your friends – it helps to develop my blog!