Mięso w Słoiku
I remember eating Homemade Canned Pork made by my Grandma Emilka in our old house. Jars with this delicious meat was stored in a basement where was a pantry with canned food: fermented cucumbers, sauerkraut, red peppers, homemade tomato sauce, canned beets, forest mushrooms in vinegar, jams, fruit compotes and 'mięso w słoiku' – a rare delicacy for special occasions:)
Try this garlic flavored delicate meat with one more essential ingredient – a meat jelly, which moisturizes bread and make a sandwich with meat totally perfect 🙂
Make few jars to your pantry, it could help you to stay secure in this crisis times of pandemonium.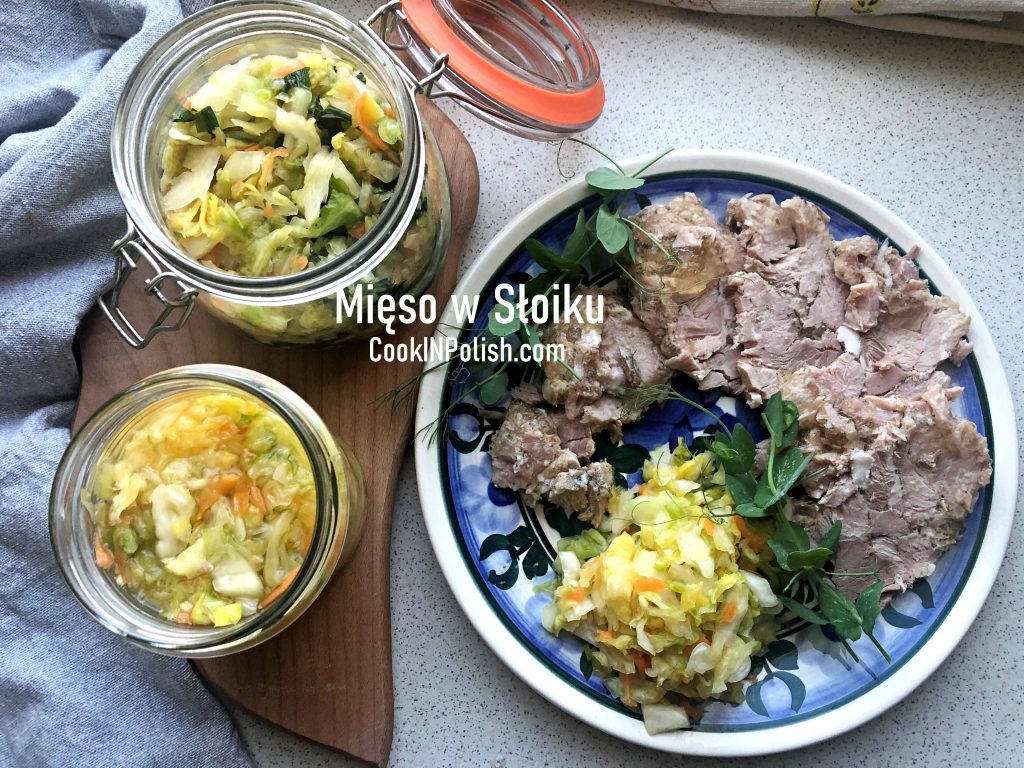 Before you start preparing Homemade Canned Pork
Decide how much meat you will use. From the above proportions I made 5 jars 800 ml each. I choose 5 jars and made sure that all the jars fit in the largest pot I have. I didn't want to be forced to make another batch of cooking with only one jar that hadn't fit. Terrible waste on electricity and time.
Few words about ingredients:
for my homemade canned pork I used ham – a pork leg, other parts that you can use are pork shoulder and pork neck.
For meat preserved in jars you need to add also some fat meat or fat, so that it wouldn't be dry. Fat also carries taste, so we need some of it in our dish. I bought smoked pork belly from the butcher. This is a raw pork belly, which is then salted, cured and smoked. If you like more fatty meat you can use also a pork jowl.
Ingredients
2 kg/ 4 lb pork
600g / 1 and half lb pork belly
2 tbs salt
1 tbs marjoram
6 cloves garlic
8-10 allspice seeds
4-6 bay leaves
gelatin
First day
Cut meat into comfortable chunks and place in a large bowl. Add 2 tablespoons of salt and 1 tablespoon of marjoram. Cut garlic into slices and add to the bowl with meat. Add bay leaves and allspice seeds. Combine all ingredients, so that the salt and seasonings were spread all over the meat.
Cover the bowl with stretch foil and place it in the fridge for 24 hours or at least over night.
Next day
Prepare jars. They need to be really clean, the simplest way is to use dishwasher. Dry them. Place half a tea spoon of gelatin on the bottom of each jar (I used unflavored gelatin powder, that is widely available in Poland). Pack the jars tightly with meat and seasonings, leave 2 and a half cm/ 1 inch of space in each jar. Close the jars tightly.
Place a small towel on the bottom of the big pot and place jars inside. Towel will prevent jars from breaking. Pour water so that jars were 75% covered. Keep meat in jars for 90 minutes on low heat. Then let them cool inside the pot.
Meat in the jars becomes beige, the color pales. Meat shrinks under high temperature and juices goes out of it. Thanks to gelatin juices make delicious jelly, yummy:) The best part of canned meat for me is exactly this jelly;)
Third day
The next day refill water if necessary and cook them once again for 90 minutes on low heat. Let them cool. Dry jars and store in a cool place. I keep my meat in jars in the fridge.
For extra safety repeat cooking on the next day.
We eat them withing a month, but they will be fine stored in the fridge for longer, even few months.
Try more of my Polish pork recipes: Pork Comfort Food.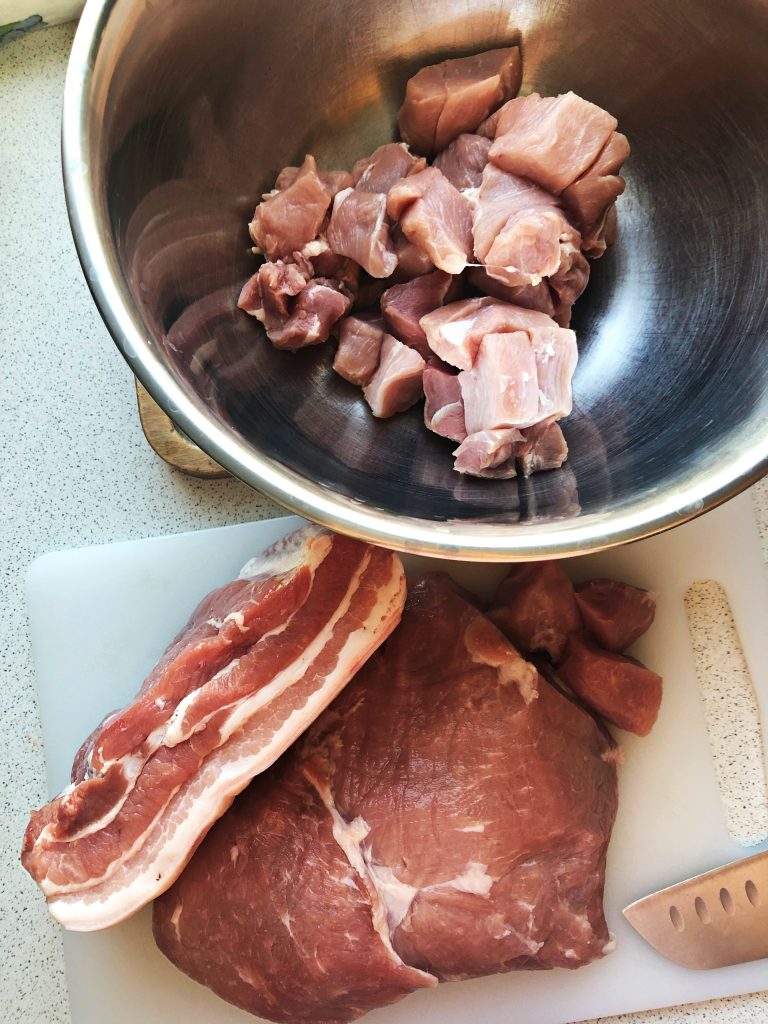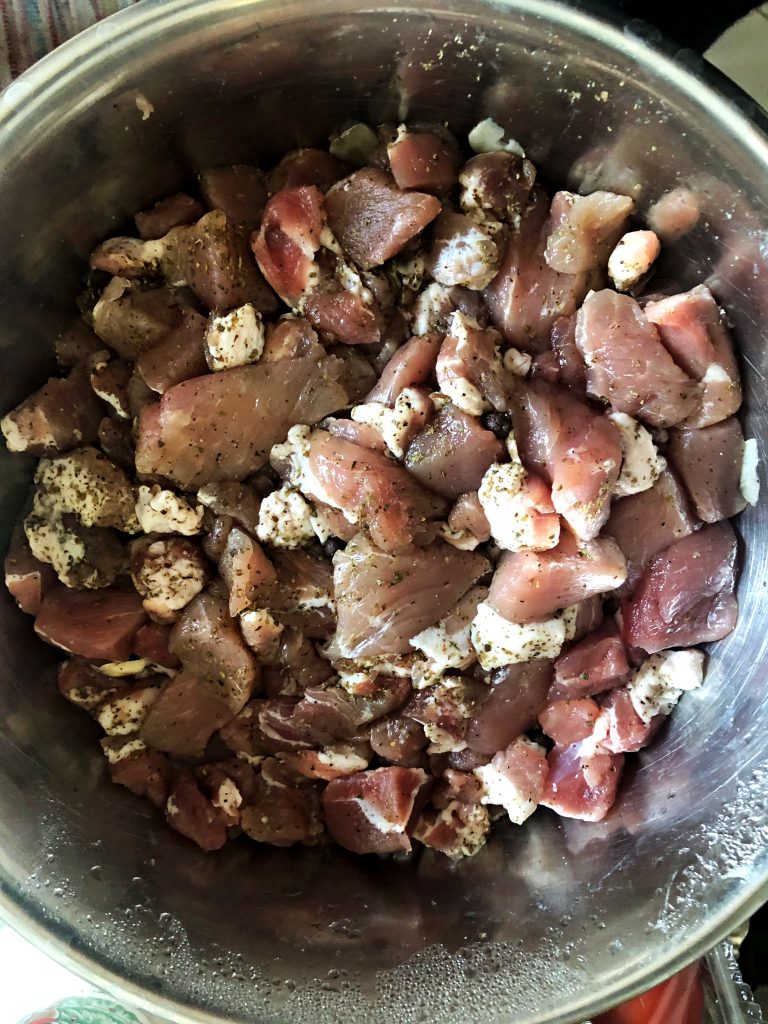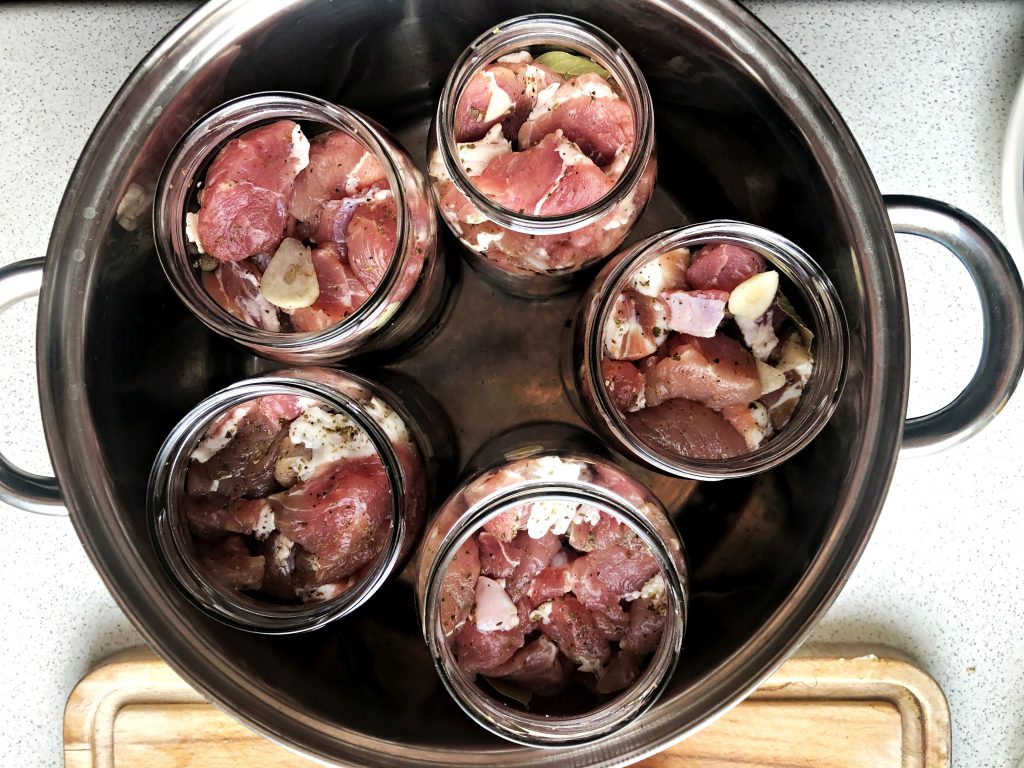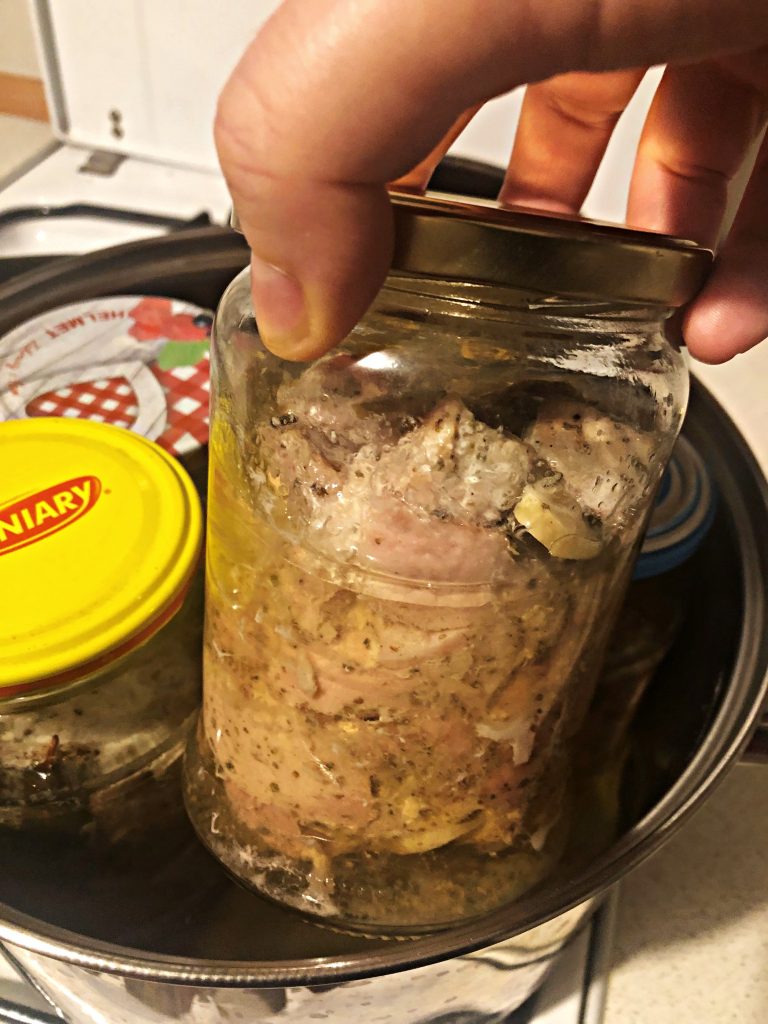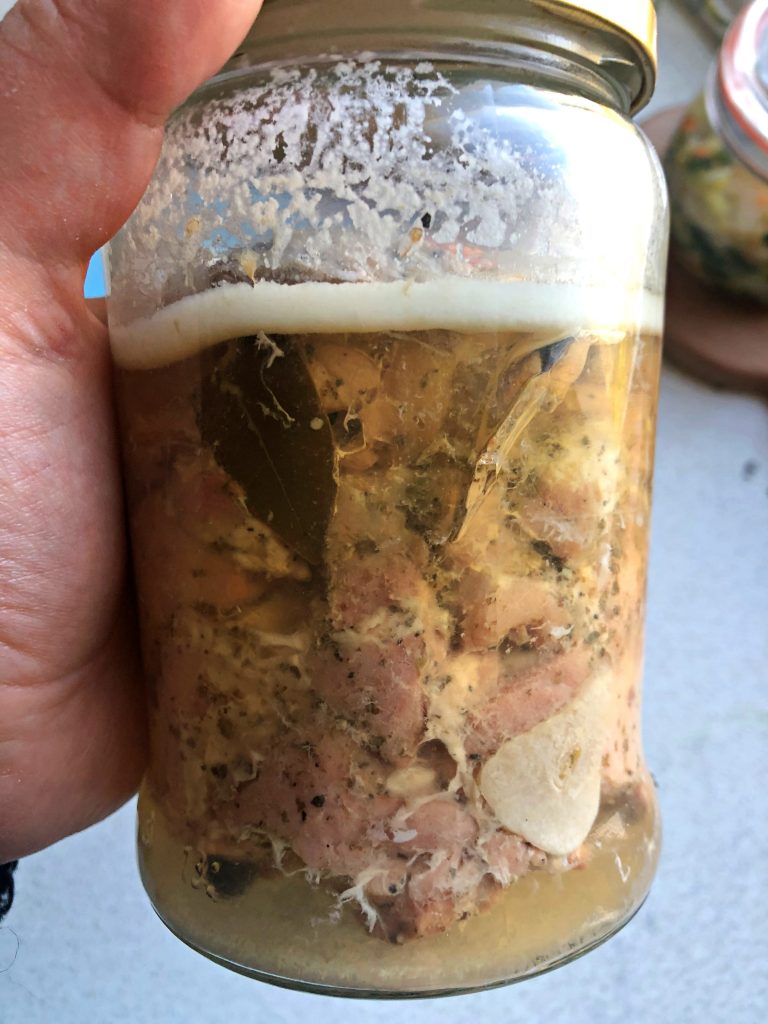 Comment on the post if you have questions, other ideas on the recipe or just enjoyed reading. I would be happy to see your thoughts on my posts!
Thanks for liking and sharing my recipes to your friends – it helps to develop my blog!