Polish Potato Babka – potato cake is official regional dish of Podlasie: Northeastern part of Poland. It is filling and delicious, if you want less calories- skip bacon:)
I found out from my readers that Polish Potato Babka is called differently in different regions of Poland. I made notes and I'm sharing here:
Babka ziemniaczana – universal, all over Poland
Kartoflak, Blin – Podlasie: Białystok, Suwałki – there is several kinds, eg with buckwheat
Kugel, Kugiel, Ciulim- Jewish
Szadar – Pomerania: Bory Tucholskie
Rejbak – Kurpie
Baba Ziemniaczana, Pyrczok – Kraków
Tarciuch, Bulbynek – Lublin
Bryndos, Pirzok – Kujawy
Bugaj, Nagus, Blaszak – Warsaw, Mazovian
Kartoflarz – Łódź
Pyrczok, Kućmok, Kubusz
This is top five of my favorite Polish cuisine. Polish comfort food. Yum!
Polish cuisine is full of potato dishes, which are cheap and easy to store. Try more delicious potato recipes from Polish cuisine: http://cookinpolish.com/tag/potato/.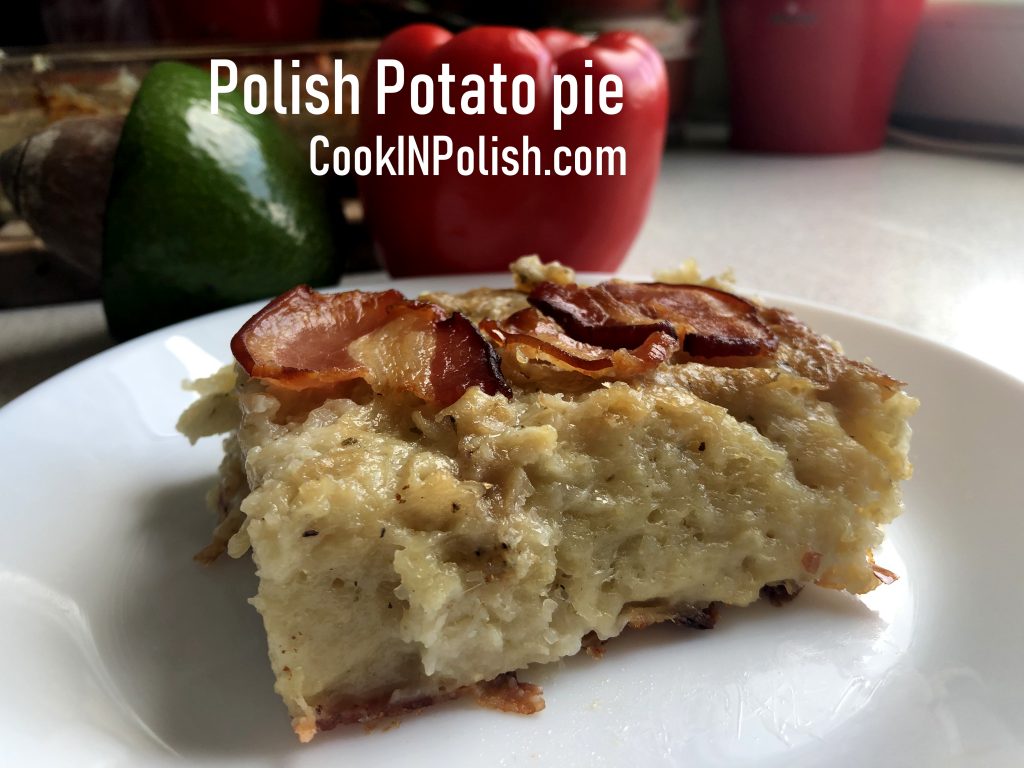 Ingredients
2 kg/ 4,4 lb potatoes
4 onions
0,2 kg/ 0,45 lb bacon
2 eggs
2 tbs potato starch
3 tbs thick yogurt
marjoram, salt, pepper, nutmeg
Peel and grate potatoes on grater with tiny mesh. Add fried diced onions, eggs, starch, yogurt and seasoning.
Place bacon slices on a bottom of a baking dish. Fill with potato dough and again cover the top with bacon slices.
Bake in 360 F/ 180 C for 60-75 minutes, until the top is nicely baked.
If you have some Polish Potato Babka left for next day, fry it on the pan, some may say it is even better this way:)
If you liked my posts and tried my recipes, you can consider buying me a coffee. Or rather I should say: you can buy me a flour for Pierogi, cabbage for Gołąbki and beets for Barszcz:) This would help me to cook more and publish more delicious recipes for You. www.buymeacoffee.com/cookinpolish.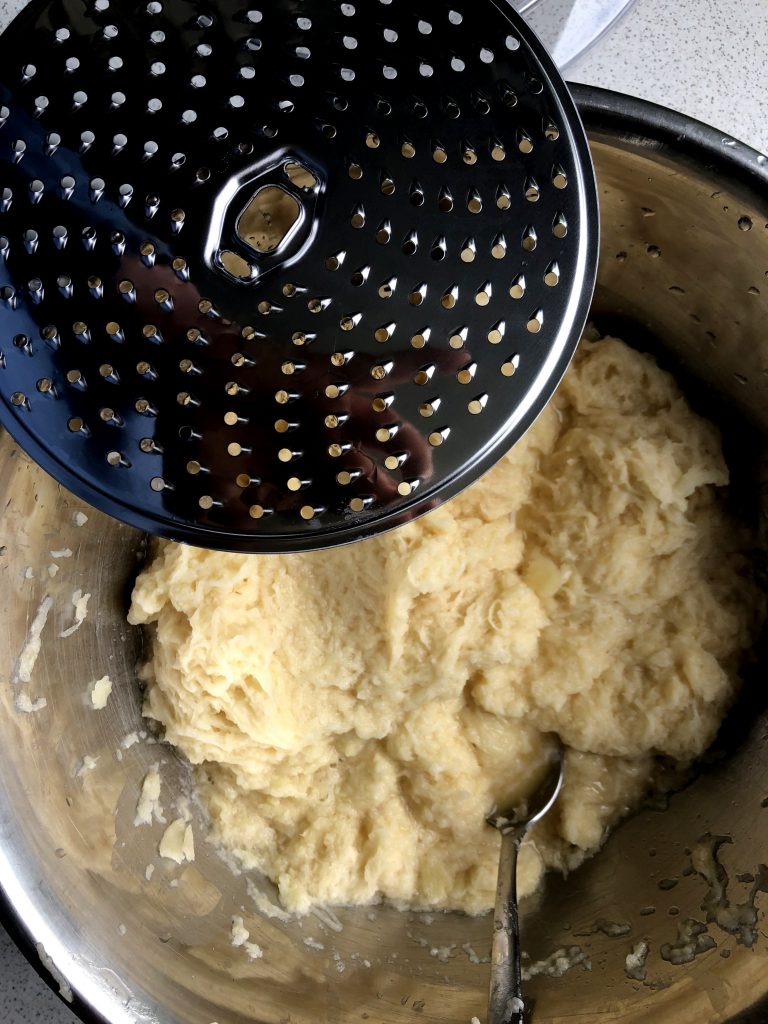 —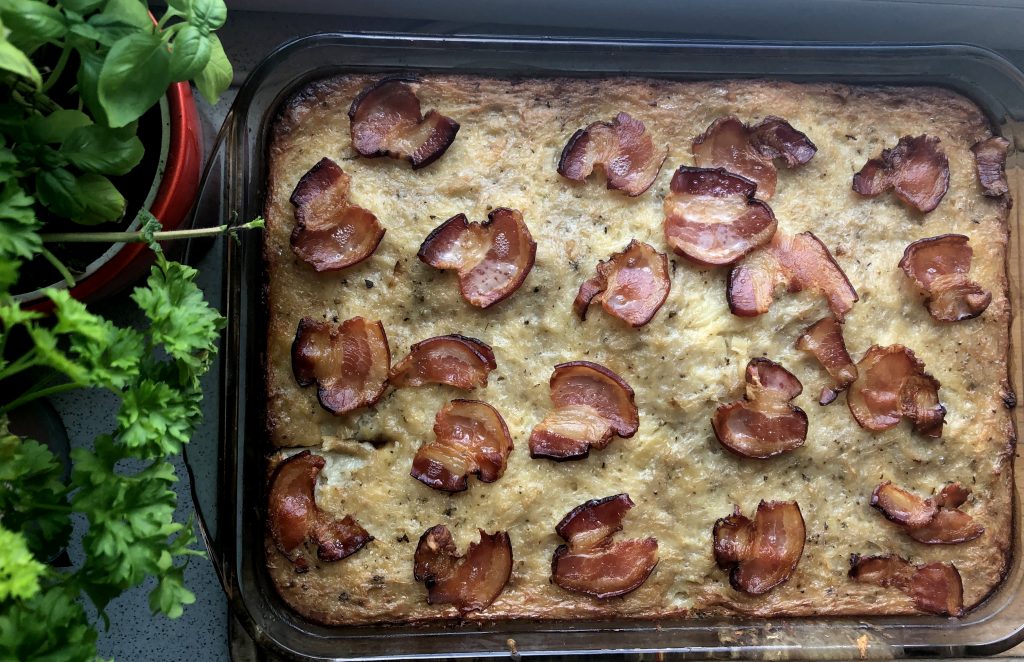 —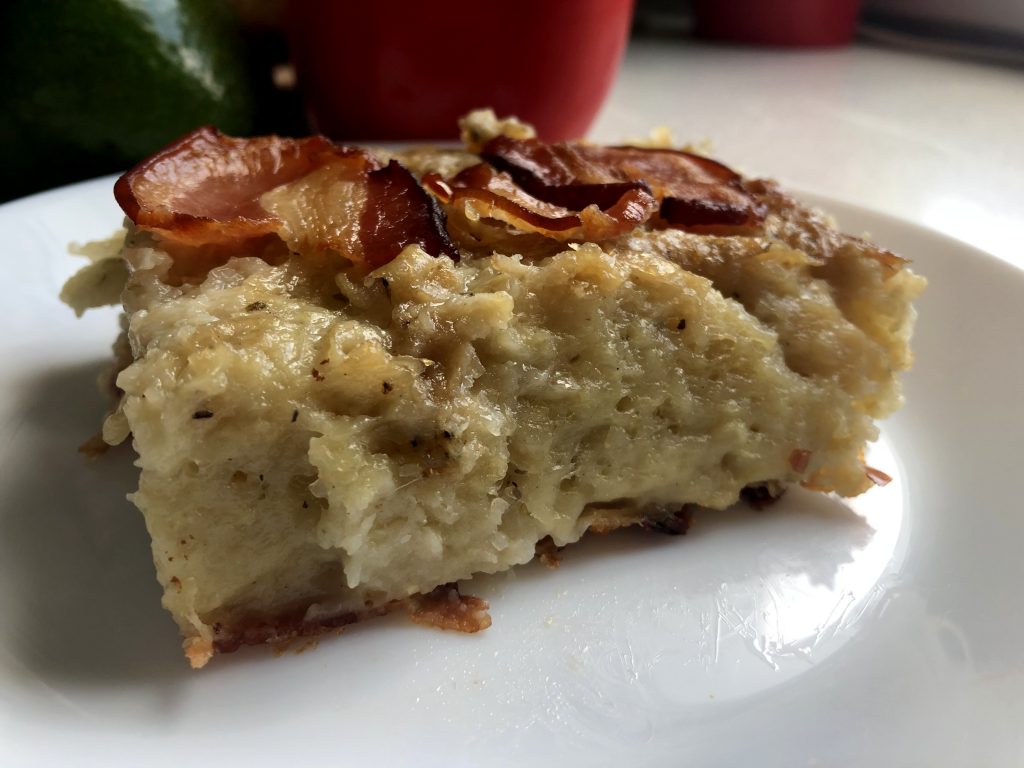 Comment on the post if you have questions, other ideas on the recipe or just enjoyed reading. I would be happy to see your thoughts on my posts!
Thanks for liking and sharing my recipes to your friends – it helps to develop my blog!