Polish Leczo – Vegetable and Polish Sausage Stew
Polish Leczo is a vegetables stew with Polish pork sausage. It is a dish with Hungarian origins. You cook seasonal, use red peppers, tomatoes and zucchini the moment they are the best and the cheapest. You can cook a big pot of food for a family of 6 for a week:)
In Poland Leczo started to be popular in hard times of PRL, when there was shortage of everything in stores. There was also time when garden plots where very popular, Poles where growing their own carrots, tomatoes, parsley, cucumbers, peppers. Totally bio and eco:)
If you like Leczo you may also like Polish Stuffed Zucchini.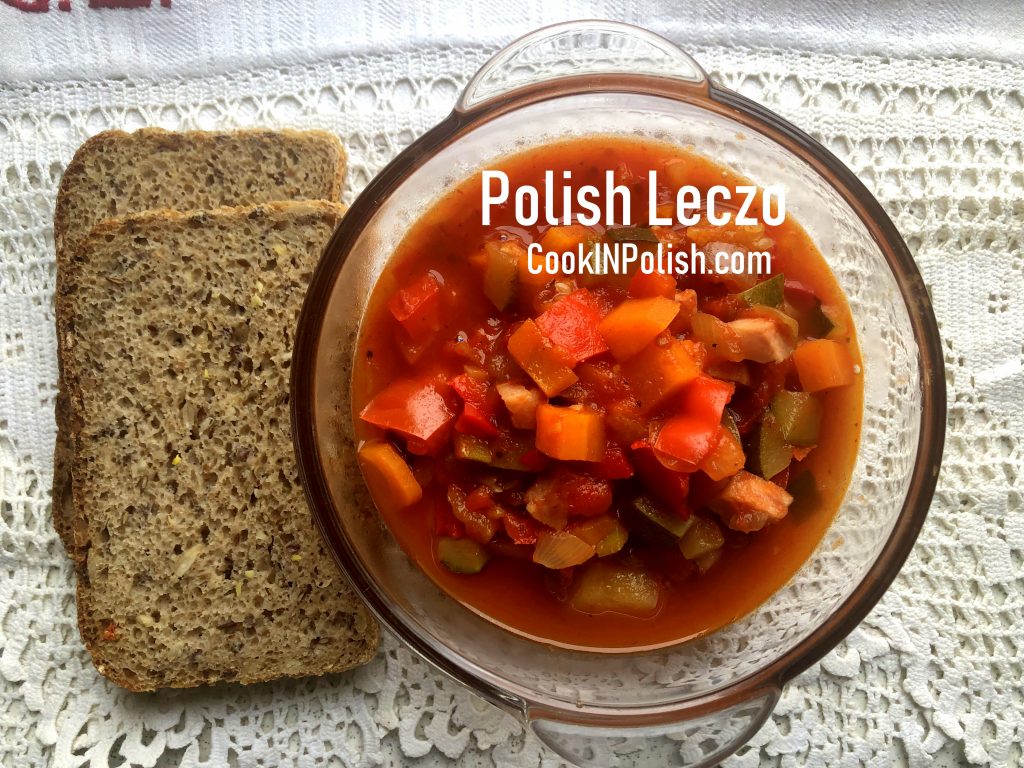 Ingredients:
2 kg red peppers
1 kg carrots
2 kg zucchini
1 kg onions
1 kg tomatoes
0,7 kg sausage
1 l tomato passata – tomato puree
salt, pepper, paprika powder, basil, oregano
2 tbs butter
Dice vegetables. Start with carrots, as they are the hardest and they need to be cooked the longest. Place carrots in a big pot, add water to cover them and cook on medium heat. Dice red peppers and fry them on hot oil, so that the peppers taste got deeper. Add sweet paprika powder and fry for 1 more minute. After that place red peppers in the pot.
Dice zucchini and add to the pot. Diced onions saute in the oil and mix with the rest of the vegetables. Dice and add tomatoes (peel them first). Add tomato sauce and seasonings: salt, pepper, basil and oregano.
Dice Polish sausage and fry on the pan. Mix with vegetables. You can easily have vegetarian version of Polish Leczo, if you will skip this step. Vegetarian Leczo is also a great choice for Summer.
Cook for another 40 minutes. Once carrots are ready, you can turn off the heat.
At the end add 2 tablespoons of butter, I'm telling you, this is a magic ingredient of Polish Leczo;)
In order to save the Summer tastes of Leczo for Autumn, you can preserve it in mason jars. Fill jars with -this is important!-hot Leczo, clean jar's edge and cover with lid. Put the jars up side down and leave overnight for a slow cool down. The next day check the lid, it should be sucked down. Store in a fridge up to 2 months.
You can also freeze Leczo. Serve with good rye bread and butter or with rice. Smacznego:)