Pierogi are Polish favorite dish. They can have a whole range of fillings: sauerkraut, meat, farmers cheese, fruits. For Christmas Eve meatless pierogi should be on your menu:) They can be served with Beets Borscht.
I had Zamojskie Buckwheat Pierogi for the first time when I was in college. I went with other students for hiking in Bieszczady Mountains. On a way back my friend Kasia took me to her hometown: Krasnystaw, near Lublin and Zamość. Her mum cooked Buckwheat Pierogi and they were delicious. My new favorite pierogi flavor:)
Lately I found out that buckwheat pierogi are specialty of this area of Poland. They are called Zamojskie (from Zamość), and sometimes Lubelskie (from Lublin).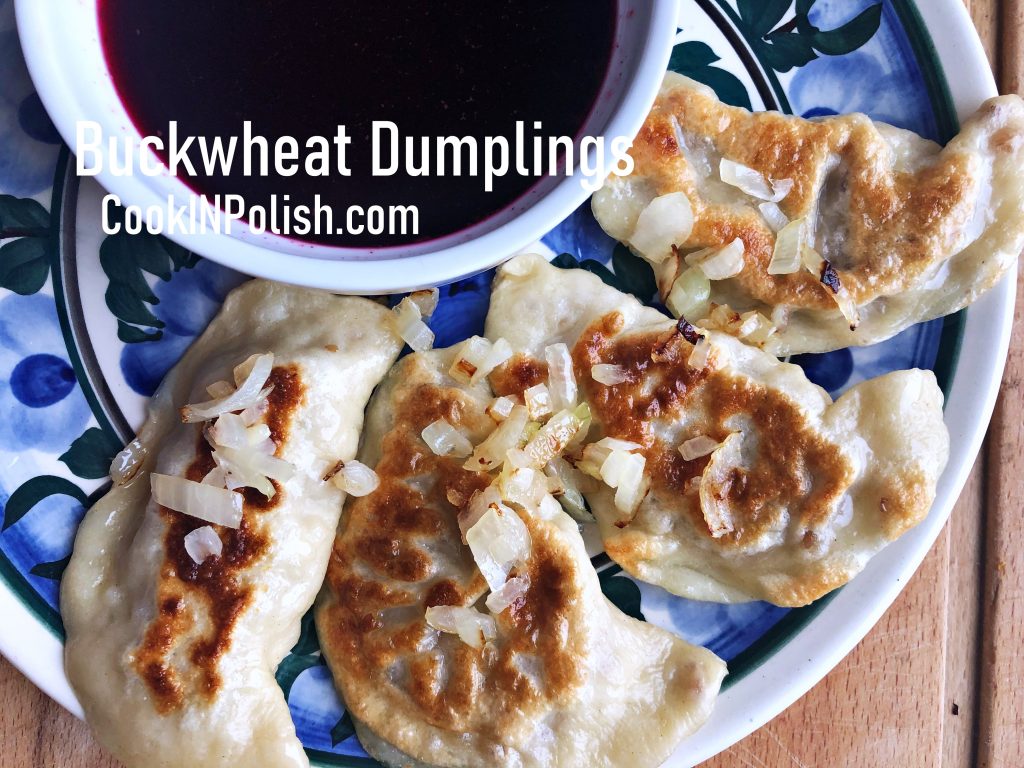 Ingredients:
DOUGH:
2 cups all purpose flour + additional flour if needed
1 egg
pinch salt
1 ts butter
3/4 cup of hot water
FILLING:
75 g / 3 oz buckwheat
200 g/ 0,5 lb farmers cheese
1 onion
salt, pepper
Place flour, egg and butter in the food processor, sprinkle with salt. Start mixing with a hook, gradually add hot water. Mix until the dough is smooth. Cover with a cloth while you prepare the filling.
Filling:
Cook buckwheat in salty water. Set aside for cool down. Once it's cool add farmers cheese, fork all to combine ingredients. Add sauteed chopped onion. Season with salt and pepper.
Roll out the dough on a table. Use additional flour underneath and on the surface, not to get stuck to the table.
Cut rounds, place a full tea spoon of the filling in the middle and seal the edges to make a dumpling.
Drop Zamojskie Buckwheat Pierogi into the boiling salty water. Wait till they come up to the surface, wait another minute and take them out.
Serve straight away or saute Pierogi and serve with additional portion of sauteed onions and Beets Borscht. Sauteed dumplings is the best way to serve them the next day. Smacznego!