Small Dumplings with Sauerkraut and Wild Mushrooms
Uszka for Borscht are perfect for Christmas Eve to be served with beets borscht.
If you want to cook borscht with dumplings you need to plan it in advance, check it here: http://cookinpolish.com/beetroot-borscht/.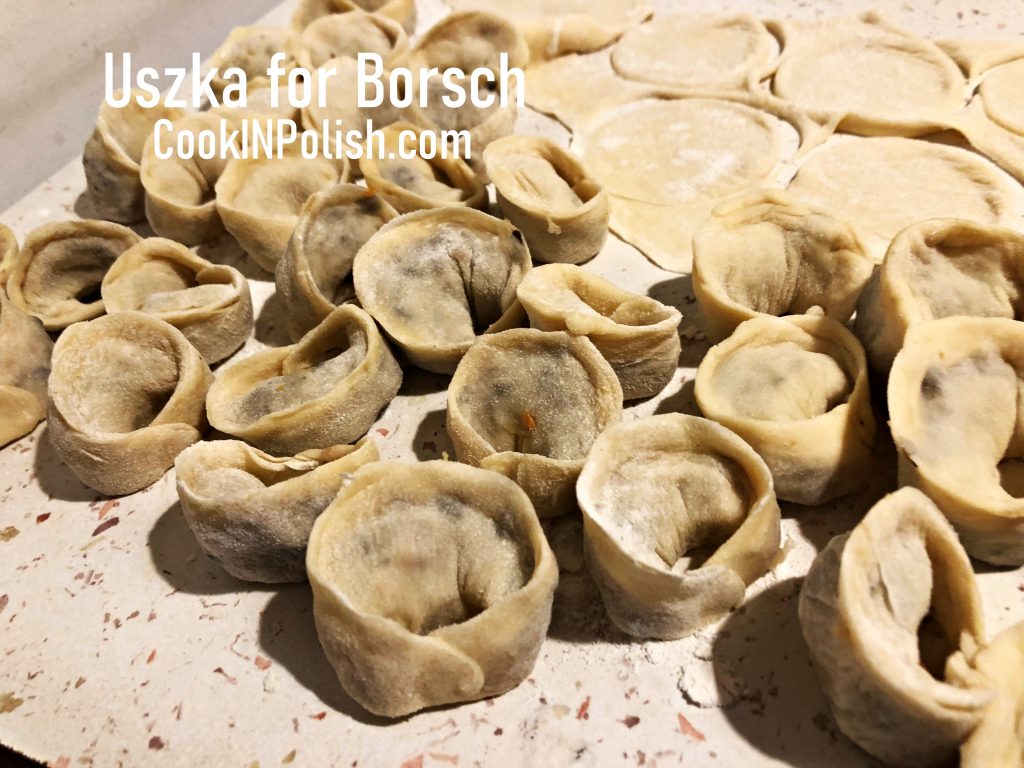 Ingredients:
DOUGH:
2 cups all purpose flour + additional flour if needed
1 egg
pinch salt
1 ts butter
3/4 cup of hot water
FILLING:
600 g/ 1,5 lb sauerkraut
100g/ 4 oz dried wild mushrooms
1 onion
salt, pepper
For a dumpling dough place flour, egg and butter in the food processor and start mixing with a hook. Sprinkle with salt. Gradually add hot water. Mix until it's smooth. This is my favorite dumpling dough, because it's elastic and easy in operation:)
Filling: Place mushrooms in a small pot, cover with water. Bring to boil and simmer for half an hour. Strain and chop once they are cool. Save the water from boiling, you can use it for mushroom soup or for borsch. You can freeze it or can it, if you won't use it on the spot.
Place sauerkraut in a pot, cover with water. Bring to boil and simmer for an hour. Strain and let cool down. Then chop or blend it in a food processor.
Chop an onion and saute on the butter. Let it caramelize to get the best flavor. Combine mushrooms, sauerkraut and onion in the bowl. Add salt and pepper.
Roll out the dough on a table. Use additional flour underneath and on the surface, not to get stuck to the table.
Cut small rounds, place a tea spoon of the filling in the middle and seal the edges to make a dumpling. Seal two edges of the dumpling to make a ring.
Drop uszka into the boiling salty water. Wait till they come up to the surface, wait another minute and take them out.
Serve Uszka for Borscht with red borscht. Must have for Christmas Eve in Poland!