Apple and vanilla custard shortcrust is a kind of Polish Szarlotka, an extra layer of custard makes this pie smell like vanilla, it's creamy and sweet. I used Polish >budyń<, which is a very popular dessert in Poland, available to buy in instant version. All you need to do is bring milk do boil, and mix in a mixture of budyń powder dissolved in a small amount of cold milk. Budyń may be served warm or hot, alone or with raspberry juice and berries. You don't have to be worry, if there is no budyń in your convenient store, you can make it yourself and it's easy too.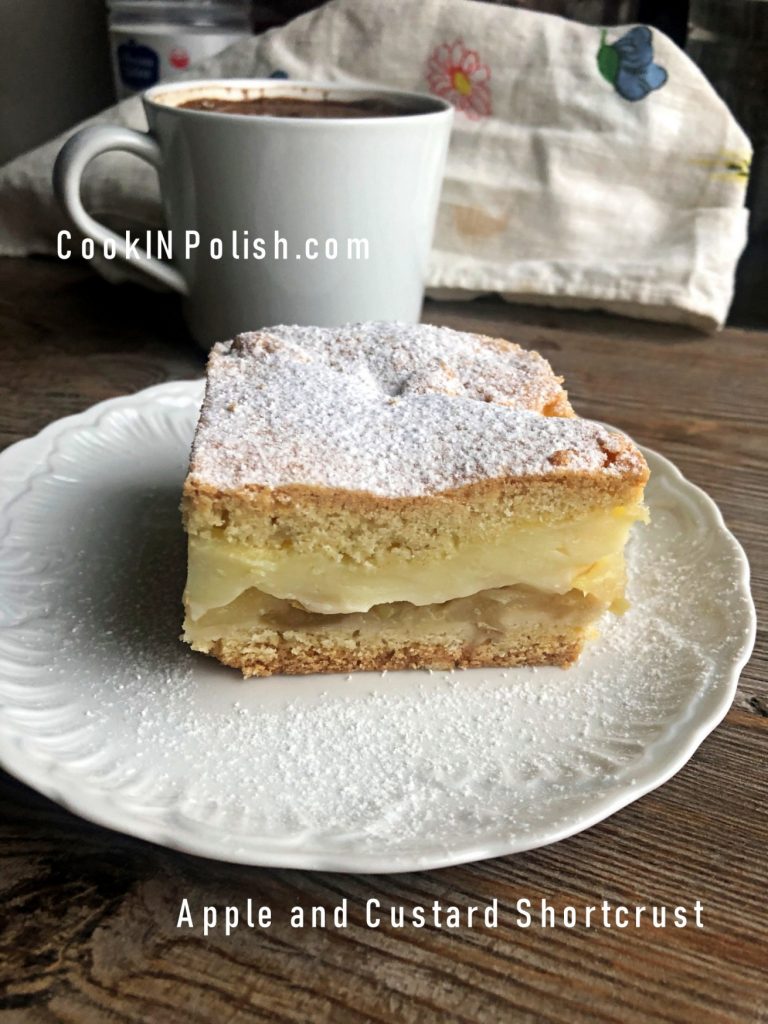 Ingredients:
500 g flour
3 eggs
100 g sugar
200 g butter
3 teaspoons baking powder
3-4 tablespoons breadcrumbs
1 and half kg apples
half teaspoon cinnamon (optional)
3 bags of budyń powder
1 liter milk
Few hours before making the pie take eggs and butter out of the fridge.
Sieve flour into the bowl. Add 3 eggs, sugar and baking powder. Cut butter into smaller pieces and place in the bowl. Mix all the ingredients into smooth dough. You can use a mixer or just do it with your hands. Divide the dough into halves, flat them. Cover them with a foil and place in the fridge for about an hour (flattening helps to cool the dough faster).
In the meantime prepare apples: clean and core them. You can peel them, I don't find it necessary. Dice apples and put them in the saucepan. Add 3-4 tablespoons of water and simmer for about 10 minutes. They'd make an aromatic apple filling. You can sprinkle it with a dash of cinnamon if you like. Try your apples. If they are sour, add 2-3 tablespoons of sugar.
Prepare budyń: Use 3 bags for 1 liter of milk (ussual ratio is 2 bags for a liter of milk, but for the pie it needs to be thicker). Use half a cup of milk to dissolve budyń powder, bring to boil the rest of milk. Add 4 tablespoons of sugar if there is no sugar in your budyń powder already. Once the milk has boiled take it on the side and mix in budyń mixture. Place on the top of the stove again for a minute and set aside. Cool a little bit before pie assembling. You can also prepare budyń in advance, few hours before baking.
Cover baking pan (20 cm x 30 cm) with baking paper.
Assembling:
Roll out one portion of the dough and cover bottom of baking pan with it. After that fork the dough so that the air was able to leave when baking. Sprinkle with 3-4 tablespoons of breadcrumbs and put an apple filling. Place the next layer: budyń. At the top place the second portion of rolled out dough.
Bake 40 minutes in 180 C/ 350 F.
I love to have still warm piece of Apple and Custard Shortcrust with a cup of coffee, believe me, so comforting:)
Homemade Budyń filling:
If there is no instant budyń available nearby, make budyń yourself:
1 liter milk
3 egg yolks
6 full tablespoons potato starch or allpurpose flour
few drops vanilla extract
3 tablespoons sugar
1 tablespoon butter
Dissolve flour in one cup of milk. Mix in egg yolks into it.
The rest of milk put on the fire, dissolve sugar in it, add butter and vanilla extract. Bring to boil. Set aside and mix in a flour mixture. Then bring to boil again still mixing and set aside. It's ready.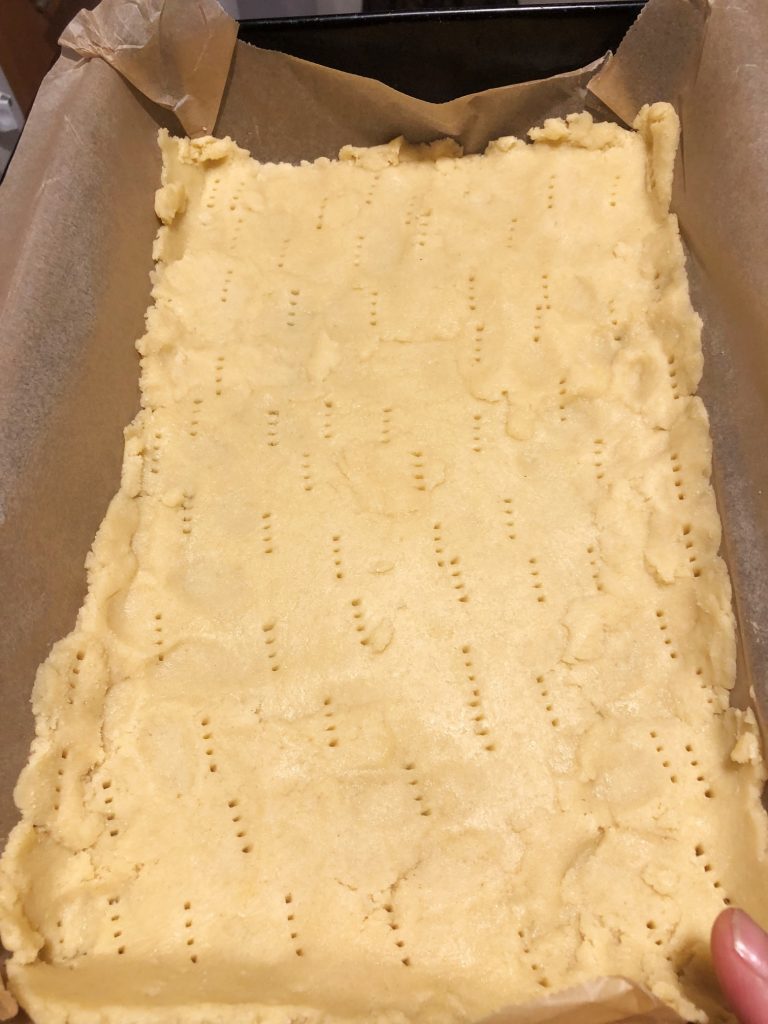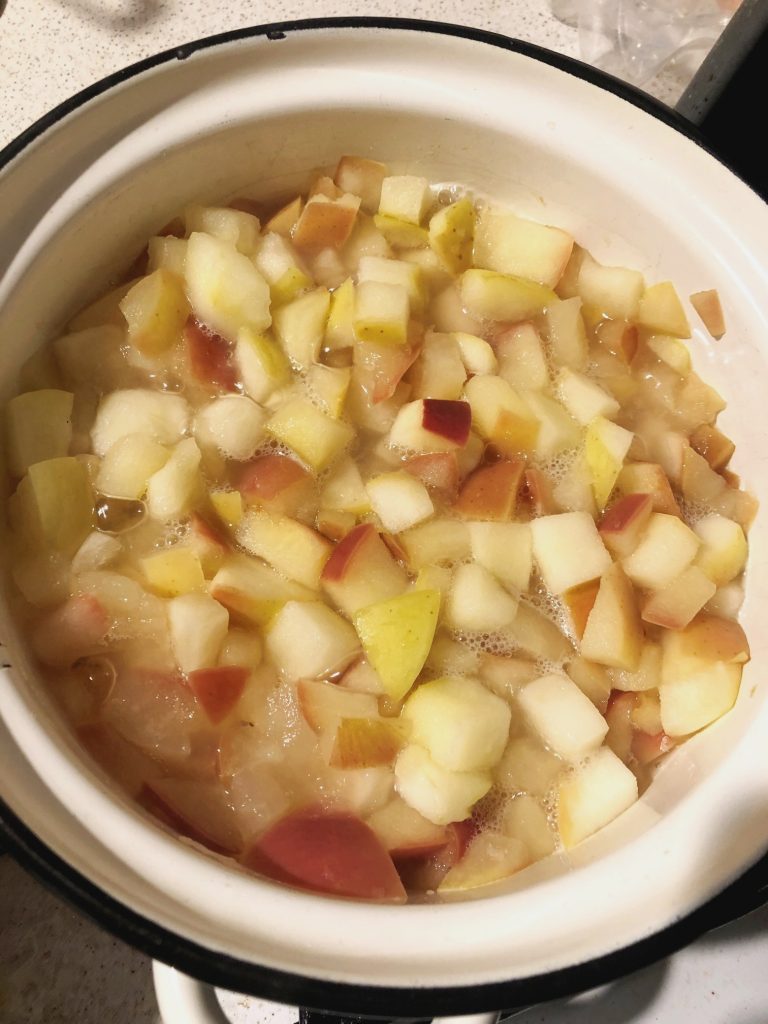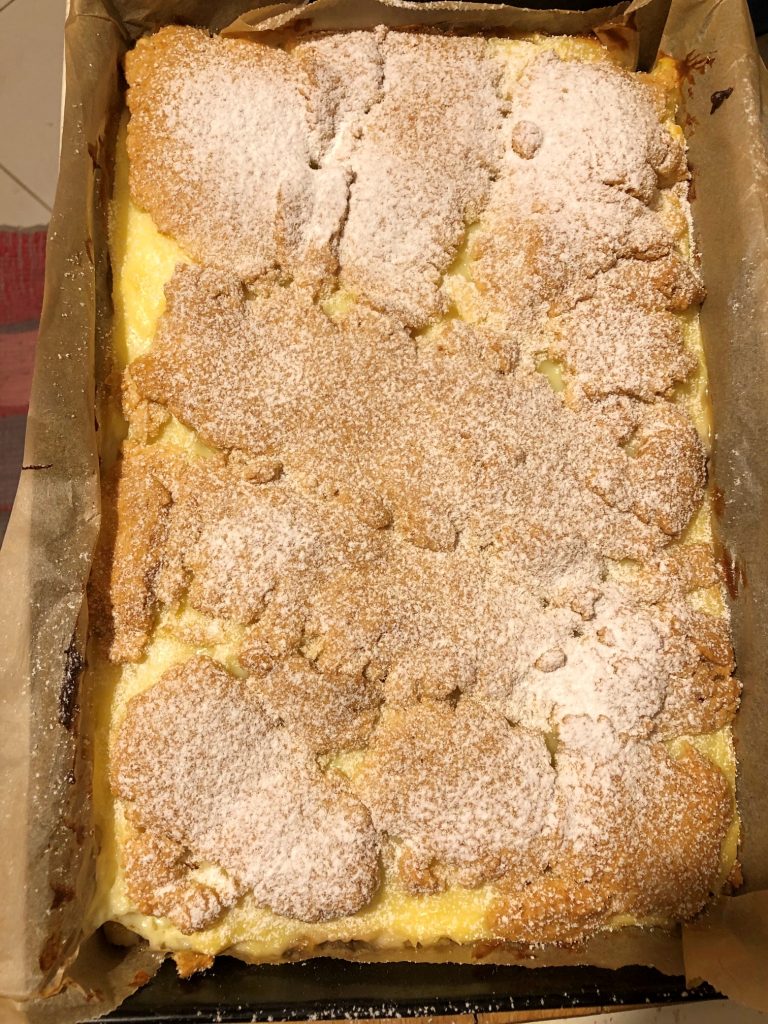 Comment on the post if you have questions, other ideas on the recipe or just enjoyed reading. I would be happy to see your thoughts on my posts!
Thanks for liking and sharing my recipes to your friends – it helps to develop my blog!