I love the flavor of Polish Apple Crumble – Szarlotka in my house – buttery, with a bit of cinnamon. My children love it too, so I make it quite often.
As long as it is Autumn, I try to make the best of it, apples are now the freshest and the cheapest in the whole year.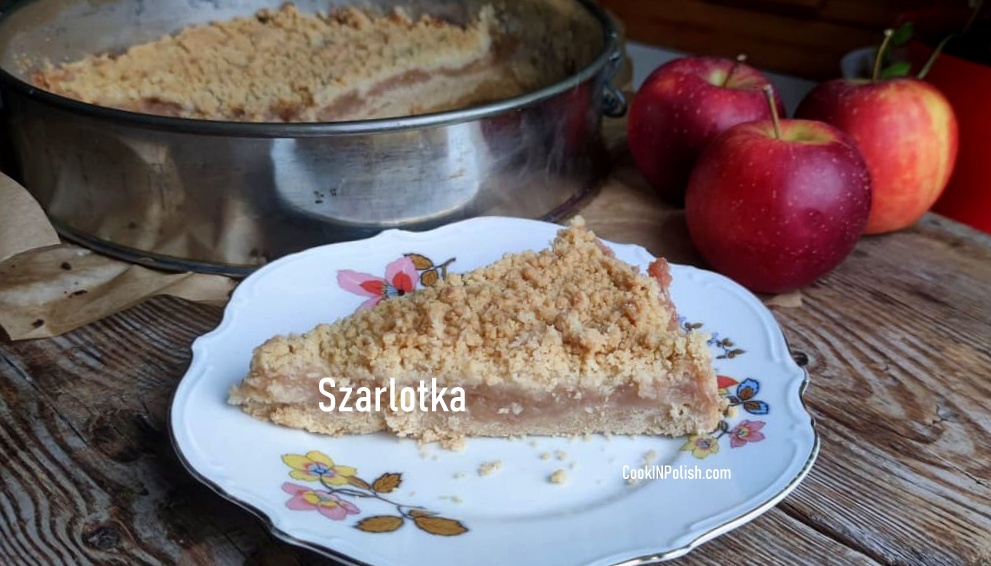 Ingredients
Dough:
2 cups of flour
3 tablespoons powder sugar
1 egg
175 g/ 6 oz. cold butter
half teaspoon salt
Sift flour into a bowl, add powder sugar, egg and salt. Cut butter into small pieces and rub quickly into flour and sugar with fingers. You can use also a food processor – it's even better because butter would not get melted from your hands.
Form a dough into flat ball, cover with cling foil and refrigerate for half an hour.
In the meantime prepare apples and crumble:
Apples:
6 semi-sour apples
1/4 cup water
1/2 cup sugar
1 ts cinnamon
2 tbs lemon juice
Core, peel and slice the apples. Place them in a sauce pan, add few tablespoons of water, cinnamon, sugar and lemon juice. Simmer for about 12 minutes, not too long to have apples still in chunks, not as a marmalade.
Crumble:
1 heaped cup all wheat purpose flour
6 tablespoons sugar
120 g/ 4 oz. cold butter sliced
Combine all the ingredients in a bowl, quickly knead till the mixture is forming crumbs.
Polish Apple Crumble – Szarlotka assembling:
Preheat the oven to 180 C/ 350 F.
Take round baking pan 28 cm diameter. Cover the bottom with baking paper.
Roll out the dough and transfer it to a baking pan. Lay out a layer of apples. Scatter crumble generously over the apples- because there is no 'too much crumble' possible 🙂
Bake 60 minutes on the middle shelve of the oven.
Enjoy your Polish Apple Crumble – Szarlotka with a scoop of vanilla ice cream.
Try also my recipe for Polish Poppy Seed Roll.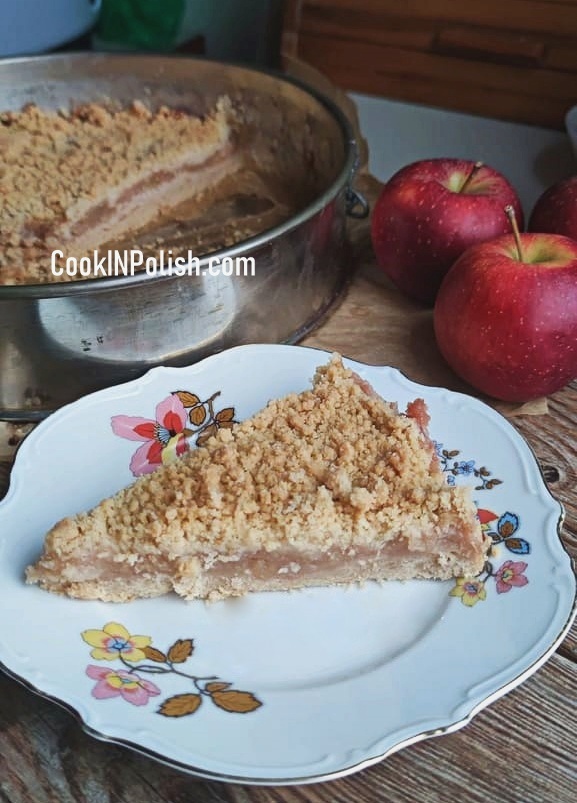 Comment on the post if you have questions, other ideas on the recipe or just enjoyed reading. I would be happy to see your thoughts on my posts!
Thanks for liking and sharing my recipes to your friends – it helps to develop my blog!