Kotlety jajeczne
Egg patties is a simple vegetarian dinner idea, in Poland they are often served for dinner in school canteens and milk bars. They are also loved and cooked in Polish families. Crispy egg patties can be served with cooked potatoes or kasza: buckwheat or barley. They will taste great with carrot and peas with a roux, or with mushroom sauce. Check this easy recipe.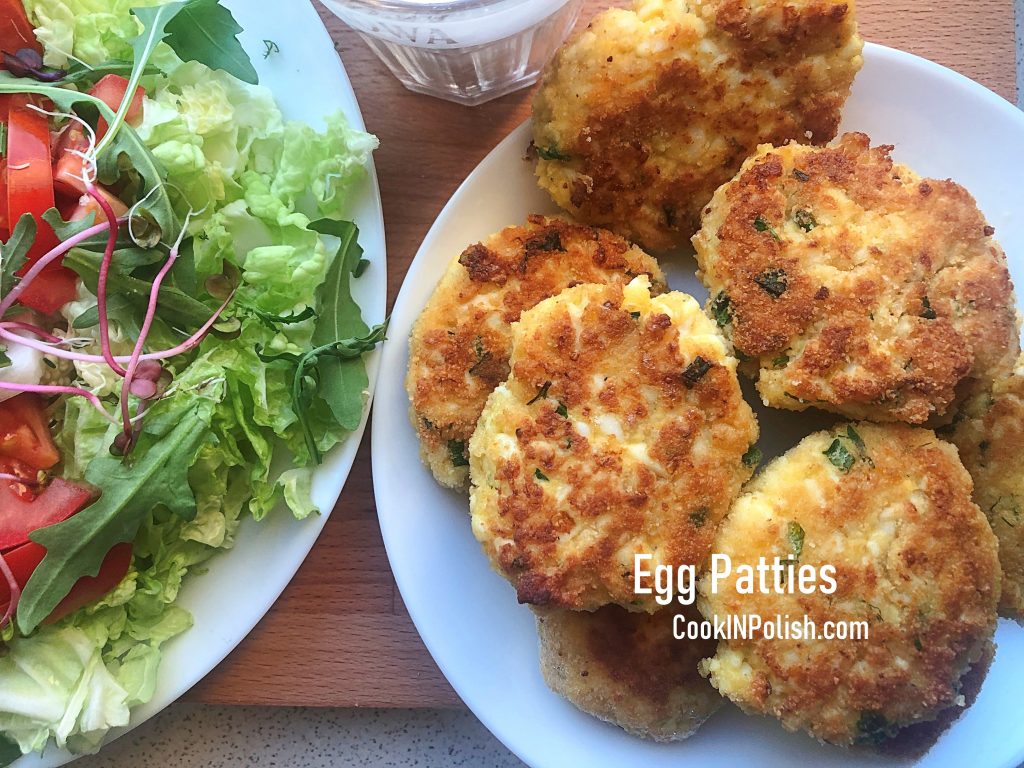 Ingredients
10 hard boiled eggs
2 raw eggs
2 tablespoons chopped dill
2 tablespoons chopped parsley
salt and pepper to taste
half stale roll
half cup milk
small onion
oil for frying (I use rape seed oil)
breadcrumbs for tossing
Mushroom sauce:
450 g/ 1 lb fresh mushrooms (champignons)
medium onion
1 cup cream 30%
half cup vegetable stock
1 tablespoon wheat flour
salt and pepper
2 heaping tablespoons butter
Saute chopped onion in a 2 tablespoons of oil. Set aside to cool.
Place stale roll in a small bowl with milk for soaking.
Chop hard boiled eggs or fork blend them, Add raw eggs, dill and cooled sauteed onion. Add drained roll. Season with salt and pepper. Combine all well and form patties. From this amount of ingredients you'd get about 10-12 patties. Toss patties in breadcrumbs and place them for an hour in a fridge before frying.
Fry in rape seed oil on medium till brownish. It would take about 4 minutes on each side.
Serve egg patties with mushroom sauce:
Chop the onion. Saute onion in butter, add diced mushrooms, season with salt and pepper. Pour in cream mixed with half cup of vegetable stock and a tablespoon of all purpose flour, turn heating on low and let it thicken.
Smacznego! Enjoy!
Try other Polish vegetable dishes, click here: vegetable dishes.
If you liked my posts and tried my recipes, you can consider buying me a coffee. Or rather I should say: you can buy me a flour for Pierogi, cabbage for Gołąbki and beets for Barszcz:) This would help me to cook more and publish more delicious recipes for You. www.buymeacoffee.com/cookinpolish.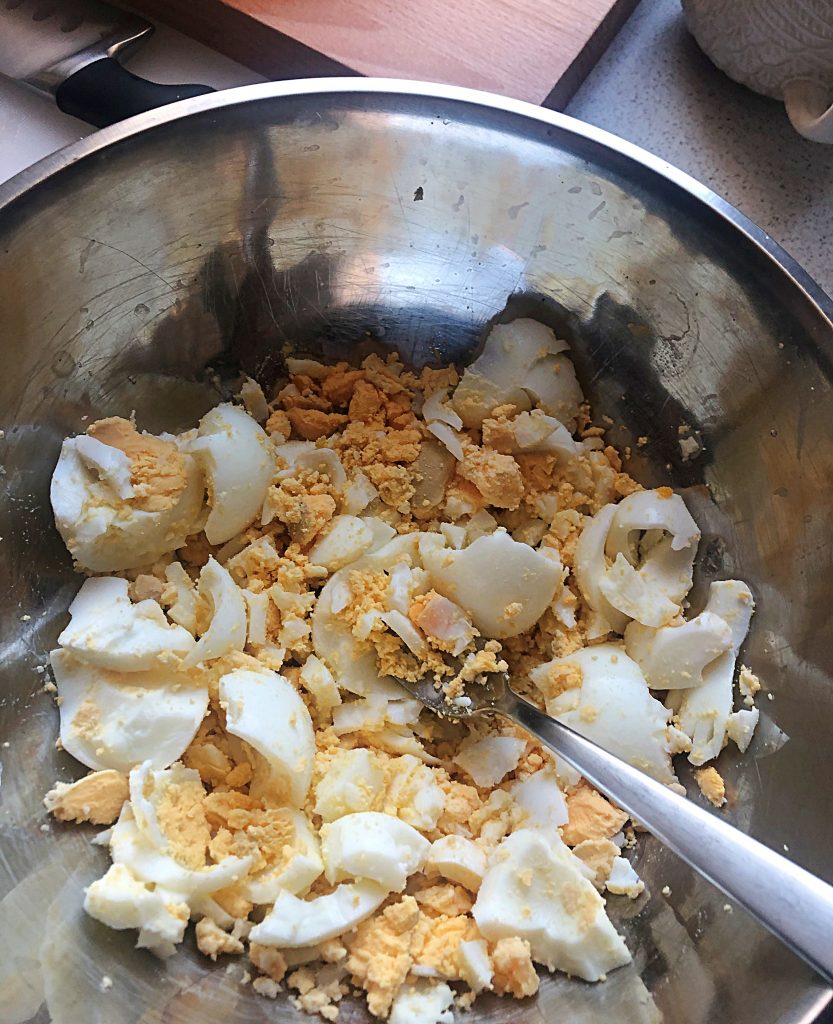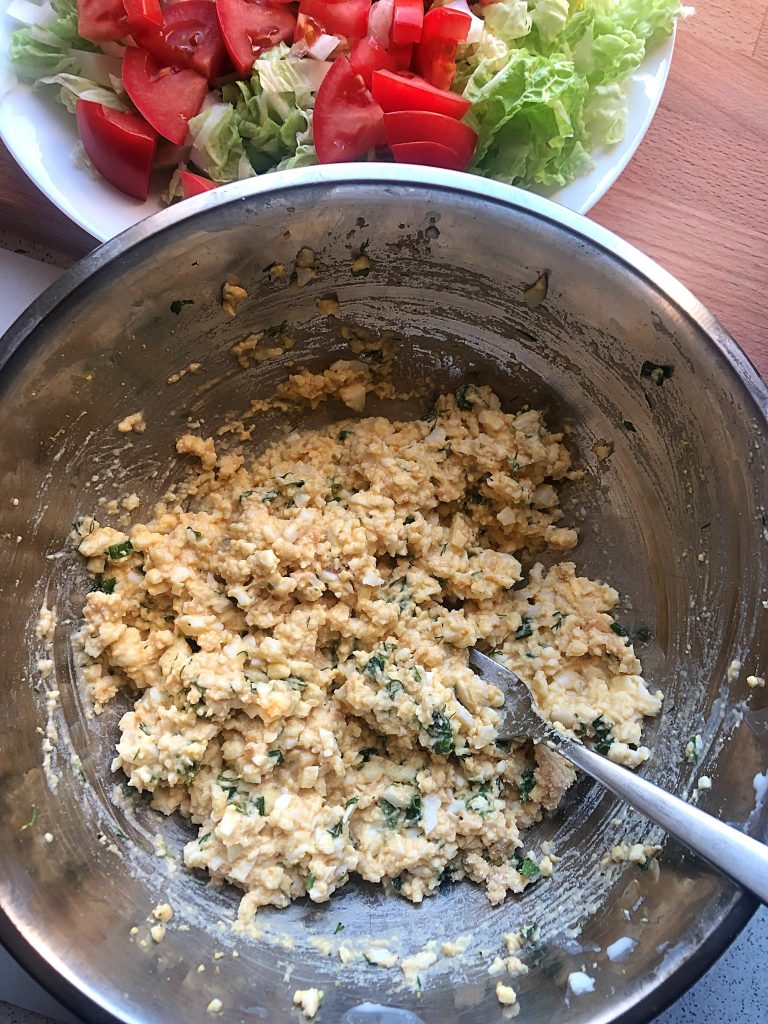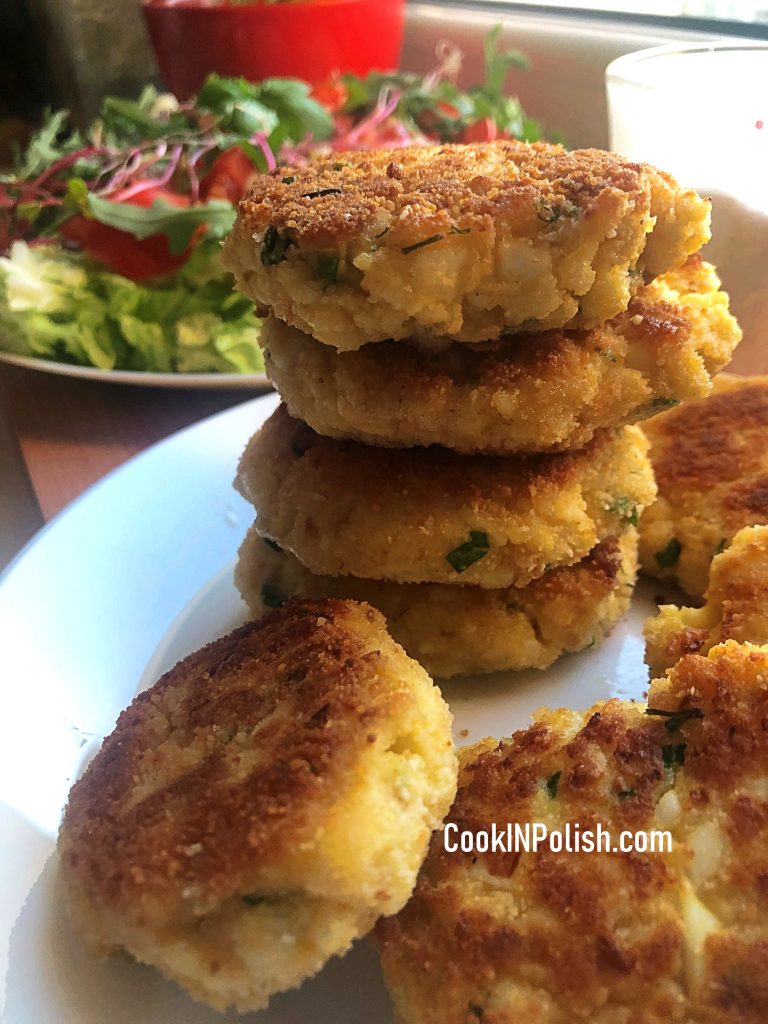 Comment on the post if you have questions, other ideas on the recipe or just enjoyed reading. I would be happy to see your thoughts on my posts!
Thanks for liking and sharing my recipes to your friends – it helps to develop my blog!