Polish Plum Potato Dumplings are one of my favorite Summer sweet dinners from childhood. Sweet & cinnamon flavored plums, soft potato dough and crispy buttered breadcrumbs, topped with sweet cream, make knedle a special dish, that is loved by all Poles.
One of the tastes of Polish Summer. If you have potatoes left from dinner, it is just half an hour of preparation and less than 10 minutes of cooking.
If you follow the recipe you will get 9 potato dumplings, it is 2-3 servings. Feel free to adjust the portion to your needs.
If you prefer potato dumplings to accompany meat dishes, you will love Kluski Śląskie recipe.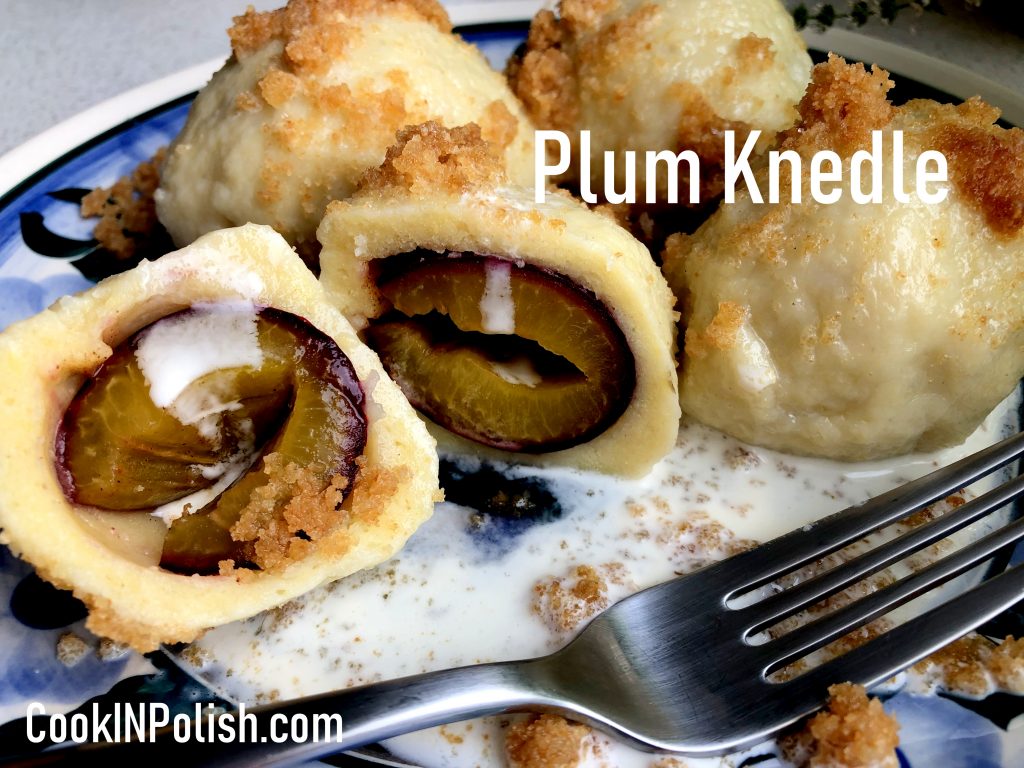 Ingredients:
9 plums
400 g/ 1 lb cooked mashed potatoes
150 g/ 0.35 lb all purpose flour
1 egg
salt
4 tbs breadcrumbs
3 tbs butter
1/2 cup sweet cream (30%)
Mix cooked cold mashed potatoes with flour and egg, sprinkle with salt.
Prepare plums: cut plum to get out the plum stone keeping both parts together. Place 1/4 teaspoon of sugar inside each plum, sprinkle with cinnamon.
Take a walnut size piece of dough, form a ball and flatten it to get (more less) circles. Place one plum in a middle, fold over and roll to get an oval shaped dumplings.
Bring 4 l of water to boil in a large pot, add some salt.
Place knedle in a boiling water. When they go to the surface, reduce heat and simmer for 5 minutes.
In the meantime brown the breadcrumbs on the skillet. Add butter and melt it in the breadcrumbs.
After 5 minutes remove knedle with a slotted spoon and place on the plate. Sprinkle with breadcrumbs and sweetened sweet cream.
Smacznego:)
If you liked my posts and tried my recipes, you can consider buying me a coffee. Or rather I should say: you can buy me a flour for Pierogi, cabbage for Gołąbki and beets for Barszcz:) This would help me to cook more and public more delicious recipes for You. www.buymeacoffee.com/cookinpolish.