Yesterday I cooked Polish Pork Stew with Kluski Śląskie. Silesian Potato dumplings are on the official list of traditional food of Silesian voivodeship. They are easy to prepare and delicious. A pork stew with sauce will make the serving complete, as the sauce is gathering in a dumpling's hollows and stores the taste:)
Upper Silesia is located at the South of Poland and usually is associated with coal mining. There are many industrial cities, that eventually grew up into a big metropolis. Silesian dialect is hard to understand by other Polish people, that there are debates to recognize it as a different language.
l invite you to try Silesian cuisine.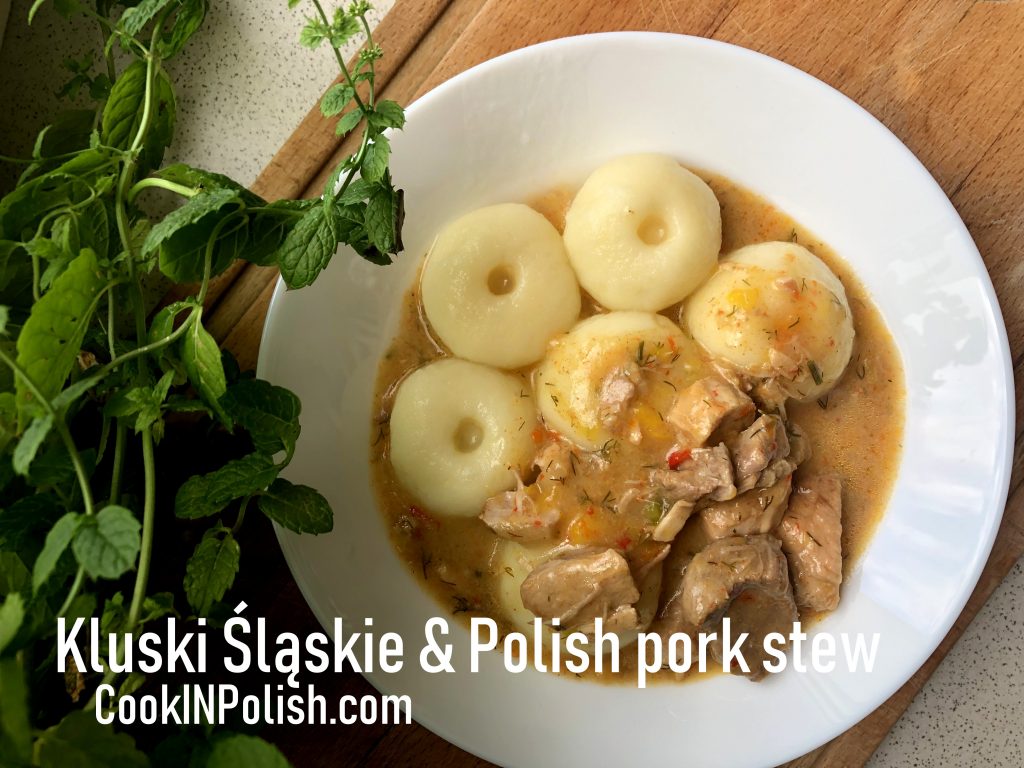 Ingredients:
1,4 kg pork/ 3 lb (I used ham)
2-3 onions
2 peppers (I used red and yellow – for colors)
2 carrots (for crispiness)
1 -1,5 l meat/vegetable stock (you can prepare it yourself: chicken stock)
ground paprika, salt and pepper
2 pieces dried mushrooms
3/4 cup sweet cream
1 tbs butter (optional)
Dice pork in a medium size pieces. Shortly fry them from all sides, add paprika and place in a big pot. Add diced onions, dried mushrooms and fill with the stock. Put on a low heat and simmer for 1,5 hour.
In a meantime add diced carrots and peppers. Season with salt and pepper.
Check every several minutes. Add some more stock if necessary. Meat should be more less covered with a sauce. Bear in mind that onions and vegetables will also give their liquids and make sauce thicker.
At the end of cooking add sweet cream and butter. They will make the stew smooth.
Serve with barley or Kluski Śląskie: Silesian potato dumplings:) Mmm, yummy:)
Kluski Śląskie:
Ingredients:
0,9 kg/2 lb cooked potatoes
about 0,25 kg/ 0,5 lb potato starch
1 egg
1 ts salt
Mash or ground cooked potatoes. Once they are cool, place potatoes in a bowl, divide them into 4 parts. Take one part away and put potato starch to fill the empty place. Add the missing part of potatoes, an egg and salt and mix all. I used hands to make a dough smooth.
Roll in hands small balls (golf balls size) and make a hollow in it. I used the other part of wooden spoon, but the smallest finger can be used as well:)
Boil the water, add salt. Place Kluski into boiling water and turn the heat to the minimum. Let them cook for 4 minutes from the moment they float on the top.
Everyone will love your Polish Pork Stew with Kluski Śląskie.
Another dish that goes so well with Kluski Śląskie is Beef roulade, also from Silesian cuisine.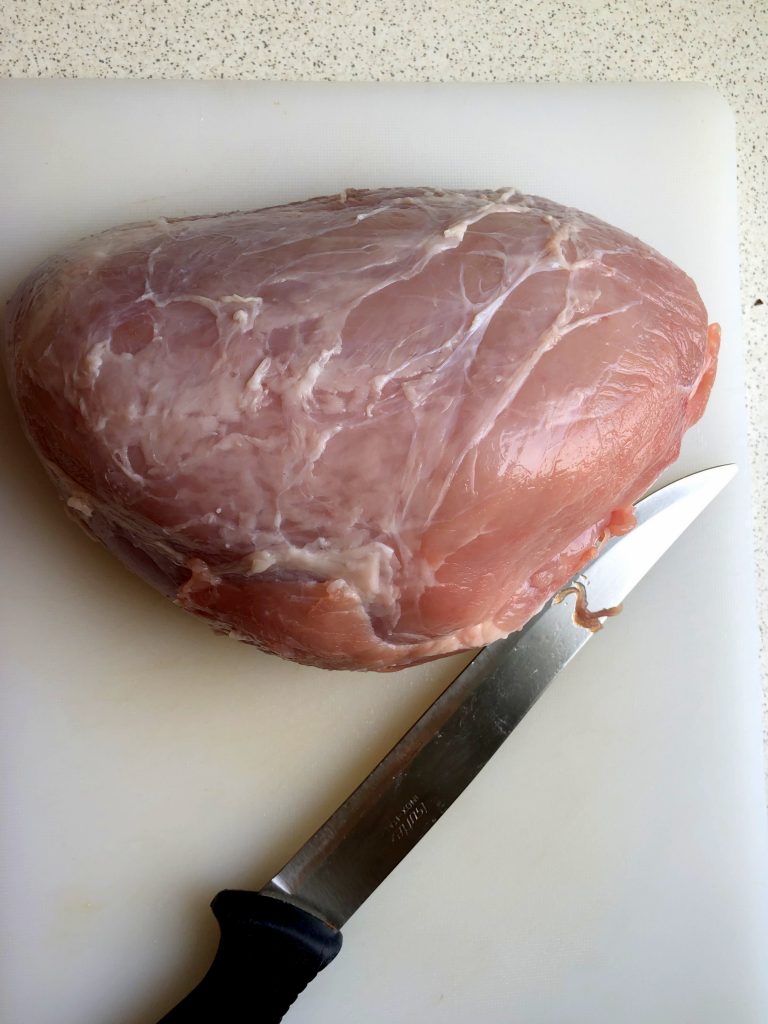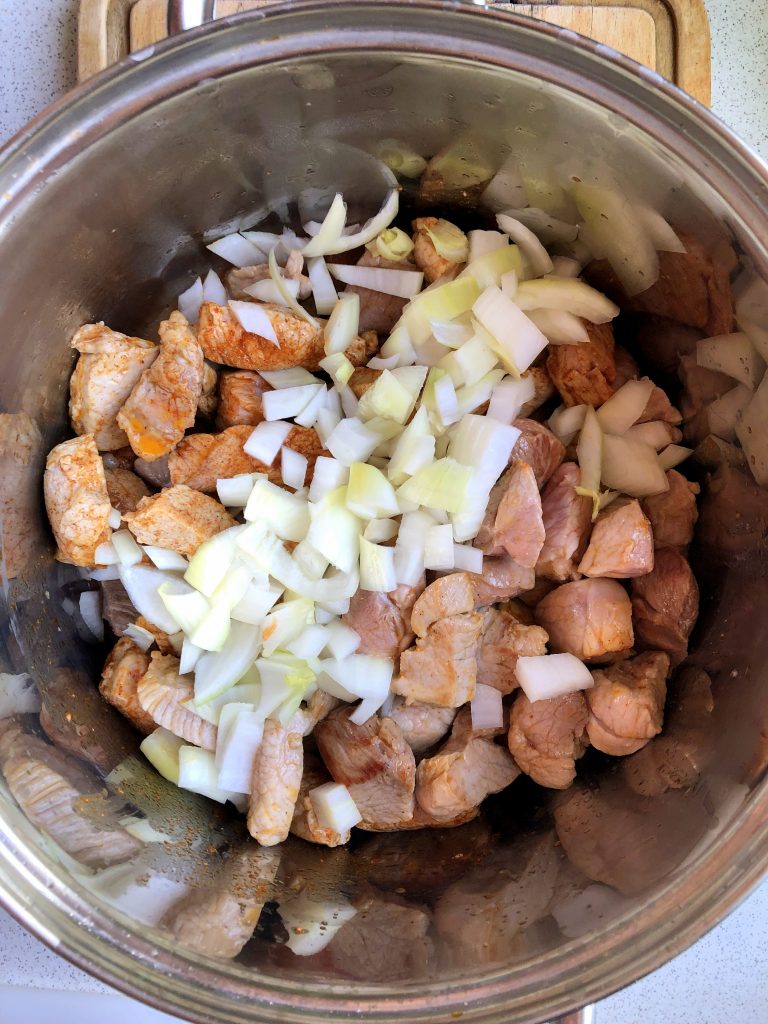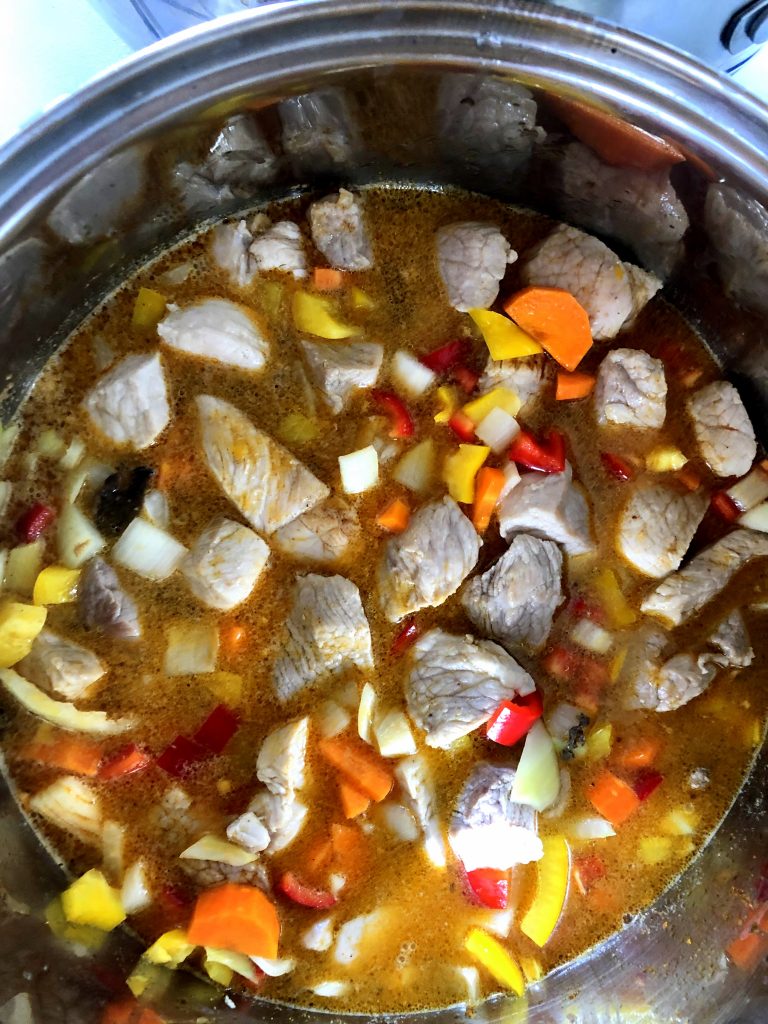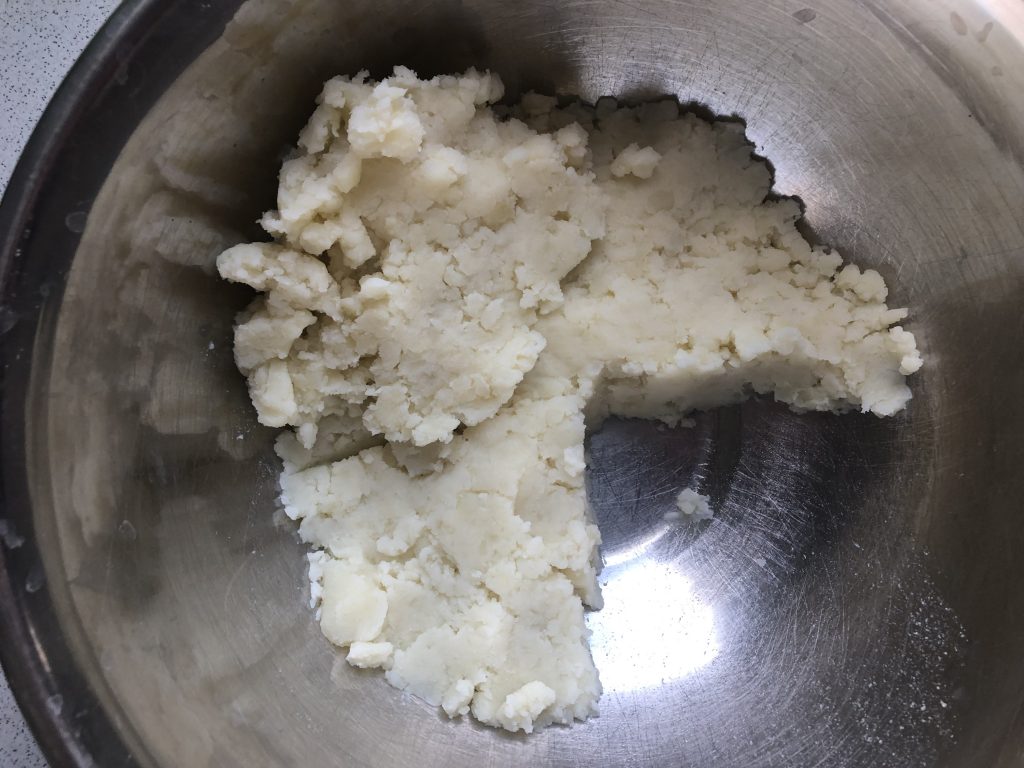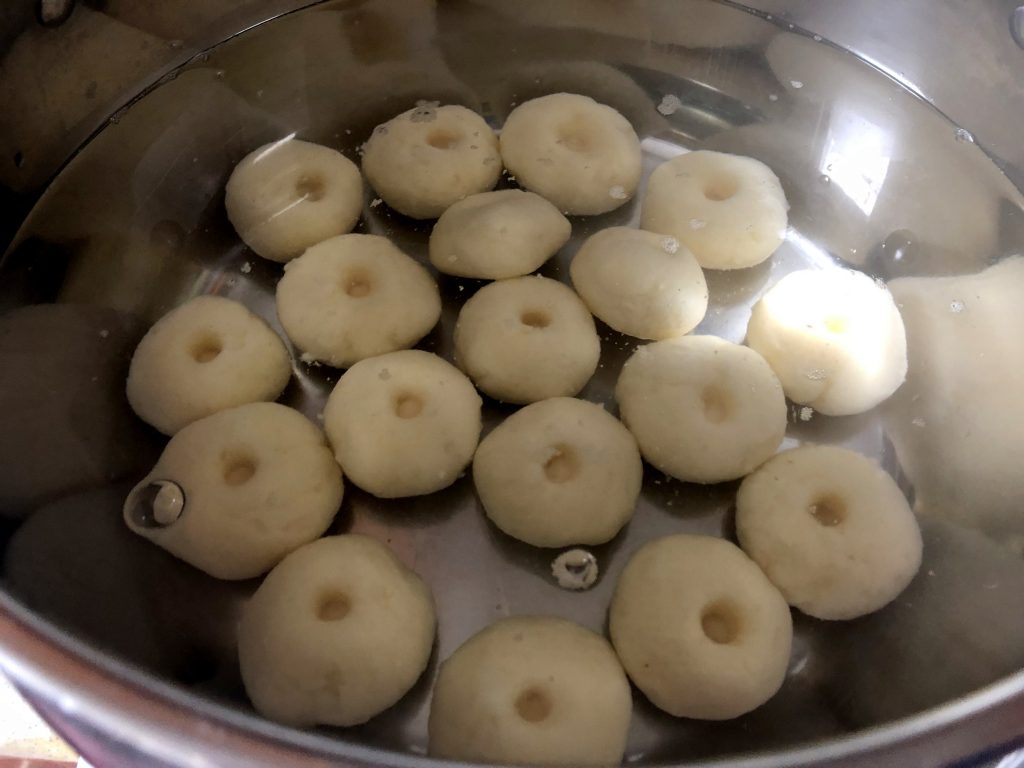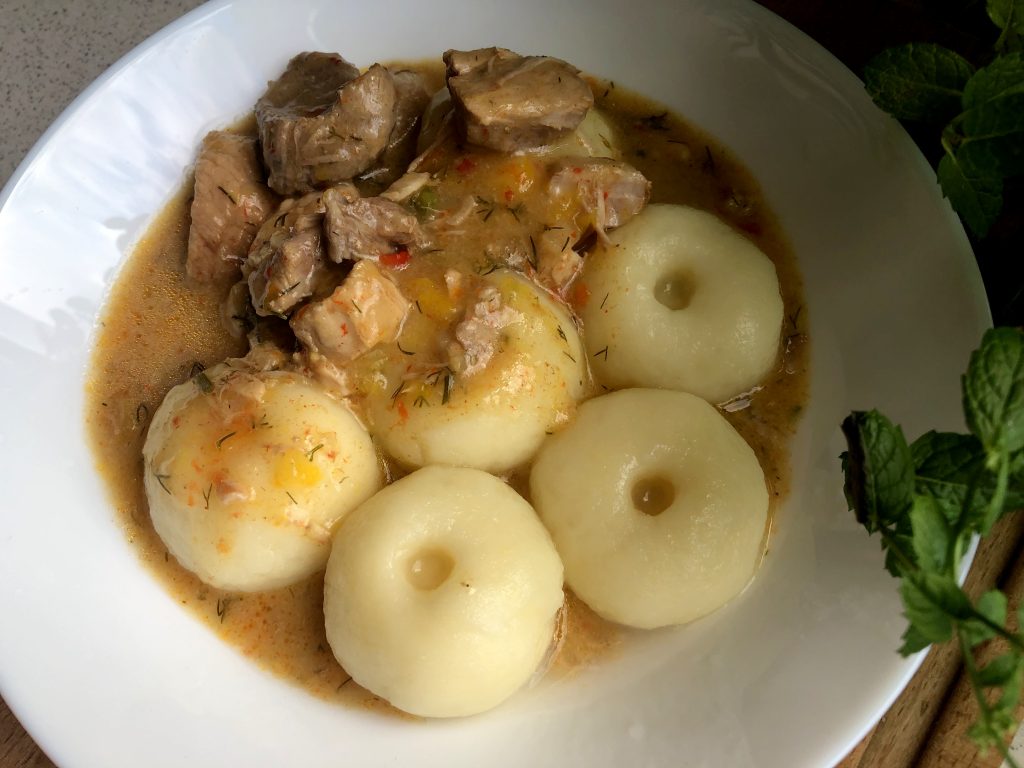 Comment on the post if you have questions, other ideas on the recipe or just enjoyed reading. I would be happy to see your thoughts on my posts!
Thanks for liking and sharing my recipes to your friends – it helps to develop my blog!