Makowiec
Polish Poppy Seed Roll Makowiec is traditional Polish dessert, in my family we always have it for both: Christmas and Easter. My mum makes it without any recipe and makes 4 rolls each time, I made my best to put her instructions in writing and limit the amounts to make 2 rolls. Makowiec for me smells like Christmas. The last few years when I go home for Christmas I always assist my Mum to make Poppy seed rolls. We would seat in the evening, when all the family is resting, my Mum would knead and then we all waiting for yeast dough to rise.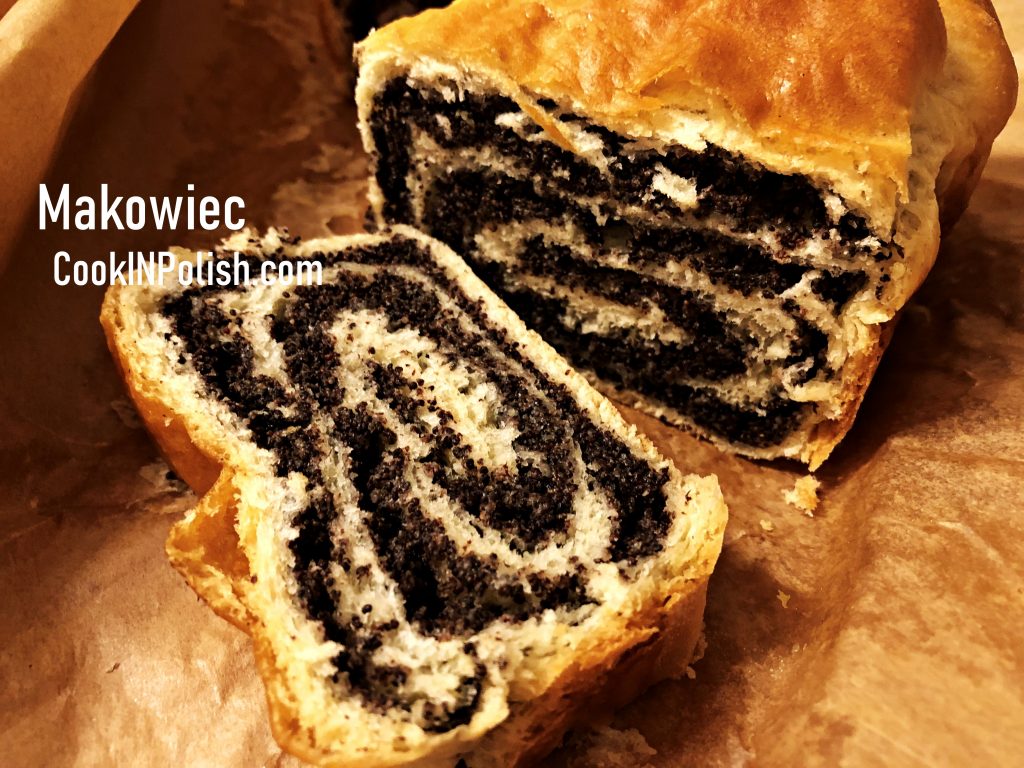 Poppy seed filling – prepare it a day before:
Ingredients:
500 g poppy seed
200 g sugar
1 teaspoon almond essence
handful raisins, chopped walnuts, candied orange peel – as you like and if you wish
1 tablespoon butter
5 egg whites
Place poppy seed in a sauce pan and cover with boiling water, simmer for 10-15 minutes. Set aside and set aside for a night. The next day squeeze out excess water, add sugar and mix together. Then grind poppy seed two times.
Dough:
Ingredients:
500 g flour
200 ml milk
150 g butter
5 egg yolks
50 g fresh yeast
100 g sugar
half teaspoon salt
few drops vanilla essence
Dissolve the yeast in the lukewarm milk, add 1 teaspoon of sugar and 3 tablespoons of flour. Cover with a cloth and set aside in a warm place for 10 minutes for rising.
Place flour placed in a big bowl. Add yeast mixture, sugar, egg yolks, salt and vanilla essence. Knead everything, then gradually add melted cooled butter. Add some flour if the dough is too sticky. Set a bowl aside (covered with a cloth) for rising in a warm place. It should take about an hour to for the dough to double.
In a meantime add almond essence and butter to ground poppy seed. Add walnuts, raisins and candied orange peel if you like them. Beat the egg whites. Combine delicately egg whites into poppy seed filling.
Lightly fork beat one egg white in a small bowl. In other bowl mix one egg yolk.
Knead the dough again. Divide the dough into 2 parts. Roll out first part on the floured table top into rectangle about 30 cm x 40 cm (12 x 16 in). Brush the dough surface with beaten egg white, place half of poppy seed filling on it and spread it evenly over the dough, leaving 2 cm from edges clear. Then roll the dough along the long edge, stick the ends and place rolls in a buttered baking dish (40 cm x 15 cm –> 16 x 5 in). Brush the surface with egg yolk. Do same with second part of the dough. Set aside to rise. After half an hour place in a oven, bake for 40 minutes in 190 C (370 F).
I can almost smell Polish poppy seed roll right now!
Smacznego!
For more Christmas recipes check this link: Christmas Eve.
I've decided to leave metrics as they are, European version, as I think using cups may be misleading, ounces too. Please use metrics conversion tool, for example shared here: https://www.metric-conversions.org.
If you liked my posts and tried my recipes, you can consider buying me a coffee. Or rather I should say: you can buy me a flour for Pierogi, cabbage for Gołąbki and beets for Barszcz:) This would help me to cook more and publish more delicious recipes for You. www.buymeacoffee.com/cookinpolish.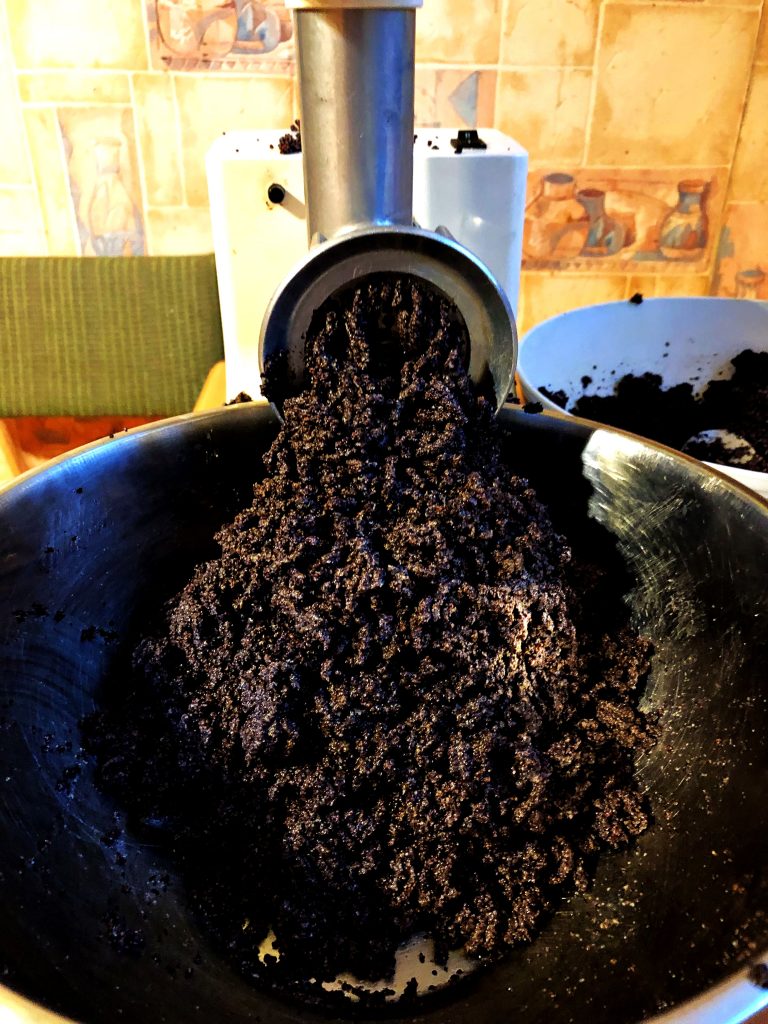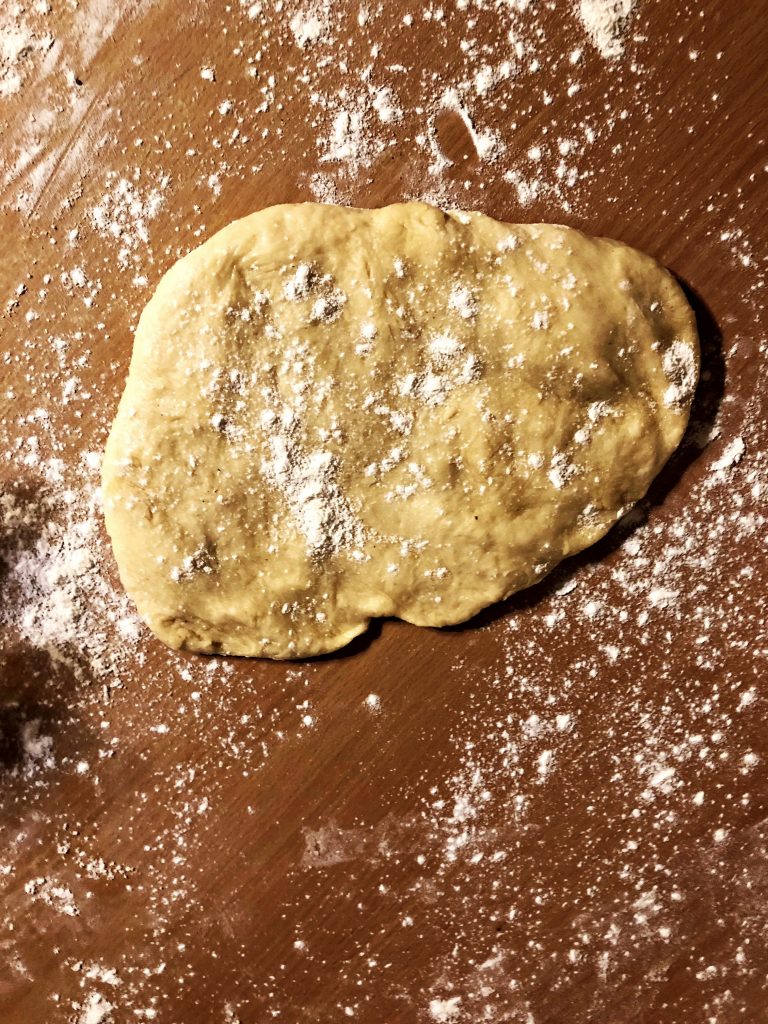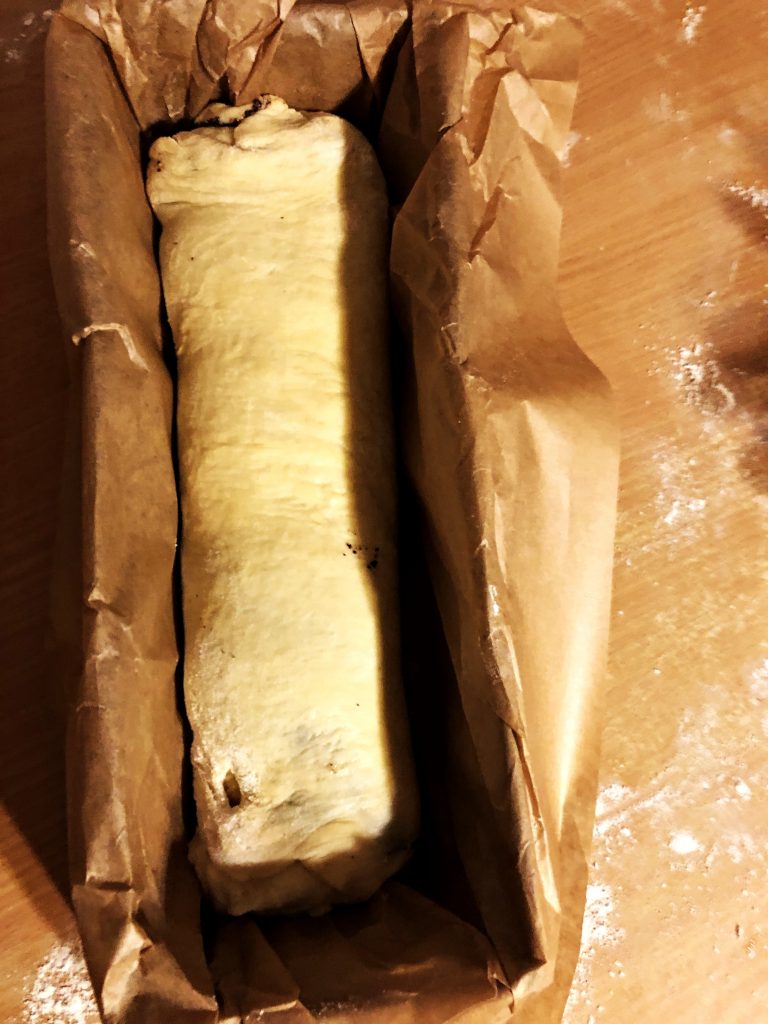 Comment on the post if you have questions, other ideas on the recipe or just enjoyed reading. I would be happy to see your thoughts on my posts!
Thanks for liking and sharing my recipes to your friends – it helps to develop my blog!