Zero waste preserves for delicious Ogórkowa Soup in Winter
Cucumbers for Dill Pickle Soup are easy way to get Polish Zupa Ogórkowa any time you like. In the middle of Summer cucumbers are the cheapest and full of taste at the same time. Once you are at the farmers market look for the cheapest cucumbers- sometimes they are just crooked, maybe a bit overgrown, but there is actually nothing wrong with them. They are just not perfect, so people don't want to buy them, you can buy them for pennies.
Maybe you grow your own cucumbers? Sometimes it happens that you missed the best time and they overgrow and become not looking nice.
Use them for making Cucumbers for Dill Pickle Soup for Winter. You'd get ready to use straight away essential ingredient of Polish cucumber soup.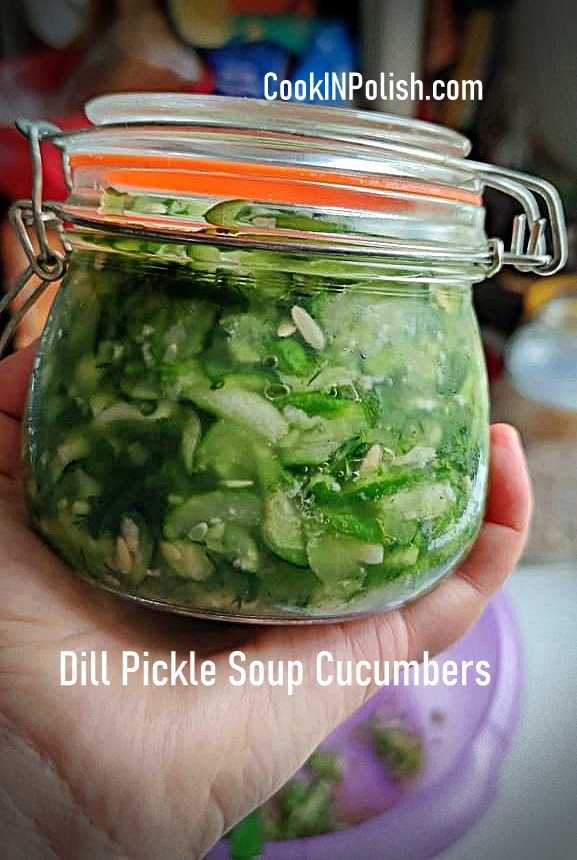 You'll make about 4 medium jars of Cucumbers for Dill Pickle Soup from the below ingredients. You can also easy multiply ingredients and make as many jars as you like.
Ingredients
1 kg / 2 and half lb cucumbers
bunch dill
6 cloves garlic
1 tablespoon salt
Clean cucumbers. Grate them on a large-mesh grater.
Skin garlic and slice all cloves.
Wash the dill and chop it.
Place cucumbers, garlic and dill in a bowl, add 1 tablespoon of salt. Mix all thoroughly, you can use hands. Set aside for 5 hours or overnight, cucumbers juices would come out and this would be a time to pack cucumbers together with juices into sterilized jars. Leave some space in the jars. Close them, but not very tight. Place jars on the tray for 5-7 days for fermenting in room temperature. During that time juices can buzz a bit, but this is just the way it should be. After that time close jars tightly and move them to a cold place, in Poland it is usually a basement.
That's it, Cucumbers for Dill Pickle Soup are ready. In Winter you just open a jar of cucumbers and use it for a delicious Polish Dill Pickle Soup.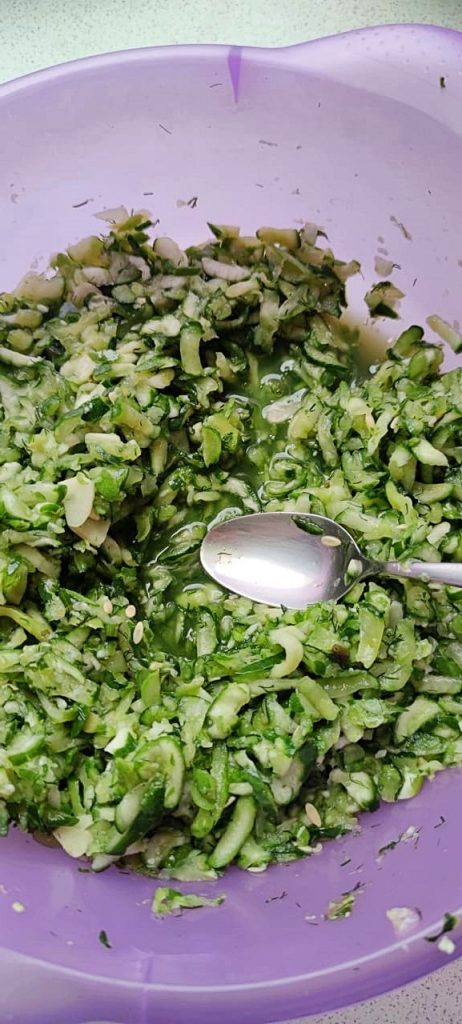 Comment on the post if you have questions, other ideas on the recipe or just enjoyed reading. I would be happy to see your thoughts on my posts!
Thanks for liking and sharing my recipes to your friends – it helps to develop my blog!