Orzechowiec
Honey and Walnut Cake is in Poland either called Orzechowiec (walnut cake) or Miodownik (honey cake). The difference is that in Miodownik there can be walnuts but not necessarily. In Orzechowiec there are always both walnuts and honey. It's delicious cake, often made for Easter and Christmas, it's a great treat for any occasion and celebration.
Honey infused cake with a layer of sweet custard filling, topped with delicious honey and butter infused walnuts- sounds heavenly and tastes great too, believe me. Or just try yourself:)
While making Honey and Walnut Cake have in mind that you need about 2 hours to make it, but it's best on the next day, after 12 hours in the fridge.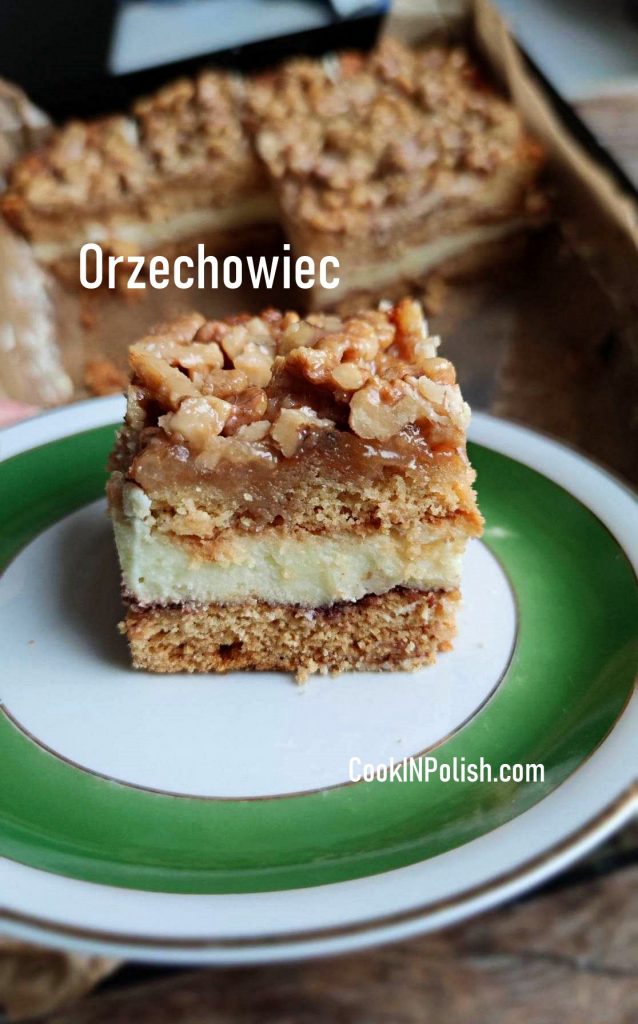 Ingredients
500 g (3 cups) flour
150 g butter
4 tablespoons sugar
3 eggs
3 tablespoons honey
2 teaspoons baking soda
1 cup sour cherry/ blackcurrant jam
Walnut topping
2 cups walnut halvs
50 g butter
4 tablespoons honey
2 tablespoons sugar
Custard
3 cups milk
3 tablespoons sugar
2 egg yolks
5 tablespoons potato starch or allpurpose flour
few drops vanilla extract
200 g butter (needs to be soft- take it out the fridge earlier)
Prepare custard:
Dissolve flour in one cup of milk. Mix in egg yolks into it.
Pour the rest of the milk into the saucepan. Put on the fire, dissolve sugar in it, add vanilla extract. Bring to boil. Set aside and mix in a flour mixture. Bring to boil again still mixing and then set aside for cool down. Once it's cool, place butter in a mixing bowl. Mix it well for few minutes and then mix custard in, spoon after spoon.
You'll get a smooth vanilla cream.
Prepare walnut topping:
Dissolve butter, honey and sugar in a saucepan. Once it's smooth, add walnuts- dice them roughly before. After 3 more minutes set a saucepan aside for cool down.
Prepare cake:
Cover baking pan (20 cm x 30 cm) with baking paper.
Sieve flour into the bowl. Add eggs, sugar and baking soda. Cut butter into smaller pieces and place in the bowl. Mix all the ingredients into smooth dough. You can use a mixer with a hook or just do it with your hands. Divide the dough into halves, flat them. Cover them with a foil and place in the fridge for about an hour (flattening helps to cool the dough faster).
Roll out half of the dough to fit a baking dish. Bake for 11 minutes in 180 C /350 F.
Roll out second half. Spread walnut topping all over the surface. Bake 13 minutes in 180 C/ 350 F.
You can bake them at the same time, if you have two same size baking dishes.
Assembling:
Spread first half of cake with sour jam ( I like blackcurrant/ redcurrant/ sour cherries), then place a custard cream on it. Cover with a second part of the cake with walnut topping. It might be difficult to transfer the cake with walnuts, I just cut cake into 3 parts and transfer one after another. It's totally fine.
Place Honey and Walnut Cake in a fridge for a night.
Smacznego!
If you liked my posts and tried my recipes, you can consider buying me a coffee. Or rather I should say: you can buy me a flour for Pierogi, cabbage for Gołąbki and beets for Barszcz:) This would help me to cook more and publish more delicious recipes for You. www.buymeacoffee.com/cookinpolish.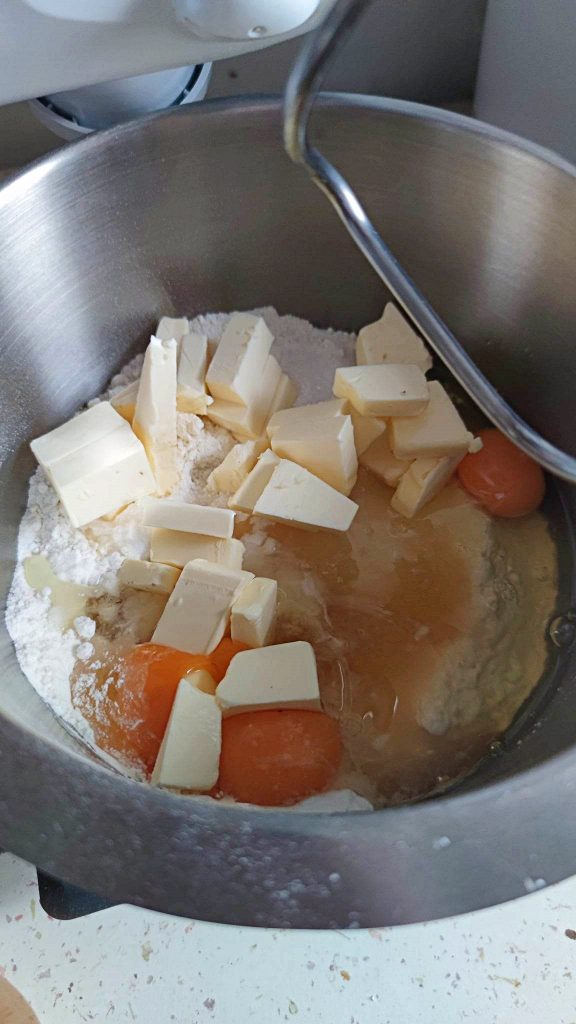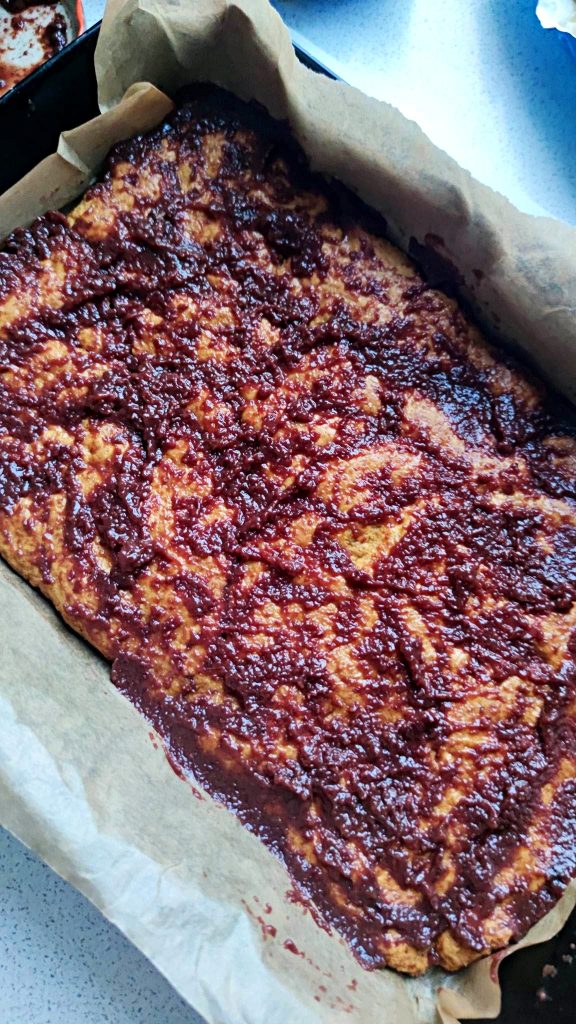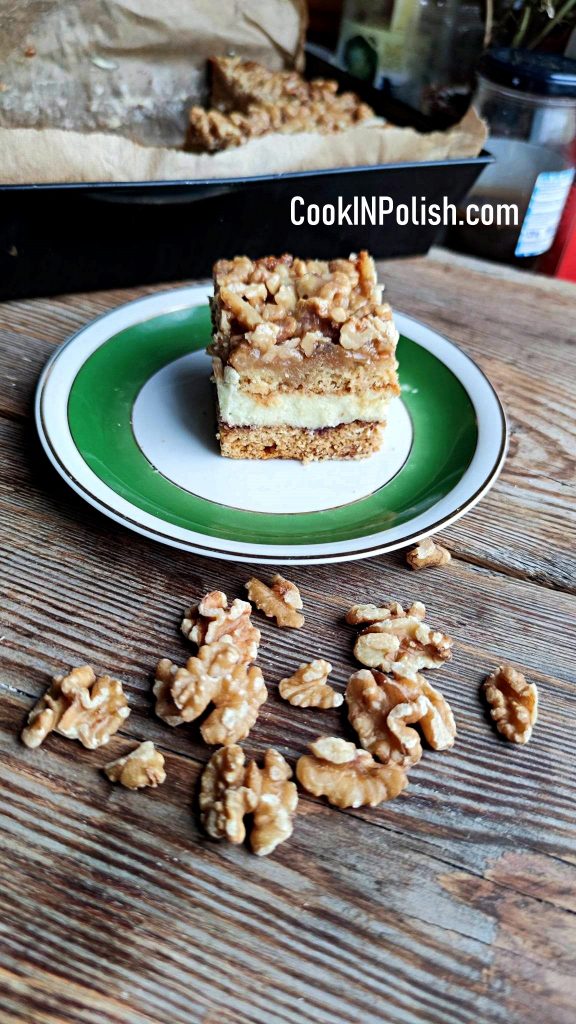 Comment on the post if you have questions, other ideas on the recipe or just enjoyed reading. I would be happy to see your thoughts on my posts!
Thanks for liking and sharing my recipes to your friends – it helps to develop my blog!