The story of my Creamy horseradish soup is short – I heard about in a tv show by Magda Gessler – she is doing this popular show on restaurants makeover in Poland – Kuchenne Rewolucje, I just thought this soup must have been good. One day I put a pot with water and chicken on the stovetop and then I checked that I didn't have any carrot left at home! I had only white vegetables, so I decided that this is the moment, I'm gonna make my own version of horseradish soup. And you know, it turned out just perfect:) A little bit like Easter Żurek, I added fresh sausage and hard boiled egg on the side – they suit so good here!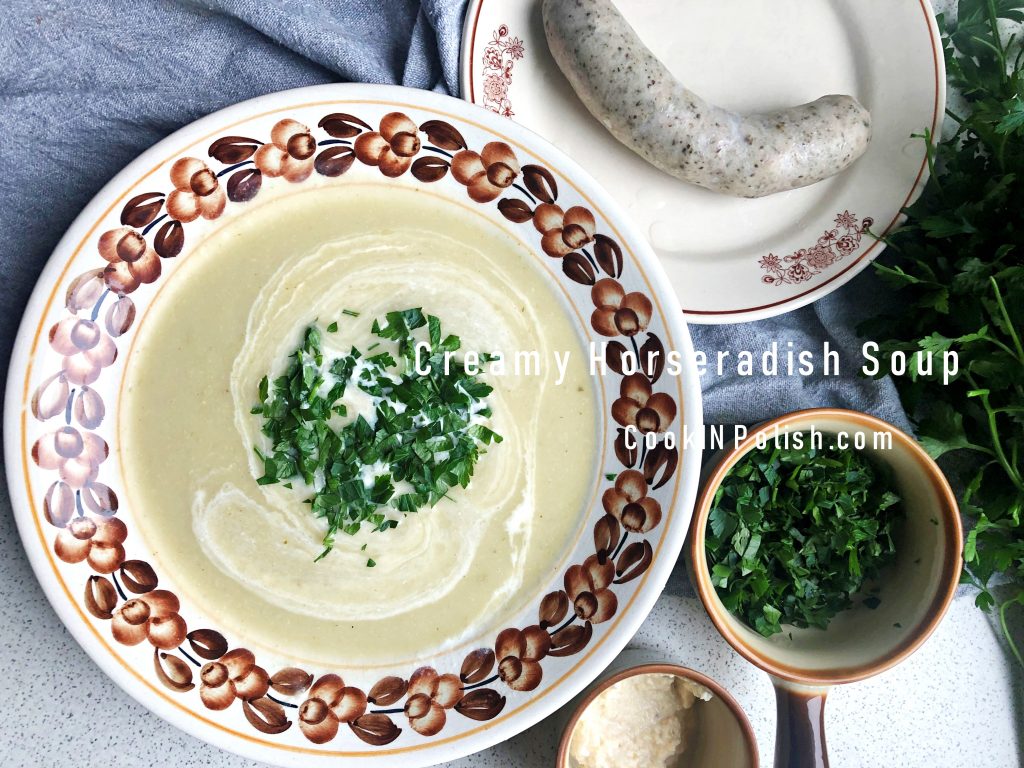 Ingredients
1 lb favorite chicken parts
2 medium parsley – a root and a green part
1 lb leek
2 onions
2 cloves garlic
medium celeriac – a root and a green part
1 lb potatoes
3 tablespoons grated horseradish
cup double cream
4 balls allspice
2-3 bay leaves
a piece of dried forest mushrooms
salt, pepper
fresh sausage and hard boiled eggs for serving
Place chicken in a pot, cover with water and put on the fire. Add bay leaves, allspice and a piece of dry forest mushroom. Bring it to boil and simmer.
Peel parsley and celeriac roots. Cut them into smaller pieces and add to the pot. Toast an onion over the fire and add to the pot. Add garlic. Clean and dice leek. Add to the soup. Season with salt and pepper.
Add green parts of parsley and celeriac in a whole if you have them.
Peel potatoes and cut them into medium sized pieces. Add them to the pot after about 45 minutes of cooking.
Once chicken is cooked take it out of the pot. Take out bay leaves and allspice. Blend all the vegetables to get a thick creamy soup. Add salt and pepper if needed. Add horseradish and sweet cream.
Serve with boiled white sausage, hard boiled egg, extra horseradish and sweet cream on the side. I love creamy horseradish soup served also with chopped parsley in bulk.
Tips: When I see that my soup is not enough thick I cook separately millet and blend it into the soup. It's a healthy way to make it thicker.
If you liked my posts and tried my recipes, you can consider buying me a coffee. Or rather I should say: you can buy me a flour for Pierogi, cabbage for Gołąbki and beets for Barszcz:) This would help me to cook more and publish more delicious recipes for You. www.buymeacoffee.com/cookinpolish.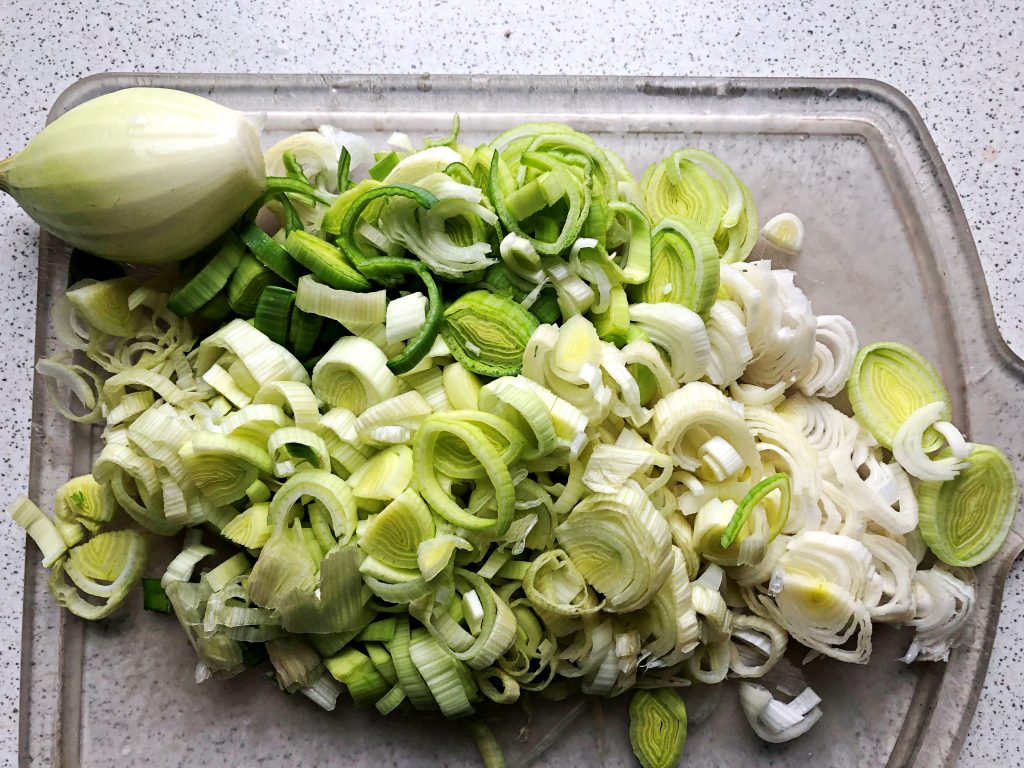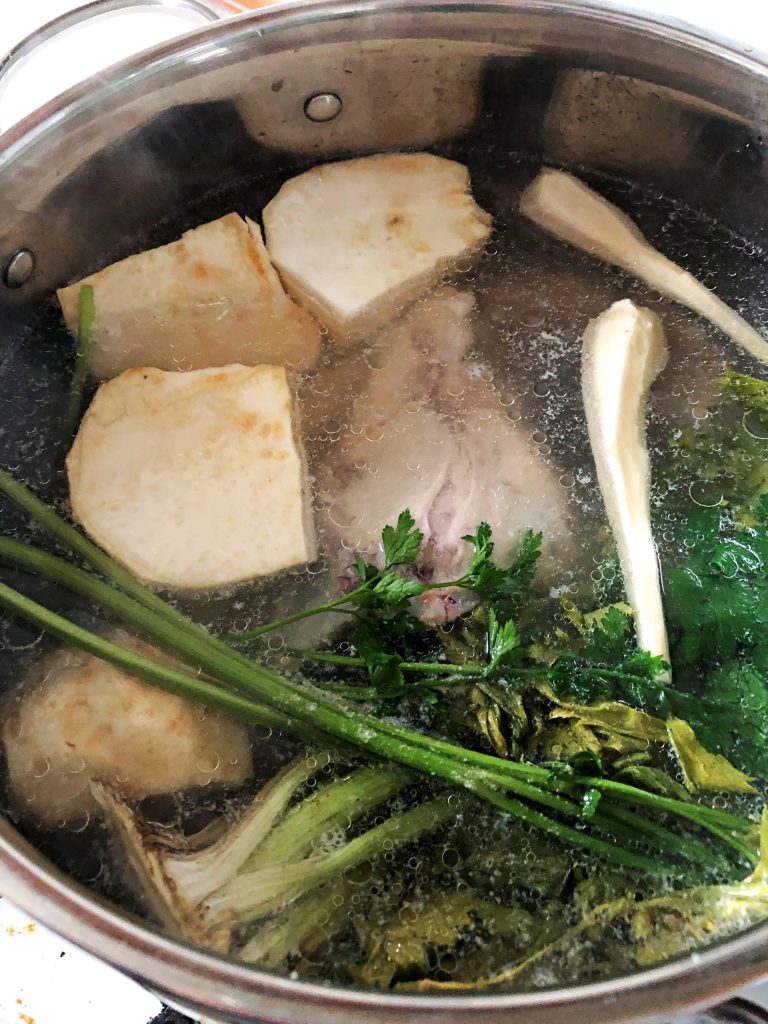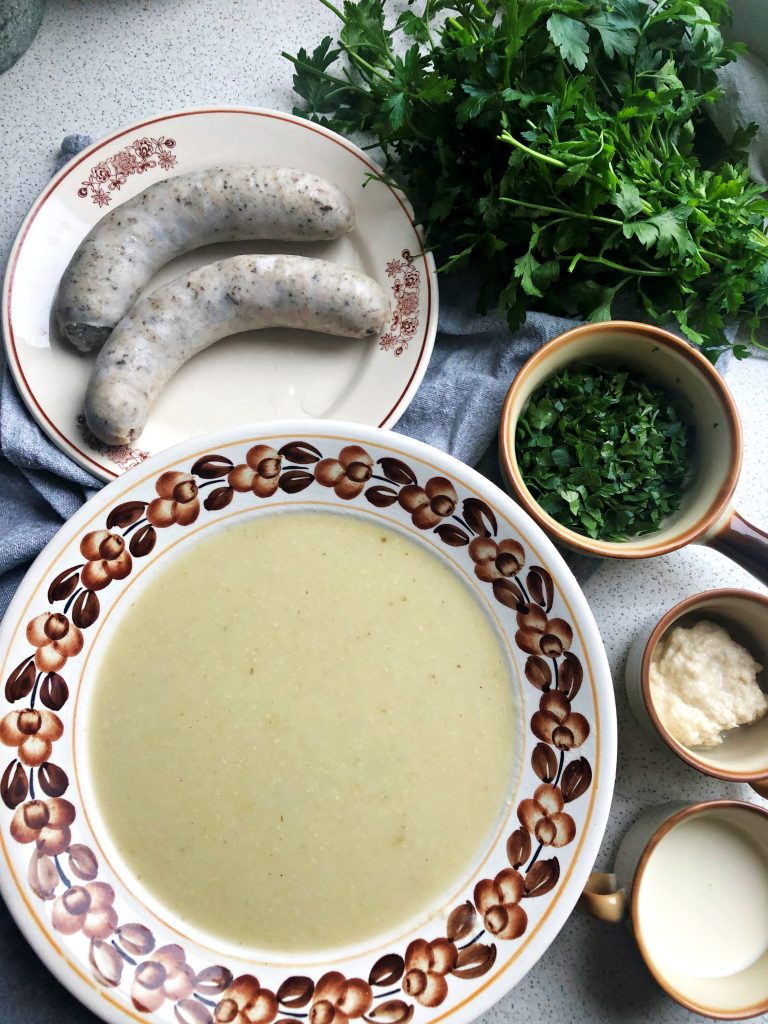 Comment on the post if you have questions, other ideas on the recipe or just enjoyed reading. I would be happy to see your thoughts on my posts!
Thanks for liking and sharing my recipes to your friends – it helps to develop my blog!