Kluski Szare
If You like potato dumplings, you'd love Kluski Szare. They are called grey – because of their greyish coloring, which is a result of using raw potatoes. Grey Potato Dumplings are regional Polish dish, they are most popular in Greater Poland and in Silesia. They are delicious with fried diced kiełbasa and onions. You can have them alone or serve them with fried sauerkraut on the side.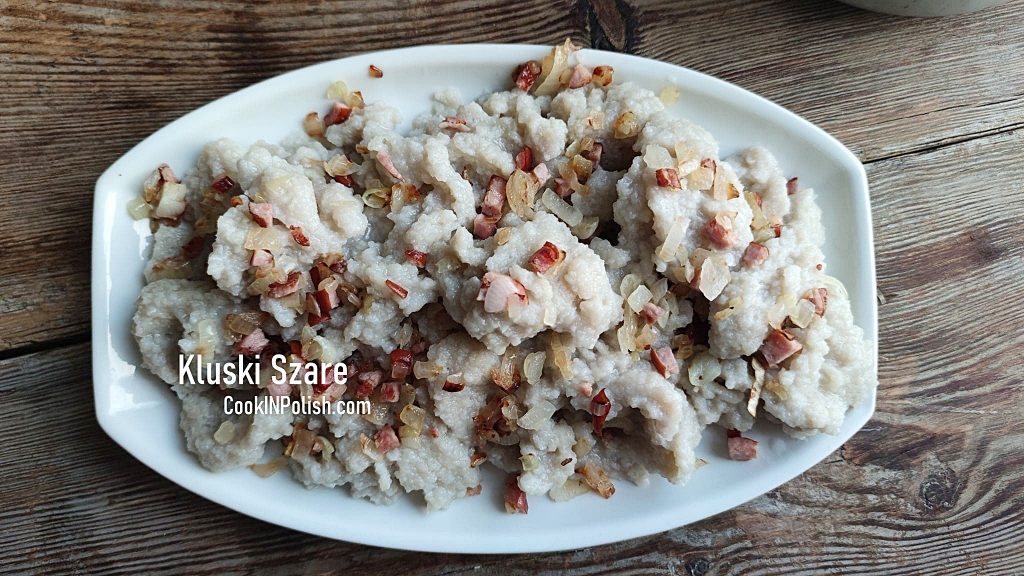 Ingredients
1 kg /2.2 lb potatoes
1 cup wheat flour
1 egg
2 tablespoons potato starch
half teaspoon salt
200 g/ half lb smoked kiełbasa, 2 onions, few tablespoons oil – for serving
Peel potatoes. Grate them on a fine grater. Place grated potatoes on the strainer in a bowl, so that most of the potato juice flow out to the bowl. You'll need the water later on. Add a cup of wheat flour, one egg and salt to the potato dough. Combine well.
After few minutes on the bottom of the bowl with water, potato starch should settle. Pour out water, you won't need it any more. Transfer potato starch to potato dough and mix. Add 2 more tablespoons of potato starch.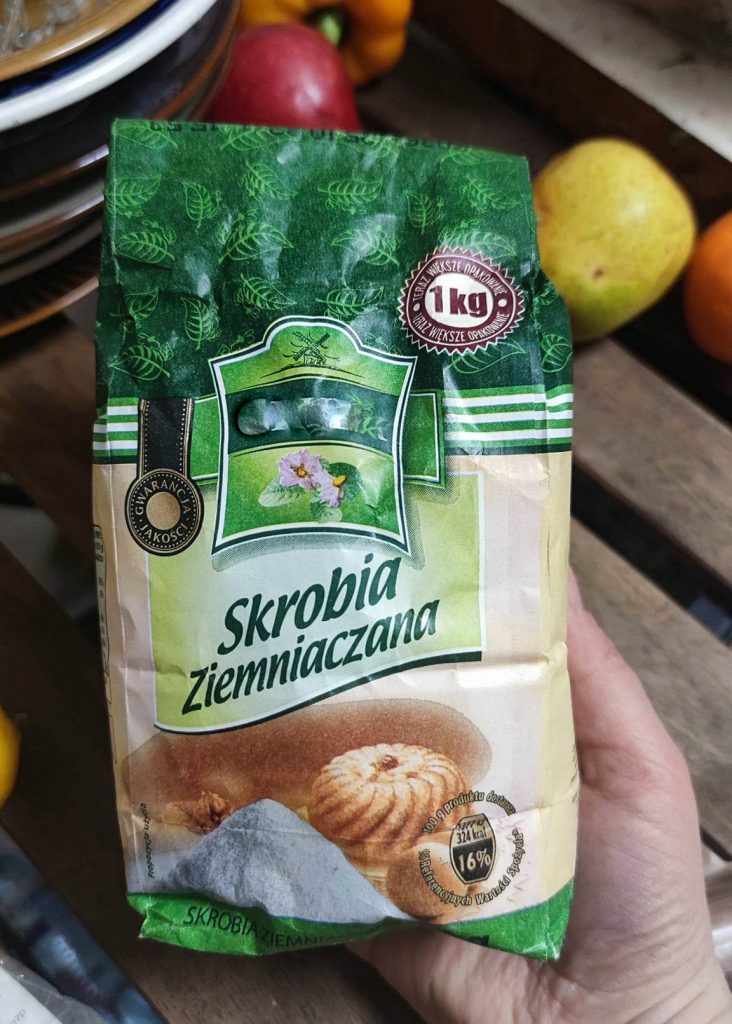 You can buy potato starch in European stores or Amazon. I thought corn starch would be a good substitute, but many readers said that it's not the same. I would advice to buy 2 kilograms of potato starch and keep in the cupboard. Many Polish potato dishes need some of it: Kluski Śląskie, Potato Pie, you can even make homemade Kisiel – popular simple dessert. Potato starch in Polish is called: 'skrobia ziemniaczana' or 'mąka ziemniaczana'.
Boil water in a large pot. Salt it. Once water boiled you can place potato dumplings into the pot. You don't form it in any special way, all you need to do is scoop the dough with a spoon and gently place in a boiling water. After 2 minutes stir gently, cook for 4-5 minutes more. Take cooked kluski out of water with a slotted spoon. Use out the dough in 3 batches.
Serve Grey Potato Dumplings with fried kiełbasa and onion.
Smacznego!
If you liked my posts and tried my recipes, you can consider buying me a coffee. Or rather I should say: you can buy me a flour for Pierogi, cabbage for Gołąbki and beets for Barszcz:) This would help me to cook more and publish more delicious recipes for You. www.buymeacoffee.com/cookinpolish.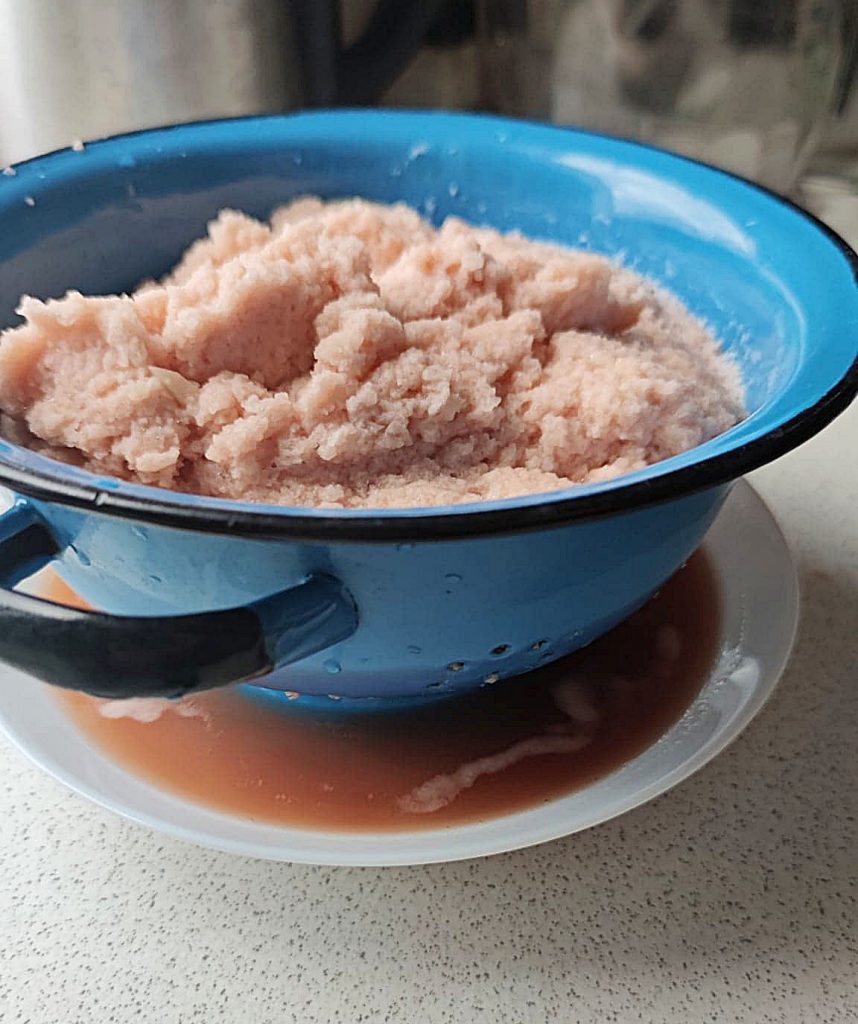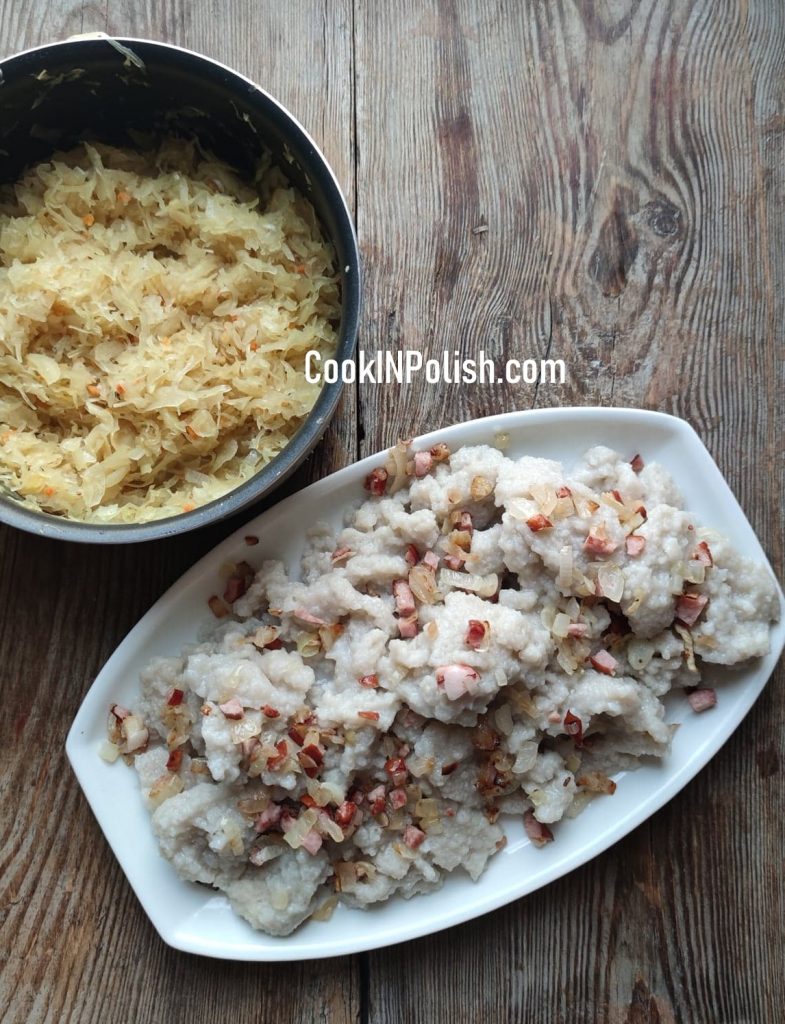 Comment on the post if you have questions, other ideas on the recipe or just enjoyed reading. I would be happy to see your thoughts on my posts!
Have you tried Grey potato Dumplings before?
Thanks for liking and sharing my recipes to your friends – it helps to develop my blog!