Pączki (pronounced as: ponchkee) are one of the most popular Polish sweet pastries both in Poland and abroad. They are available on a daily basis in each bakery and confectionery in Poland, but there is one day when each Pole needs to eat at least one pączek (singular from: pączki) and it is Fat Thursday. Fat Thursday is a day starting last week before Lent. Looks like Poles need to celebrate ending carnival longer than for example people in USA, as the other celebrate Fat Tuesday, which is a last day before Ash Wednesday:)
Pączki are a sweet buttery yeast pastries, filled with jam and topped with powder sugar or powder sugar icing. The most popular filling is rose petal, but now there is many other available, like prune, strawberry, chocolate and custard. I like my Pączki topped with powder sugar:)
Happy Pączki Day everyone!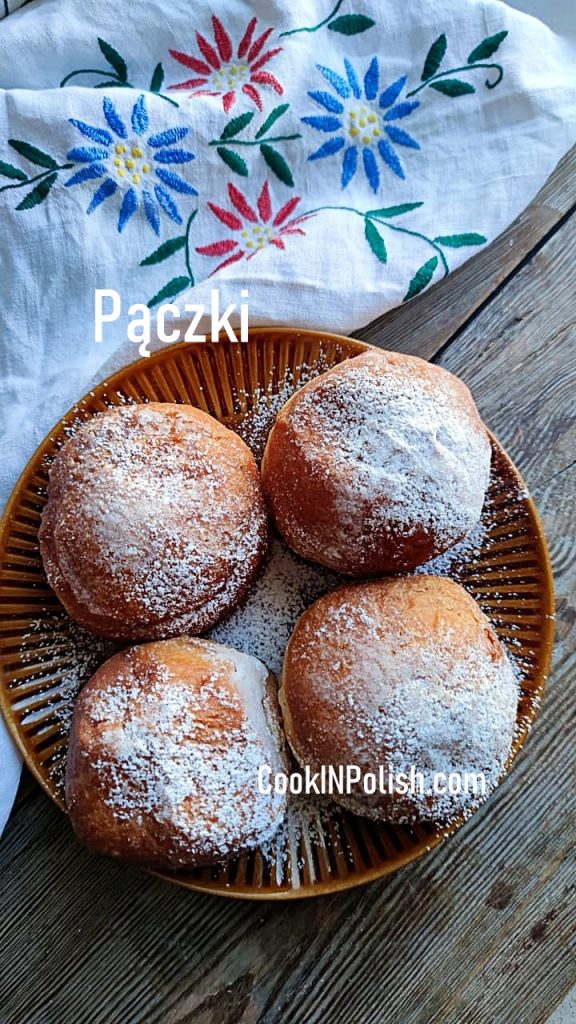 Notes:
Don't be afraid of vodka added- it helps pączki not to soak the fat. After frying there will be no alcohol in pączki.
Check yeast packaging – it needs to be a portion for 500 g of flour.
Ingredients
150 g butter
5 heaping tablespoons powder sugar
1 teaspoon sugar
2 tablespoons vanilla sugar
half a cup lukewarm milk
1 cup lukewarm cream 30%
1.8 oz / 50 g fresh yeast (can be replaced with 1 packet (14 g) dry yeast)
8 egg yolks
4 cups / 500 g all purpose flour
pinch of salt
4 tablespoons vodka
2 l oil for deep frying (I use rapeseed oil, traditionally it was lard)
rose petals jam for filling
for icing: 1 cup powder sugar, 1 teaspoon lemon juice and 2 tablespoons lukewarm water
candid orange peel (optional)
Place butter in a small saucepan and heat for few minutes for melting. Set aside to cool.
Sift flour in a large bowl.
Using fresh yeast: first make a leaven. Divide fresh yeast into small pieces in the bowl, add warm milk, 1 tablespoon of flour and 1 teaspoon sugar, mix all. Cover with a cloth and set aside in warm place for 15 minutes for rising. After that time add other ingredients: powder sugar, cream, egg yolks, vanilla sugar, vodka, pinch of salt and the rest of the flour.
When using dried yeast: combine dried yeast with sifted flour and add other ingredients: powder sugar, cream, egg yolks, vanilla sugar, vodka and pinch of salt.
Knead well (by hand or use a food processor). At the end add cooled melted butter and knead again till it gets incorporated. Don't worry if the dough is a bit runny. Set aside in a warm place for 1 and half hour for rising. It should double by that time.
Once it's doubled, knead it again shortly and roll out on the floured surface. The dough should be 1 cm height (a bit less than half inch). Cut rounds size about 8 cm / 3 in. Place on a floured tray and cover with a cloth. Put aside for 20 minutes for rising.
In the meantime heat oil in a big pot. Once it's 175 C (about 347 F) you can start frying pączki. Delicately place few at a time, so that they did not stick. Fry for about 2 minutes on each side till golden brown. Remove and drain on a paper towel.
Fill the pastry bag with rose petal jam, assemble filling tip. Pipe the filling into pączki from the side.
For icing: blend powder sugar with lemon juice and lukewarm water. Brush pączki with the icing. You can sprinkle candid orange peel over them, if you prefer so.
Phew, that's quite a lot of time to get these delicious pączki:) If you have less time, maybe you would like to check my easy and yummy plum yogurt cake🙂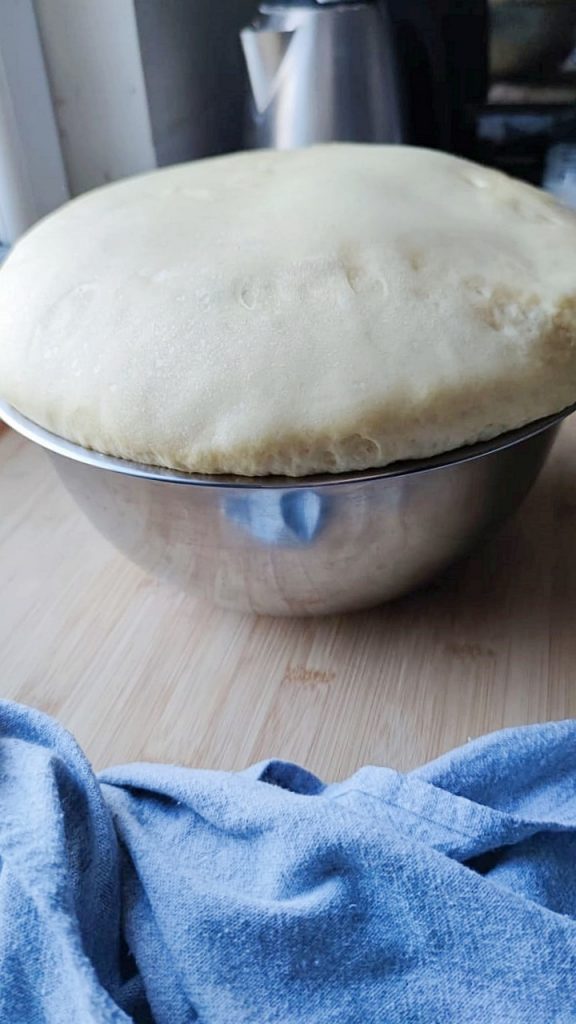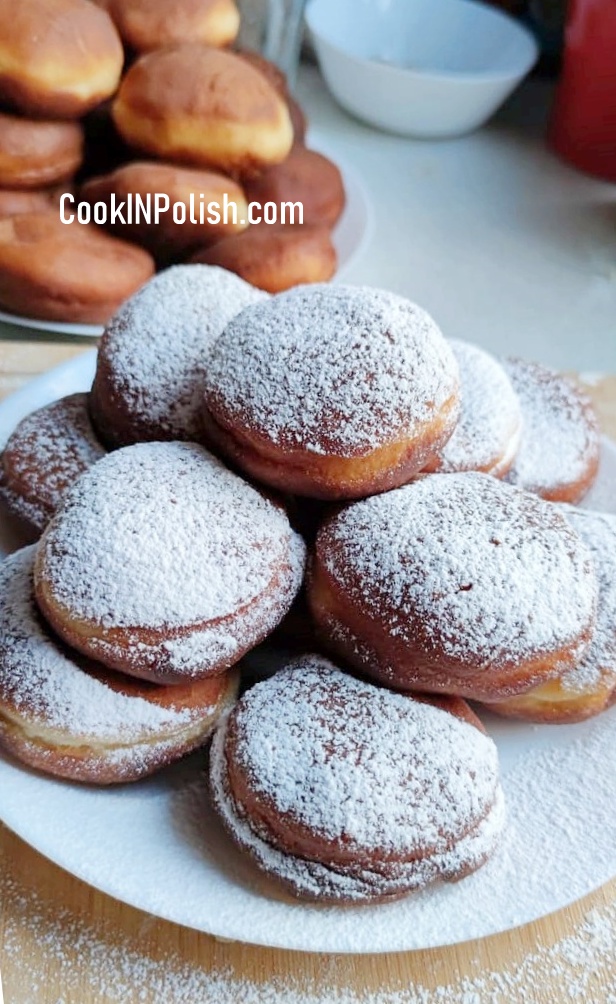 Comment on the post if you have questions, other ideas on the recipe or just enjoyed reading. I would be happy to see your thoughts on my posts!
Thanks for liking and sharing my recipes to your friends – it helps to develop my blog!