Last weekend we went to Mazuria district to visit my parents. It was the second year we celebrated our family's Baked Potato Day:) After dark we lighted a campfire and we baked sausages and potatoes. My sister-in-law, Marzena told us about an onion water from Kurpie, she tried few years ago visiting her friends. It sounded interesting, so I asked google and found an easy recipe I followed: Woda cebulowa. Actually when we were drinking it, we remembered that our Grandma was sometimes preparing this kind of drink and we had it with boiled potatoes, only she was also adding sour cream and called it Kvas.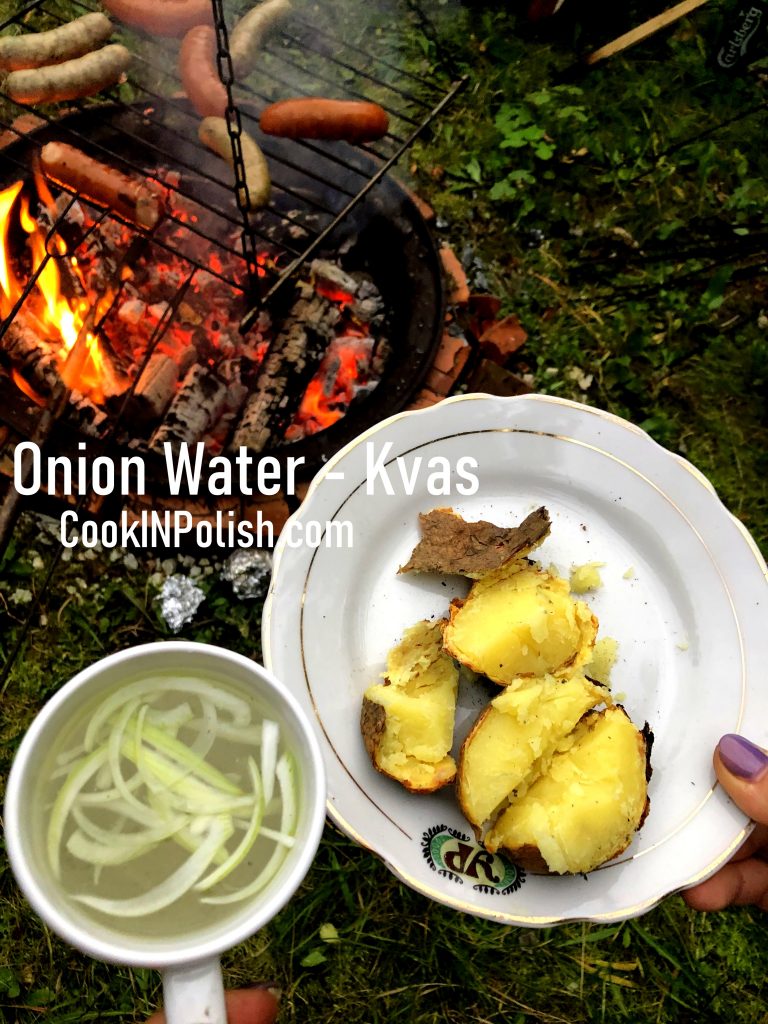 Onion Water from Kurpie is a poor food (drink). Traditionally onion water was often prepared to have with baked potatoes after digging up potatoes in the countryside. When I was little we usually go every Autumn to our family leaving in a village and helped them digging up potatoes. It was actually a big event, all of the family gathered to help. I really liked it, for children it was a good fun to dig in the ground and look for potatoes:) Now I would like to do the same with my kids, unfortunately now farmers have all the necessary machines to make the digging up without a human work. Sometimes the world goes too fast:)
According to old peoples stories from Kurpie, for best baked potatoes you need to use five species of wood for campfire: beech, hornbeam, oak, birch, alder and linden. Place a campfire on a dry ground, wood needs to be without bark.
Each housewife prepares Onion water according to her taste, some add more onion, some ground black pepper. You can experiment, add a bay leave, more or less vinegar and salt to your taste. Look or the best recipe following your taste.
Ingredients
2 l water
1 – 2 onions
6 – 8 tbs vinegar (according to your likes)
salt, freshly grounded pepper
Chop the onions and sprinkle generously with salt. Set aside so that it gets softer. Add water, vinegar and ground pepper. Serve right away.
Try Onion water from Kurpie, it's so tasty! Smacznego!
You may also like to try other Autumn recipes from Polish cuisine: Autumn Food.