Mid November is perfect to think ahead about Christmas. This confirms a fact that in some areas of the world first Christmas decorations are already set! For me it's to early, but there are some aspects of Christmas that need to be taken care of before. Just like homemade Orange Christmas Liqueur.
I make a lot of tinctures in Summer: cherry, bird cherry, rowan berry, strawberry, black currant and few more. I prefer to call them a tincture than a liqueur. Polish nalewki are to cure: an alcohol is extracting all the beneficial substances from fruits and other tinctures ingredients. Of course they need to be drunk in small amounts. Orange Christmas Liqueur is actually a liqueur not a tincture – not a cure it is just purely to enjoy:) It smells like Christmas:)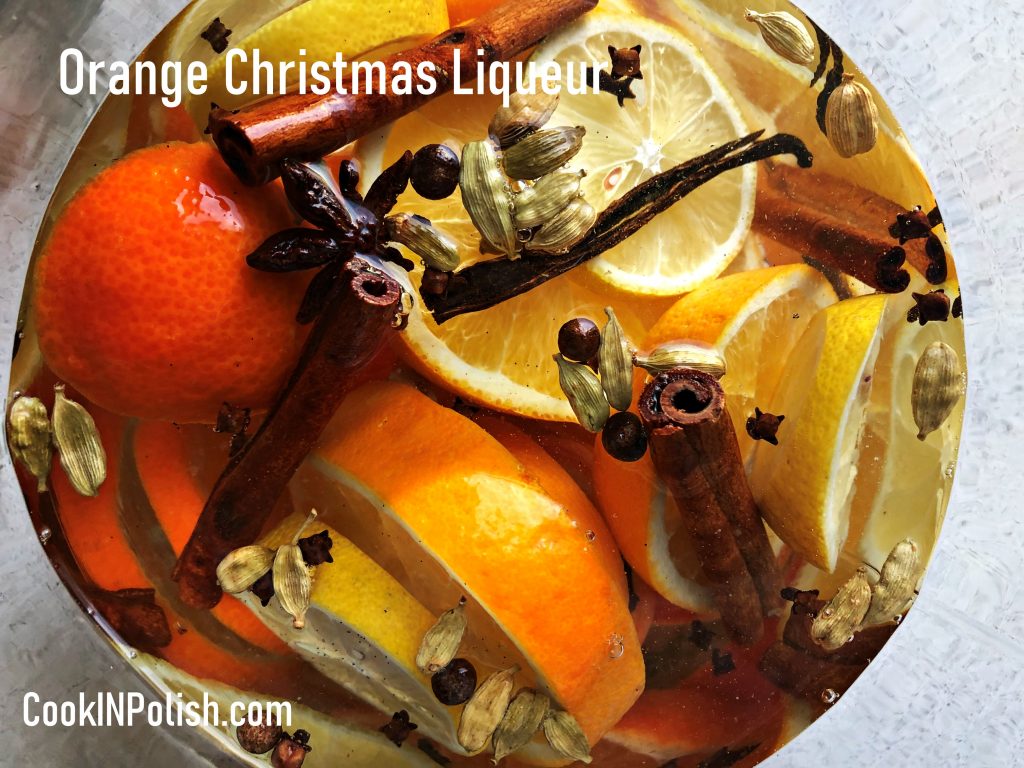 Ingredients
2 oranges
1 lemon
1 mandarin
3 cinnamon sticks
1 tbs cardamon
1 ts cloves
an anise star
vanilla pod
3 allspice balls
1 liter/ 4 cups neutral alcohol 60%. Optionally use 40% vodka, liqueur will be not so strong.
2 cups cane sugar
1 cup water
Slice oranges, lemon and mandarin into thick slices. Place in a 3 liter jar. Then add all the spices: cinnamon, cardamon, cloves, anise, vanilla pod and allspice.
Pour an alcohol into the jar.
In the meantime heat 1 cup of water, dissolve sugar in it. Let this cane sugar syrup cool and add to the jar. Delicately shake the jar to combine ingredients.
Now you need to wait 6 weeks or at least 4:) After that strain this mixture with a cloth and pour Orange Christmas Liqueur into bottles.
For Christmas Eve you may also like to check recipe for Beets Borscht, which is delicious.
Please remember that alcohol consumption is intended for adults. Please use this recipe responsibly.
If you liked my posts and tried my recipes, you can consider buying me a coffee. Or rather I should say: you can buy me a flour for Pierogi, cabbage for Gołąbki and beets for Barszcz:) This would help me to cook more and publish more delicious recipes for You. www.buymeacoffee.com/cookinpolish.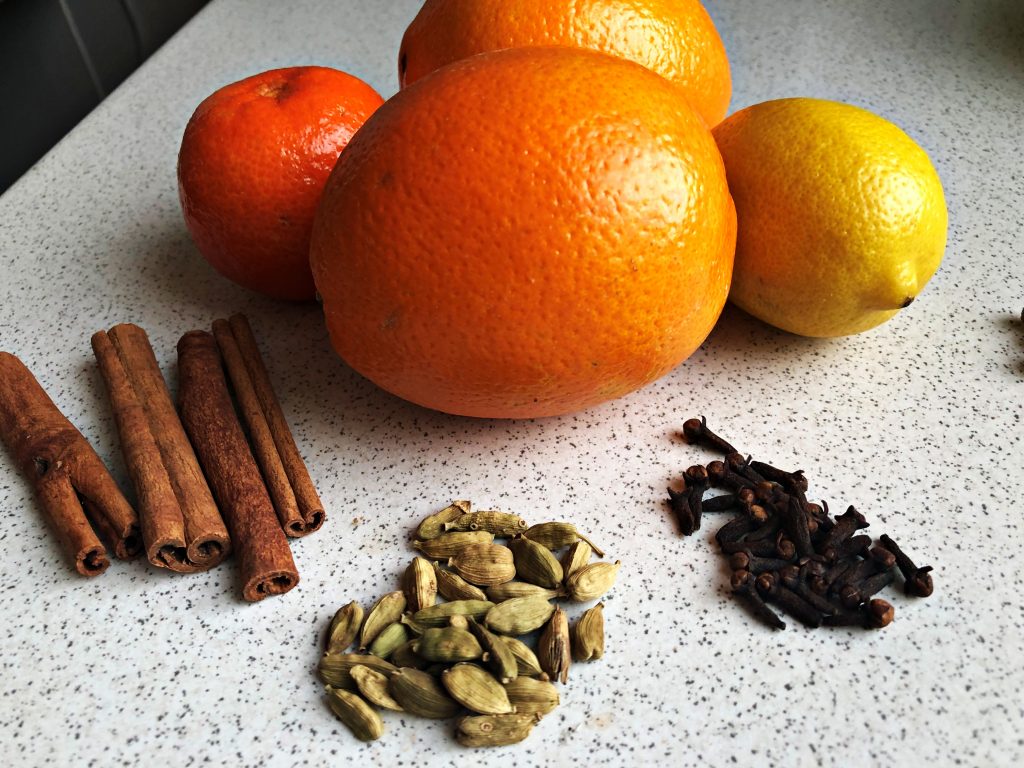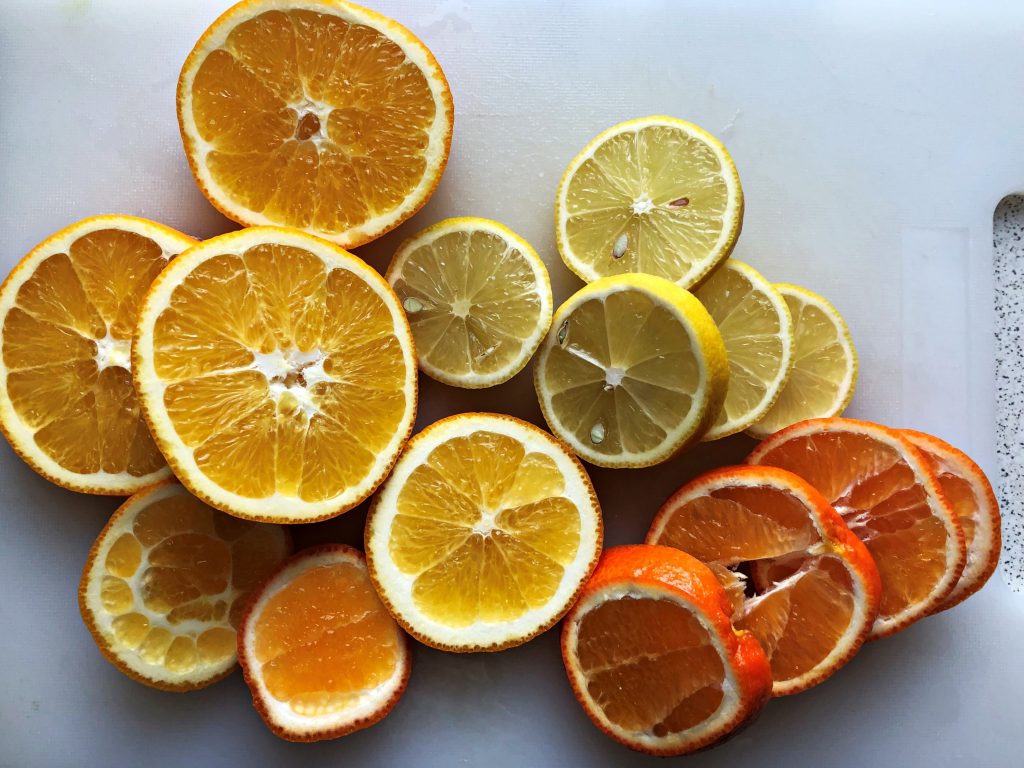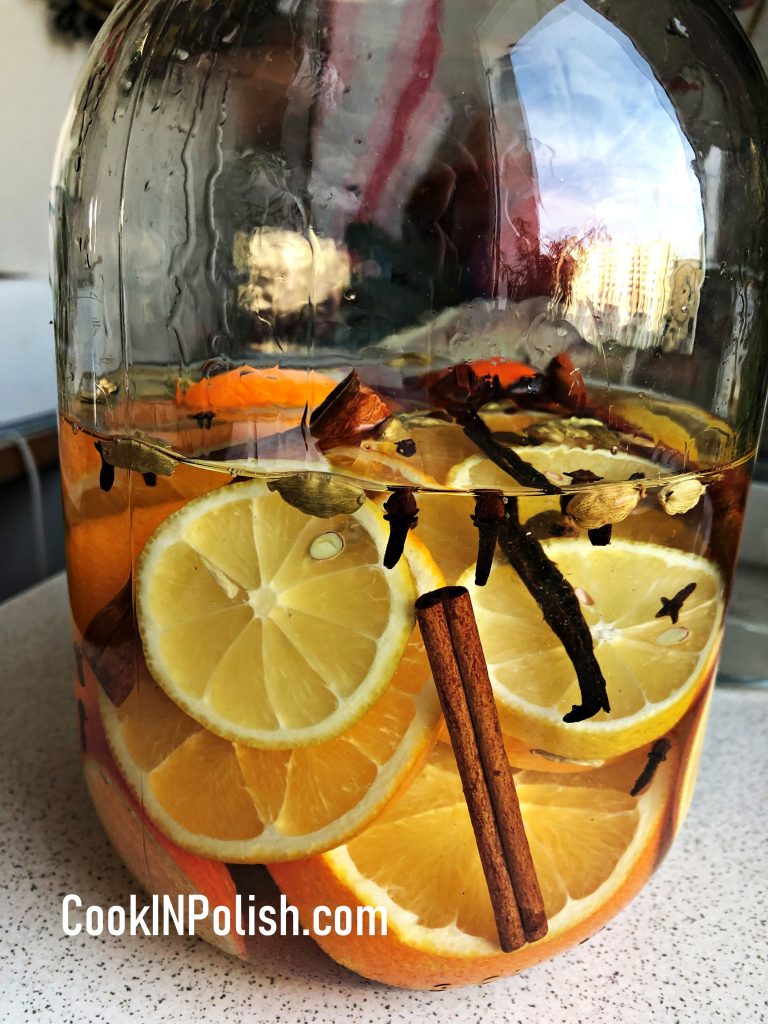 Comment on the post if you have questions, other ideas on the recipe or just enjoyed reading. I would be happy to see your thoughts on my posts!
Thanks for liking and sharing my recipes to your friends – it helps to develop my blog!