An egg is a symbol of life. It's an inevitable symbol of Easter, part of the Easter tradition. We dye eggs, decorate them and these pisanki and kraszanki we display all over the house for Easter. Decorating eggs is also a great time spend with children and family, time to recollect family tradition and just be together. We eat a lot of eggs for Easter:) We stuff hard boiled Easter eggs with yolk mixed with mayonnaise or make more complicated, for example stuffed with mushrooms and onion and pan fried in egg shells.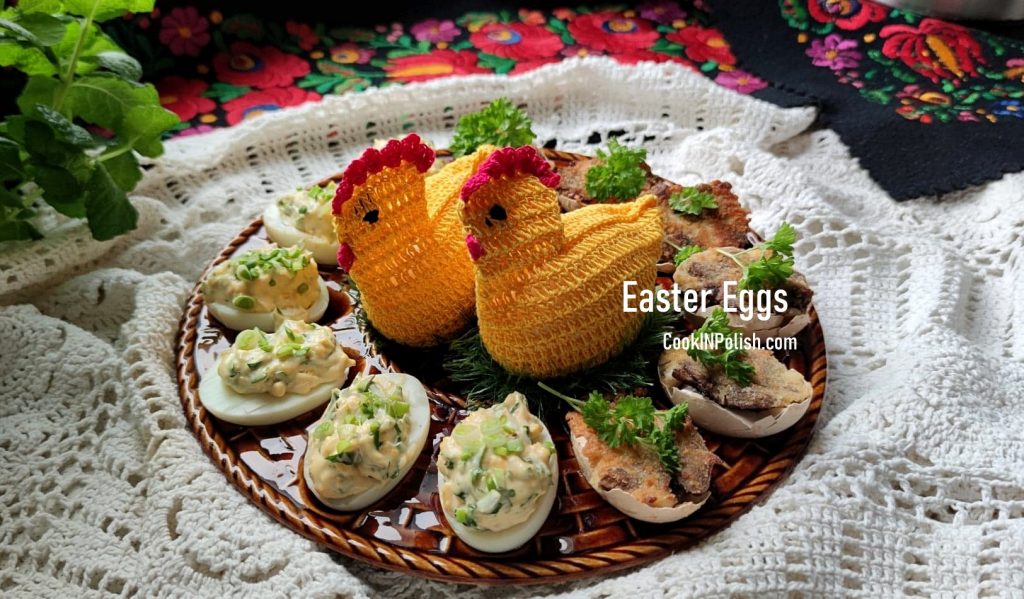 Ingredients
6 eggs
200 g/ 0.5 lb mushrooms
1 onion
1 raw egg
2 tablespoons breadcrumbs
salt & pepper
mayonnaise
2 tablespoons parsley
1 tablespoon chives
butter for frying
Cook hard boil eggs
Place eggs in a saucepan and place on the stove top. Simmer for 10-12 minutes, depending on the egg size. Set aside, cover with cold water and let cool.
Hard boiled Easter eggs stuffed with egg yolks and mayonnaise
Take 3 eggs and peel them. Cut in halves. Take egg yolks out and finely chop them. Add 2-3 tablespoons of mayonnaise, combine well. Add chopped parsley, season with pepper and some salt. Stuff egg whites with the mixture. Garnish with chopped chives.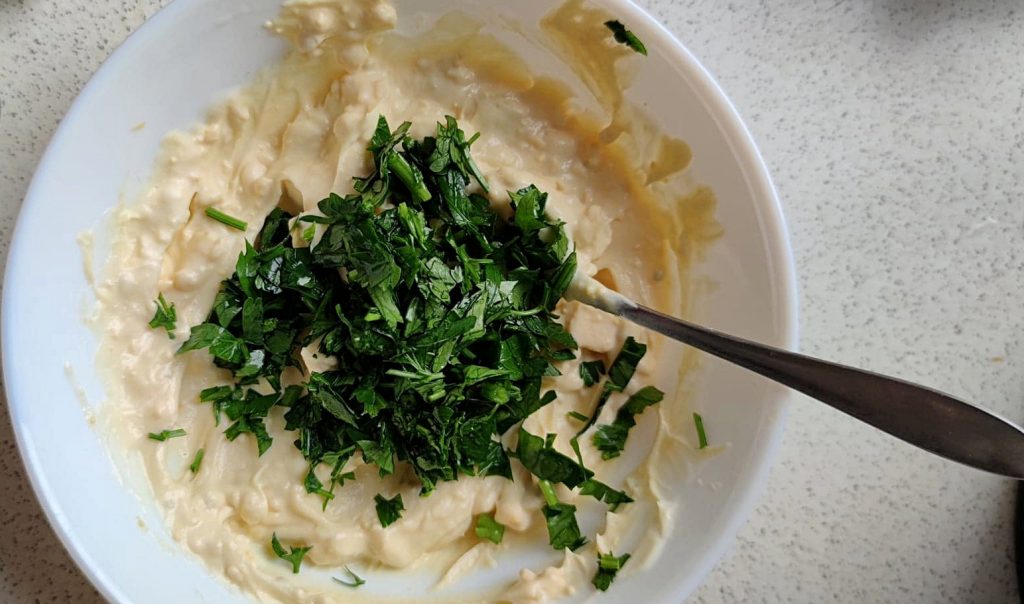 2. Hard boiled Easter eggs fried with mushrooms
Take 3 eggs and – don't peel them! Cut them in halves with a sharp knife. Gently take all the inside out and chop all.
Wash and clean mushrooms. Slice them and saute on butter. Do the same with onion. Cool and chop both mixed together.
Combine eggs with mushrooms and onion. Stuff egg shelves with it.
Brush eggs with slightly beaten raw egg. Sprinkle with breadcrumbs. Place on the buttered hot pan with the side with breadcrumbs. Saute for a minute and serve straight away.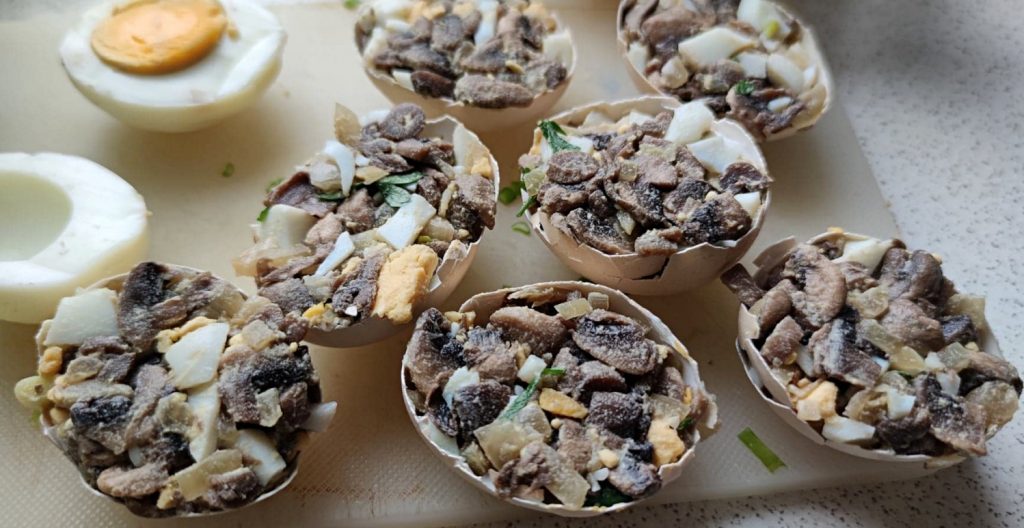 Smacznego and Happy Easter!
For Easter żurek is the must. You can check recipe for żurek here: https://cookinpolish.com/polish-rye-soup-zurek/.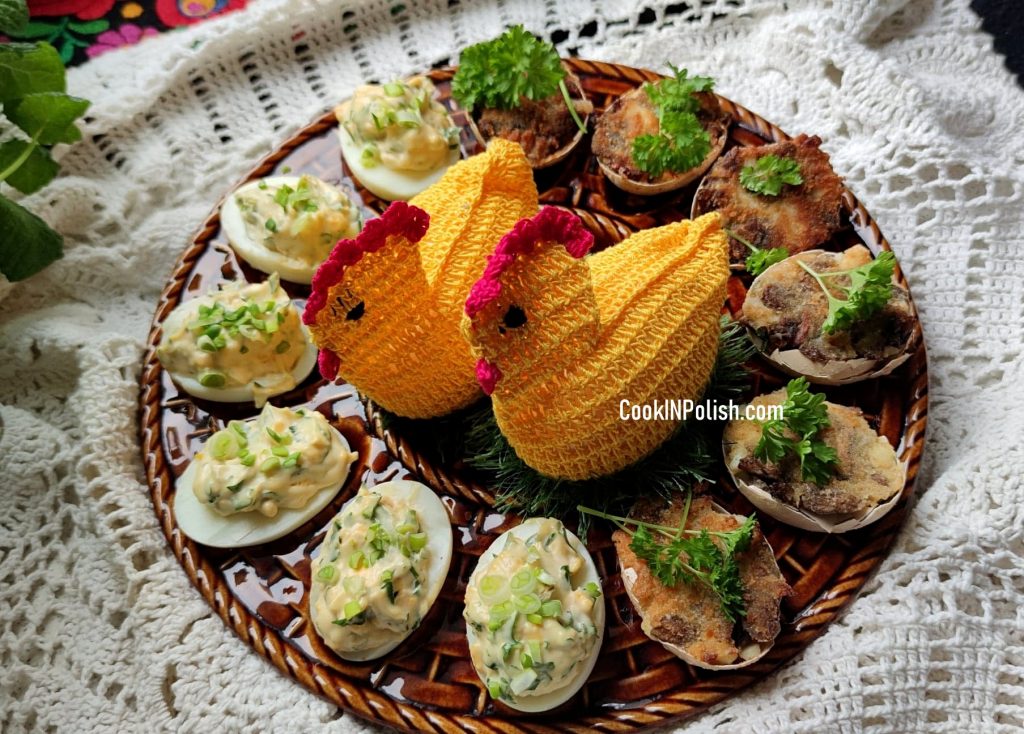 Comment on the post if you have questions, other ideas on the recipe or just enjoyed reading. I would be happy to see your thoughts on my posts!
Thanks for liking and sharing my recipes to your friends – it helps to develop my blog!