Orzechówka, Nalewka z zielonego orzecha
My mum used to cure her stomach aches with this Young Walnuts Tincture. Once I was grown up, she wanted me to use it too. I hated it, it was bitter and dark, but as we say in Poland the bitter cure heals best:) I have to agree that it really worked.
Now I'm making Young Walnuts Tincture myself and I always have at least a small bottle in the kitchen cupboard. I add honey, so it has much better flavor, I can say it's actually a pleasure to have such a medicine. You need to wait about a year for it to mature, so you'll be able to try it next year. Start planning now, as you need to collect young walnuts while they are still green and soft, in Poland the best time to collect them is second part of June, in your part of the world it could be different!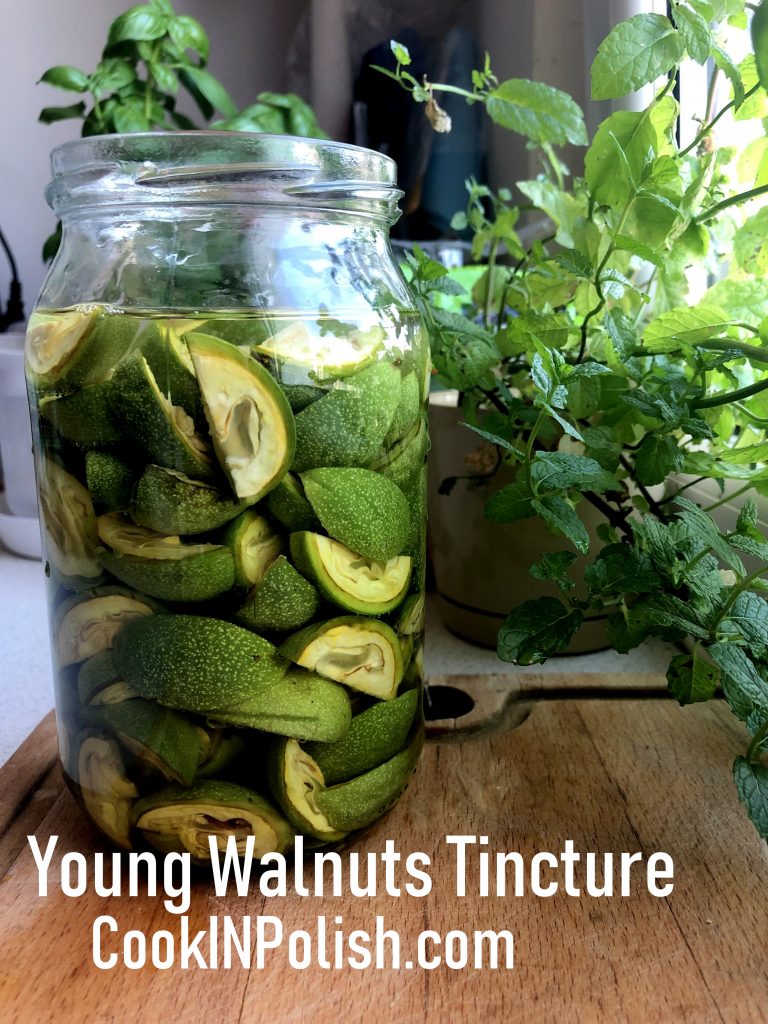 Ingredients
1 lb (half kilogram) young green walnuts – about 18-20 walnuts
1 cup neutral vodka
2 cups spirit (90% alcohol)
1 cup sugar or 1 cup honey
half cup water
Clean walnuts carefully and dry them with paper towel. Now put disposable gloves on, as walnuts juice is difficult to wash off your hands. Cut walnuts in halves and again in halves. Place them in a 2-3 liters jar. Cover with alcohol, first mix vodka and spirit. Let it sit for 4 weeks on the counter.
After 4 weeks drain alcohol and pour it into a new jar. Transfer walnuts pieces back to the old jar. Combine honey with water and pour it into the jar with walnuts. Cover and shake few times. Let it macerate for 3 weeks, shaking few times every day. After 3 weeks drain walnuts again. You won't need walnuts any more. Transfer walnut syrup to the jar and add the liquid from the other jar. Combine all well. Keep it another week in a jar and then pour young walnut tincture into bottles. Now they need to mature for 10-12 months in the cupboard or a pantry. Young walnut tincture is changing its color week after week. It's getting green, then brown, at the end it's dark brown.
Once you have stomach problems take 30 ml (1 oz) of tincture.
You may also like Young pine shoots syrup, which is a great homemade natural medicine for colds.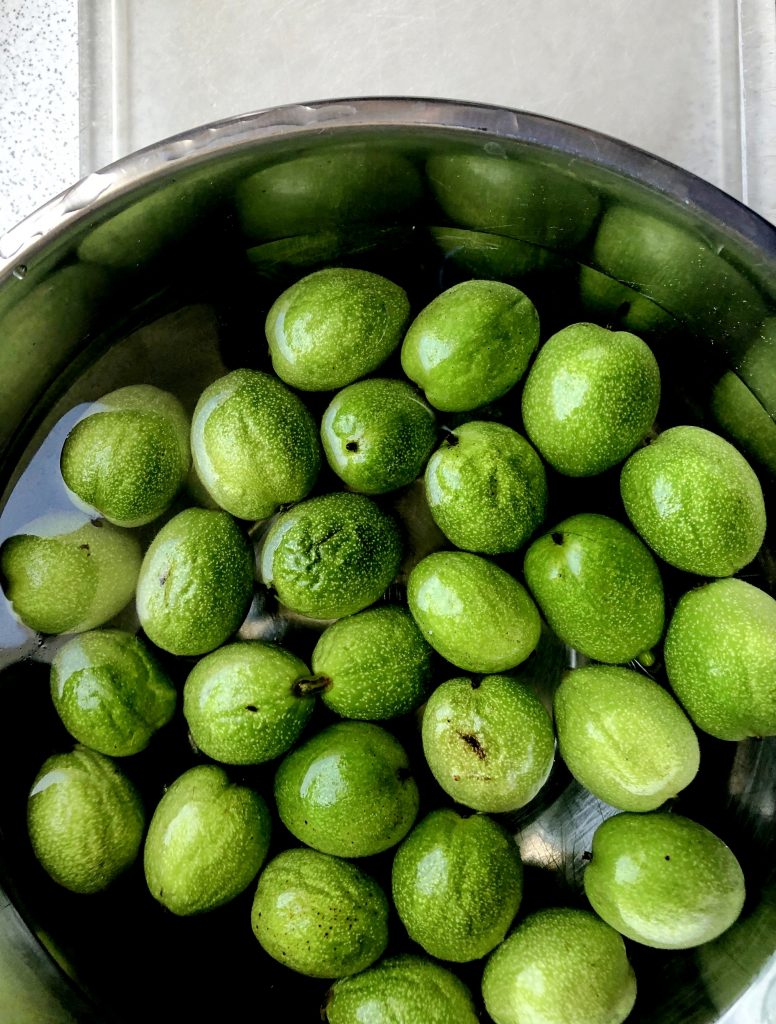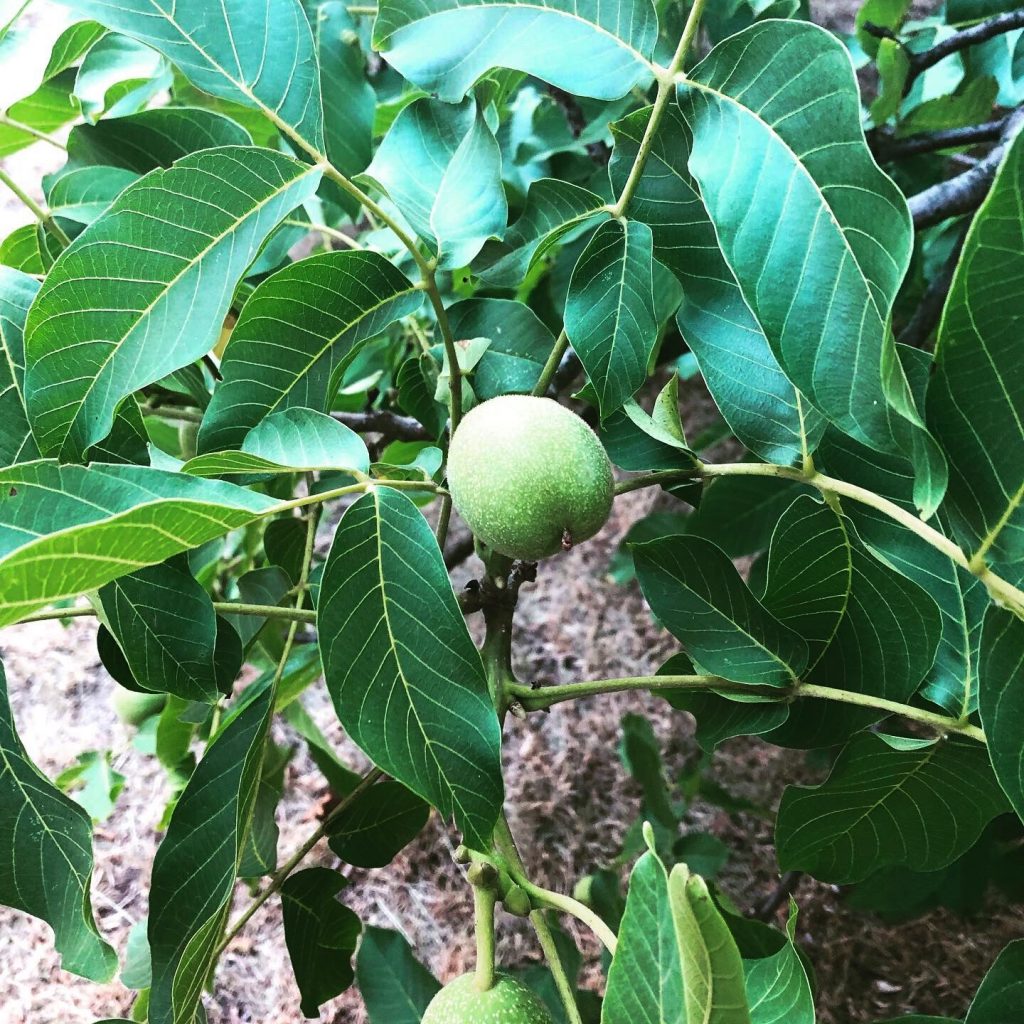 Comment on the post if you have questions, other ideas on the recipe or just enjoyed reading. I would be happy to see your thoughts on my posts!
Thanks for liking and sharing my recipes to your friends – it helps to develop my blog!