Taste of the childhood in Poland. My Grandma was baking this Polish plum yeast – risen cake on Saturdays afternoons. We were eating still warm pieces of cake with cold milk. Yummy:)
You can have Polish Yeast Cake actually with any seasonal fruits. Strawberries, blueberries, raspberries, rhubarb – all would go great with a yeast cake. I love a smell of baking plums, so I choose plums:)
If you prefer apples and crusty desserts you may want to check my Polish Szarlotka recipe.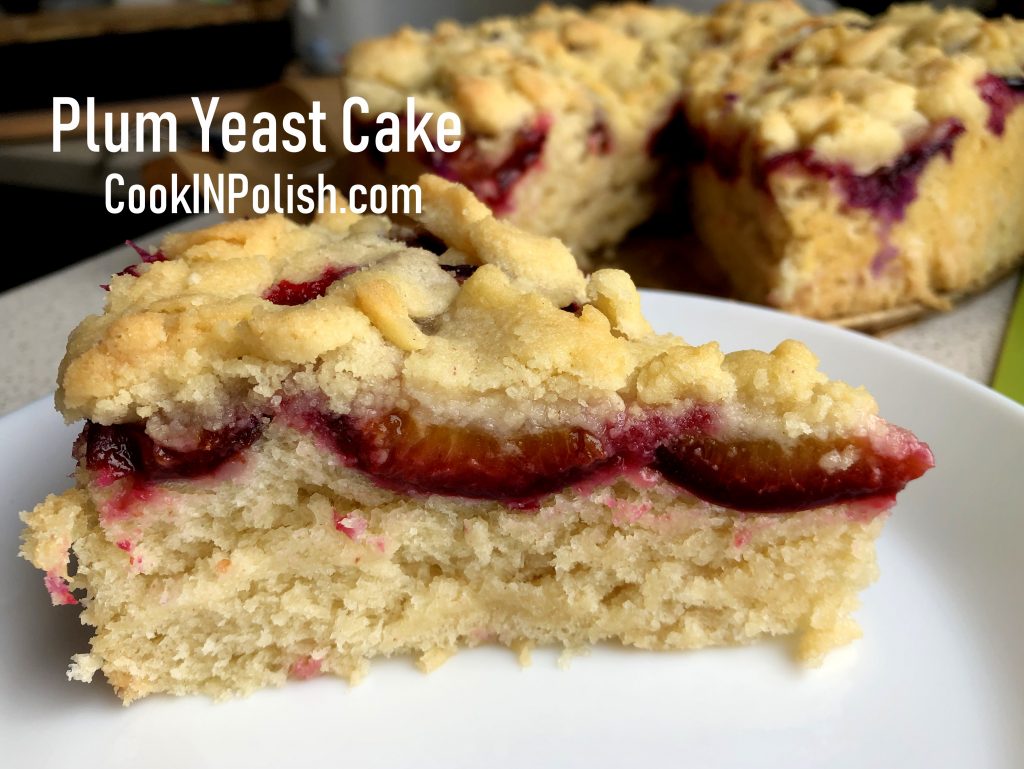 Ingredients:
125 ml/0,5 cup milk
25 g/1 oz fresh yeast
1 egg
75 g/3 oz sugar+ 1 tbs sugar
75 g/3 oz butter
250 g flour/0,55 lb + 1 tbs flour
400 g/1 lb plums
For the topping:
1 tbs butter
1/4 cup flour
1/4 cup sugar
Mix yeast with warm milk. Add 1 tbs of flour and 1 tbs of sugar. Mix well. Put aside to rise for about 15 minutes. It should rise by 4-5 times.
Mix an egg with sugar using a food processor. Mix with the yeast mixture. Add flour and continue mixing using food processor. Gradually add melted butter, mix and set aside to rise. After an hour the dough should be about doubled.
Pour the dough into the round baking dish (22 cm diameter). First cover the bottom with a baking paper and grease the edge with butter.
Place plum halves on the top.
For topping: knead the dough with flour, sugar and butter. Sprinkle on the plums.
Bake for 40 – 45 minutes in 170 C/ 338 F.
Your Polish Plum Yeast Cake is ready.
My Grandma was not using strict guidelines, but followed her culinary instinct and experience instead. Precise recipe for the yeast cake, which I liked the most I found on malacukierenka.pl.