Polish Farmers Goulash Soup is a thick, full of meat, country style soup, filling and warming, perfect in Autumn. It is one pot dish, a complete meal: you got meat, potatoes and vegetables inside.
For more Autumn recipes check a new section on my blog: Autumn food.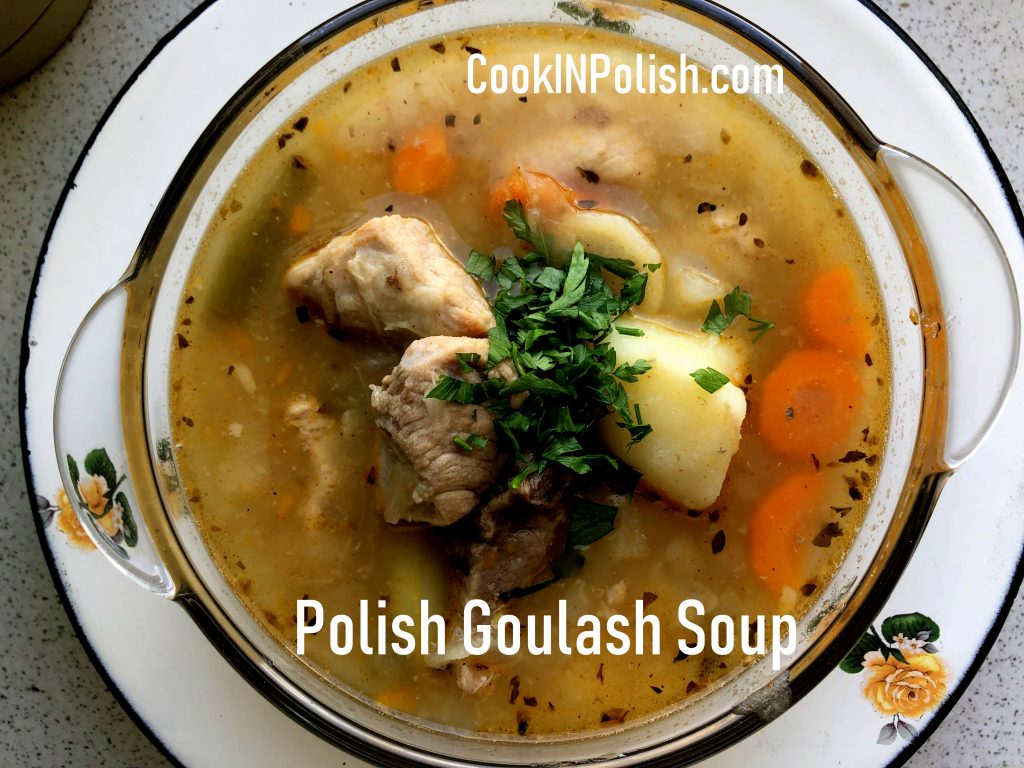 Ingredients:
700 g ham
1 onion
2 carrots
leek- green part
1 parsley root (can be substituted with parsnip)
parsley greens
bunch of string beans
200 g cabbage
500 g potatoes
salt & pepper, marjoram, red paprika powder
For Polish Farmers Goulash Soup I use a nice piece of ham. It is a basis and a core of the soup:) Dice ham into big squares, they don't have to be perfect. Saute them on the hot oil from each side, so that all the juices were kept inside. Place ham in a big pot with boiling water. For soups I use about 6 l pot, pour about 4 liters of water into it.
Put in diced carrots and parsley root. I add celeriac cut into few pieces and green part of leek as a whole, so that they were easy to find and take out after cooking.
Brown an onion over a fire and put into the pot. Dice and add cabbage. Season with salt and pepper, add 1 table spoon of marjoram and 1 tea spoon of sweet red paprika powder.
Bring to boil and simmer for 30-40 minutes. In the meantime peel potatoes. Wash and cut string beans.
After half an hour add diced potatoes and string beans. Simmer for another 30 minutes and put aside. Check if the soup needs some extra seasoning and serve with chopped parsley and a portion of creme fresh or Greek yogurt.