Carpathian Cream Cake
Karpatka (pronounced car-pat-kah) is a delicious cake, very popular in Poland. It consist of two layers of puff cake with a vanilla custard in between. Personally -I love it:) It's prepared for special occasions, as it is not a quick to make cake. It can also don't go well while baking, as what you need to get is a pastry with ups and downs, resembling mountains:) Wait, don't go- with my recipe you would obtain perfect Carpathian mountains in the oven:)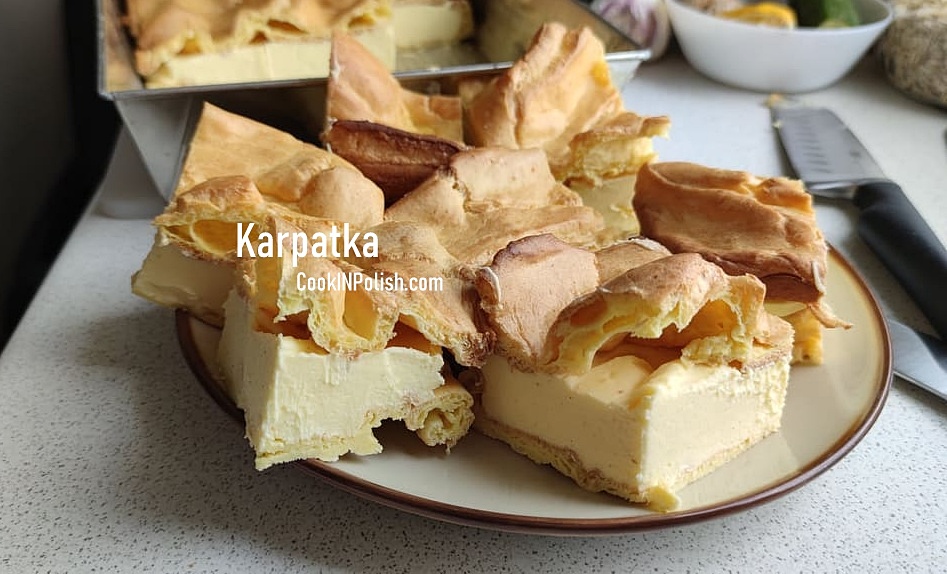 Ingredients
1 cup water
1 cup flour
150 g unsalted butter (3 sticks)
5 eggs
pinch of salt
pinch of baking powder
Puff pastry preparation for Karpatka
Place butter (cut into few pieces) in a saucepan. Add water, dissolve butter and bring all to boil. Set the saucepan aside and add flour. You need to mix all well all the time, use a wooden spoon. Place again on the stove top and heat for 3 minutes. Mix till the dough is unified and does not stick to the saucepan. Set aside and let cool. Then place the dough in a mixer bowl. Start mixing, add eggs one by one, add baking powder and a pinch of salt.
Divide dough into two parts. Spread half of the dough in a rectangle baking dish around 35 cm x 25 cm ( 14 in x 10 in) lined with parchment paper. Bake it in the preheated to 190 C (375 F) oven for about 20 -25 minutes or until it turns golden brown and crispy. Important! Don't open the oven while baking! Mountains may not be produced if you do:)
Do the same with the second part of the dough.
In the meantime prepare custard.
Custard preparation for Karpatka
1 liter milk
3 egg yolks
6 full tablespoons potato starch or all purpose flour
few drops vanilla extract
3 tablespoons sugar
200 g (4 sticks) butter
Dissolve flour in one cup of milk. Mix in egg yolks into it.
Place the saucepan with rest of milk on the fire, dissolve sugar in it, add vanilla extract. Bring to boil. Once it boils, set aside and mix in a flour mixture. Then bring to boil again still mixing for 15 seconds and set aside. Let it cool.
Place butter in a mixing bowl, mix it for about 2 minutes till it's fluffy. Gradually add cooled custard. Mix till you'd get a smooth cream.
Karpatka assembling
Spread custard cream over the bottom layer of pastry. Cover with the second pastry layer. Cool Karpatka in a fridge for a couple of hours before serving. Sprinkle the cake with powdered sugar.
Try also: Orzechowiec – Honey and Walnut Cake – very much worth trying:)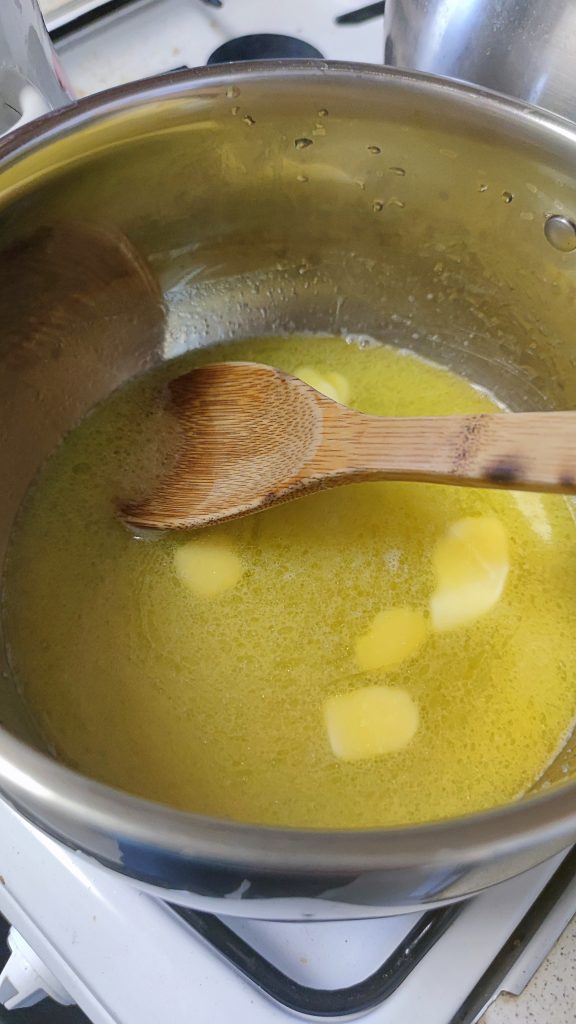 Can you freeze Karpatka?
I won't recommend that, you can freeze pastry layers, but not the whole cake with cream.
Is Karpatka popular cake in Poland?
Yes, it is a treat, not so often served though, because of the time needed to make it. It's a special occasion cake.
What's the meaning of Karpatka?
Karpatka takes its name from the mountain-like pleated shape of the choux pastry, which resembled the snowy peaks of the Karpaty mountains. Carpathian Mountains stretch across Central Europe and their part is in Poland.
Smacznego!
If you liked my posts and tried my recipes, you can consider buying me a coffee. Or rather I should say: you can buy me a flour for Pierogi, cabbage for Gołąbki and beets for Barszcz:) This would help me to cook more and publish more delicious recipes for You. www.buymeacoffee.com/cookinpolish.
Thanks for reading!
Comment on the post if you have questions, other ideas on the recipe or just enjoyed reading. I would be happy to see your thoughts on my posts!
Thanks for liking and sharing my recipes to your friends – it helps to develop my blog!