Pasztet Świąteczny – Christmas and Easter Baked Pate
Baked pate is one of the meats we have for special occasions. It's delicate and moist, so you can also just spread it over the bread. It takes quite a lot of time to have it and is rather costly, as we need a lot of meat, but totally worth it:) I also freeze few portions to enjoy baked pate later on, as having too much on one time make you not appreciate it as much as you could:)
When you choose meat – consider that you need rather fat parts of meat, otherwise pate would be dry. I choose mixed meat- pork and beef, sometimes poultry, but you can choose whatever you like or your religion lets you.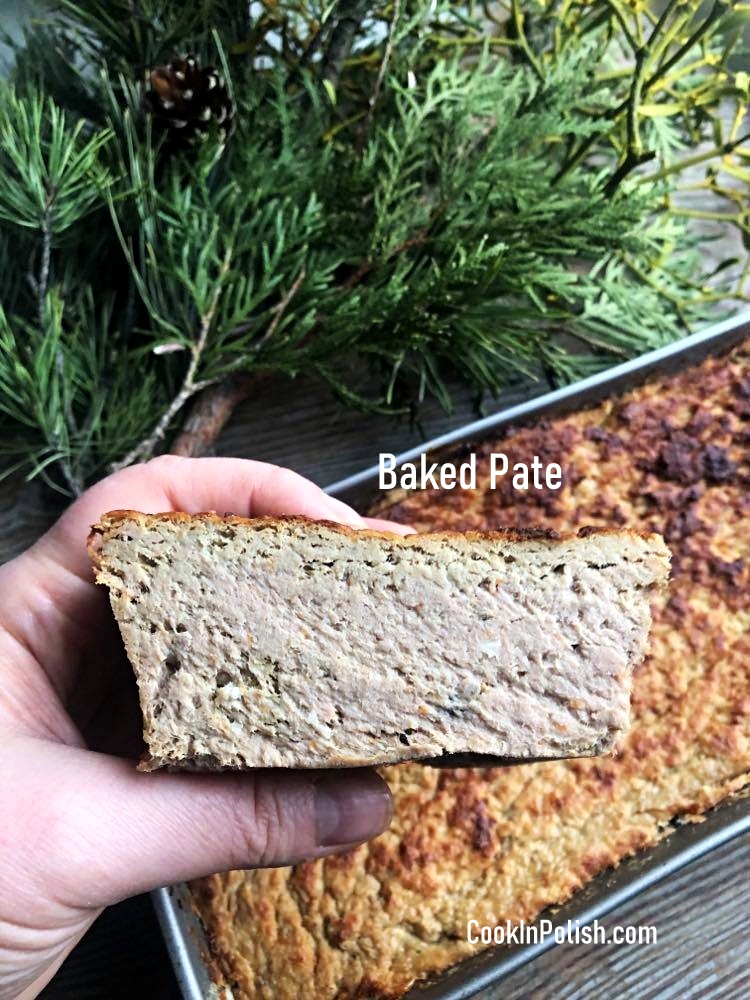 It would be the best to have 2 days for pate preparation – first day you cook meat and let it cool, the next – you ground and bake it. This way you'll not get overwhelmed with pate preparation, waiting and checking it's cooled.
For more special occasions Polish food, check my other recipes: https://cookinpolish.com/category/recipes/festive-meals/.
Ingredients:
1 kg (2 lbs) pork – I used pork neck
1 kg (2 lbs) beef
1/2 kg (1 lbs) raw bacon
1/4 kg (8 oz) liver – might be chicken, turkey, this time I used beef liver
2 carrots
3 onions
2 dried rolls
4 eggs
2 teaspoons salt
3 bay leaves
5-7 allspice seeds
half teaspoon of freshly ground pepper
halt teaspoon nutmeg
Slice bacon. Dice pork and beef into medium cubes and place them in a large pot, starting with the fattest – so first goes sliced bacon, then pork and beef. Add vegetables- sliced onions and carrots – peeled and cut into few parts. You can also add parsley root. Add too much water, I add about 2-3 cups. Season with salt, add bay leaves, allspice seeds. Bring to boil and simmer till its cooked, it would take about 1 and half hour. I don't cover my pot, so liquid evaporates and flavor gets more condensed. Few minutes before it's done, add crushed dried rolls. At the end add also liver to the pot and after 2 minutes turn off the gas and set aside for cooling. In winter I place my pot on a balcony and let it cool over a night.
The next day you need to double ground all the ingredients you have in a pot (except bay leaves and allspice:) ). Drain a little bit before, if there is liquid inside. You can ground it another time, to adjust consistency to your liking.
Separate egg yolks from whites. Add yolks to meat, season with nutmeg, ground pepper and salt if necessary. Mix all well. At the end delicately mix in beaten egg whites.
Preheat the oven to 200 C (390 F). Cover two oblong baking dishes with baking paper or grease them with butter and spread breadcrumbs on it. Transfer meat into the dishes. I throw filled dishes 2 times from 30 cm height, so that all the air went out.
Bake for 1 and half hour.
Enjoy! Smacznego!