Yesterday was the last day of Summer:( In order to keep some Summer tastes for short cold Winter days, I made Polish Pickle Cucumber Salad. Canning has a long story in Poland, Polish housewives from 1980ties and 1990ties all the Summer were busy with packing cucumbers, red peppers, forest mushrooms, jams and compotes into jars. I remember pickled cucumber salad my Mum prepared those days, it was called Swedish Salad and had cucumbers and carrots in vinegar solution. My version has also red peppers and onions. Try this recipe, you will have crunchy spicy vegetables to reach for and accompany your meals in Winter.
You may also like simple and easy recipe for Quick Pickled Cabbage, that is ready on the very next day from preparing. I don't preserve it, it can be stored in a fridge even for a month.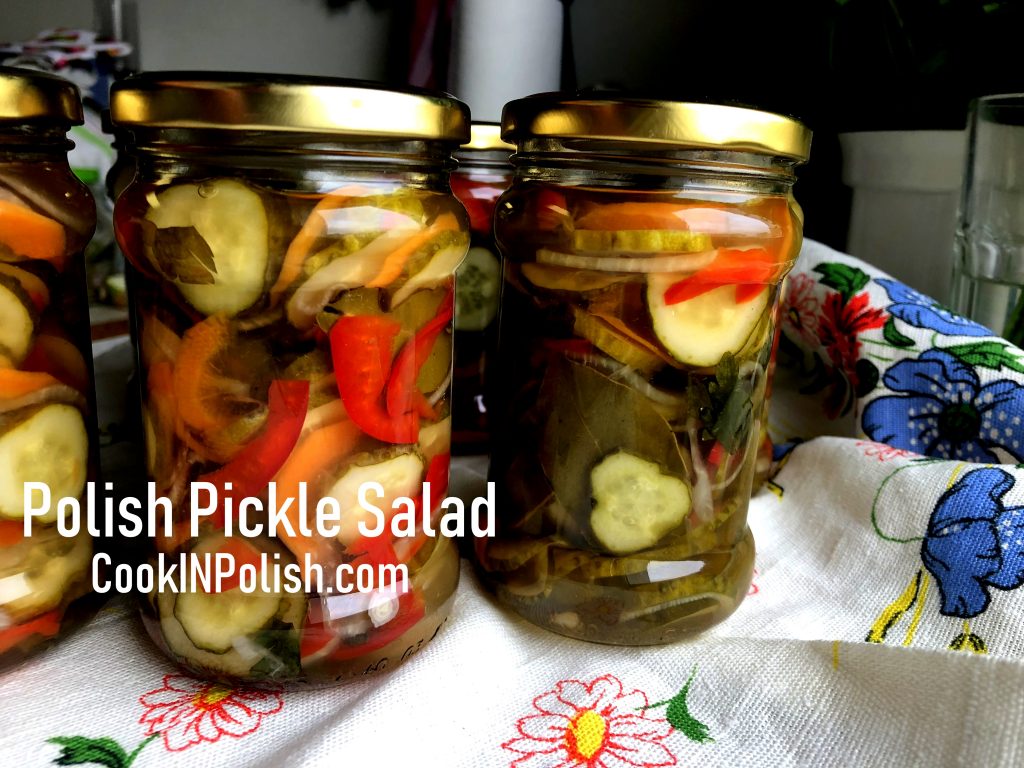 Ingredients:
1 kg cucumbers
medium carrot
1 red pepper
medium onion
Pickle:
8 cups water ( 2 liters)
1,25 cup vinegar (10%)
7 tbs sugar
1,5 tbs salt
15 balls of allspice
2 tbs red pepper
8 bay leaves
Slice thickly cucumbers. Cut thinly all the rest vegetables. Place all in a bowl.
Prepare vinegar pickle: place all the pickle ingredients in the pot, stir till sugar and salt dismantles, boil.
Pour over the vegetables. You can leave it over night or at least for 2 hours. After that pack the jars with Polish pickle cucumber salad and fill with the vinegar pickle.
Remember to prepare jars before using them. Wash jars and lids in soapy water and dry them.
Take a big pot, cover the bottom with a cloth. Place the jars on the cloth, remember that they cannot touch one another. Pour the water to cover no more than 3/4 of the jar. Keep the jars in the boiling water bath for 10 minutes. Take them out, place on a tray up side down and let them cool slowly. You can cover the jars with a blanket.