Polska Kiełbasa Zapiekana z Kapustą Kiszoną
Polish Oven Roasted Sausage and Sauerkraut is a perfect idea for Autumn and Winter warming, hearty and comforting Polish meal. Choose good Polish smoked kiełbasa – it should have some fat in it, to spread the taste all over the sauerkraut and make the dish complete:)
Don't forget about caraway seeds – in Polish: kminek. As the cabbage is rather hard to digest and can cause gases, caraway seeds are here to help you and ease your stomach.
Check other ideas for Polish comfort food: http://cookinpolish.com/category/recipes/autumn-food-recipes/.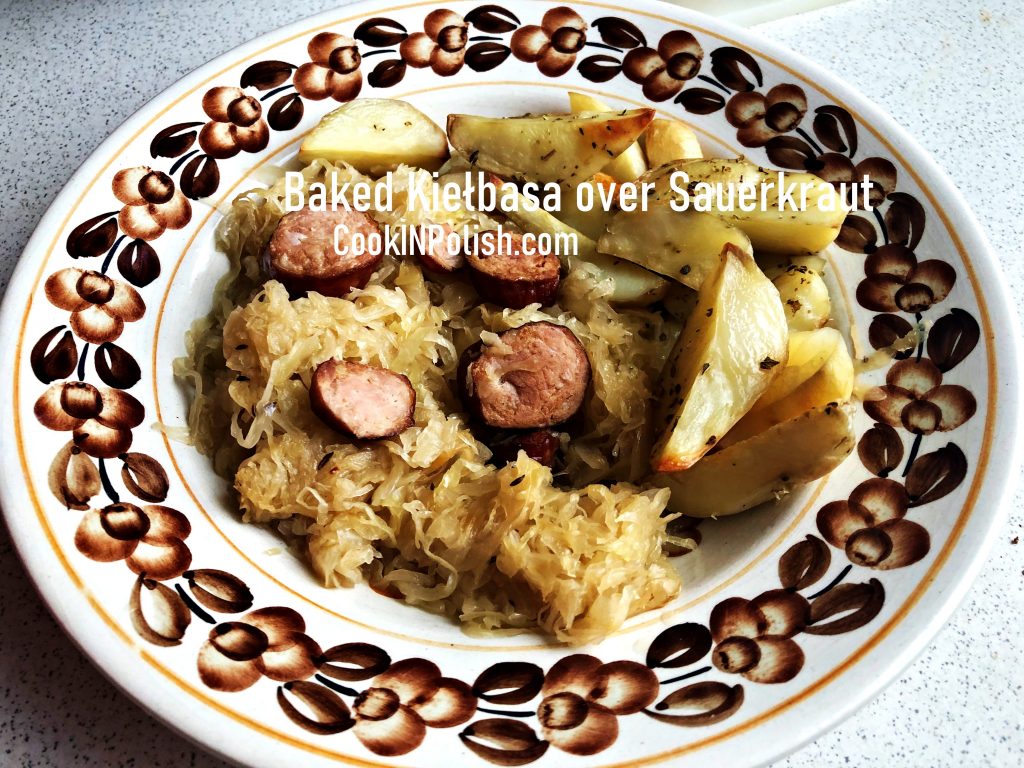 Ingredients:
1 kg/ 2 lb sauerkraut
0,5 kg/ 1 lb Polish smoked sausage
few pieces dried forest mushrooms
1 ts caraway seeds
Place dried mushrooms in a small bowl, cover with hot water and leave for 15 minutes.
In the meantime strain and roughly chop the sauerkraut. Do not throw away juices. Check if your sauerkraut is enough sour. If you like it more sour, add more juice. If it is too sour, you may rinse sauerkraut.
Place sauerkraut in a skillet, add mushrooms with the water from soaking. In the skillet there should be about 2 cups of liquid. If you added juice before, add less water.
Simmer sauerkraut for an hour. Check from time to time if there is liquid left inside the skillet. Add some water if needed, so that the sauerkraut did not get burnt.
In the meantime cut sausage into thick slices. Place them in a baking dish on the baking paper. Bake for half an hour in about 180 C/356 F.
Place sauerkraut in a baking dish, sprinkle with caraway seeds, arrange sausage pieces on the top. Roast for 40 minutes in 180 C/356 F.
Invite a friend curious about Polish cuisine and share Polish Oven Roasted Sausage and Sauerkraut with him:) Smacznego! Enjoy!
If you are interested in how caraway plant looks like – check this link to wikipedia: Caraway.