Małdrzyki – White Cheese Pancakes are a delicious idea for Polish supper, Sunday breakfast or just a sweet snack. It's a sweet dish, however healthy, as its main ingredient is Twaróg, often in Poland referred to as white cheese. They originate in Małopolska, they are sometimes called: Małdrzyki Krakowskie. On the other hand this kind of pancakes can be found also in Polish eastern boarder cuisine, called Syrniki, Serniczki. Syrniki are popular in Ukraine and Belarus.
What exactly is Twaróg?
Twaróg is a type of fresh cheese. It can be compared to cottage cheese or farmer's cheese, but twaróg has a drier and more crumbly texture. Twaróg is made by curdling milk with the use of a starter culture or an acidic ingredient like lemon juice or vinegar. The curds are then separated from the whey and typically pressed to remove excess moisture. The resulting cheese can be consumed as is or used in various dishes.
Twaróg is a good source of protein, calcium, and other essential nutrients, so dessert based on it can be consumed without guilt;)
In Polish cuisine Twaróg is a versatile ingredient, it can be enjoyed in both sweet and savory dishes, such as a filling to pancakes, Pierogi with Cheese and Potato or as a main ingredient of Małdrzyki – White Cheese Pancakes.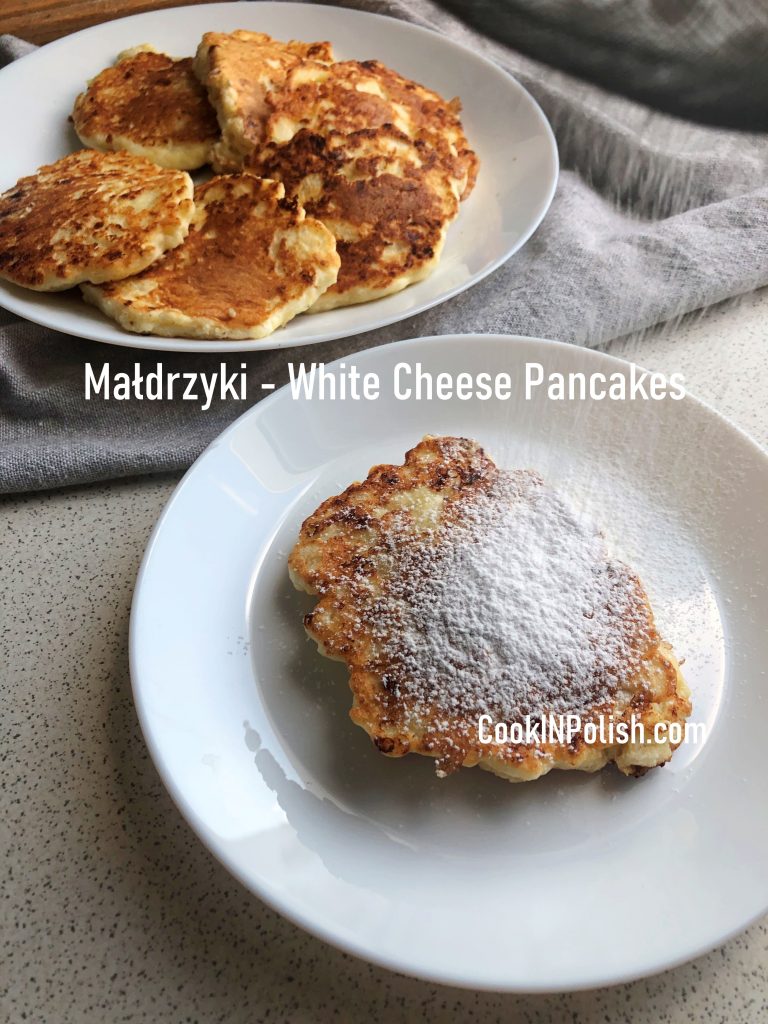 Ingredients
250 g / 9 oz Twaróg
3 eggs
2 tablespoons powder sugar
few drops vanilla extract
4 tablespoons wheat flour
Place Twaróg in a bowl, add egg yolks, sugar and vanilla extract. Fork blend all together well. Mix in flour.
In a other bowl place egg whites. Beat egg whites into foam with a dash of salt.
Gently combine beaten egg whites with Twaróg dough using a spoon.
Heat the frying pan, place a portion of the dough on a pan (without oil preferably. If your pan tends to burn, use a little oil or butter). Form round pancakes, they should be quite thick, around 1 cm. Fry 3 minutes on low heat, flip them over and repeat frying for about 2 minutes.
Serve Małdrzyki with powder sugar, yogurt, fresh fruits, mapple syrup or honey. Enjoy! Smacznego!
If you liked my posts and tried my recipes, you can consider buying me a coffee. Or rather I should say: you can buy me a flour for Pierogi, cabbage for Gołąbki and beets for Barszcz:) This would help me to cook more and publish more delicious recipes for You. www.buymeacoffee.com/cookinpolish.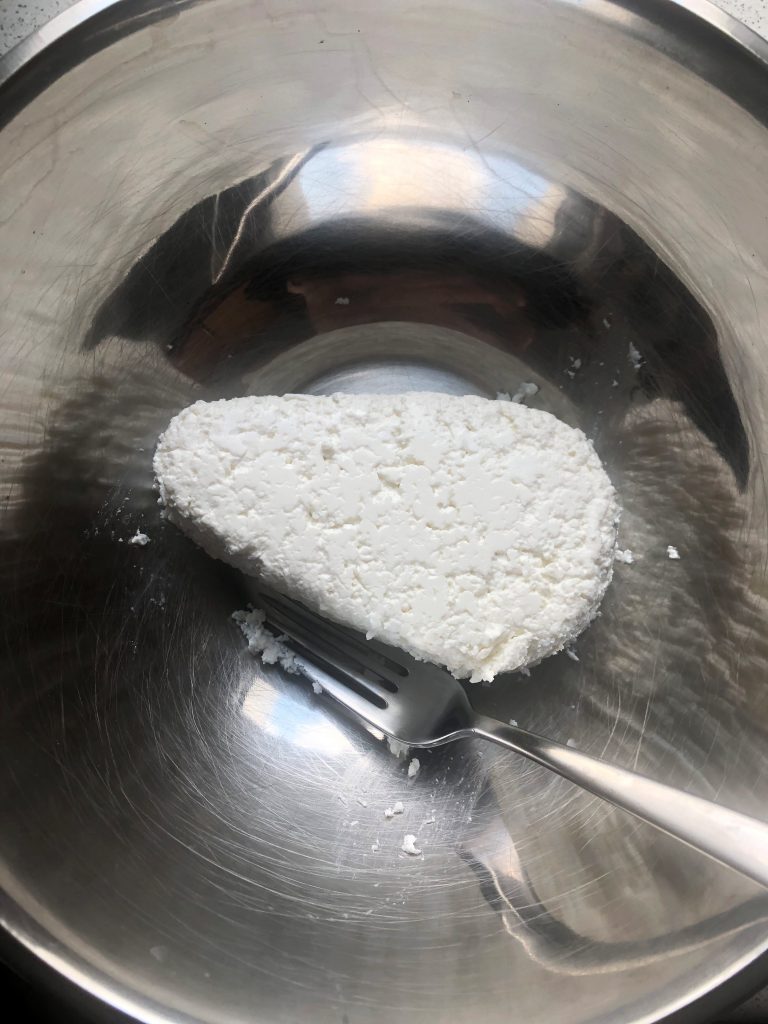 _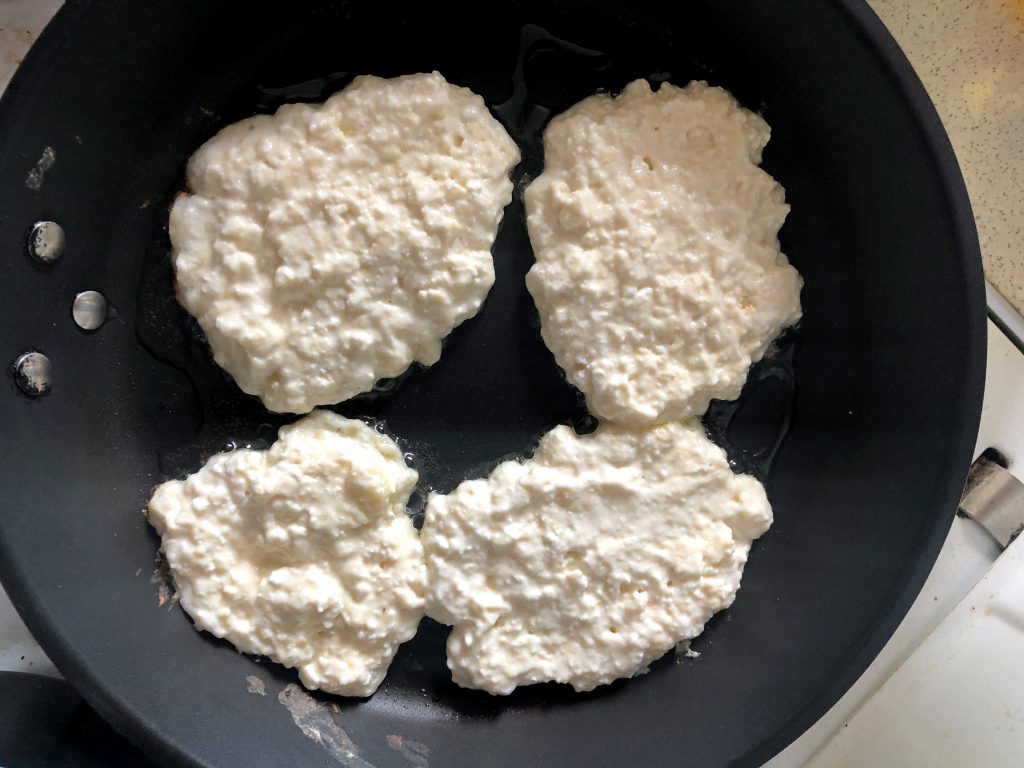 Thanks for reading!
Comment on the post if you have questions, other ideas on the recipe or just enjoyed reading. I would be happy to see your thoughts on my posts! Did you try Małdrzyki- White Cheese pancakes in Poland?
Thanks for liking and sharing my recipes to your friends – it helps to develop my blog!