Kasza Manna with milk is one of the flavors of my childhood. My Grandma Emilka used to make it for us for breakfast. Alternatively we had rice or noodles with milk and sugar, served as a milk soup. Zupa mleczna – milk soup is something that many Poles don't want to remember from their childhood:) Did you like them?
Kasza Manna is a fine semolina, when you add liquid and cook it, it makes a kind of Polish polenta. It may be called farina or cream of wheat, in UK it is known as semolina pudding.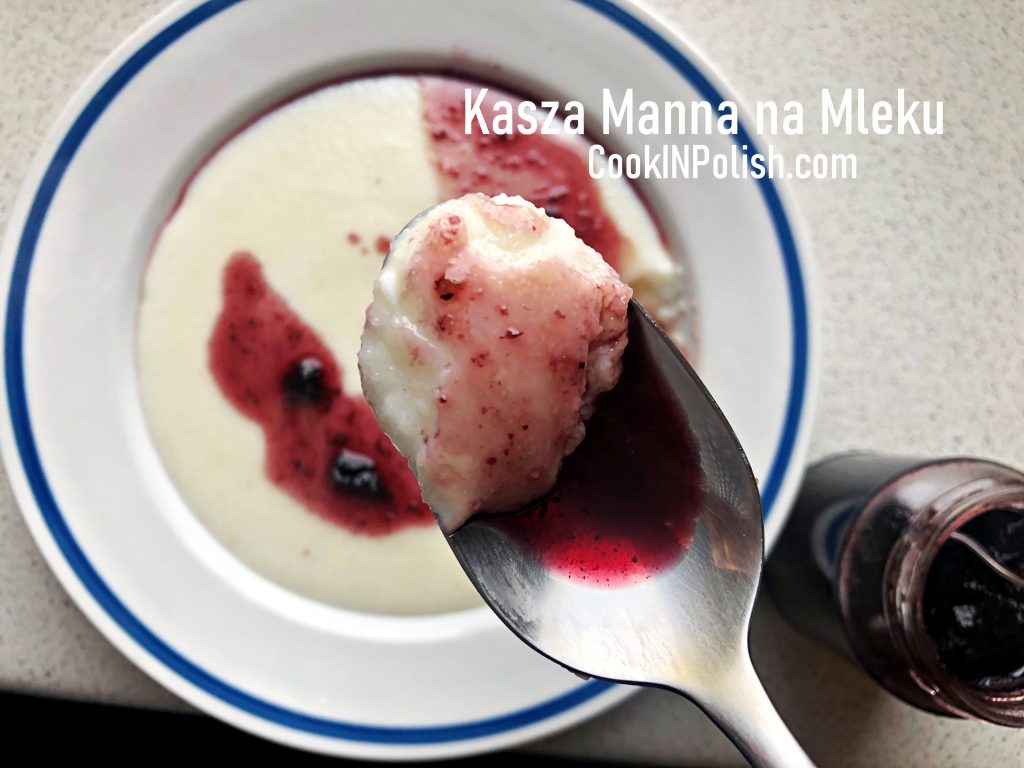 Ingredients:
for 2 servings
2 cups of milk (500 ml)
4 tbs kasza manna – farina
2 ts sugar
dash of salt
for serving: seasonal fruits, homemade fruit juice, sugar etc.
Combine semolina with half cup of the cold milk. Bring the rest of milk to a boil in a small-size sauce pan. Dissolve sugar and sprinkle with salt. Once the milk is boiling, pour milk with semolina slowly into sauce pan, stirring with a spoon. Continue stirring as mixture thickens and after 2 minutes your kasza manna is done. Pour it into serving bowls or jars and let cool or eat straight away.
I love kasza manna served with homemade raspberry or blueberries syrup – in Winter you just take a jar from the pantry and treat yourself with this good stuff.
In Summer use fresh fruits- raspberries, blueberries, strawberries or just sprinkle with cinnamon and serve with additional sugar.
Smacznego! Enjoy!
Kasza manna with milk is not cooked so often nowadays, as it was in communistic Poland. If you are interested in other PRL recipes check this link: PRL food.
Comment on the post if you have questions, other ideas on the recipe or just enjoyed reading. I would be happy to see your thoughts on my posts!
Thanks for liking and sharing my recipes to your friends – it helps to develop my blog!