Young cabbage is sweet and delicate, it is cooking fast. It is not likely to give a stomach problems as may an old cabbage, stewed for hours. In case of young cabbage soup I minimize the seasoning, just to keep the taste natural. Try Young Cabbage Soup cooked on pork bones.
For broth I used pork bones, which are really cheap. You can also buy pork chop with bone, use pork chop for Breaded pork cutlets and use bones for the soup. I remember my Grandma was using bones for soups, the reason were savings and her approach- not to throw away any food and have respect for food.
Traditionally 'Zasmażka' can be added to the soup to make it thicker and reach.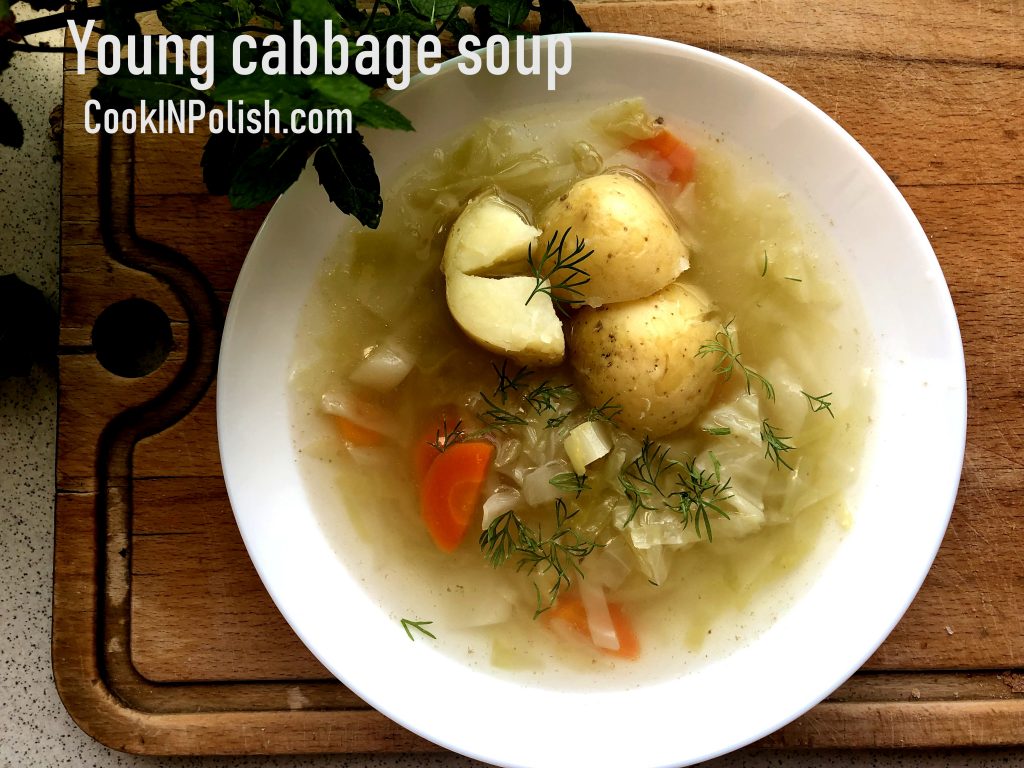 Ingredients
half young cabbage
2 carrots
1 onion
0,7 kg/1,5 lb bones with some meat left on them
salt & pepper
3 allspice balls
1 bay leave
dill for serving
Place bones, allspice, bay leave in a pot, fill with water (til 3/4 of the pot). Cook for 45 minutes. Add whole onion, and diced carrots.
Chop carelessly cabbage and add to the soup. After 25 minutes season with salt and pepper.
Once the vegetables are cooked, your young cabbage soup on bones is ready. Serve with dill and young potatoes, cooked separately.
Tips:
Traditionally soups can be thickened by adding 'Zasmażka', which is a roux of flour and butter. To prepare it place 2 tbs of butter on a pan. Once it's melted add 2 tbs of flour, fry for a minute mixing all the time. Thdd some soup liquid gradually, and mix it into the flour, so that it gets smooth (if you have any lumps left, you can just use blender). Add all gradually to the pot and boil the soup. Soup will get thicker and reach, thanks of the magical features of butter (for me butter makes a difference:O) and flour. Anyway for this spring soup I don't use Zasmażka, to keep it delicate and low calories:)